Santa Monica Lofts, Los Angeles Real Estate, Venice Housing Project Photos, Design Images
Cherokee Lofts, Santa Monica
Residential Development in Los Angeles, USA, design by Pugh + Scarpa, L.A.
May 24, 2010
Cherokee Lofts Venice
New Housing in Santa Monica
Cherokee Mixed-Use Lofts
DOE High Performance Building Database
Overview
Location: Los Angeles, CA
Building type: Market rate Multi-unit residential
New construction
32,000 sq. ft. (60 units/acre)
Project scope: 5-story building over subterranean parking garage. Ground floor consists of a residential lobby, commercial retail space and parking. Units are organized on the second-fifth floors around a central exterior courtyard.
Urban setting
Completed May 2010
Climate Region: 3C Warm-Marine (latitude 34.085, longitude 118.36182, elev. 240')
The building is an urban infill, market-rate mixed-use housing. The main architectural feature of this project is the building's owner-controlled operable double façade system. By allowing the occupant to adjust, at will, the operable screens of the building façade, the facade is virtually redesigned everyday from within the space, reflecting the occupants of the building in real time.
The screens also enhance the existing streetscape and promote a lively pedestrian environment. By visually breaking up the façade into smaller articulated moving elements, the building appears to move with the passing cars and people. In effect, it becomes a live canvas to paint upon, at will. Like many features of the building, the façade is multivalent and rich with meaning performing several roles for formal, functional and experiential effect.
Environmental Aspects
The front facade is designed with a series of perforated aluminum screens that filter early morning light into the front units on the east and protect the west units from the setting sun. The building is oriented to capture prevailing breezes and to filter sunlight through a large southeast facing, 4-story perforated galvanized screen to the interior courtyard.
Most of the units have windows on opposite perimeter walls to allow natural cross ventilation. Low flow fixtures are used throughout. R21 blown-in natural cellulose insulation was used in walls and R30 in roof. No VOC paints and finishes, recycled content materials and 100% FSC certified wood products were used. 80% of combined C & D materials were recycled. A green roof and storm water catch basin located in the public right-of-way captures and treats all of the rainwater that falls on the site.
The result is a careful balance of passive solar design and mechanical comfort systems.
The building is certified LEED "Platinum" by the United States Green Building Council (USGBC).
Owner & Occupancy
Owned by REThink.
Developed by REThink
Permanent mixed-use market-rate housing
Cherokee Lofts consists of 12 condominium lofts and 2800 square feet of retail space. The building is 5 stories including 1 underground level of parking, first floor retail and parking, three floors of lofts on floors 2 through 4 and a rooftop deck and green roof.
Lessons Learned
Through rigorous dialogue with the client, a clear vision emerged that included an expanded facility for higher density and mixed-use, a regenerative approach to the landscape, and a desire to meet the Living Building Challenge.
The pioneering nature of this project has left the team with many lessons from the design and construction process. Many are the result of pursuing the Living Building Challenge and many others are products of the nature of the structure. A new lesson for this project was the complexity of finding materials that not only were not on the red list but also met radius and responsible industry requirements and were affordable for the client.
Our approach was an intuitive, scientific, and experiential process. Concepts were modeled using scientific tools to measure comfort, energy, daylighting and other metrics. The team collaborated and relied upon the findings of the modeling to develop an integrated, high-performance design for the building and site. One example was using the building facade as a tempering element to improve comfort and reduce mechanical systems.
Energy
Due to very efficient building envelope, the electrical design load was reduced. Building envelope consists of: R21 batt insulation in the walls and R30 in the roof, along with double-glazed windows with a lowE coating. Shading is provided for the building and the courtyard space by the perforated screens and building shape. All units are designed with windows on opposite walls to induce natural cross-ventilation.
In addition to the passive design, the unique heating and cooling system is a high tech variable refrigerant flow (VRF) system that effectively acts as a heat pump to move heat (and cool) from one part of the building to another. As a result, heating and cooling loads are reduced by nearly 50%. A 30kw PV solar system provides 11.5% of the buildings energy needs.
All light fixtures are compact fluorescent in the units and exterior walkways and exterior lights are on timers. Fluorescent tubes were also used in the ground floor and parking garage. Individual units have energy star refrigerators and dishwashers.
Data Sources & Reliability
Simulation software
Energy Pro4.3 by Energysoft for Title 24 report.
Reliability
The analytical results have not been checked yet due to recent completion.
Solar Cooling Loads
Use light-colored exterior walls and courtyards, green living roof and cool roof.
Cantilevered walkways and perforated dual façade designed to shade the building.
Shade south and west windows with deep balconies, southeast with perforated screen and northeast with perforated metal dual skin façade. Building is shaped to provide shading.
Non-Solar Cooling Loads
Provide void space in building volume, towards prevailing breeze, to enhance airflow and shading of the courtyard and through the project.
Reduce internal heat gains by improving daylighting and appliance efficiency.
Lighting Controls
Use timers for all exterior lights and motion sensors throughout.
Refrigerators
Energy star refrigerators and dishwashers by Bosch. All appliances are energy star.
Materials & Resources
Major materials were selected with a recycled content: carpet with 25% post consumer content, recycled-content gypsum board with 31% recycled content (26% post consumer waste), concrete with 25% minimum fly ash content and building insulation with minimum 20% recycled glass cullet and formaldehyde-free. All paints selected were no VOC. Interior floor finishes are exposed concrete slab (sealed) or FSC certified wood. Where painting was required, a high-quality prime and paint system was specified.
Finishes were minimized throughout: Concrete slabs were left exposed where possible and the exterior stucco finish has an integral pigment in lieu of a paint finish. The exterior metal screens are aluminum with an anodized color, which will never require painting or refinishing.
Diversion of Construction & Demolition Waste
The overall combined recycling percentage was 80%. The contractor used a waste hauler company to pick up co-mingled waste and provide a report detailing the amount of waste that went to the landfill vs. the amount of waste that got diverted by material (wood, cardboard, metal, carpet, residual, greenwaste, concrete, other and mixed inert).
Green Products Used
Coal Fly Ash
Recycled-Content, Formaldehyde-Free Insulation Batts by Johns Manville
Natural blown-in cellulose insulation
Recycled-Content Gypsum Board
No VOC paints by AFM Safecoat
Storm water catchbasin and filter system "Stormwater360", by Contech, Inc.
FSC certified Composite wood products by Weyerhaeuser, John Mansville and others.
Cabinets inside the units were constructed of formaldehyde free and FSC certified woods.
Low flow dual flush toilets and faucets with aerators.
Variable refrigerant flow HVAC system by Mitsubishi (common use for entire building)
Electric car charging port for every unit
20 kw PV system by Kyocera
Energy star refrigerators and dishwashers by Bosch
High efficiency Elevator by KONE (uses same amount of power as a hair dryer-30 amps)
LED lighting
Protection of Global Ecosystem
Avoid rigid or blown foam insulation made with an HCFC blowing agent
Minimize ozone-depletion potential of refrigerants in cooling systems
Design for Materials Use Reduction
Use materials with integral finish
Job Site Recycling
Seek a waste hauler who can separate recyclables out of commingled waste
Facilitate recycling by avoiding materials with toxic components
Recycling by Occupants
Design a physical in-house recycling system
Greenhouse Gas Emissions from Manufacturer
Use concrete with fly ash replacing a portion of the cement
Resource-Efficient and Materials
Use engineered FSC certified wood products for rough and finish carpentry
Use insulation with recycled content
Transportation of Materials
Prefer materials that are sourced and manufactured within the local area
Indoor Environment
One of the team's primary objectives was to enhance the quality of living for each resident by surpassing standards found in conventional housing projects. All units have abundant natural light, cross-ventilation and the building was designed to take advantage of the prevailing breezes to keep air circulating through the project.
Environmental air quality was addressed by following AQMD (Southcoast Air Quality Mangement District) and Greenseal requirements for finishes and by minimizing finishes: concrete slabs were left exposed where possible and an integral color was provided in the exterior stucco finish, thereby eliminating the need for painting of the exterior of the building.
No- VOC paints, sealants and coatings were used by AFM Safecoat.
Thermal Comfort
Use glazing with a low Solar Heat Gain Coefficient
Design for optimum cross ventilation through window placement.
Visual Comfort and Light Sources
Use electronic ballasts with fluorescent lighting.
Provide abundant natural light.
Reduction of Indoor Pollutants
Use only very low or no-VOC paints
Use formaldehyde free batt insulation.
Visual Comfort and Interior Design
Select only white to midrange finishes to maximize reflectance of light.
Visiting
It is possible to visit this project Cherokee is located at 751 N, Fairfax Ave, Los Angeles, California.
Contacts
Daniel Safarik
Pugh + Scarpa
2525 Michigan Ave., F1
Santa Monica, CA 90404
310-828-0226 x.16
GENERAL SPECIFICATIONS
Structural system: Type V wood frame over Type I reinforced concrete.
Exterior
Masonry: Angeles Block Company
Metal:Custom Perforated Moveable Screens by CR Laurence, Inc.
Concrete: Type ll Portland Cement with 25% flyash, LM Scolfeild Lithochrome stain
Wood: Composite floor truss joists by Weyerhaeuser, Micro-lam and parallam composite beams by Truss Joist Corporation, Forest Stewardship Council (FSC) certified oak flooring, cabinets, and structural wood.
Exterior: Recycled Portland Cement Exterior Cement Plaster with integral finish.
Windows: Milgard, Fleetwood, US Aluminum Corporation
Glazing: Solarban 80 by PPG
Skylights: Bristolite, Solatube International, Inc.
Doors: TM Cobb, Timely, Steelcraft Manufacturing Co., McKeon Door Company, Nationwide Industries, Anemostat Door Products, Total Door Systems.
Hardware: Schlage, Trimco, LCN, Ives, Rixon, Monarch, Pemko, Johnson, Elmes
Roofing: 4-ply Modified bitumen membrane cool roof by CertainTeed Corporation Flashing: Celotex, GAF corporation, Grefco, APOC
Interior finishes
Cabinets: Recycled Formaldehyde free MDF and FSC certified oak
Paints: Non-toxic zero VOC Paints by AMF Safecoat
Paneling: Recycled Formaldehyde free MDF, Recycled-Content Gypsum Board with 31% recycled content (26% post consumer waste), Dens-Glass Gold by USG
Tile: Ecotile by Walker Zanger
Flooring: Ecotile by Walker Zanger, concrete and FSC certified oak
Lighting: Shaper, Bega Prudential, Stonco, Belfer, Del Rey Lighting
Controls: Lutron
Insulation: Blown in cellulose insulation is 98% recycled. Recycled-Content, Formaldehyde-Free Insulation Batts by Johns Manville
Plumbing
Fixtures: American Standard, Kohler, Bobrick, Grohe, Chicago Faucets, Toto, Delta
Appliances: GE, ISE, Bosch, Fagor, Bertazzoni
Insulation: Recycled-Content, Formaldehyde-Free Insulation Batts by Johns Manville
Other: Storm water catchbasin and filter system by Stormwater360, Contech, Inc., Hydronic wall heaters by Runtalconnected to common boiler. Cabinet hardware by Sugatsune, Basco and E.B. Bradley
GREEN FEATURES
Renewable Energy/Energy Efficiency
– Designed to be over 45% better than California's Title 24 2005 Energy Efficiency standards
– 30 kW solar electric array by Kyocera
– Energy Star refrigerators and dishwashers by Bosch
– Electric car charging capability for every unit
– Best in class (EF 83) tankless water heaters by Noritz
– Variable Refrigerant Flow Heating and AC by Mitsubishi
– Designed to optimize natural light and ventilation
– High efficient Elevator by KONE (runs on same power as a hairdryer)
– High efficacy lighting with strategic use of LED Lights
– Blown in insulation provides superior energy efficiency
– Reflective "cool roof" and living "green" roof to reduce energy use
– 50% of the parking garage is naturally ventilated
Water Efficiency
– Dual flush Toto Aquia II toilets
– Water efficient Hans Grohe fixtures
– Reduced stormwater runoff through first-ever under-sidewalk infiltration system
– Reduced landfill waste by over 80%
– Low-water, drought resistant landscaping
– Excavation, Demo completed using equipment run on Biodiesel (recycled restaurant oil)
– Non-toxic treatment on all structural wood to resist termites and mold
– Green Roof with stormwater collection
Environmentally Friendly Materials
– Reclaimed Black Forest Walnut from Studio One reused
– Recycled tile by Erin Adams Design and Walker Zanger
– High recycled content and locally produced products used throughout
– Forest Stewardship Council (FSC) certified oak flooring, cabinets, and structural wood
– Blown in cellulose insulation is 98% recycled
– Non Toxic zero VOC Paints by AMF Safecoat
– Composite structural wood by Weyerhaeuser and Truss Joist Corporation
– 25% minimum fly-ash content in all concrete
– Recycled-Content Gypsum Board with 31% recycled content (26% post consumer waste)
Clean Air, Comfort and Quiet
– Peaceful retreats in Courtyard and living "green" roof deck
– Extensive bike storage
– Abundant natural daylight
– Walkable neighborhood scores "Walker's Paradise" (94 out of 100) on walkscore.com
– Quiet interiors from 6 inches of blown-in insulation on the entire building perimeter
– Double 6 inch walls with two layers of insulation between units for sound isolation
– Double façade creates shade, enables ventilation and provides privacy
Cherokee Mixed-Use Lofts – Energy Analysis Summary
Base case energy model was T24 2005, Energy pro 4.3 by EnergySoft. The electricity consumption includes 30,000 kWh (102,360 Mbtu/yr) of PV solar contribution, and savings of 10 Mbtyu/yr in process load, calculated outside of the modeling program.
Both of these savings were accepted by the USGBC under credit EAc1. Natural gas in the building is higher than the base, however, this energy is for hot water consumption only. Space heating is done electrically and shows a savings in the design over the base case.
Energy Performance Rating
HERS Performance Rating 50
% total energy savings 42.4% on cost (based on Title 24-2005)
Total Building consumption (mbtu/yr)
Base Simulation 832,183
Natural Gas (mbtu/yr)
Base 34,790
Simulation 29,892
Electricity (mbtu/yr)
Base 1,471,790
Simulation 802,291
Building Consumption Breakdown
Heating (mbtu/yr)
Base 4,599
Simulation 8,598
Cooling (mbtu/yr)
Base 212,056
Simulation 169,262
Building Energy Loads
Cooling Capacity (ton)
Base 40
Simulation 28
Lighting Load connected (kw), Interior Lighting
Base 9.7 (exterior 15.2)
Simulation 7.2 (exterior 15.2)
Lighting Load after controls (kw), Interior Lighting
Simulation 7.2 (exterior 15.2)
Plug Load (kw)
Simulation 8.1
Peak Electrical Demand (kw)
Base 83
Simulation 64
Cherokee Lofts Venice – Building Information
Project Details
Project's Formal Name: Cherokee Mixed-Use Lofts
Location of Project: 751 N. Fairfax Blvd., Los Angeles, California
Client/Owner: ReThink Development, Inc.
Total Square Footage: 32,000 sq. ft. (60 units/acre)
Total Cost: $6,250,000.00
Completed: 2010
Architects: Lawrence Scarpa, FAIA, Pugh + Scarpa
Project Team: Lawrence Scarpa, FAIA – Principal- in-Charge. Stephanie Ericson, AIA, Project Architect, Angela Brooks, AIA, Silke Clemens, Joshua Howell, Ching Luk, Charles Austin, Gwynne Pugh, FAIA, Lawrence Scarpa, – Project Design Team.
Engineering: BPA – Structural Engineering ; Cobalt Engineering – Mechanical, Electrical and Plumbing
Environmental Consultant: Albert Bicol, Cobalt and Greg Reitz, ReThink
Façade Consultant: CR Laurence, Inc.
General Contractor: JT Builders
Landscape: FormLA
Photography: John Edward Linden and Tara Wujcik (as noted) 818-888-8544
Cherokee Lofts, Santa Monica : main page with further images
Location: 751 N. Fairfax Boulevard, Santa Monica, Los Angeles, Southern California, United States of America
Los Angeles Buildings
Contemporary Los Angeles Architecture
L.A. Architecture Designs – chronological list
Los Angeles Architecture Tours – architectural walks by e-architect
Los Angeles Architecture Designs – Selection
Gardenhouse, Wilshire Boulevard, Beverley Hills, CA
Design: MAD Architects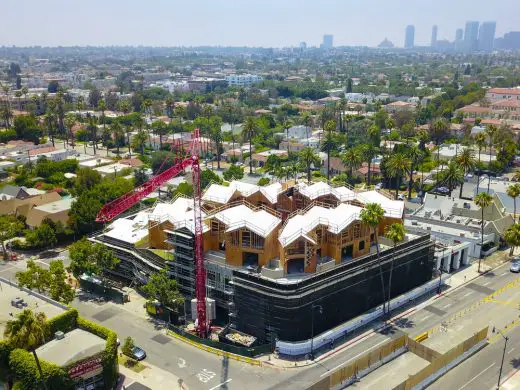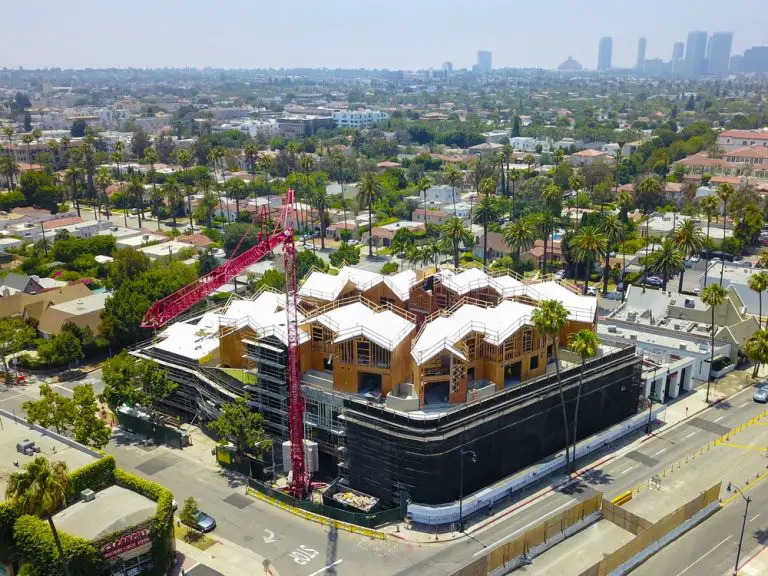 image Courtesy architecture office
Gardenhouse Wilshire Boulevard
Harper17 Condominium, 1264 N. Harper Ave, West Hollywood
Design: SPF:architects (SPF:a)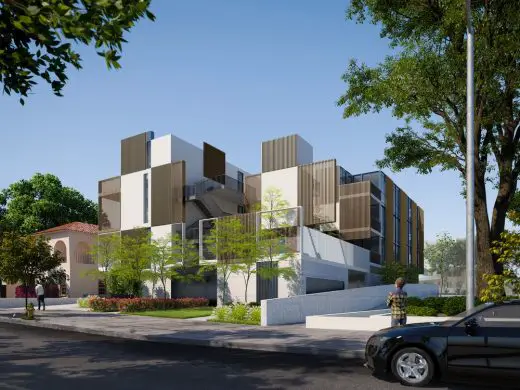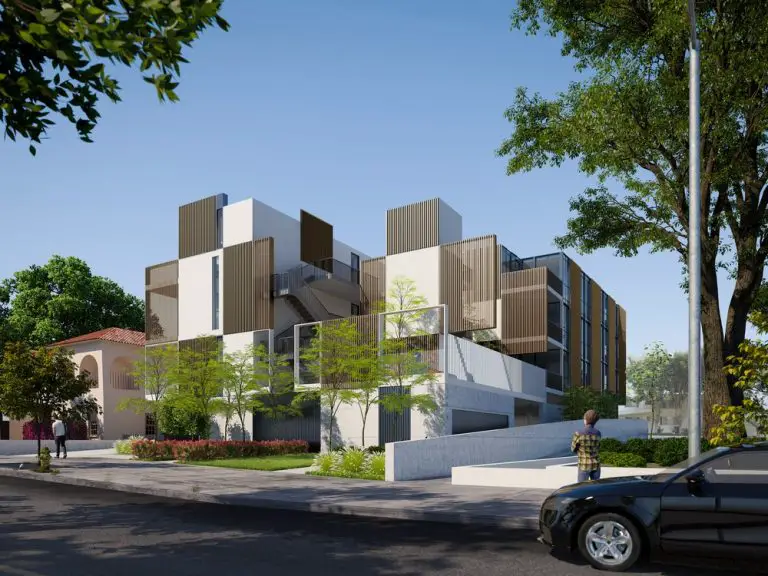 image courtesy of architects
Harper17 Condominium
One Window House, Venice
Touraine Richmond Architects, California
One Window House
Comments / photos for the Cherokee Lofts Los Angeles Architecture page welcome