Cherokee Lofts, Santa Monica Building, Los Angeles Housing, LA Real Estate, Design, Image
Cherokee Lofts Santa Monica
Residential Development Los Angeles, USA – design by Pugh + Scarpa, LA
May 24, 2010
Cherokee Lofts
Cherokee Lofts, Santa Monica, Los Angeles, California
Date built: 2010
Architects: Pugh + Scarpa
NEW LEED "Platinum" (Pending) Mixed-use Project By Pugh + Scarpa Opens In Downtown Los Angeles, CA
Santa Monica, CA: Bicoastal, cutting-edge architecture firm Pugh + Scarpa has just completed a new 12 unit Mixed-Use, LEED "Platinum" (pending) building in Los Angeles.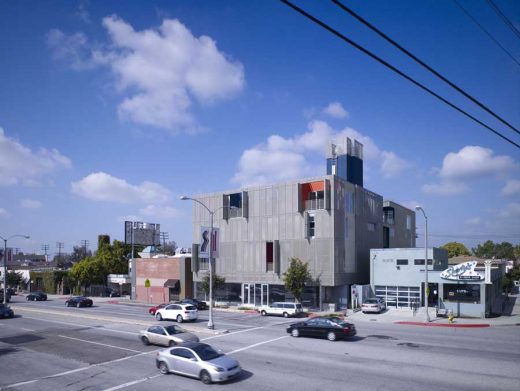 Photography: John Edward Linden and Tara Wujcik
Cherokee Mixed-Use Lofts is an urban infill, mixed-use, market-rate housing project. The building is inspired by the series of paintings by the British artist Patrick Hughes titled, "Prospectivity", whose paintings appear to be ever changing and physically moving while being viewed.
At Cherokee the main architectural feature of this project is the building's owner-controlled operable double façade system. By allowing the occupant to adjust, at will, the operable screens of the building façade, the facade is virtually redesigned "live" from within the space, reflecting the occupants of the building within, in real time.
The screens also enhance the existing streetscape and promote a lively pedestrian environment. By visually breaking up the façade into smaller articulated moving elements, the building appears to move with the passing cars and people. In effect, it becomes a live canvas to be painted upon daily or more often. Like many features of the building, the façade is multivalent and rich with meaning performing several roles for formal, functional and experiential effect.
The perforated anodized aluminum panels of the building creates an ever- changing screen that sparkles in the sun and glows at night, while simultaneously providing shade to cool the building, reducing noise, enhancing privacy, and still allowing for spectacular views, great natural light and ventilation from ocean breezes which pass through its millions of perforations even when all panels are closed.
The material reappears as a strategic arrangement of screens on the east, west and south-facing walls, lending a subtle rhythm to the exterior circulation. South-facing screen walls filter direct sunlight that lends unexpected visual depth while creating a sense of security for the occupants.
Enhancing the structure's geometric texture, the irregular array of moveable openings variably extrudes from the building's surface. Its unique architectural form and integrated function creates a high-performing building that is an expression of the people who live there and the environmental and cultural context in which it is built.
Cherokee is the first LEED (Leadership in Energy and Environmental Design) Platinum (pending) Certified building in Hollywood and is the first LEED Platinum Certified mixed-use or market rate multi-family building in Southern California. The building distinguishes itself from most conventionally developed projects in that it incorporates energy efficient measures that exceed standard practice, optimize building performance, and ensure reduced energy use during all phases of construction and occupancy.
The planning and design of Cherokee Lofts emerged from close consideration and employment of passive design strategies. These strategies include: locating and orienting the building to control solar cooling loads; shaping and orienting the building for exposure to prevailing winds; shaping the building to induce buoyancy for natural ventilation; designing windows to maximize day lighting; shading south facing windows and minimizing west-facing glazing; designing windows to maximize natural ventilation; utilizing low flow fixtures and storm water management; shaping and planning the interior to enhance daylight and natural air flow distribution.
These passive strategies alone make this building more than 40% more efficient than California Title 24 and a conventionally designed similar structure.
The development pays homage to the significant musical and Hollywood history of Cherokee Recording Studios, MGM Studios before it, and all the artists who recorded music on the site, from Frank Sinatra to David Bowie to Dave Matthews.
Building Basics
Cherokee Lofts consists of 12 market-rate lofts and 2800 square feet of retail space. The building is 5 stories including 1 underground level of parking, first floor retail and parking, three floors of lofts on floors 2 through 4 and a rooftop deck and green roof.
The lofts units range in size from 1,000 square feet to 2,000 square feet. Seven of the lofts are two-story town homes perched 30 to 50 feet above street level. The living space consists of a state-of-the-art kitchen, great room, bathroom, and home recording studio or office on the 4th floor, 38 feet above street level to maximize city skyline views, daylight, and energy efficiency.
Three of the lofts have 17-foot high ceilings with mezzanines and open to a lushly landscaped courtyard. Finally, two loft flats have 10-foot high ceilings, also opening to the landscaped courtyard.
The building is located at 751 N. Fairfax, just north of Melrose right around the corner from the increasingly popular Melrose Heights Fashion District. It also borders West Hollywood and is ¾ mile from the center of the Sunset Strip.
Sustainable Highlights
Cherokee is 40% more energy efficient than California's Title 24, the most demanding energy code in the United States.
Advanced VFR Cooling and Heating Comfort System, which was used in Canada's new 2010 Olympic Village, cools and warms floors, ceilings, and walls to create a perfectly temperate environment better for respiratory systems, skin, overall health, comfort and energy efficiency.
Passive solar design strategies and proper building orientation, using the central courtyard between the two residential structures, allows for day lighting on both sides of every unit and shading, while allowing prevailing breezes to fully pass through the units for natural ventilation.
Green Roof provides greenery for occupants to enjoy while keeping the building better insulated, cleaning the air, and reducing storm water runoff.
Water Conservation is accomplished with dual flush toilets, efficient plumbing fixtures, hot water circulators, and drought tolerate landscaping. All stormwater runoff is collected in a underground retention basin located in the public right-of-way, the first such stormwater system in the city of Los Angeles.
A 30kw PV solar system powers all common area electrical loads and approximately 11.5% of the heating and hot water needs for the building.
The building is located within walking distance to many neighborhood community needs and services and scores "Walker's Paradise" (94 out of 100) on walkscore.com
Green Materials and Products are used throughout that are recycled, renewable, and contain low or no VOC's.
For publication inquiries about Cherokee and information on Pugh + Scarpa, contact Daniel Safarik at (310) 828-0226 ext. 16 or access our website at www.pugh-scarpa.com.
Cherokee Lofts Venice – Building Information
Project Details
Project's Formal Name: Cherokee Mixed-Use Lofts
Location of Project: 751 N. Fairfax Blvd., Los Angeles, California
Client/Owner: ReThink Development, Inc.
Completed: 2010
Architects: Lawrence Scarpa, FAIA, Pugh + Scarpa, Santa Monica, CA
Photography: John Edward Linden and Tara Wujcik (as noted) 818-888-8544
Cherokee Mixed-Use Lofts : further building information
Cherokee Lofts images / information from Architects Pugh + Scarpa
Location: 751 N. Fairfax Boulevard, Santa Monica, Los Angeles, California, USA
Los Angeles Housing – Selection
Gardenhouse, Wilshire Boulevard, Beverley Hills, CA
Design: MAD Architects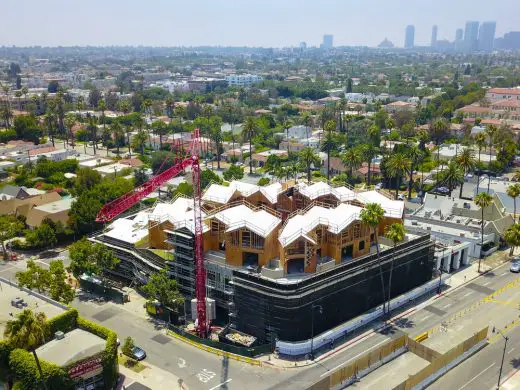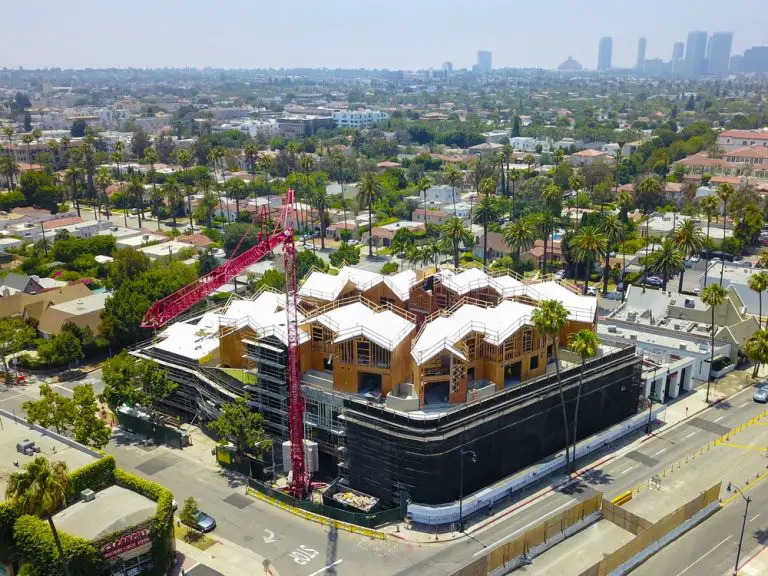 image Courtesy architecture office
Gardenhouse Wilshire Boulevard
Harper17 Condominium, 1264 N. Harper Ave, West Hollywood
Design: SPF:architects (SPF:a)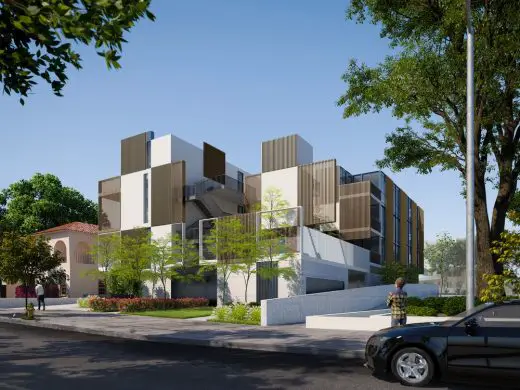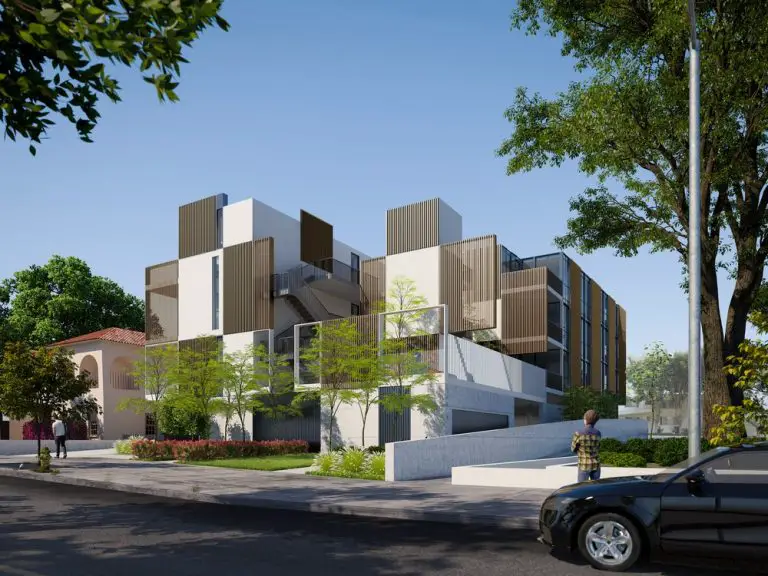 image courtesy of architects
Harper17 Condominium
Orange Grove Lofts, 1011 Orange Grove Ave, West Hollywood, California, USA
Orange Grove Lofts
Step Up on Fifth, Santa Monica
Pugh + Scarpa
Step Up on Fifth
One Window House, Venice
One Window House
Architecture in Los Angeles
Los Angeles Architecture Links – chronological list
Los Angeles Architecture Designs – Selection
Comments / photos for the Cherokee Lofts Los Angeles Architecture page welcome