Royal Academy of Arts Coin, The Royal Mint Architecture, Buildings, Images, Architect, Academician News
Royal Academy of Arts Coin
Architect David Chipperfield RA designed commemorative £5 coin, London, England, UK
14 Feb 2018
Royal Academy of Arts Coin by David Chipperfield
Design: David Chipperfield Architect with graphic designer John Morgan
Royal Academy of Arts Coin Design
ROYAL ACADEMY OF ARTS AND THE ROYAL MINT LAUNCH 250th ANNIVERSARY COIN DESIGNED BY ARCHITECT AND ROYAL ACADEMICIAN DAVID CHIPPERFIELD
The Royal Academy of Arts and The Royal Mint have invited internationally-renowned architect David Chipperfield RA to design a commemorative £5 coin in celebration of the Royal Academy's 250th anniversary in 2018. David Chipperfield is the first architect to ever design a coin with The Royal Mint.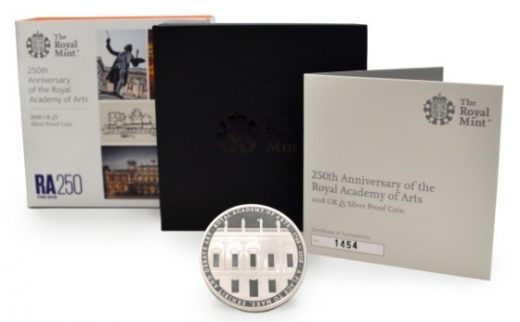 David Chipperfield's design, developed with graphic designer John Morgan, was inspired by an engraving from the third volume of Vitruvius Britannicus (1725), the influential architectural treatise by Colen Campbell. The coin shows a detail of the original two-storey façade of Burlington House, the RA's Grade II-listed seventeenth century home since 1867, before another level was added in 1872-4 by Sydney Smirke RA.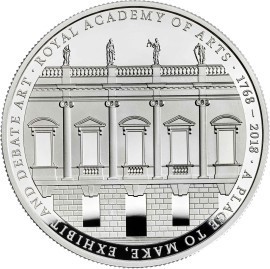 Since 1664 Burlington House has changed ownership and been remodelled by a series of major architects including Colen Campbell, Samuel Ware, Sydney Smirke RA, Norman Shaw RA, Thomas Jackson RA, and more recently Foster and Partners. Concurrently, Chipperfield is the architect responsible for the RA's transformative redevelopment, uniting its two buildings, Burlington Gardens and Burlington House, to create a new RA which will open to the public on the 19 May 2018.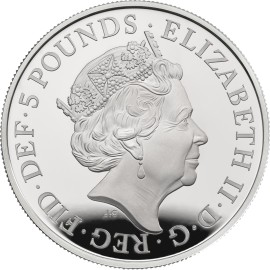 Christopher Le Brun, President of the Royal Academy of Arts, said: "We are delighted to partner with The Royal Mint to create a special collectors' coin to commemorate the Royal Academy's 250th anniversary and even more so that David Chipperfield RA, who is transforming our buildings, has designed it using Burlington House as his inspiration."
David Chipperfield RA, said: "The design for the coin is an architectural detail of the main façade of Burlington House taken from an engraving in the third volume of Vitruvius Britannicus, the influential architectural treatise by Colen Campbell. The captured section of the engraving includes recognisable features of the RA building before the additional storey was added. The four categories of the RA are directly captured or referenced: architects; sculptors; painters; engravers, printmakers and draughtsmen. The text encircles and frames the scene."
Dr Kevin Clancy, Director of The Royal Mint Museum, said: "The striking of the Royal Academy 250th Anniversary coin will highlight more than the RA250 celebrations – it will also shine a light on a number of important historical, cultural and symbolic links that have been maintained between The Royal Mint and the Royal Academy of Arts since it first opened in 1768."
RA250 Anniversary
The Royal Academy of Arts
The RA250 anniversary £5 silver coin designed by David Chipperfield RA is available to buy at the RA Shop and online shop.royalacademy.org.uk/royal-mint-coin for £82.50 (limited edition presentation of 2,750). Proceeds from the sales go towards non-profit-making areas of the RA, including the education programme, library and the RA Schools.
The Royal Academy and The Royal Mint have a long historic association. Royal Academicians who have links to The Royal Mint include two Royal Mint Chief Engravers: Richard Yeo, a founding member of the Royal Academy of Arts who produced designs for the coinage of George III, became Chief Engraver of The Royal Mint in 1775, whilst William Wyon RA, who produced portraits of George IV, William IV and Queen Victoria became Chief Engraver in 1828.
Other Academicians who have worked with The Royal Mint include Arnold Machin who produced a portrait of The Queen, the first to appear on decimal coins, the 1972 Silver Wedding Anniversary Crown and the 1977 Silver Jubilee Crown, and later, David Mach and Christopher Le Brun, current President of the RA, produced designs for twenty-first century Britannia coins and the Kew Gardens 50p. Tom Phillips, James Butler and Sir Anthony Caro are other significant Royal Academicians who have designed coins and medals for The Royal Mint.
Sir David Chipperfield RA CBE
David Chipperfield established David Chipperfield Architects in 1985. In 2011 he received
the RIBA Royal Gold Medal for Architecture, and in 2013, the Praemium Imperiale from the
Japan Art Association, both given in recognition of a lifetime's work. In 2009 he was awarded
the Order of Merit of the Federal Republic of Germany and in 2010 he was knighted for
services to architecture in the UK and Germany. David Chipperfield is a member of the
Royal Institute of British Architects and an honorary fellow of both the American Institute of
Architects and the Bund Deutscher Architekten. He is a past winner of the Heinrich
Tessenow Gold Medal, the Wolf Foundation Prize in the Arts, and the Grand DAI (Verband
Deutscher Architekten- und Ingenieurvereine) Award for Building Culture.
David Chipperfield was appointed Commander of the Order of the British Empire in 2004, appointed a Royal Designer for Industry in 2006, and elected to the Royal Academy of Arts in 2008. He has taught and lectured at schools of architecture worldwide and was Professor of Architecture at the Staatliche Akademie der Bildenden Kuenste, Stuttgart from 1995 to 2001 and Norman R. Foster Visiting Professor of Architectural Design at Yale University in 2011. He holds honorary doctorates from Kingston University (2009) and the University of Kent (2010). In 2012 David Chipperfield curated the 13th International Architecture Exhibition of the Venice Biennale under the theme 'Common Ground'.
The Royal Mint
The Royal Mint is Britain's longest established manufacturing organisation and is today the
world's largest export mint. A transformation in recent years has seen it evolve into distinct
business strands: as well as manufacturing UK and overseas currency and collectable coins
for its consumer division, it has seen expansion of its precious metal bullion operation and
the development of Fintech digital precious metal-backed products aimed at investors. The
Royal Mint Experience, the organisation's visitor centre in Llantrisant, South Wales, marked
its first foray into the world of tourism in 2016 – the visitor attraction has welcomed over
150,000 visitors to date.
BNY Mellon, Anniversary Partner of the Royal Academy of Arts
BNY Mellon's 11-year partnership with the Royal Academy of Arts has spanned many
projects and in 2018 we are pleased to be the RA's Anniversary Partner as it celebrates its
250th year.
About BNY Mellon
BNY Mellon is a global investments company dedicated to helping its clients manage and
service their financial assets throughout the investment lifecycle. Whether providing financial
services for institutions, corporations or individual investors, BNY Mellon delivers informed
investment management and investment services in 35 countries and more than 100
markets. As of Dec. 31, 2017, BNY Mellon had $33.3 trillion in assets under custody and/or
administration, and $1.9 trillion in assets under management. BNY Mellon can act as a
single point of contact for clients looking to create, trade, hold, manage, service, distribute or restructure investments. BNY Mellon is the corporate brand of The Bank of New York Mellon Corporation (NYSE: BK). Additional information is available on www.bnymellon.com.
21 May 2017
RA Summer Exhibition 2017
The Royal Academy of Arts' 249th Summer Exhibition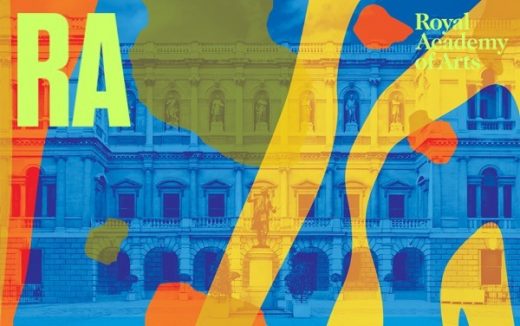 Location: Main Galleries, Burlington House
Royal Academy of Arts Summer Exhibition, London
17 Mar 2017
Royal Academy of Arts News – David Adjaye Royal Academician
Royal Academy of Arts announces election of David Adjaye and Gilbert & George as new Royal Academicians
The Royal Academy of Arts has elected the internationally renowned architect Sir David Adjaye and artist Gilbert & George as new Royal Academicians following a recent General Assembly.
Sir David Adjaye OBE (born Tanzania, 1966)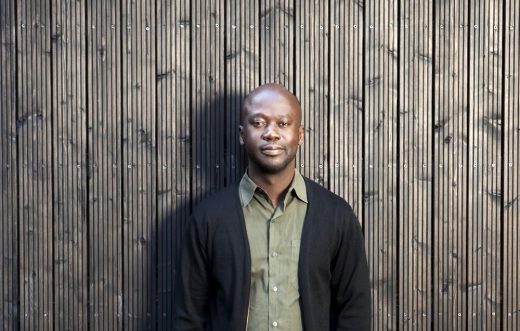 photograph © Ed Reeve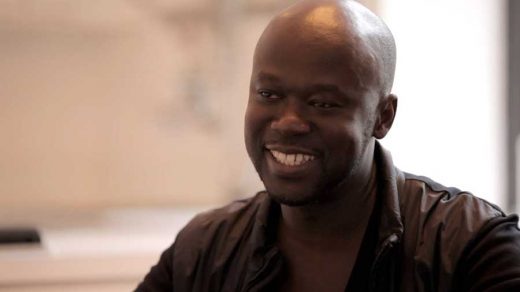 photograph courtesy of Doug Aitken Workshop and 303 Gallery, NY
David Adjaye:



photo courtesy of Doug Aitken Workshop and 303 Gallery, NY
Royal Academy of Arts Architecture
Royal Academy of Arts – Past Architectural News
13 Aug 2013
Burlington House Courtyard Development
Design: Rogers Stirk Harbour and Partners
The Royal Academy of Arts unveils a three storey house designed by Rogers Stirk Harbour and Partners in the Courtyard at Burlington House
Richard Rogers:



© Andrew Zuckerman
Homeshell – Royal Academy of Arts, London
Royal Academy of Arts Architecture Exhibition
Royal Academy of Arts Exhibition : Andrea Palladio
18 Jun + 24 Apr 2012
Royal Academy Summer Show 2012
Summer Exhibition Curators
Eva Jiricna and Chris Wilkinson are to curate the architecture gallery of Royal Academy's Summer Exhibition for 2012.
Royal Academy Summer Exhibition – architectural installation
Design: Chris Wilkinson, Wilkinson Eyre Architects



image : Luke Hayes
The 244th annual Summer Exhibition at the Royal Academy of Arts features a site specific architectural installation designed by architect and artist Chris Wilkinson RA, Director at Wilkinson Eyre Architects.
10 Jun 2008
Royal Academy of Arts London
David Chipperfield Architects appointed by Royal Academy of Arts for 6 Burlington Gardens, London
David Chipperfield Architects have been appointed to redevelop and refurbish the Royal Academy of Arts' building at 6 Burlington Gardens, one of the most significant High Victorian buildings in central London.


Royal Academy of Arts North Elevation : David Chipperfield Architects
Royal Academy of Arts, London: Burlington House, Piccadilly



image © Adrian Welch
Phone: 020 7300 8000
Nearest tube stations: Piccadilly Circus or Green Park
Royal Academy of Arts redevelopment : David Chipperfield Architects
Royal Academy Sackler Galleries architects : Foster Associates
Building close by to the east:
Piccadilly Circus
Location: Royal Academy of Arts, Piccadilly, London, England, UK
London Building Designs
Contemporary London Architectural Designs
London Architecture Links – chronological list
London Architecture Tours – bespoke UK capital city walks by e-architect
London Galleries
Saatchi Gallery, Chelsea
Design: Allford Hall Monaghan Morris



image © Timothy Soar
Royal Opera House London



photo © Nick Weall
Website: Architectural Walking Tours
Royal Courts of Justice London
Buildings / photos for the Royal Academy of Arts Coin page welcome