Oxford Street Christmas Lights Design Competition, News, British Winter Urban Design, Image
Oxford Street Christmas Lights 2018
RIBA Design Contest in Central London, England, UK – design by 3DReid Architects
17 Apr 2018
Oxford Street Christmas Lights Competition Shortlist
Oxford Street Christmas Illuminations for 2018
Talented shortlist unveiled in the global competition to design the celebrated Oxford Street Christmas Illuminations for 2018
A global competition, launched to create the new design for the Christmas Illuminations across Oxford Street, which is visited by over 30 million people during the festive season, has reached its exciting second stage today. New West End Company, who commissioned the competition, has unveiled a shortlist of four ambitious concepts from across the world for the first new installation on the world-famous shopping destination in five years.
The shortlisted entries feature innovative and intricate uses of design and light from four talented artists and lighting specialists. The designs, two from UK studios, one from Portugal and a collaboration between two studios from Germany and Austria, have taken their inspiration from themes such as the Northern Lights and swarming flocks of birds. Each design has been created to enable passers-by to personally interact with the display.
This is the first time a global competition has ever been undertaken to find a designer to take on this illustrious project. Over 40 entries were submitted, with participants from the UK, Europe, Australia, the USA, and the Middle East among those to put forward their artistic visions for Christmas on one of the world's most famous shopping streets.
The competition has been arranged by New West End Company and facilitated by the Royal Institute of British Architects (RIBA). The judging panel, made up of experts from the arts and design industries, includes the British fashion designer Anya Hindmarch and Deputy Mayor for Culture and Creative Industries, Justine Simons. The winner, set to be announced at the end of May, will have the opportunity to showcase their work to over 30 million festive season visitors between November 2018 and January 2019 when the display will be showcased on Oxford Street.
The competition to secure a world-leading festive installation for Oxford Street is the latest example of how Oxford Street and London's West End have their sights set on providing an unrivalled experience to visitors, especially during the magical Christmas season. The Oxford Street lights form part of New West End Company's ambitious programme of events, activations and transformational projects designed to continue to enhance the reputation of the West End as the best place in the world to visit, shop, dine and explore.
Jace Tyrrell, Chief Executive of New West End Company said: "Oxford Street's Illuminations are synonymous with Christmas in London, launching the festive season and drawing crowds from across the globe to the West End. The shortlisted entries are all outstanding, creating opportunities for people to interact with the installations in a new and innovative ways that have not been seen on Oxford Street before. Selecting the shortlist was incredibly difficult, but looking at the four potential winning designs, it's certain the lights this year will be spectacular, giving all our visitors the opportunity to experience a special festive moment here on Oxford Street."
Chris Wilkinson, OBE, Director, Wilkinson Eyre and RIBA Adviser says, "Oxford Street's Christmas lights are world renowned, and this year a designer from this incredible shortlist will deliver an installation that eclipses anything that's come before. The standard of entry has been wonderful and selecting a shortlist was extremely hard, but these four entries stood out in terms of their quality, and the inspiring stories that underpinned their design concepts. I'm really excited for the final stage of the competition from this amazing shortlist, and, whoever wins, I have no doubt there will be an amazing Christmas spectacle for visitors to Oxford Street to enjoy this Winter."
The complete 2018 judging panel is:
• Anya Hindmarch, Designer and Trustee of Royal Academy Development Trust
• Chris Wilkinson, OBE, Director, Wilkinson Eyre and RIBA Adviser
• Jill Entwistle, Executive Editor, Lighting Magazine
• Jace Tyrrell, Chief Executive Officer, New West End Company
• Justine Simons, London Deputy Mayor for Culture and Creative Industries, Greater London Authority
• Julia Corkey, Director of Policy, Performance and Communications, Westminster City Council
The shortlisted entries are:
A. Gia Equation with Peter Fink Studio, Harry Dobbs Design & Eckersley O'Callaghan, London –KaleidoSCAPE is an immersive interactive experience of light and colour inspired by Aurora Borealis, the fragile spectrum of colours on the surfaces of bubbles and the light refraction through prisms.
B. Castros S.A, Portugal – This entry, entitled 'The Polar Christmas' will create a welcoming, tender Christmas display by combining inspiring shapes and colours, with one of Christmas's most popular icons, the reindeer. The Polar Christmas is inspired by a magical tale created by the designer which describes how a famous jeweller was reminded of the preciousness of family by an encounter with a majestic reindeer on a dangerous polar expedition.
C. 3DReid, London – The designers' North Pole-inspired design incorporates a ribbon geometry that never repeats and 500,000 LED lights that will allow flexibility for the lights to smoothly curve around the street through a 'ribbon and star' field.
D. Herr Meier Licht, Germany & MK Illumination, Austria – Taking inspiration from flocks of birds in the sky 'The Swarm' will use a 3D calibration to allow every light to follow its own behaviour. The simulation will last 24 hours and will change in colour.
17 Apr 2018
Oxford Street Christmas Lights Competition Shortlist News
Northern Lights in London: 3DReid in running for next Oxford Street Christmas lights display
3DReid's vertical ribbon of lights has been selected as one of only four designs shortlisted in the first ever competition for the redesign of Oxford Street's word-famous Christmas lights.
Based on the concept of the Northern Lights (Aurora Borealis), 3DReid's design uses a continuous, linear, colour-shifting light field to create an artificial 'aurora' that cascades down the unique shopping street and brings a special feeling of northern-ness to the heart of Christmas London.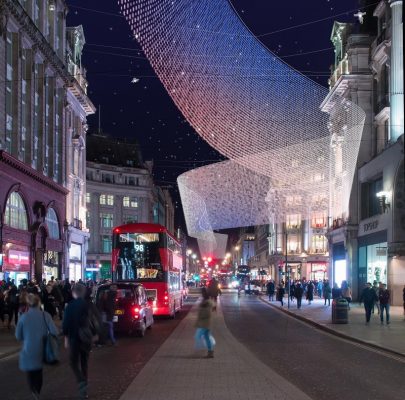 The design has two main elements, a ribbon and a star field. The ribbon uses 500,000 fully addressable, three colour LED luminaires to create a never-repeating continuous geometry that curves smoothly around street obstacles such as trees or lamp posts. At each of five 'gateways', the ribbon takes a more flamboyant path and its programming changes, providing a strong sense of arrival for visitors.
Explains Charlie Whitaker, Associate Director and Concept Coach at 3DReid: "Where traditional Christmas light installations are horizontal, either spanning the street with intermittent banners or shapes, or putting a lid on the street like a ceiling, the main part of our design is a long, vertical ribbon. Because of this geometry, the many rich facades and storefronts of Oxford Street – often themselves illuminated – remain unobstructed and are allowed to make their own contribution. The continuously curving path encourages visitors to enjoy the whole length of Oxford Street, to appreciate its scale and the variety in its unity."
In addition to the main ribbon 'aurora', the installation has a background 'star field' of suspended lights. Much less dense than the ribbon; the star field both contributes to the aurora effect and offers an opportunity to mix in some 'Christmas eggs'. These consist of a variety of illuminated characters and shapes, some with a Christmas theme, some with a gift theme (by district) and others that are … less expected. Visitors can travel the length of Oxford Street to spot them, inviting exploration of the wider district.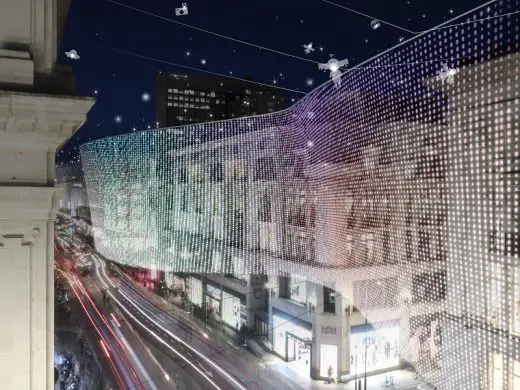 With an installation lasting October through January – almost a quarter of the year – the Oxford Street lights unavoidably have a presence extending well beyond Christmas and can be subject to the traditionally reported 'festive fatigue'. 3DReid's design contains a planned and adaptable programme for the whole 'winter lights season', celebrating festivals such as Diwali and Hanukkah and national events such as Remembrance Sunday, whilst framing Christmas at its centre.
Launched by RIBA and Oxford Street and led by New West End Company, in conjunction with Transport for London (TfL) and Westminster City Council, the competition asked lighting designers and architects from the UK and beyond to design the most inspiring and innovative Christmas lights. The designs will be judged by an internationally esteemed panel and the winner will be announced in May 2018.
Images: 3DReid
3DReid is an award-winning architecture practice. Established in 1979, the firm have over 140 staff across offices in London, Edinburgh, Birmingham, Glasgow and Manchester. The architecture practice provides full architectural services from masterplanning to interior design. The firm design a wide range of building types and spaces, with specialist skills in the design of airports; hotels; offices; residential and retail buildings. The architecture office's reputation has been built on providing creative and intelligent architectural solutions that meet their operational brief without compromise.
For more information about 3DReid, please go to www.3dreid.com.
6 Feb 2018
Oxford Street Christmas Lights Competition
RIBA Competition: Oxford Street launches global call for the redesign of its world renowned Christmas lights
Oxford Street launches global call for the redesign of its world renowned Christmas lights
For the first time in history, Oxford Street will be launching a global call for the redesign of its world famous and universally loved Christmas lights.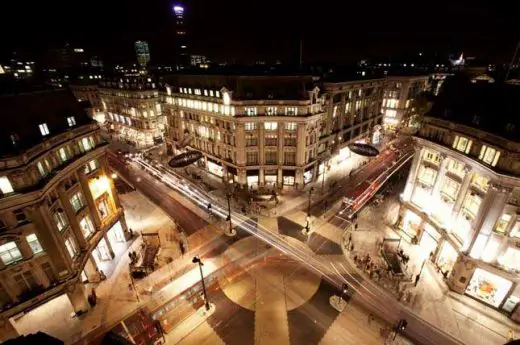 Oxford Street Christmas Lights Competition
Location: 1 Oxford Street, London, England, UK
London Building Designs
Contemporary London Architectural Designs
London Architecture Links – chronological list
London Architecture Tours – bespoke UK capital city walks by e-architect
61 Oxford Street, Soho
Design: Allford Hall Monaghan Morris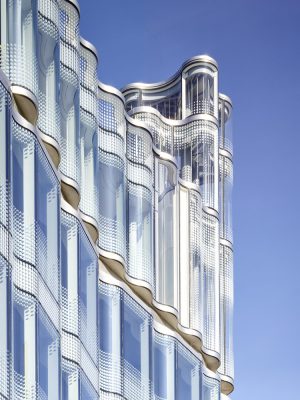 photo courtesy of RIBA
61 Oxford Street Building by AHMM
Another Oxford Street project on e-architect:
Oxford Street Diagonals




image courtesy of architects
Oxford Street Diagonals
Before + After images of the Oxford Street Diagonals:



Number 1 Oxford Street Building
Oxford Street Shop by Future Systems
Bird Street Retail Concept in Oxford Street Area
Key Building on Oxford Street
Centre Point, tower
Design: Richard Seifert Architect



photo © Nick Weall
Key Shop on Oxford Street:
Selfridges Department Store, Oxford St, central London



photo © Adrian Welch
Selfridges Store
Comments / photos for the Oxford Street Christmas Lights Competition page welcome