Grenfell Tower Inquiry Part Two, Second Phase Immunity, West London Building Fire News, Evidence
Grenfell Tower Fire Inquiry Part 2
Public Hearings re June 2017 Disaster at Block of Flats Development in North Kensington, London, England, UK
1 Feb 2020
Grenfell Tower Firms Manslaughter Charges
People who worked on Grenfell Tower 'could face life sentences', reports The Guardian newspaper.
Lawyers say police interviews indicate workers could face manslaughter charges.
Grenfell refurbishment firms 'killed in pursuit of money', the inquiry was told.
Many particpants in the refurbishment are reportedly seeking to not self-incriminate, by refusing to answer questions in the public inquiry.
Logically it surely would have been better to take this matter first though the criminal courts, with the public inquiry following thereafter.
Detectives say they won't consider passing a file recommending prosecutions to the Crown Prosecution Service until after the inquiry has concluded. Therefore any trials may not commence for at least two years.
Grenfell Tower Inquiry Part 2 Report – The Guardian
30 & 29 Jan 2020
Grenfell Tower Inquiry Immunity
Grenfell Tower Firms Request Immunity Over Evidence
Firms involved in the refurbishment of Grenfell Tower have asked the public inquiry into the fire for a guarantee that anything they say in the hearings will not be used for any prosecution.
They want a guarantee from Attorney General Geoffrey Cox that they will be protected when they give evidence.
The Royal Borough of Kensington and Chelsea has "apologised unreservedly" for a "number of failings" by its building control services.
The inquiry's second phase, which began on Monday 26th of January, is studying how the building was clad in flammable material during its refurbishment between 2012 and 2016.
Grenfell Tower fire, 4:43 a.m. on 14 June 2017: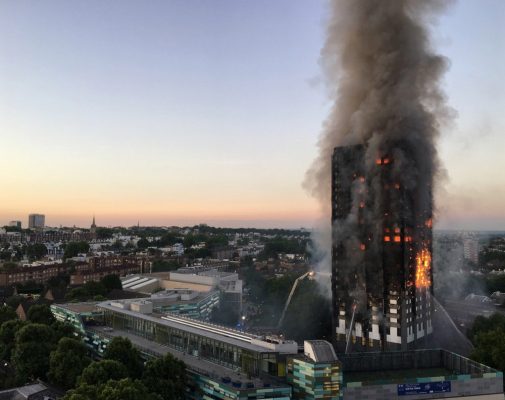 photograph by Natalie Oxford, courtesy of wikimedia commons
The first part of the Grenfell Inquiry examined the events of just one night.
Part two will extend back years in its quest to explain this tragedy.
Oral Opening Statements are being heard from 27 to 30 January 2020, in this order:
Studio E Architects Limited (1 1⁄2 hrs)
Rydon Maintenance Limited (1 1⁄2 hrs)
Harley Facades Limited (1 hr)
Exova (UK) Limited (1 hr)
Arconic Architectural Products SAS (1 hr)
Celotex Limited (30 mins)
CEP Architectural Facades Limited (30 mins)
Osborne Berry (15 mins)
Artelia Projects UK Limited (1 hr)
KCTMO (30 mins)
RBKC (1 1⁄4 hrs)
London Fire Brigade (15 mins)
Fire Brigades Union (15 mins)
BSRs Team 1 (1 1⁄2 hrs)
Imran Khan QC (30 mins)
BSRs Team 2 (2 1⁄2 hrs)
Experts have previously said the work failed to meet building regulations.
Representatives from organisations making the application for the guarantee include:
– cladding company Harley Facades
– building contractor Rydon
– Kensington and Chelsea Tenant Management Organisation (K&C TMO)
Michael Mansfield QC, who is representing victims, told the Grenfell Tower Inquiry the timing of the application was "highly questionable and highly reprehensible".
In the cropped photo below note how the white rainscreen panels appear more intact than the grey ACM panels, logical as the latter have a greater fire load: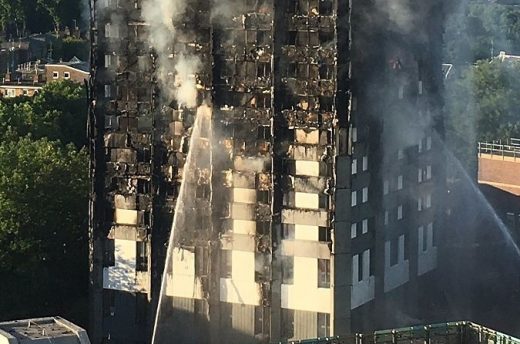 cropped photo by Natalie Oxford, courtesy of wikimedia commons
Readers may recall that the Radical Housing Network told The Mirror newspaper on 18th June 2017 that The TMO's response was to "threaten tenants with legal action and send out letters".
e-architect were probably the first architecture website to report the disaster, very early on the morning of the fire, and contacted Studio E Architects for comment in the same week. They never replied.
We have followed many research leads on the precise reasons behind the fire, with plenty of expert information shared online in a series of posts. Our mission is to assist the AEC community in preventing any repeats of this kind of disaster.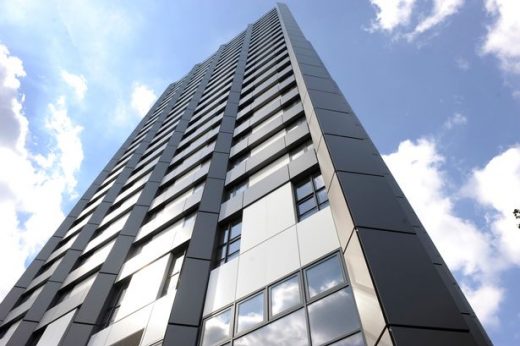 Refurbishment works participants:
– Client: The Royal Borough of Kensington and Chelsea TMO
– Client's Agent: IBI Taylor Young
– Architects: Studio E
– Consulting QS: Appleyards
– Main contractor: Rydon
– Building facade sub-contractor: Harley Facades UK
– Reynobond PE cladding supplier: Omnis Exteriors
– Insulation manufacturer/supplier: Celotex
A photo that was on Studio E's website shows one facade of Grenfell Tower – click on photo for large size, 5824 pixels, left in super-large format to aid viewing, save and zoom in: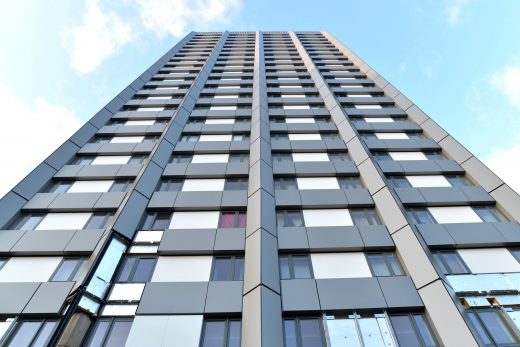 15 Nov 2018
New Grenfell Inquiry Expert Witness – Architect Paul Hyett
Further to our report on 22nd June 2018 about the sacking of an expert witness, architect Paul Hyett has now been appointed as an expert witness to the Grenfell Inquiry.
The former RIBA president replaces John Priestley who was sacked in June after two days, when it emerged he was not registered with the Arb.
Paul Hyett, PPRIBA, Hon. FAIA, is a Principal in the London office of US practice HKS Architects as its UK sports director.
He had an unorthodox route into architecture: after a time in the merchant navy and aviation insurance, he trained at the Architectural Association in London. He then worked for architect Cedric Price and then Alan Baxter, before setting up his own architecture practice.
He is a specialist in construction litigation and forensic investigation.
15 Aug 2018
Grenfell Tower Memorial Design
A speculative proposal for the Grenfell Tower memorial has been released by architects studio JAA, London.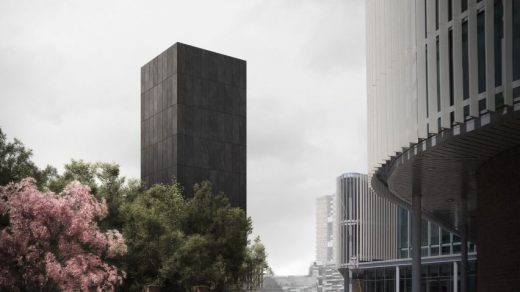 Images: JAA Studio
lower floors: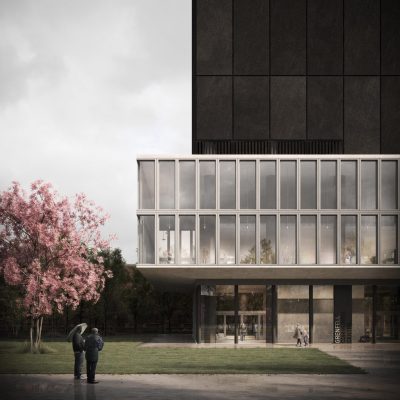 Titled 'Grenfell Tower: In Memoriam' the proposal calls for a preservation of the tower, but with the addition of black concrete cladding on the exterior, transforming it into a memorial with an opaque facade.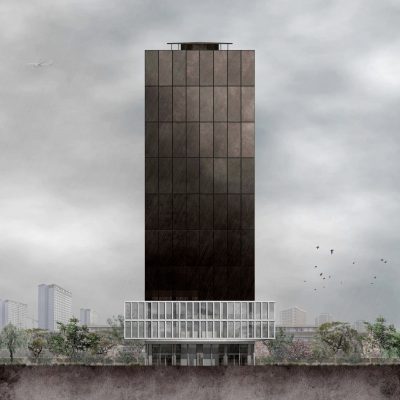 The damaged structure would be sealed within a 'sarcophagus' made from 224 black concrete panels. A beacon would light up at night in flat 16 – the origin of the fire.
A terrace would be added to the roof with a small wildflower garden.
rooftop terrace: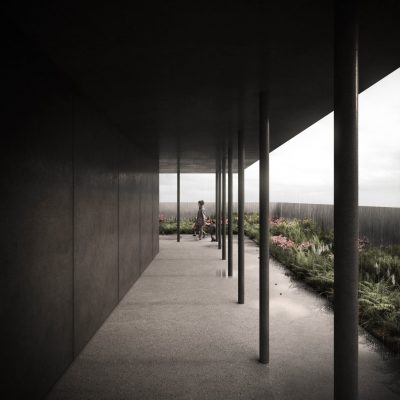 The proposal calls for all other floors to remain unused, with the exception of the lowest four, which would be repurposed and renovated for community uses, including sporting facilities and a gallery dedicated to the fire's victims and those affected.
22 Jun 2018
Grenfell Inquiry Expert Witness Controversy
The Architects Registration Board (ARB) is investigating a complaint that an expert witness appointed to the Grenfell Inquiry this week described himself as an architect despite not being on the register for 10 years, report Building Design magazine today.
John Priestley of John Priestley Associates called himself on his website "a UK registered and Chartered Architect with over 30 years experience in the design and construction of a wide range of Commercial, Industrial and Residential projects".
The website was taken down this morning. Grenfell Inquiry also 'making urgent inquiries'.
Grenfell Tower in West London – this is the original and main post about the building fire
Grenfell Tower Cladding – a spin-off post from this page focused on the cladding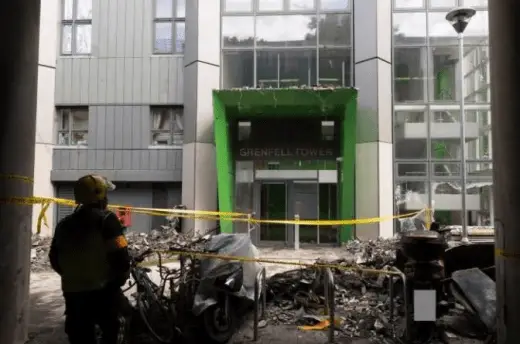 photograph : Metropolitan Police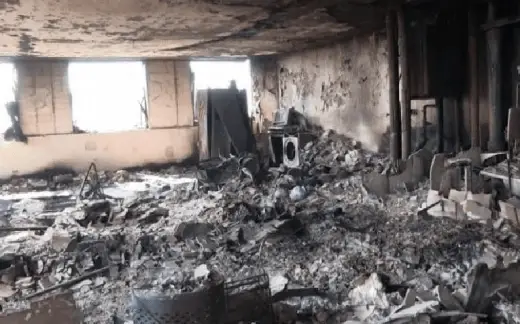 photograph : Metropolitan Police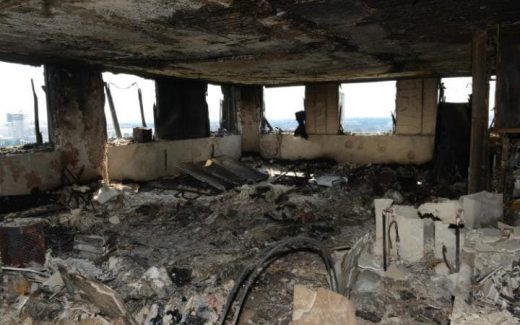 photograph : Metropolitan Police
Grenfell Tower elevation and section of a typical floor: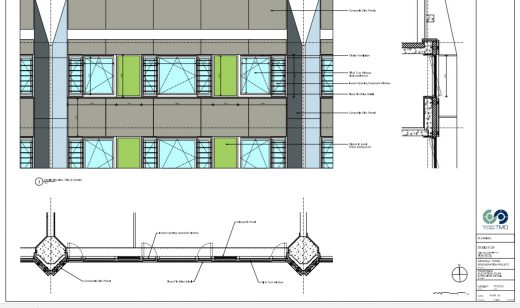 Revised Drawing-952306.pdf?- image courtesy of architects via RBKC planning portal
Grenfell Tower section through window of a typical floor: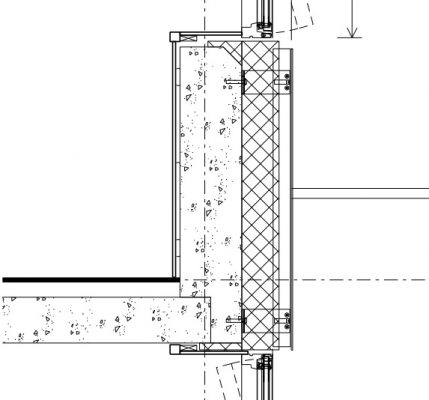 extract from Revised Drawing-952306.pdf?- image courtesy of architects via RBKC planning portal
Grenfell Tower cladding – for top and bottom of the building, the principal cladding appears to be noted as '3' (medium grey, ACM) and '5' (white, rainscreen) in the top left key, ie ACM panels: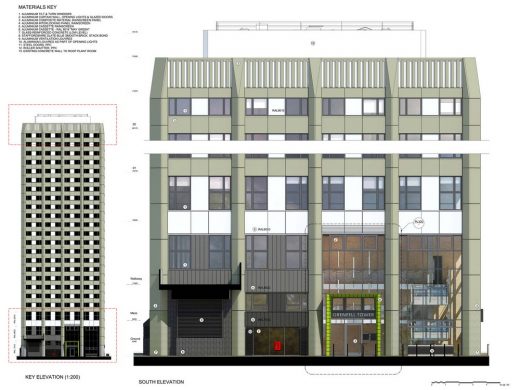 elevation courtesy of architects via planning portal
Grenfell Tower floor plans, assumed to be earlier proposals from 2012: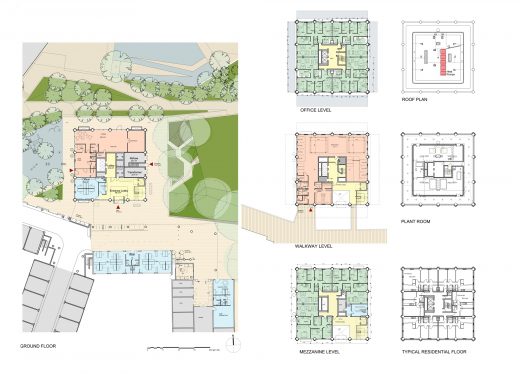 Drawing-952258 – plans courtesy of architects via planning portal
Lower floor plan layout (ie not typical residential floor), existing on left, proposed in colour on right with new entranc lobby: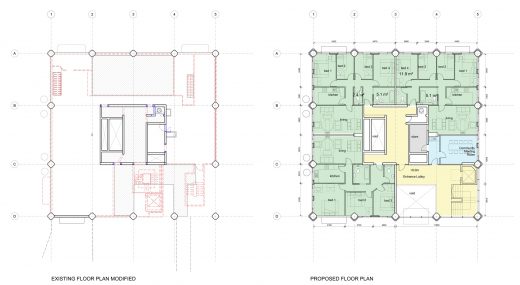 image courtesy of architects via planning portal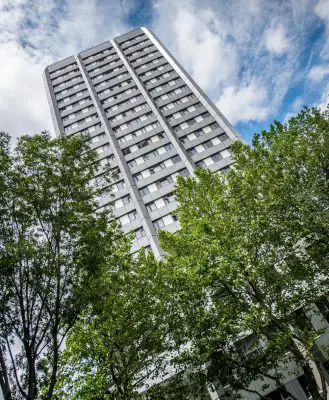 photo courtesy of SE9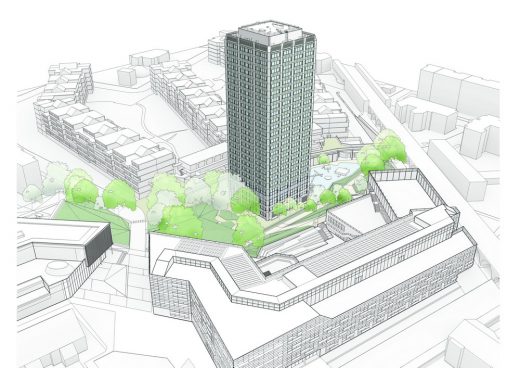 Grenfell Tower fire, approximately 6 a.m. on 14 June 2017: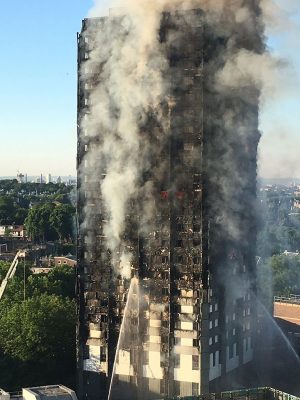 photo by Natalie Oxford, courtesy of wikimedia commons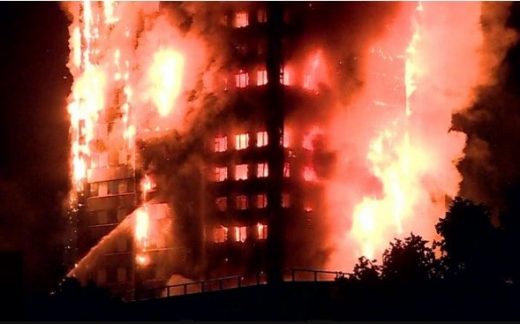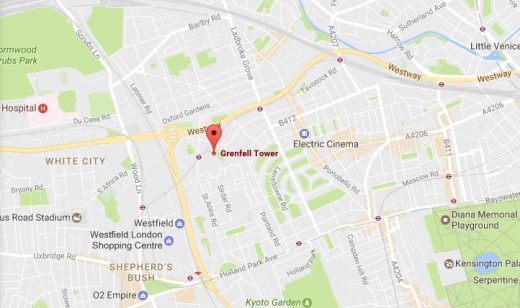 The building facade, photo references Harley Facades UK: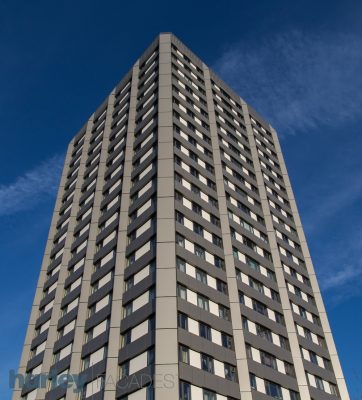 photo courtesy of SE9
Location: Lancaster West Estate, Latimer Road, North Kensington, West London, England, UK
London Architecture
London Architecture Designs – chronological list
London Architecture Walking Tours
London Skyscraper Buildings – alphabetical list
Houses of Parliament Restoration and Renewal  Programme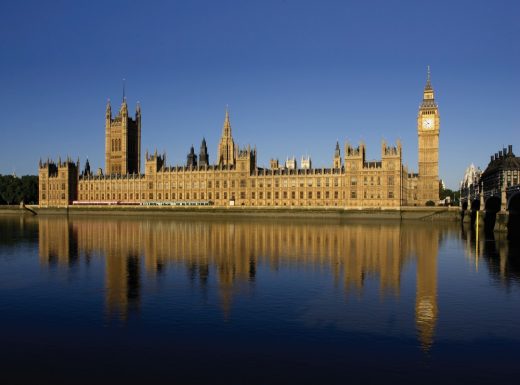 photograph © UK Parliament
Houses of Parliament Restoration and Renewal
Buildings / photos for the Grenfell Tower Fire Inquiry Part Two News page welcome