Futuro House Central Saint Martins College London, Spaceship Home Kings Cross Building, Campus
Futuro House on roof of Central Saint Martins College
University of the Arts Spaceship Building, UK – original design in the 1960s by Finnish architect Matti Suuronen
15 Aug 2016
Tour a Restored Futuro House – The 1960s 'Spaceship' Home
Location: Campus for Central Saint Martins, Granary Square, London, England, UK
Take a trip back to the swinging '60s with a rare glimpse inside an original 'House of the Future'
Article first published on Houzz
Victoria Harrison
'The first time I saw this Futuro home I was 3 years old,' says London-based artist Craig Barnes. Throughout his childhood, Barnes was a regular visitor to South Africa, where one of the 1960s prefab 'spaceship' houses was located. Whenever he visited the area with his family, he always wanted to go and see the Futuro House. On a return trip to South Africa many years later, Barnes realised his childhood dream of buying the Futuro, and embarked on a journey of restoration.
Houzz at a Glance
Who owns it Craig Barnes, an artist
Property A restored 1960s Futuro House
Size 1 bedroom, 1 bathroom, 6 reclining seating pods
Location Currently landed on the roof of Central Saint Martins College, London
The Futuro House was designed in the swinging 1960s by Finnish architect Matti Suuronen as an easy-to-assemble holiday home. Its fresh look and modern shape reflected the spirit of optimism and experimentation that characterised the decade, and the homes were built around the world. But the Futuro House fell out of fashion and many of the original ones were abandoned, which is how Barnes found his example, crumbling and faded, in urgent need of repair. Fortunately, he was up to the challenge, and he's returned this iconic piece of architecture to its former glory.
'I'm a habitual collector of things,' Barnes says, 'and I like to find items on my travels.' However, he concedes that collecting a house and attempting to bring it home was on a rather larger scale than anything he'd previously attempted. 'It didn't quite fit in the suitcase this time!' he laughs.
The Futuro House was marketed as a flat-pack holiday home or weekend skiing retreat. The design meant it was easy to dismantle and rebuild on a slope or other rough terrain. 'It encapsulated the spirit of what was such an optimistic, experimental era,' says Albert Hill, founding director of The Modern House, an estate agent dealing exclusively in modern architecture. It was also designed to be cheap and light, so was constructed from polyester – a new material at the time.
The Futuro was launched in July 1969, the same week Neil Armstrong walked on the moon. As such, 'it rode the wave of space-related euphoria,' says David Walker of WowHaus, a website that showcases interesting architecture. 'It was your very own spaceship and, even today, it looks like everyone's idea of an alien spacecraft.'
See more 1960s-influenced design with these midcentury photos
However, despite a blaze of initial publicity (one was even sailed down the Thames in 1968 on its way to an exhibition), the Futuro was a commercial failure. Fewer than 100 were made and, despite becoming 'cult' items for collectors, many were abandoned as time moved on and fashions changed.
While some cite the 1970s oil crisis as the culprit, causing the inflated price of plastic, others believe it was the circular shape that people just couldn't get on with. 'Imagine fitting your current furniture and belongings into a Futuro House and you can see the problem,' says David Walker. 'Great concept, not necessarily a practical living space.'
Which was how Barnes' Futuro ended up in such a sorry state. 'Before I bought it, the Futuro had changed hands several times,' Barnes says. 'It was being used as a house, but it had fallen into disrepair. The front door had fallen off and been thrown away and the interior was crumbling.'
Barnes managed to persuaded the current owner to sell the Futuro to him, and then it was just a case of getting it home.
Taking care to number each section of the structure, Barnes carefully dismantled and packed up the Futuro to be shipped back to the UK. 'We thought it could fit into one shipping container,' Barnes says, 'but it was too big, so we had to squeeze it in then hold it tight with cables – as many cables as we could find in the town.'
Fortunately, after a nerve-wracking two months as it made its way across the seas, the Futuro arrived unscathed in the UK – where it then sat in storage for six months. At the end of 2013, Barnes moved it to a barn in Herefordshire and started the slow but steady process of restoring it. Living in London by this point, he commuted back and forth to the barn to spend time working on the project.
Keen to do his research properly, Barnes travelled to Finland to meet Marko Home, the author of the sole book on the history of the house, Futuro: Tomorrow's House From Yesterday.
Widely regarded as the leading expert in the field, Marko first became interested in the world of the Futuro in 1995. 'At that time, Futuro House was pretty much forgotten and was not presented in the architecture and design books,' he explains. So, along with film director Mika Taanila, he had to put together the story of Futuro from scratch. 'We interviewed Matti Suuronen and other people involved with Futuro back in its heyday, went through all kinds of archive material and generally collected every piece of information on Futuro we could find,' he says.
'What I find most fascinating about the Futuro is that, despite its failure as a commercial product, it survived the test of time to have a second life as the icon of late 1960s space-age architecture and design and even an art object.'
Back in the UK, Barnes started the laborious task of sanding down the exterior panels. Taking care to fill in any deteriorated sections, he worked on each panel in turn, getting them ready to be resprayed back to their original glossy turquoise colour.
'I wanted to restore it to the original Finnish design,' he says. 'I believe in respecting the integrity of an object; I'm not always a fan of upcycling. That's not to say there aren't ways I might look to build on the existing design in the future,' he says, 'but I wanted to return it to its original condition first, rather than change it too drastically.'
The interior was in a sorry state, too. Fortunately, though, a small section of the seating was still intact, so Barnes was able to have moulds made from this to re-create the original interior seating.
He was also able to salvage one of the original elliptical windows and he used this as a guide to have new ones made.
Because the front door had been thrown away, Barnes had to have a new one built from scratch. 'It's not something that can easily be bought from a DIY store!' he says. Another Futuro owner had a mould from his own front door made for this and a new set of steps had to be crafted.
Barnes reinstated a (fairly snug) double bed, which is tucked into a corner of the pod. In many of the original Futuros, this would have been screened off to create a sleeping area.
When Barnes bought the Futuro, it had a little kitchenette in the corner, which he has partly reinstated here. It's not fitted out yet, but has the potential to be in the future.
The rest of the interior has been kept deliberately minimal. 'I wanted to keep it stripped back to the architecture,' Barnes says. 'I feel that when you add trinketry, it starts to break down as a space.'
This door leads out of the main living and sleeping area of the Futuro into the 'porch', off which the bathroom is located.
Check out 11 lessons minimalists can teach the untidy
A small bathroom pod to the left of the front door has been fitted out in a similar style to the original. Many of the original Futuros had fitted showers, toilets and small wash basins.
Read expert tips for staying on top of a bathroom renovation
Work continued at a steady pace until, as with so many projects, a deadline loomed and the pace picked up. This deadline was in the shape of an opportunity to exhibit the completed Futuro at a London gallery, so work began in earnest.
In October 2014, after 10 months of hard graft, the finished Futuro was transported to London for its unveiling at Matt's Gallery in the east of the city. Polished up and returned to its former glory, it's easy to see the appeal of such a quirky piece of architecture. 'They are such lovable little buildings, it's hard not to smile when you see them,' says Albert Hill.
It's thanks to enthusiasts like Barnes that examples such as this are still around. 'It could well have been confined to the scrapheap of history but for a few devoted fans,' David Walker says.
Several months later, the Futuro was moved to its current location on the roof of London's Central St Martins art school, where it's open to the public one day a month and can also be hired by groups.
So what's the future for the Futuro? One day, Barnes would like to find a permanent home for it, but for now he feels that using it as a public space is important.
'Like any artwork, it needs to be experienced by people to come into its own,' he says. 'In an ideal world, I imagine it being a travelling ship performing various functions. It's an important piece of architectural design and I want others to be able to experience it.'
Marko agrees. 'The Futuro perfectly captured the spirit of 1960s utopian architecture that challenged the prevailing practices, and its legacy should be kept alive as a reminder of this experimental spirit alone, not to mention the countless other reasons.'
And on a personal level? 'A trip around the world to visit the other remaining Futuros would be amazing,' Barnes says with a laugh.
Central Saint Martins College of Arts and Design
Design: Stanton Williams






photos © Hufton+Crow
Central Saint Martins College of Arts and Design London
Central Saint Martins College London architects : Stanton Williams
Campus for Central Saint Martins – WAF Awards Shortlisted building in 2012 for School category
Phone: 020 7514 7000
Location: 1 Granary Square, London, N1C 4AA, England, UK
London Building Designs
Contemporary London Architecture Designs
London Architecture Designs – chronological list
London Architecture Tours – tailored UK capital city walks by e-architect
Kings Cross London



photo © Adrian Welch
King's Cross Gasholder Competition
King's Cross Central Competition
King's Cross Building
Design: Bennetts Associates



image from architects
King's Cross Square : Competition Shortlist
Website: Futuro prefabricated house – wikipedia page
Former CSM Art School Luxury Apartments, 107—109 Charing Cross Road, Soho, London, England, UK
Design: Darling Associates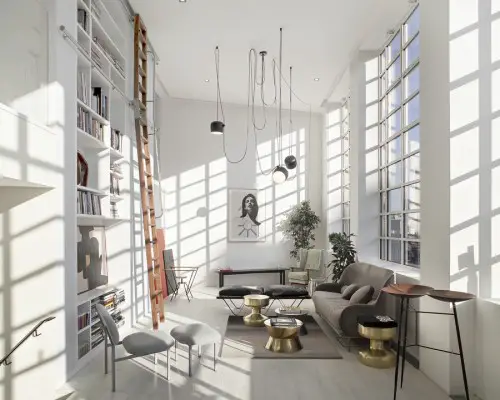 photograph : Peter Landers
Former CSM Art School Luxury Apartments
Website: Futuro House
Arq Futuro, Rio de Janeiro
Comments / photos for the Futuro House on roof of Central Saint Martins College, London page welcome
Website: www.kingscross.com