NLA London House Extension Competition 2022, Good Property Design, Don't Move, Improve! Shortlist, Building Photos
Don't Move, Improve! 2022 shortlist
19 May 2022
Don't Move, Improve! 2022 winners
2 March 2022
NLA 'Don't Move, Improve!' Competition Winners, England, UK – Home Design Contest News
London's best home renovations – Don't Move, Improve! 2022 shortlist announced
15 renovation projects have been shortlisted as some of London's best home improvements for the 2022 edition of New London Architecture's (NLA) annual competition Don't Move, Improve!, celebrating the most innovative home improvement projects from across London.
Significant 2022 trends include interconnected indoor/outdoor spaces, use of wood and natural materials, natural tones and pastel colours are dominant alongside bold shapes, including curves and circles, often inspired by art-deco. Noticeably visible are also statement ceilings and colourful structures. The most popular boroughs for home improvements within the shortlist are Lewisham, Southwark, Kensington and Chelsea, and Hackney. The most common types of extension are rear and side, with interior refits, as befitting London's semi-detached and terraced housing.
A Tuscan Veranda by Turner Architects: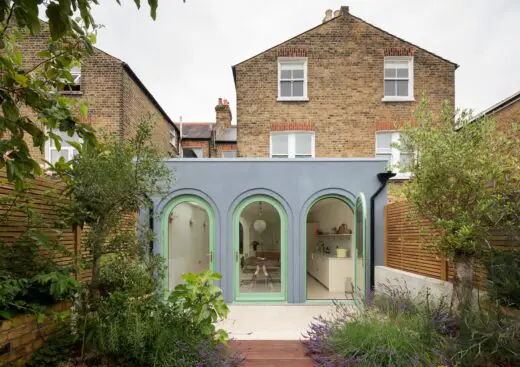 photograph © Adam Scott
Designed by Turner Architects, A Tuscan Veranda features a kitchen remodelling and extension of a family home in Lambeth. Drawing on the Italian style of the terraced house with classic and perfectly proportioned Romanesque arches, A Tuscan Veranda offers framed views of the house through the garden. The repeated form draws on Raphael's Pillars of Knowledge, and the result is a relaxed space for conversation and entertainment, with a table functioning as the centrepiece of family life.
Little Brownings in Lewisham by Archmongers: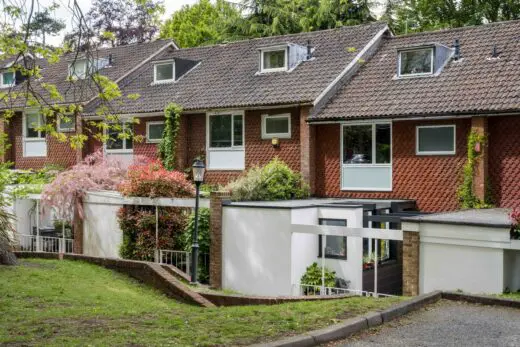 photograph from architects
Over in Lewisham, four houses have been shortlisted, including Little Brownings, Non Boxy Lofty, Pergola House and Transitions. Little Brownings is a home extension set in a three storey 1960s terraced house on the Dulwich Estate in Forest Hill. Designed by Archmongers Architects, the extension improved the existing house without losing any of its 1960s character, turning it into an uncompromising modern house for years to come.
Non Boxy Lofty in Lewisham by Fraher & Findlay: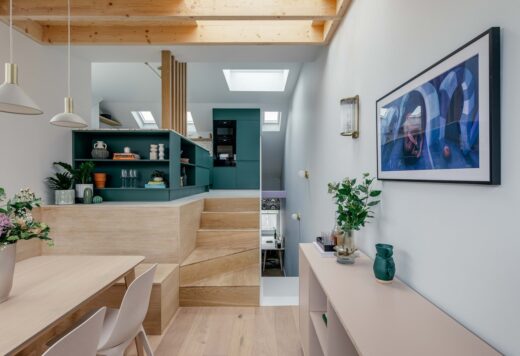 photograph from architects
Designed by Fraher & Findlay, Non Boxy Lofty looked at different ways to extend spaces at roof level. The architects looked at traditional ways of forming bedroom spaces at loft level and designed an inverse plan with the kitchen and dining spaces overlooking the rooftops, with the bedrooms underneath them. The result is a light living and landing space connected by a perforated metal staircase.
Pergola House in Lee Manor Conservation Area by Benjamin Wilkes: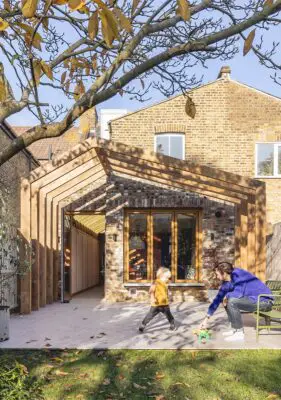 photograph © Billy Bolton
Pergola House by Benjamin Wilkes is a timber framed single-storey extension to a Victorian family home in the Lee Manor Conservation Area. Wilkes enlarged the kitchen space to accommodate the needs of a growing young family. To reduce site wastage, bricks from the existing external wall were salvaged and reused on the flank walls. The pergola structure is formed by a series of oak ribs, which afford both privacy and shade. Warm and tactile materials, such as clay render, oak, and terrazzo, create a bold and colourful interior.
Transitions by Red Squirrel Architects: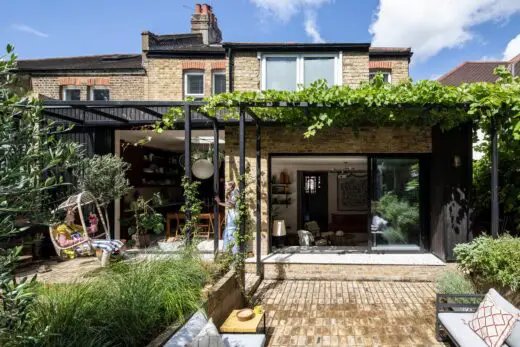 photograph © Adelina Iliev
Transitions by Red Squirrel Architects features two small rear extensions and the remodelling of the lower area of the rear elevation, and the addition of a landscaped external terrace. The transformation of the house was achieved by adding only 10 square metres of additional floorspace.
Coffer House in Southwark by Proctor and Shaw: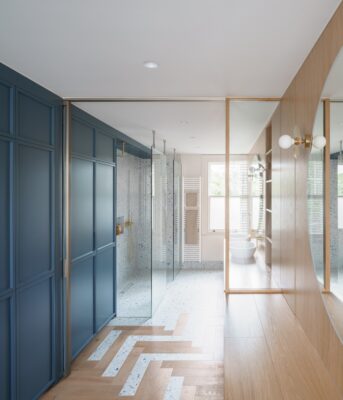 photograph © Nick Deardon
In Southwark, two houses have been shortlisted: Coffered House by Proctor and Shaw and Curve Appeal by nimtim architects. Coffered House reveals a deep retrofit to the upper storeys of the Victorian home. Additional rooms and a master bedroom ensuite are created under the new, highly insulated roof. The loft extension is a custom Accoya timber-framed window system, contrasting the horizontal composition with a vertically coffered design. The master bedroom ensuite occupies the full width of the front of the house, enjoying abundant light from a series of six windows. The interior is defined with generous fixed cabinetry, designed by Proctor & Shaw, finished in scalloped oak, oak veneer and shop sprayed wardrobe doors with a contemporary coffered panel design.
Curve Appeal in Southwark by nimtim architects: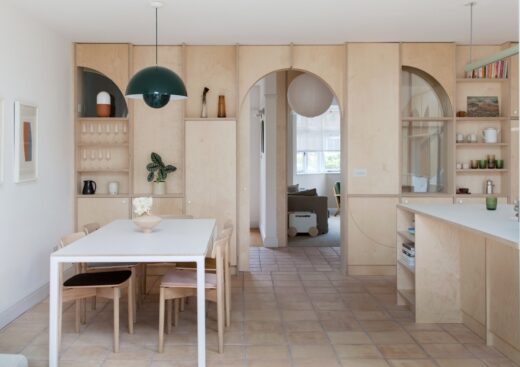 photograph © Megan Taylor
Curve Appeal by nimtim architects completely reinvents an existing 1920s semi-detached house through the addition of a single joinery element that brings functionality, warmth, and tactility to a reimagined family space. The joinery showcases the clients' collection of objects through fragments of arched alcoves, a motif throughout the new design. As well as storing books, cupboards for crockery and a crafting area, the joinery partitions conceal structural elements, large sliding doors and include glazed openings that allow playful glimpses to and from adjacent spaces.
Artist Studio Conversion, kitchen: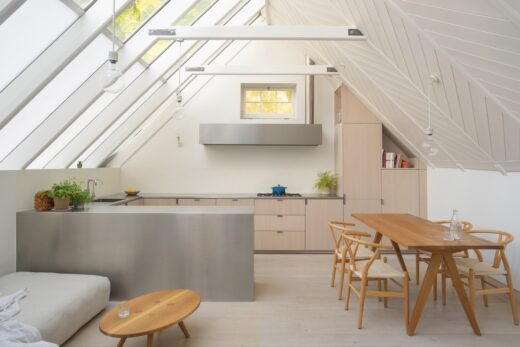 photograph © Architect and photographer VATRAA
In Kensington and Chelsea, architecture and interior design studio VATRAA, winner of last year's Compact Design of the Year prize, redesigned Artist Studio Conversion – a conversion of a former artist studio into an energy efficient, four-bedroom home. Inspired by the clients' interest in spirituality and meditation, VATRAA explored the spiritual quality of the space through views, light and materials orchestrated in a simple, calm composition.
Pink House in North Kensington by Oliver Leech Architects: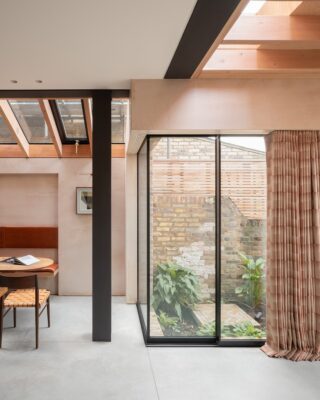 photograph © Ståle Eriksen
In North Kensington, Oliver Leech Architects remodelled Pink House, a Victorian terrace house that required a full overhaul. The clients wanted to celebrate natural materials, travel memories, and create a home perfect for entertaining. The design team stripped the house back to its bare bones, digging a new basement under the existing structure to provide a new kitchenette, guest bedroom and cinema room. The use of simple materials, such as exposed Douglas fir timber beams and steelwork, polished concrete, and unfinished plaster, create a raw and warm environment, which will age gracefully over time.
Bay Window House, Clapton, Hackney: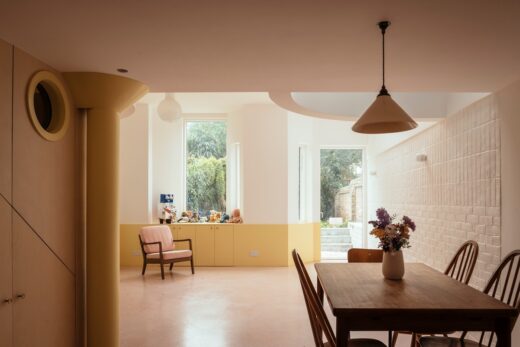 photography © Gundry Ducker and Jim Stephenson
In Hackney, two home improvements are within the 2022 shortlist: Bay Window House by Gundry + Ducker and Concrete Plinth House by DGN Studio. The remodelled space in Bay Window House features the addition of a modern staircase that connects the ground floor to the new space below. The extension is designed in the form of a new bay window as a counterpoint to the original bays. The Victorian character of the original house has been restored while thermally upgrading the envelop.
Concrete Plinth House, Hackney, by DGNS: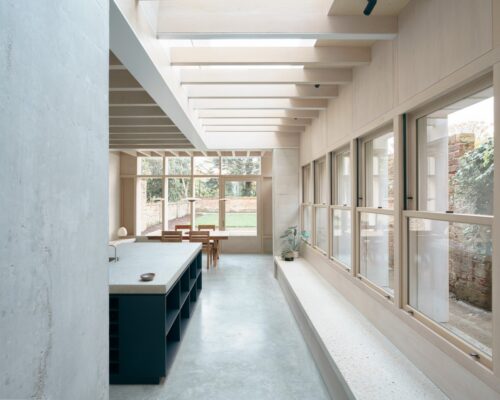 photography © Building Narratives
As the name suggests, Concrete Plinth House features a series of concrete plinths, embedded into the ground of a Victorian end of terrace house. These plinths stage the solitary and communal activities of a young family, and support the oak frame and steel structure, which make up the fabric and lining of the new space. While the sunken concrete base grounds the house with an atmosphere of permanence, the glazed and panelled oak frame filters light into the house, in order to create a serene space.
Church Road, Highgate Conservation Area, Haringey, North London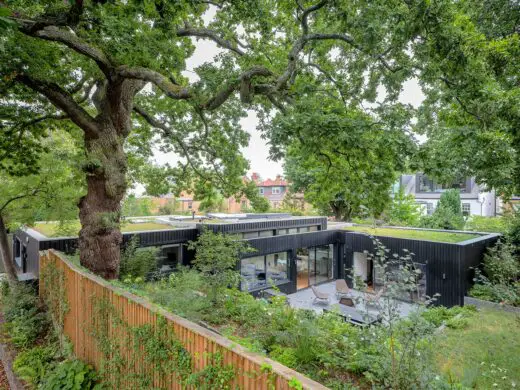 photography © Tim Soar
Nestled in Highgate Conservation Area in Haringey, Church Road by RUFFARCHITECTS, is set amongst the only remaining ancient oaks outside Highgate Wood. The design team has created an innovative playful design, constant landscape interaction, establishing this family home within the close-nit neighbourhood through shared benefits of flood protection, passive supervision, and public realm improvements. Stripping to sound structure allowed reconfiguration to provide multiple family living spaces, engaging with changing seasons, enhancing biodiversity and creating a quality of life, which is unparalleled in this urban setting.
Shoji Apartment in Camden by Proctor and Shaw: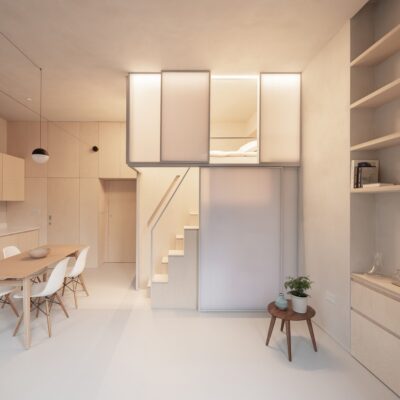 photograph © Ståle Eriksen
Shoji Apartment in Camden by Proctor and Shaw is a fine study in materiality, transparency, and enclosure. This house renovation project is conceived as a prototype for micro-living: poky and uncomfortable cellular rooms have been replaced by a generous multi-functional living space arranged around a translucent sleeping pod inspired by Japanese Shoji screens. By cleverly stacking accommodation in a single height volume, additional floor area is conjured to provide a real sense of luxury and design quality in under 30 square metres.
Slide and Slot House in Enfield by Ashton Porter Architects: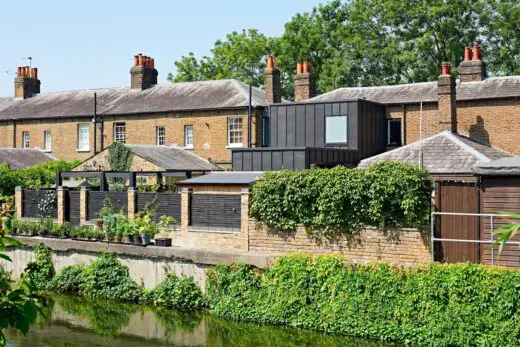 photograph © Andy Stagg
Slide and Slot House in Enfield features an extension and internal refurbishment to a 19th century cottage, designed by Ashton Porter Architects. Located within the Enfield Lock Conservation Area and situated on a narrow strip of land between the River Lea and Lee Navigation, Slide and Slot House features a conversion of a 2-bedroom house to a 3-bedrom modern living accommodation, with the addition of a new living space. Anthracite zinc was selected to refer to the industrial heritage of the small arms factory whereby materials were typically transported via the adjacent canal to the factory.
Forest House, rear facade, by AOC: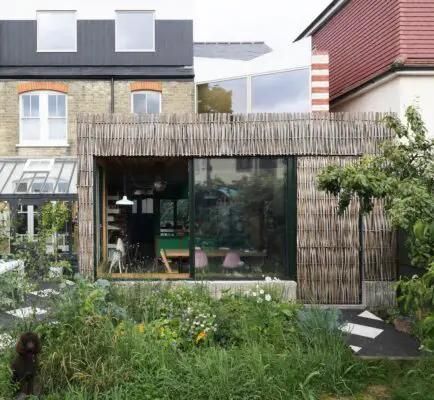 photography © David Grandorge
Forest House in Waltham Forest by AOC is a remodelled and extended semi-detached Victorian house on a tree-lined street in Highams Park. After four years in the house, the homeowners wanted to retain the comfortable intimacy but introduce more space. A single storey garage was removed, and a set of new connected spaces wrapped around the side and rear of the house. A triple height kitchen sits at the heart of the home, overlooking a garden room, with an attic room perched above.
Over 200 family home extensions were submitted to the Don't Move, Improve! 2022 competition. These 15 best projects were chosen by an eminent judging panel, chaired by NLA's Director Amy Chadwick Till, and including:
Phil Coffey, Director, Coffey Architects
Anna White, Property, Business and Lifestyle Journalist
Sebastian Wood, Director, Whitby Wood
Kunle Barker, Property Expert and Broadcaster
Winners will be announced in May 2022, and our new website launching today will become a hub for project case studies, design trends, project and architect directories, and more.
Amy Chadwick Till, Programme Director at NLA and Chair of the Judging Panel, said: "This year's submissions delighted our jury with innovative approaches to structure, layout, materials and colour. We were looking for creativity, originality, liveability, and cost-effectiveness, as well as consideration of environmental impact and local context. Don't Move, Improve! aims to encourage great domestic-scale design across the city, so we are really pleased to have another shortlist that showcases a wide range of budgets, building styles, locations and home-owner needs."
About Don't Move, Improve!
Now celebrating its 13th year, Don't Move, Improve! is an annual competition hosted by New London Architecture (NLA), which celebrates the newest and most innovative home improvement projects from across London. With an annual magazine and regular advice sessions with architects, engineers, and designers, the programme presents London's best domestic-scale designs and encourages homeowners to embark on their own home improvement project.
https://dontmoveimprove.london/
#DontMoveImprove2022
Instagram: @dont.move.improve
Previously on e-architect:
NLA House Extension Contest Winner 2018
Tonkin Liu's 'Sun Rain Rooms' revealed as the winner of 'Don't Move, Improve!' 2018
'Sun Rain Rooms', designed by Tonkin Liu has been crowned London's best and most innovative home extension as overall winner of New London Architecture's (NLA) annual 'Don't Move, Improve!' competition: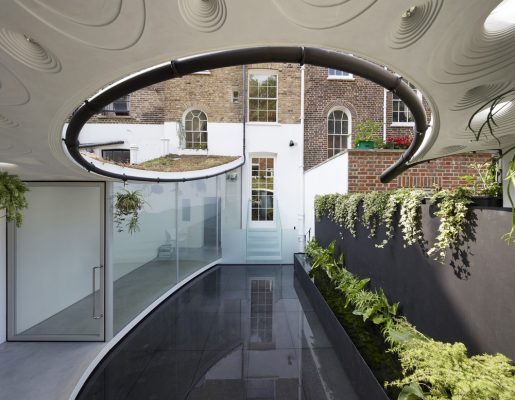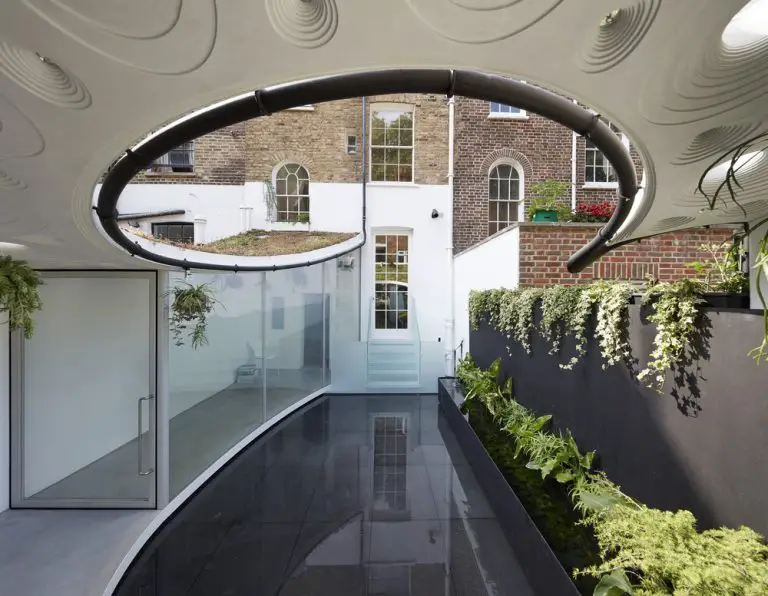 photo : Edmund Sumner
Sun Rain Rooms by Tonkin Liu winner of Don't Move, Improve! 2018
Second Prize was awarded to Dewsbury Road in Brent, by O'Sullivan Skoufoglou Architects: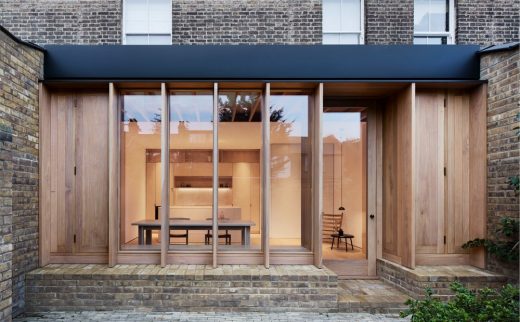 photo : Rory Gardiner
Brent home extension by O'Sullivan Skoufoglou Architects wins 2nd prize at Don't Move, Improve! 2018
House Extension Contest Shortlist 2016
NLA – New London Architecture News
Don't Move, Improve! Shortlist
London Fields home extension: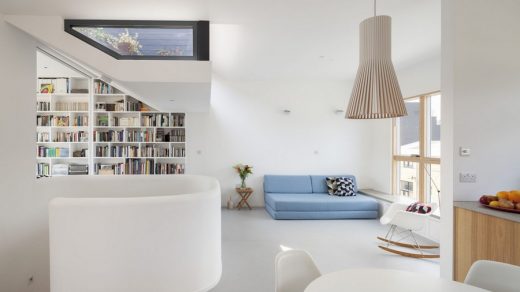 photo © Matt Clayton Photography
Location: London, England, UK
London Building Designs
Contemporary London Architectural Designs
London Architecture Links – chronological list
London Architecture Tours – bespoke UK capital city walks by e-architect
Don't Move, Improve! Competition
Mapledene Road, Hackney
Houses in London
Madeira Residence, Bromley, south east London
Design: Rado Iliev Architect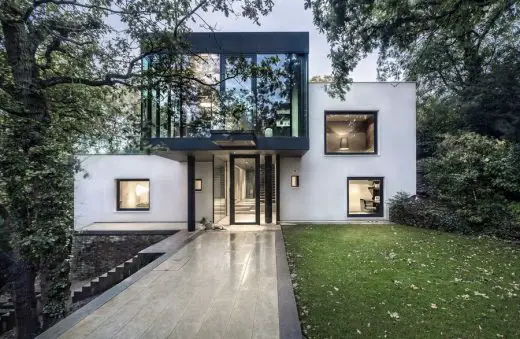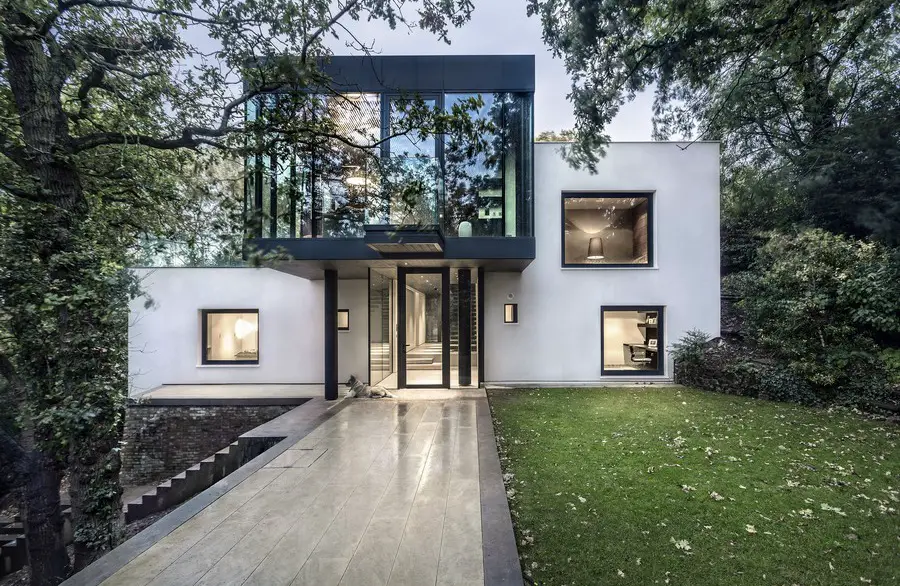 photograph : Assen Emilov
NLA is the centre for London's built environment. The NLA programme of exhibitions, conferences and free talks brings together the key figures in London government, development and design to share knowledge, identify opportunities and debate the issues facing the industry. NLA is funded by companies and organisations with an interest in promoting high quality design and development in the built environment in London to a public and professional audience.
Website: New London Architecture NLA
Comments / photos for the Don't Move, Improve! 2022 shortlist – London House Extension Contest page welcome