astudio model on the UK housing crisis at Royal Academy of Arts in London
astudio model on UK housing crisis
2018 RAA Summer Exhibition London, England, UK
22 Jun 2018
astudio model on the UK housing crisis selected for prestigious Royal Academy of Arts Summer Exhibition
astudio model on UK housing crisis at Royal Academy of Arts London
astudio views modern modular housing as a potential key part of the solution to the UK's crisis in the lack of affordable housing.
British Architecture firm astudio has been invited to exhibit its model on the UK housing crisis by the Royal Academy of Arts for at its prestigious Summer Exhibition. astudio views modern modular housing as potentially a key part of the solution to the lack of affordable housing in the UK.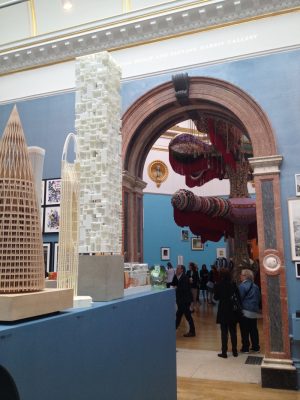 The innovative and abstract sculpture creatively made from 3D printed modular units, replicates an offsite modulated and prefabricated housing system. Constructed with six types of unit, stacked in different orientations, the design stands at two-meters high, incorporating the equivalent of 150 homes in a range of one-bed, two-bed and three-bed apartments.
Created over a three week period, the sculpture entitled POP.U.LATE symbolises the impact offsite manufacturing could make in tackling the UK's housing crisis. Using design for manufacture and modern methods of assembly, modular homes can be built to high quality, more efficiently than traditional practices and they have the potential to be an important part of the solution to the issue that the UK is unable to meet the demand for 105,000 affordable houses to be built annually. The UK needs 300,000 new homes every year.
The efficiency and speed with which this unique design was made, using the latest CAD/CAM software and 3D printing, mirrors the ease and efficiency with which homes can be engineered using a modular approach. The totem-style design is symbolic of the key advantages that come with utilising existing space so that people can access property in dense, popular urban areas by building upwards.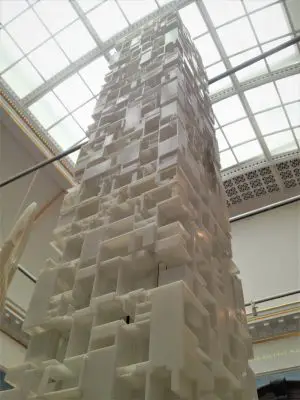 The sculpture illustrates astudio's propriety approach to housing, which revolves around on- site assembly. astudio produces a unique standard 'chassis', that gives the firm the ability to design, manufacture, supply and install volumetric offsite manufactured homes. It also allows continuous and repetitive production that reduces costs, time and defects and has environmental benefits, including low carbon and energy usage through the use of new forms of renewable energy along with heat recovery systems.
In the UK today, there are 1.7 million families (4.5 million people) waiting for the allocation of an affordable home. The UK is building less than half the number of new homes needed each year, contributing to property value and price inflation and adding another one million people to the waiting list for affordable homes annually.
astudio is committed to helping combat the critical shortage of homes through its innovative design and manufacturing process. POP.U.LATE is a representative of the possibilities manufacturing, supplying and installing volumetric offsite modular and sustainable housing can bring to cities and towns across the UK.
Richard Hyams, Co-founder and CEO of astudio, commented: "We are thrilled to exhibit our work for the second year running. We are re-defining the way affordable homes can be built and are honoured to showcase POP.U.LATE at one of the world's most respected exhibitions.
London in particular, is one of the world's most exciting places and in order to maintain its rich mix of cultures and people we must address and work in partnership with developers, local councils and the community to provide tangible housing solutions for the people it serves.
To be recognised by the Royal Academy is testament not only to the unwavering commitment of our dedicated team but a demonstration of the immense talent and creativity that exists at astudio beyond the strict world of architecture, to design solutions to help address some of society's largest housing, social, and environmental issues."
Held without interruption since 1769, the Royal Academy Summer Exhibition displays works in a variety of mediums and genres by emerging and established artists – and this year's 250th anniversary edition is curated by Grayson Perry, the renowned English contemporary artist.
astudio London
About astudio:
astudio is an award-winning, design-led practice, leading its field in design for manufacture. It is committed to delivering high-quality innovative architecture in a wide range of sectors – characterised by strong conceptual thinking, enduring and sustainable design and collaborative working. It is an RIBA award winnerand only five years since its foundation, it won Building Magazine's coveted Architectural Practice of the Year in 2012.
For information on the RA Architecture Programme visit: www.royalacademy.org.uk/architecture
Location: Burlington House
Phone: 020 7300 8000
Nearest tube stations: Piccadilly Circus or Green Park
Building close by to the east: Piccadilly Circus
Location: Royal Academy of Arts, Piccadilly, London, England, UK
London Architecture
Contemporary Architecture in UK Capital
London Architecture Links – chronological list
London Architecture Walking Tours
The Royal Academy of Arts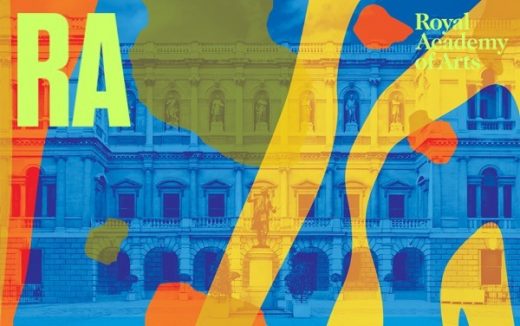 image courtesy of RA
Royal Academy of Arts Summer Exhibition, London
Royal Academy of Arts Architecture Exhibition
Royal Academy of Arts Exhibition : Andrea Palladio
Royal Academy Summer Exhibition – architectural installation
Design: Chris Wilkinson, Wilkinson Eyre Architects



image : Luke Hayes
Royal Academy of Arts, London: Burlington House, Piccadilly



image © Adrian Welch
London Galleries
Saatchi Gallery, Chelsea
Design: Allford Hall Monaghan Morris



image © Timothy Soar
Royal Opera House London



photo © Nick Weall
Royal Courts of Justice London
Buildings / photos for the astudio model on UK housing crisis at Royal Academy of Arts London page welcome