Dancing Dragons Towers, Seoul Skyscraper Buildings, Yongsan High Rise Design
Dancing Dragons, Seoul : Yongsan Towers
Yongsan Business District Towers, Seoul, South Korea design by AS+GG, Architects
25 Jun 2017 – page updated with new images ; 10 May 2012
Dancing Dragons Seoul
AS+GG Designs Dancing Dragons complex for Seoul, South Korea
Design: Adrian Smith + Gordon Gill Architecture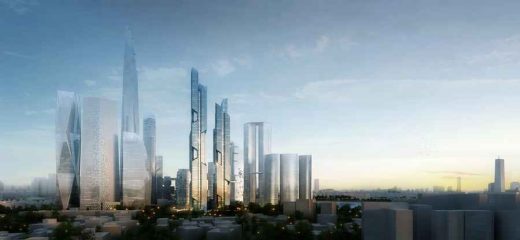 images © AS+GG
Adrian Smith + Gordon Gill Architecture Designs Dancing Dragons, A Two-tower Complex For Seoul's Yongsan International Business District
Adrian Smith + Gordon Gill Architecture is pleased to announce its design for Dancing Dragons, a pair of landmark supertall mixed-use towers for the new Yongsan International Business District in Seoul, South Korea. The buildings, which include residential, "officetel" and retail elements, consist of slender, sharply angled mini-towers cantilevered around a central core. The design aesthetic is highly contemporary yet informed by aspects of traditional Korean culture.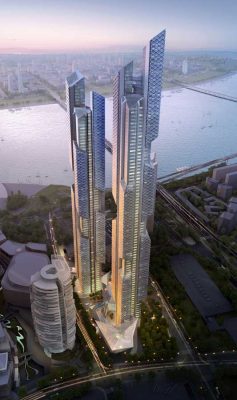 The mini-towers feature a dramatic series of diagonal massing cuts that create living spaces that float beyond the structure. This recalls the eaves of traditional Korean temples—a design theme echoed both in the geometry of the building skin and the jutting canopies at the towers' base. The theme is extended in the building skin, which suggests the scales of Korean mythical dragons, which seem to dance around the core—hence the project's name. (Yongsan, the name of the overall development, means "Dragon Hill" in Korean.)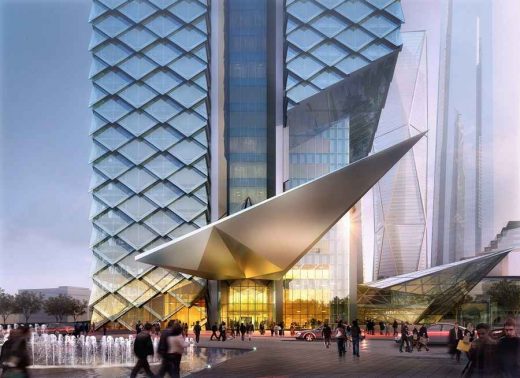 Dancing Dragons' scale-like skin is also a performative element. Gaps between its overlapping panels feature operable 600-mm vents through which air can circulate, making the skin "breathable" like that of certain animals.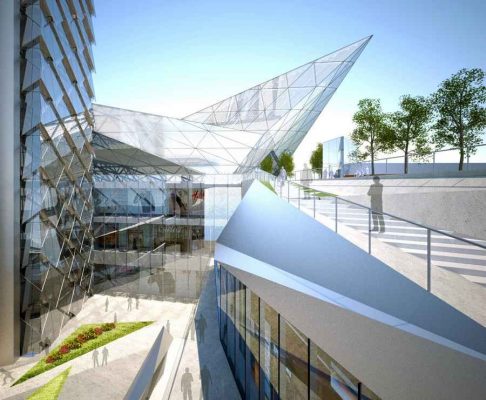 Towers 1 and 2 – about 450 meters and 390 meters tall, respectively – share an architectural language and, therefore, a close family resemblance, but are not identical. In the taller structure, the 88-level Tower 1, the massing cuts at the top and bottom of the mini-towers are V-shaped. In the 77-level Tower 2, the cuts move diagonally in a single unbroken line; they are also arranged in a radial pattern around the core that is perceptible as viewers move around the tower.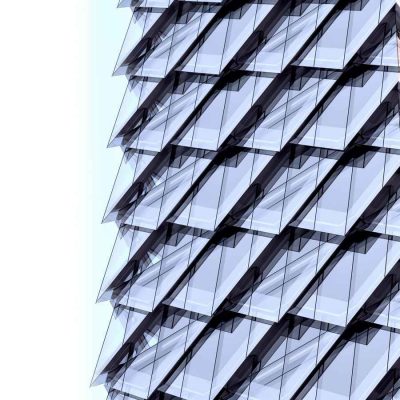 "There's a sympathetic and complementary relationship between the two masses at the level of the cuts, almost as though they were dancing," says Adrian Smith, FAIA, RIBA. "It's always important for our designs to reflect and interpret the cultures they serve, and the Dancing Dragons complex certainly does that, although in an abstract and highly technological manner. We try to design in a way that is at once beautiful and focused on performance."
In both buildings, the mini-tower cuts are clad in glass at the top and bottom, making for dramatic skylights above the units at the highest levels and a transparent floor beneath the units at the lowest levels. This offers the opportunity for special high-value penthouse duplex units with spectacular 360-degree views of downtown Seoul and the adjacent Han River, along with an abundance of natural light.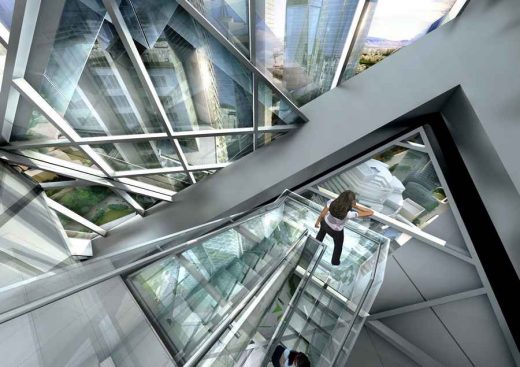 "The abstract recall of the historic structures gives the towers a unique perspective from the ground and the sky while creating unique interior experiences," says Gordon Gill, AIA. "The shingled texture of the skin is developed with integrated breathable mullions and self-shading cantilevers. It's a great honor to be joining several other top international architecture firms designing buildings for this remarkable master plan by Studio Daniel Libeskind."
AS+GG partner Robert Forest, AIA, notes that Dancing Dragons represents AS+GG's second major project in downtown Seoul. The other is the Head Office of the Federation of Korean Industries, an innovative and highly sustainable office building now under construction and scheduled to be completed next year. "We're very excited to be making a sustainable contribution to the built environment of Seoul, one of the world's great cities, in a manner that addresses the need for sustainable high density development while respecting Korean culture," Forest says. "YIBD, which promises to become one of Seoul's most dynamic and vital neighborhoods, will be an example of high-quality high-density design, and we're proud to be a part of that."
The design team also includes PositivEnergy Practice, a Chicago-based engineering and energy consulting firm that is designing a series of innovative building systems for the project. Sustainable features of the building system design include triple-glazed window units, which minimize heat loss; an overlapping exterior wall system, which creates a self-shading effect; and natural ventilation in all units through operable mullions. Other systems include radiant heating; fuel-cell cogeneration units at the basement level; photovoltaic arrays on the roof surfaces; daylight-linked lighting controls; and heat recovery via electric centrifugal chillers.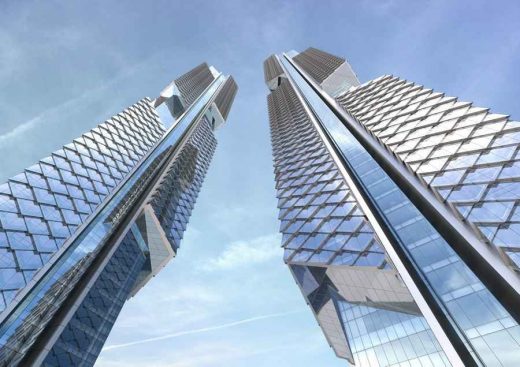 The structural scheme for Dancing Dragons, developed by AS+GG in collaboration with the international structural engineering firm Werner Sobek, features eight mega-columns that traverse the vertical length of both cores. The mini-towers are hung off the cruciform cores in a balanced fashion by means of a belt truss system, stabilizing the structure.
The design of the 23,000-square-meter site—part of the larger Yongsan master plan —reinforces the angular geometry of the building massing and skin. Landscape features, designed in collaboration with Martha Schwartz Partners, include sloped berms that echo that geometry. The site also includes a retail podium with a crystalline sculptural form and sunken garden that provide access to a large below-grade retail complex.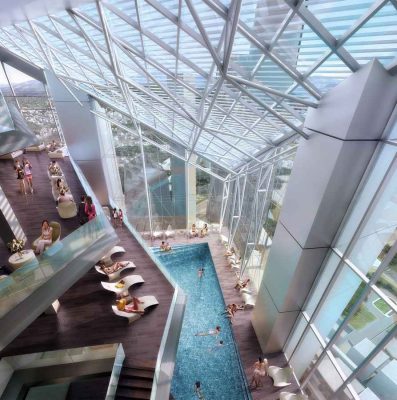 About Adrian Smith + Gordon Gill Architecture
Adrian Smith + Gordon Gill Architecture is dedicated to the design of high-performance architecture in a wide range of typology and scale, from low- and mid-rise residential, commercial and cultural buildings to mixed-use supertall towers and new cities. The office uses a holistic, integrated design approach that explores symbiotic relationships with the natural environment. AS+GG is currently working on projects for clients in the United Arab Emirates, Saudi Arabia, China, India, South Korea, Malaysia, Canada and the United States. The partnership was founded in 2006 by Adrian Smith, Gordon Gill and Robert Forest. For more information, please visit www.smithgill.com.
About PositivEnergy Practice
PositivEnergy Practice is a high-performance engineering and sustainable design and consulting company that conceives, designs, implements and manages energy performance, engineering systems, resource management and carbon reduction strategies for clients around the world. It is a limited liability company formed in early 2010 to provide energy and engineering services to advance sustainable initiatives and high-performance design on a large scale. For more information, please visit www.pepractice.com.
About Werner Sobek
The structural engineering firm Werner Sobek, which works on engineering, design and sustainable projects around the world, has offices in Stuttgart, Dubai, Frankfurt, Istanbul, London, Moscow, New York and São Paulo. Founded in 1992, the studio now has more than 200 employees. The firm works on all types of buildings and materials, with special emphasis on lightweight load-bearing structures, high-rise buildings and transparent façade systems, as well as special structures in steel, glass, titanium, textiles and wood, and advanced concepts for sustainable buildings. For more information, please visit www.wernersobek.de.
Dancing Dragons Yongsan Towers images / information from Adrian Smith Gordon Gill Architecture – AS+GG
Adrian Smith Gordon Gill Architecture
Location: Seoul, South Korea, East Asia
South Korea Architecture Designs
Contemporary South Korean Architectural Selection
South Korean Architecture Designs – chronological list
Yongsan International Business District Towers
Cross Towers, Yongsan International Business District
Design: BIG



image : MIR
Yongsan International Business District Towers
Twin Towers – The Cloud at Yongsan Dreamhub, Seoul, South Korea
Design: MVRDV



image © MVRDV
Yongsan Masterplan Seoul
Yongsan International Business District
Design: Studio Daniel Libeskind
Yongsan Masterplan Seoul
A major skyscraper design by Adrian Smith + Gordon Gill Architecture:
Kingdom Tower, Jeddah, Saudi Arabia
Kingdom Tower : To be the world's tallest building
Comments / photos for the Dancing Dragons Yongsan Towers page welcome