AmorePacific Headquarters Interior, Korean Cosmetics Group Office Architecture, Photos
AmorePacific Headquarters Seoul Interior
Cosmetics Group Offices in Seoul, South Korea – interior design by Kinzo
7 Sep 2019
AmorePacific Headquarters Seoul Building Interior
Design: David Chipperfield Architects ; Interior Design: Kinzo
Location: Yongsan-gu, Seoul, South Korea
Designing urban vibrancy on the top level Kinzo designed the 21st floor of the AmorePacific headquarters in Seoul
Kinzo designed the 21st floor of the AmorePacific headquarters in Seoul
Photos © Schnepp Renou for Kinzo
– Kinzo designed coworking space for South Korea's largest cosmetics group
– design reflects urban context of Seoul
– contrasts promote creative working atmosphere
– smart combination of multiple functions
– houses for start-up families
– movable elements for maximum flexibility
– freedom for creativity, exchanging ideas and innovation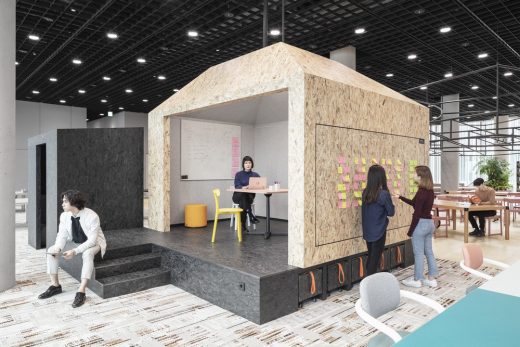 For the headquarters of South Korea's largest cosmetics group, Kinzo designed an interior that aimed to bring the vibrancy and color from the urban context of Seoul to the top floor ("F21") creating a hub for the people working at AmorePacific. F21 has recently been opened to employees and in-house start-ups.
The headquarters was completed in 2017 by David Chipperfield Architects in the city center of Seoul. Contrary to the more subdued interior of the other floors, Kinzo's design of the 3,100 sqm of F21 relies on a mixture of raw elements and bold colors. The contrast between the dark grid ceiling and the floor of large plywood panels is a playful concept – one of the many contrasts that promote an open and creative working atmosphere.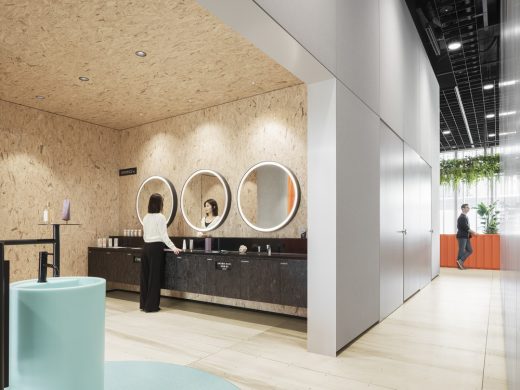 "Kinzo's design for the interior is based on the multiple layers of Seoul. It brings together the traditional housing of Gahoe-Dong, the rampant industries of GuroGu as well as a sophisticated taste for luxury."
– Edoardo Albano, Partner & Head of Design, Kinzo
The c-shaped floor plan is divided into communal areas for collaborative work and areas for team work. The areas that open onto the inner courtyard connect a market square with a café and a lounge for spontaneous meetings with the so-called University.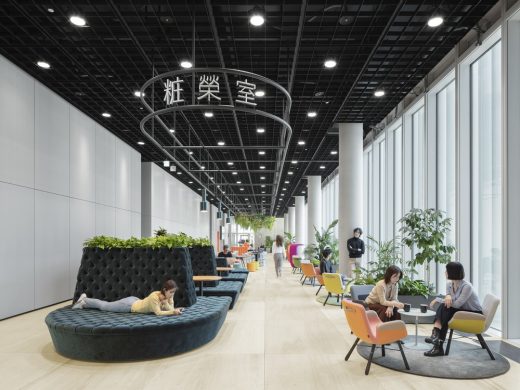 In addition to places for research, brainstorming and presentations, there is also a library in the University: up to 8,000 books can be accommodated in a podium that resembles an amphitheater. Informal meetings can be held inside the arena, too. The outer ring offers reading places.
In order to provide in-house start-ups with space to develop new ideas and products, Kinzo has created special team areas. These resemble typical Seoul houses with front gardens. Each "start-up family" is provided with a 60 sqm area equipped with various basic elements which are flexible and can be arranged according to the needs of the teams.
In addition to a team house for meetings and individually movable table elements for focus or team work, there is a multifunctional scaffolding that can be used as a partition, a place to relax or do sports, or a breakout zone.
Just like a raw and unfinished artist studio can be a space for inspiration and development, F21 offers the greatest possible freedom for creativity, exchange of ideas and innovation.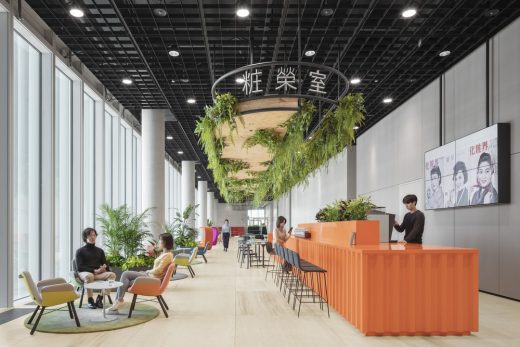 Interview with Kinzo Designers
Karim El-Ishmawi and Edoardo Albano talk about F21
How and where does the urban context influence and interfere with the AmroePacific Headquarters and its communal and workspaces?
Karim: The headquarters of AmorePacific is not only a sculptural solitaire and landmark building but also well embedded within the urban context and surrounding infrastructure. The building is directly connected with the metro and the generous atrium is open to the public, hosting many events and exhibitions. The work we have done on the 21st floor (F21) aimed to bring the vibrancy and colour from the urban context beneath to the top floor, creating a hub for the people working at Amorepacific.
What design aspects have to be considered to meet this diverse blend of collective and private activities?
Edoardo: Our task in F21 was to combine an innovation lab for the start-ups of Amorepacific with the so-called AP Cloud, a common area for the whole company. This area connects a market square with a café and a lounge for relaxing and spontaneous meetings with the so-called university. The university provides places for research, brainstorming and presentations as well as a library: up to 8,000 books can be accommodated in the periphery of a podium that resembles a coliseum. By nature, this implied the pursuit of a balance between the private sphere and the collective one.
On a functional level, the communal activities are located in the introverted spaces, visually directed towards the building's internal void and looking down to the open terrace and to the entrance hall. The extroverted areas, enriched by bright perspectives over the city of Seoul, are dedicated to the creative work. Kinzo's design for the interior is based on the multiple layers of Seoul. It brings together the traditional housing of Gahoe-Dong, the rampant industries of Guro-Gu as well as a sophisticated taste for luxury. This diversity of the city called for complexity in the design.
What 'soft factors' do you see and envision for how we work today and in the future? Can you still draw boundaries and define space typologies?
Karim: The borderlines between different typologies of workplaces are progressively becoming more blurred. In this work revolution there are two main factors that can be highlighted as responsible: the evolution of hierarchies, and the change of time management. In the process of transformation, most companies are tackling the differences between employees, both in the administration and in the layouts of workspaces. This process still encounters certain areas of resistance, but it seems that the trend is irreversible.
Probably even more drastic in its consequences is the evolution of time management; the gradual increase of scheduling freedom – 'I work when I want and where I want' – added a whole new set of 'soft typologies' to the game, such as the coworking typology, but also the concept of activity-based working. Current product design reflects these cultural change processes. Thus, in the café and library area of AP Cloud Vitra's Soft Work islands unfurl their full potential. Let's be honest: We all work on our sofas at home, why shouldn't we do it in our offices, too?
Amorepacific Headquarters Seoul Building by David Chipperfield Architects: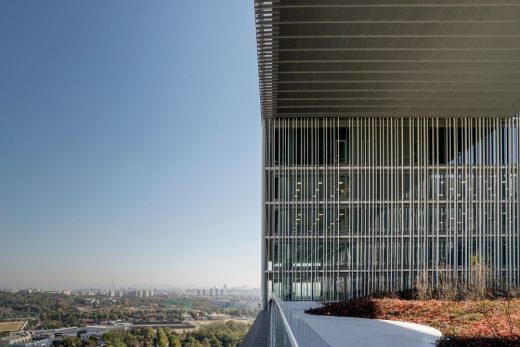 photo © David Chipperfield Architects
AmorePacific F21 Seoul Interior – Building Information
Project: AmorePacific F21
Client: AmorePacific
Category: Office
Duration: 2017 – 2019
Place: Seoul, South Korea
GFA:3,100 sqm
Program: Communal areas, focus work areas, market square with café an lounge, library, team houses for start-ups, breakout zones
Team & Project Participants
Team Kinzo: Martin Jacobs, Karim El-Ishmawi (Founder in Charge) Vanessa Riecke (Responsible Partner) Edoardo Albano (Head Designer) Ina Podzimek (Project Manager)
Project team: Brian Chen (Model), Gaia Kadmon, Joao Goncalves
Photography: Schnepp Renou
Architecture: David Chipperfield Architects
Furniture: Vitra
About Kinzo
We are Karim El-Ishmawi, Martin Jacobs and Chris Middleton and our multidisciplinary team of over 50 architects and interior designers. We founded our architectural office in Berlin in 2005 and have since worked for international companies on the cutting edge of interior architecture and design in the broad spectrum of living and working environments.
The foundation of our work is to provide our clients with the best consultation, a precise analysis of every project and the joint development of strategies. A holistic design approach and support throughout all design and constructional phases complete our company philosophy which continually strives for individual and sustainable solutions. We rethink spaces and processes and prove that there is always a clever solution waiting to be discovered.
Our current projects include: the conversion of our own office; MOL Headquarters together with Foster + Partners in Budapest; Children's Hospital in Zurich together with Herzog & de Meuron; KWS location Berlin; Suhrkamp Publishing House in Berlin; Covestro Campus in Leverkusen.
Kinzo's customers include 50 Hertz, Adidas, AmorePacific, Axel Springer, Ernst & Young, Erste Group AG, GetYourGuide, SieMatic, SoundCloud and Zalando.
www.kinzo-berlin.de
Photographs © Schnepp Renou for Kinzo
Amorepacific Headquarters Seoul Building, Korea images / information received 240719
Previously on e-architect:
Amorepacific Headquarters Seoul Building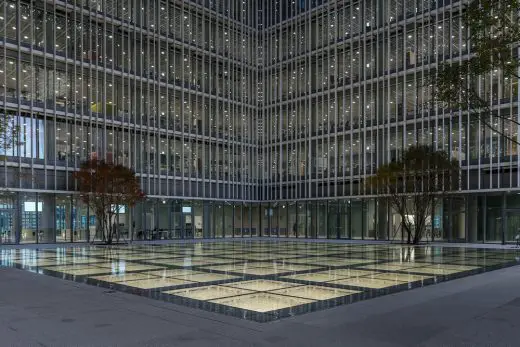 photo © David Chipperfield Architects
Amorepacific Headquarters Seoul Building
Address: 166-3 Hangangno 2(i)-ga, Yongsan-gu, Seoul, South Korea
Phone: +82 10-4205-1757
Architecture in South Korea
Seoul Architectural Projects
Korean Architecture Designs – chronological list
South Korean Architecture News
WAP Art Space, Seoul
Architects: Davide Macullo Architectss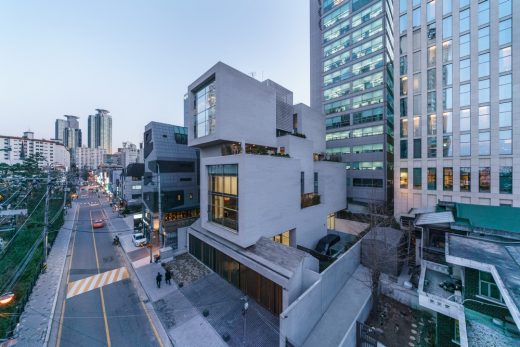 photo : Yousub Song – Studio Worlderful, Seoul, South Korea
WAP Art Space Seoul
Amorepacific headquarters, Seoul
Architects: David Chipperfield Architects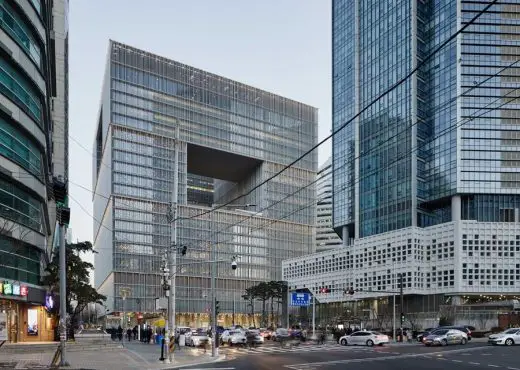 photo © Noshe
Amorepacific headquarters Seoul
LG Science Park, Seoul
Architects: HOK with Gansam Architects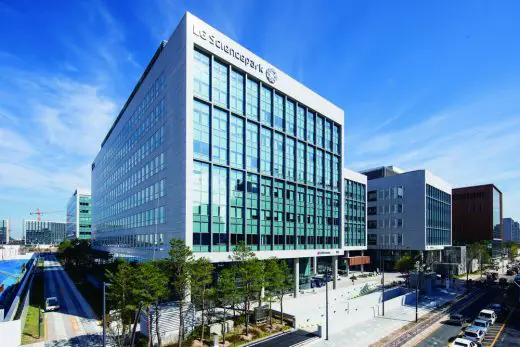 photo © GS Construction
LG Science Park Seoul
Comments / photos for the AmorePacific Headquarters Seoul Interior – page welcome