Sukagawa Community Center, Fukushima Interior Project, Japanese Building News, Retail Architecture Photos
Sukagawa Community Center in Fukushima
30 Aug 2021
Design: Unemori Architects
Location: Sukagawa City, Fukushima, Japan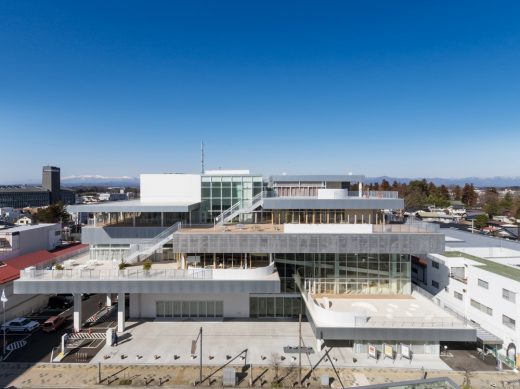 Sukagawa Community Center
Unemori architects completes Sukagawa Community Center in fukushima as Part of revitalization initiative for damaged city center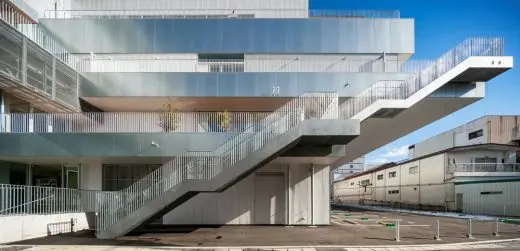 Japanese architecture office Unemori Architects has completed the Sukagawa Community Center in Fukushima as part of a municipal reconstruction project to revitalize the severely damaged city center after the Great East Japan Earthquake in 2011. Following a series of citizen workshops, Unemori Architects developed a multi-purpose 13,698 sqm building complex extending five floors, housing a library, a museum, a lecture hall, childcare support as well as a café amongst others.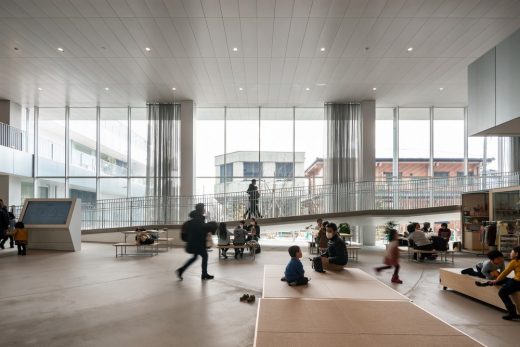 Built in collaboration with Ishimoto Architectural & Engineering Firm, the community center's architecture by Unemori Architects is characterized by open floor setbacks, cantilevered slabs and an activity based floor plan, transcending the building typology of a public community center and thereby successfully connecting the city and its people.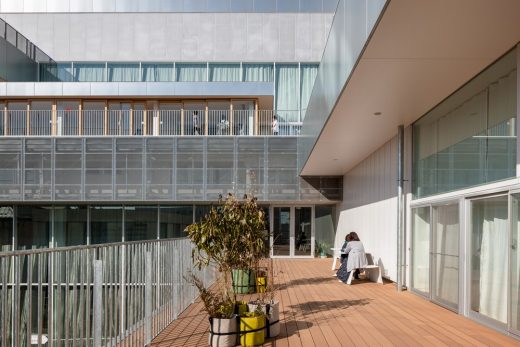 Revitalizing The City Center
The Sukagawa Community Center was developed in the wake of the Great East Japan Earth- quake on March 11, 2011 that destroyed large parts of the city center of Sukagawa City, Fukushima Prefecture. In order to regenerate community life and to revitalize the severely destroyed city center, Unemori Architects was commissioned to develop the Sukagawa Community Center in collaboration with Ishimoto Architectural & Engineering Firm as part of a municipal reconstruction project. By integrating the public's demands on the multi-pur- pose community building through a series of citizen workshops, the Sukagawa Community Center was created as a public forum, connecting the city and its citizens.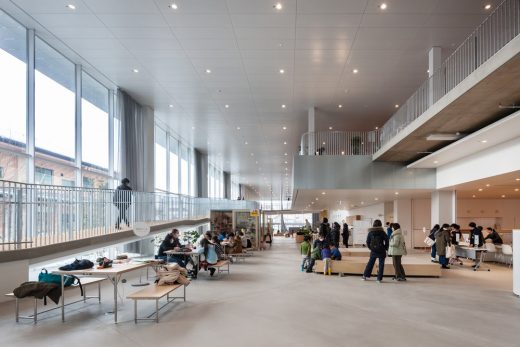 The Sukagawa Community Center includes a library, childcare support and a three-dimensi- onal play space as well as a museum, a lecture hall and a café amongst others. Moreover, with a total floor area of 13,698 sqm extending over five floors, the Sukagawa Community Center offers various socializing spaces and rental rooms for studying as well as several inner and outer terraces that surround the whole building.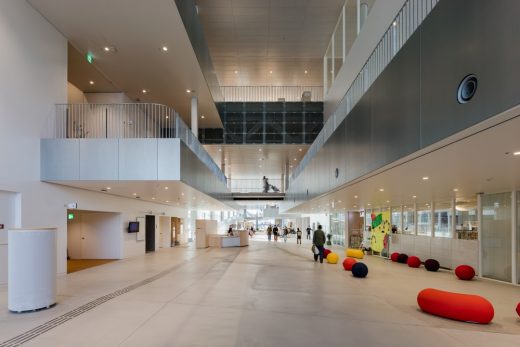 A Complex Structural System
Unemori Architects designed the community center as an interlocked structure based on different floor slabs divided into small sections and staggered to form an incremental setback on the site facing the historic main street. The building's architecture thus offers many terraces providing further outdoor activity and socializing spaces while the recessive façade of the building allows sufficient distance to the neighbouring houses.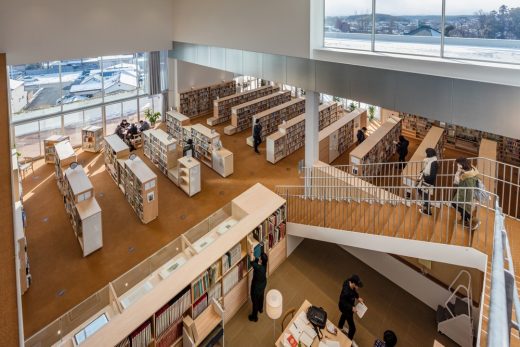 The interior structure of the Sukagawa Community Center is characterized by an open floor plan and offset floor levels that partly appear to float freely in the cavity of the center, creating various voids and dynamic open views throughout the different floor slabs. In order to realize this complex structural system, Unemori Architects designed a megastructure comprising the third and fourth floor that entails a steel frame composed of trusses. The cantilevered slab of the lower floor is suspended from the megastructure and supported by columns on the upper floors which positions are shifted accordingly to bear the load.
Furthermore, the trusses provide space for the installation of air-conditioning equipment as well as smoke exhaust routes in case of fire, while serving as a sound-absorbing layer protecting the quiet library environment on the upper floors against noise coming from the lower floors. The upper floors are connected by gentle slopes and stairs which allows visitors to walk around the entire building as if taking a walk around the city.
The first floor of the Sukagawa Community Center, which serves as the main entrance to the facility, is a sloping space integrating the 2.5-meter difference in elevation of the site.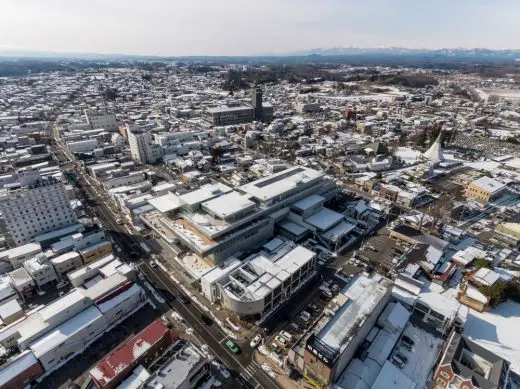 The waiting area, café and event space located on the first floor are connected with the outdoor space and seamlessly integrated into the hilly city scape of Sukagawa. The second floor houses childcare services such as a kids library or an open, two-stories playground.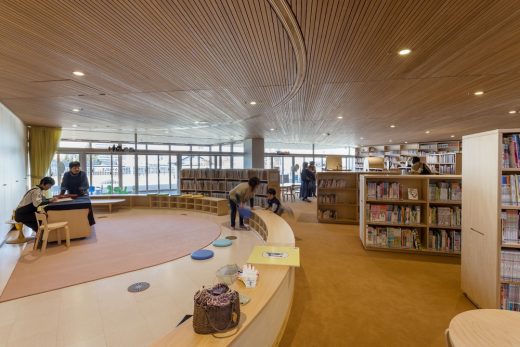 Located on the third floor is the main library as well as a number of rental rooms and inner terraces which allow for quiet working as well as socializing spaces. The library extends across the fourth floor where more rental rooms and an open community space are located. The museum can be found on the fifth floor of the facility.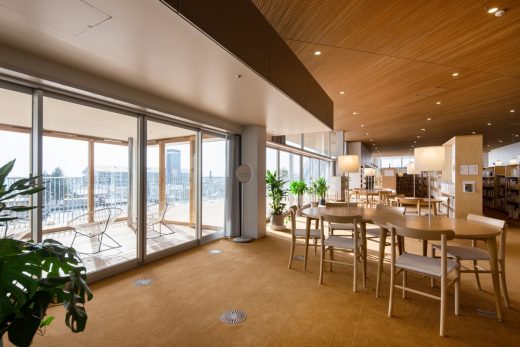 Connecting The City And Its Citizens
The Sukagawa Community Center offers a wide range of cultural and recreational activities that are assigned different activity themes, such as Raise, Play, Create, Learn and Meet.
Unemori Architects divided the facility into different areas of action offering various op- portunities for people to meet, to engage in activities and to interact with knowledge.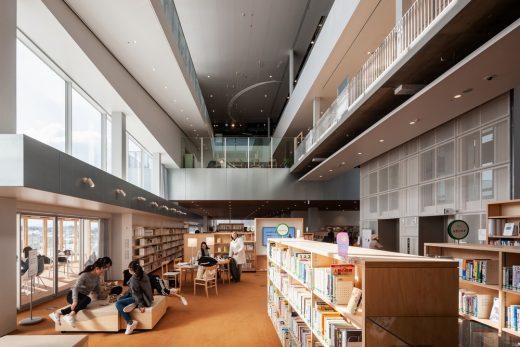 Unemori Architects designed the Sukagawa Community Center to transcend functional boundaries and enable a complex experience by reinterpreting the building typology of a public community center. With the complex structural layout of the community center as well as the reclassification from conventional categories into activity-oriented themes, UN- Unemori Architects provided an architectural solution that addresses the need for a public forum and simultaneously creates a long-lasting and versatile relationship between the city and its citizens.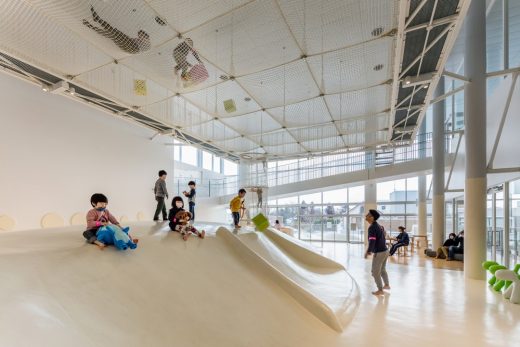 Sukagawa Community Center in Fukushima, Japan – Building Information
Design: Unemori Architects
Location: Sukagawa City, Fukushima, Japan
Principal use: Complex (library, public hall, childcare support, etc…)
Site area: 7,723 sqm
Building area: 4,876 sqm
Total floor area: 13,698 sqm
Structural systems: Steel frame
Scale: 5 stories
Completion: August 2018
Architecture: Ishimoto Architectural & Engineering Firm / Unemori Architects
Structural & Mechanical Engineers: Ishimoto Architecturral & Engineering Firm
(design cooperation: Oak Structural Design Office)
General contractors: Sumitomo Mitsui Construction,
Sanpaku Kogyo Joint venture group
Sign planning: Irobe Design Institute, Nippon Design Center
Landscape: Inada Takio Landscape Design Office
Disaster prevention design: ATAKA BOSAI SEKKEI
Acoustic: Karasawa Architectural & Acoustic Design
Library consulting,exhibition curation: ACADEMIC RESOURCE GUIDE
Civic collaborate consulting: Stillwater
Exhibition plan: Tanseisha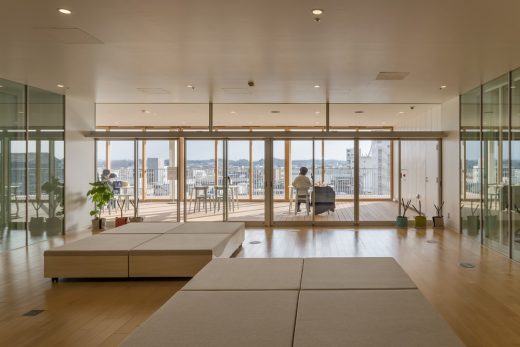 About Unemori Architects
Unemori Architects is an architectural office based in central Tokyo, Japan. Founded in 2009 by Japanese architect Hiroyuki Unemori, Unemori Architects aims to create diverse and complex spaces of every scale, thereby developing architecture that is small and simple, yet big and complex at the same time. The ability to deal with projects of diverse scale is one of the major characteristics of Unemori Architects' work. Their projects are characterized by complex structural layouts while maintaining a simple form, with works ranging from private residences, public facilities, universities, libraries and playgrounds.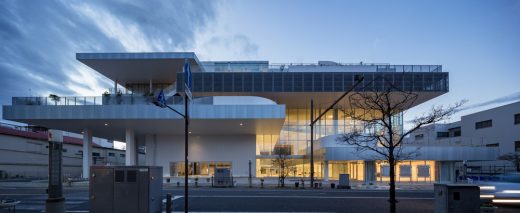 Photo: Kawasumi / Kobayashi Kenji Photograph Office, Kai Nakamura
Sukagawa Community Center, Fukushima images / information received 300821
Location: Location: Sukagawa City, Fukushima, Japan, East Asia
Japan Architecture Designs
Contemporary Japan Architectural Selection
Japanese Architecture Design – chronological list
Japanese Retail Architecture – Selection
Prada Store
Herzog and de Meuron
Prada Store Tokyo
HOTO FUDO, Yamanashi, Japan
Takeshi Hosaka Architects
HOTO FUDO
Armani/Ginza Tower, Tokyo
Massimiliano Fuksas Architects
Armani/Ginza Tower
PABLO Himeji, Japan
Design: Design Atelier RONDO
PABLO Himeji Store
Japanese Architecture – Selection
Present-day Hyōgo Prefecture includes the former provinces of Harima, Tajima, Awaji, and parts of Tanba and Settsu. Hyōgo has coastlines on two seas: to the north, the Sea of Japan, to the south, the Seto Inland Sea. It has 29 cities and has many heavy industries, metal and medical. Kobe Port is one of the largest ports in Japan.
Comments / photos for the Sukagawa Community Center, Fukushima page welcome
Website: Fukushima