Kiyosato Villa Gallery, Japanese Exhibition Space Design, Container Building, Architecture Images
Gallery in Kiyosato Villa With Exhibition Space
C.S.S. – Container Structure System Building in Japan – design by Satoshi Okada Architects
4 Sep 2017
Kiyosato Villa Gallery / Exhibition Space
Location: Kiyosato, Hokuto, Yamanashi, Japan
Architect: Satoshi Okada Architects
Gallery in Kiyosato Villa With Exhibition Space
Architecture needs to mould itself onto fluctuating social demands, such as the present demographic trends and the decrease of population Japan as elsewhere in the world. The architect is thus inspired to pursue flexibility through innovative structural systems, like the Container Structure System here applied: this is our response to dynamic society of nowadays.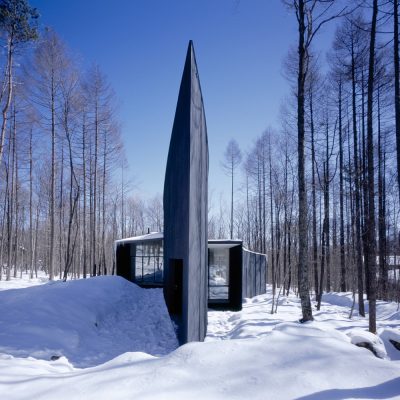 A newly conceived structural system, named Container Structure System, bears the loads of the gallery: it consists of a ship-shaped core in which small spaces encased. This monocoque is realized with inexpensive timber members and veneer panels and assembled with a software. The outcome is a solid and easily expandable shell. Due to its intrinsic dynamism, this system has been further applied in a later project (Agri-Community Center in Shiga) and praised with several prizes and publications.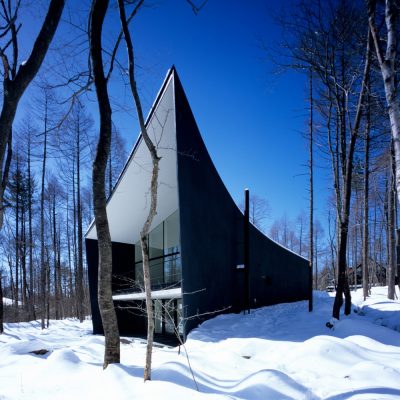 The first imagery came from the landscape of Kiyosato: the site is located in a coniferous forest, densely vegetated, whose trees stripe and fragment the view in every direction. The building shall therefore disappear in this wood; the structure, consistently developed, is generated by few curves, interlocked and manipulated into a ship-shaped shell. All spaces are inserted into the main core and create an intricate sequence of fragmented views: every turning point is transparent as to offer a glance of the otherwise concealed forest.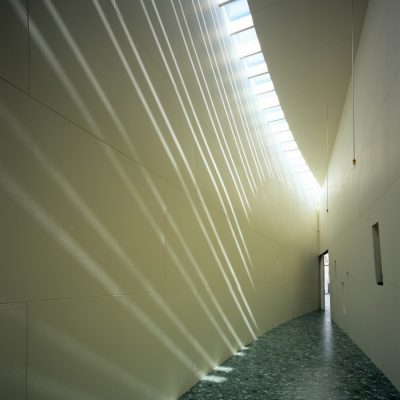 The Gallery belongs to an ongoing research thread focused on Intensity of Architecture. Within the frame of such observation, the design is conceived to stimulate sensual perception: physical interaction and experiences between visitors and building thus overcome cultural and geographical barriers, triggering intuition above rational comprehension. Furthermore the Gallery embodies the application of a structural research that aims to improve future flexibility and efficiency in every construction.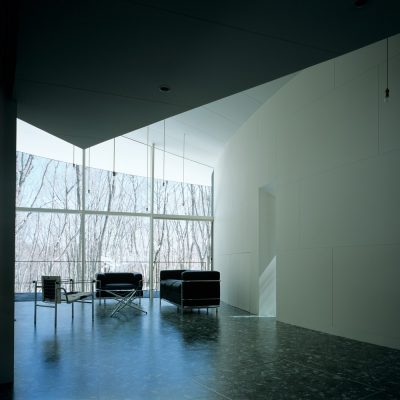 Because of its innovative structural features, the design has been validated through multiple tests and full-scale mock ups held in the governmental research center until it eventually complied with the strict safety rules for earthquakes required by the Japanese building law. The Container Structure System thus conceived ensures high reliability while respecting and enhancing the architectural concept that originates the Gallery.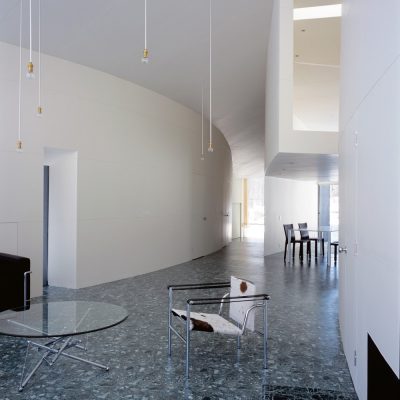 PRODUCTION / REALIZATION TECHNOLOGY:
Load bearing technology: Container Structure System, i.e. a timber shell, slender as a long ship, hosts all the spaces of the gallery. Materials: local wood is here the preeminent material, juxtaposed to more precious inserts.
SPECIFICATIONS / TECHNICAL PROPERTIES:
site area: 1115 sqm
building area: 181 sqm
total floor area: 207 sqm
Location: Kiyosato, Japan
Design: 2005 Completion: 2006
TEAM MEMBERS:
Satoshi Okada (Chief architect), Lisa Tomiyama (Project architect), Isao Kato (Project architect) and Hirokazu Toki (Structural engineer)
Photographer: Koichi Torimura ; Copyrights belong to Satoshi Okada architects Inc., 2006
PROFILE:
The client is a private collector who spent many years abroad. His explicit request has been to design a "house for the arts" in the middle of a forest. His intent was to create an exhibition space for private collections or ancient Buddhist sculptures.
Winner in Architecture, Building and Structure Design Category, 2016-17.
Location: Kiyosato, Japan
New Japanese Architecture
Contemporary Japanese Architecture
Japanese Architecture Design – chronological list
Japanese Architecture – Selection
Kohtei Art Pavilion, Numakuma-cho, Fukuyama, Hiroshima Prefecture
Architect: Kohei Nawa | SANDWICH Inc. (Yoshitaka Lee, Yuichi Kodai)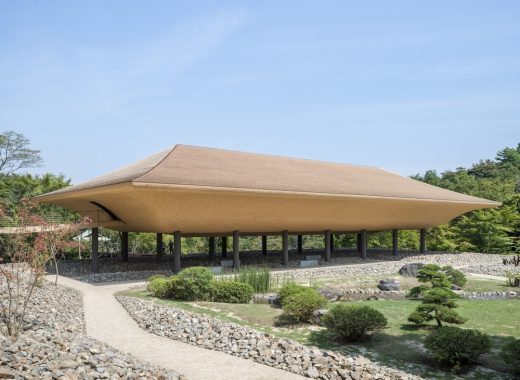 photograph : Nobutada OMOTE | SANDWICH
Kohtei Art Pavilion in Hiroshima
Kiyotsu Gorge Tunnel Restoration, Niigata Prefecture, north west Japan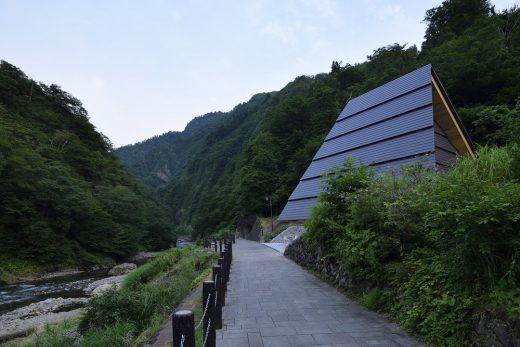 photo : Nacasa & Partners Inc.
Tunnel of Light 2018 Echigo-Tsumari Triennale
Contemporary Houses : Designs + Images from around the world
Comments / photos for the Gallery in Kiyosato Villa With Exhibition Space page welcome
Website : Japan