Top 4 of the Most Astonishing Casino Buildings in Italy, Italian Architecture, Historic Naples water reservoir
Top 4 of the Most Astonishing Casino Buildings in Italy
15 Aug 2020
Italy is most popularly known for its wine, vino, and gelato. Believe it or not, the country is also widely known all over the world for its architectural achievements.
Some of the most famous modern structures in Italy include Solaria Tower, Palazzo Lombardia, and Bosco Verticale. Of course, you should not forget the greatest buildings ever built in the country, such as St. Peter's Basilica, Pantheon, Colosseum, Duomo di Milano, Doge's Palace, Castel Sant'Angelo, and St. Mark's Square.
All of these architectural masterpieces are proof that Italia has a very broad and diverse style when it comes to architecture. It cannot be simply classified by period or region. Italy has a highly eclectic range of architectural creations that it is almost synonymous with architectural achievements.
Marvelous casinos in Italy
Another thing that Italy is so well-known for is its splendid array of regal casinos. Gambling in the country can be traced back to the Roman Empire when a wordy game much like backgammon called Ludus Duodecim Scriptorium was played by the Legionnaires. The first-ever gambling center was Ridotto, which was opened in 1638.
When you say casinos, some of the places that come to mind first would be Las Vegas, Monte Carlo, London, Macau, and Paris. But Italy has the oldest casino in the world.
Below is a list of the most impressive casinos to check out when in Italy.
Venice is not only a top travel destination, but it's also a hotspot for gambling in Italy. Casino di Venezia is officially the oldest gambling establishment in Italy and around the world. It was opened in 1638 and has become the country's casino capital.
Casino di Venezia is found on the Grand Canal and only 20 minutes away from the Piazza San Marco. It is set in a palace called Ca 'Vendrami Calergi, which used to be the residence of Italian royalty. It has mezzanine floors and a unique, avant-garde charm. It has centuries-old frescoes and paintings, as well as chandeliers and sculptures. It has classically inspired columns that face the Grand Canal. This gambling establishment has come a long way since the 1600s. Inside, you'll find various games, including American roulette, European roulette, poker, chemin de fer, baccarat, and more than 600 slot machines.
Here, you'll also find the Wagner Museum, which was built in honor of the German composer who lived here until his death. You can also dine in their own restaurant, The Wagner.
Casino Municipale di Sanremo
San Remo is a famous resort that holds cultural events, such as music festivals and sports gatherings, like the cycling race between Milan and San Remo. This town is also a haven for gamblers.
The San Remo Casino is known as the origin of the poker game Telesina. It was inaugurated on January 12, 1905, and was ran by the Parisian architect Eugenio Ferret. It used to be a theater where events were held. Although gambling was practiced here, it was without any official authorization.
In 1927, Engineer Pietro Agosti was appointed the podesta of Sanremo. It was only during this time that the Royal Decree of December 22, 1927, sanctioned the birth of the Casino di Sanremo. This has legalized gambling in this part of Italy. This casino is located in the province of Imperia. It has a liberty-styled structure and was recently restored reviving the original yellow tone, which was how the original architect Eugenio Ferret imagined it to be in 1905. It has several rooms offering different table games, including blackjack, poker, chemin de fer, and French and American roulette, as well as a wide selection of modern electronic games.
The town of Campione is an exclave in the region of Ticino in Switzerland and is separated from Italy by Lake Lugano. It is located 60 kilometers away from Milan. Because of the liberal gambling laws in this town, it has become a tax haven for gamblers all over the world. It is one of the main sources of income in Campione.
The town casino was erected before World War II and was expanded in 2008, making it one of the largest casinos in Europe. Architect Mario Botta designed the building with three watchwords: welcome, comfort, and spectacular. It was owned and run by the Italian government and its income was enough to operate the town of Campione without taxes.
In 2007, the Casino di Campione moved into new premises, which provided 55,000 square meters on 9 floors with 3 levels of underground parking. The old building was demolished as the new one was built. By night, the building was visible across Lake Lugano. Here, you can play French roulette, chemin de fer, blackjack, poker, and craps.
While the casino paid large sums of money each year to the municipality of Campione, it failed to pay any contributions and owed the government 25 million euros. This has led the municipality to close down the casino.
Casino de la Vallee, Saint Vincent
Saint Vincent is a small town in the semi-autonomous region of Valle d'Aosta in the northwestern part of Italy. It is in the heart of the Italian Alps surrounded by the four highest peaks in Europe. It's a popular tourist destination for its hot springs, which were frequently visited by Queen Maria Therese of Spain in the 19th century. It was built during World War II after Elijah Page, the acting mayor at that time, suggested that it was the perfect time to build a casino to lighten the people's spirits.
Today, Casino de la Vallee exudes tradition and modernity. It has gambling rooms, bars, and a fancy restaurant spread across 43,000 square feet. There are 600 slot machines and 90 table games, including blackjack, Caribbean stud poker, craps, Punto Banco, and more. Connected to it through an underground tunnel is Grand Hotel Billia, a luxury hotel with a glass façade that offers a breathtaking view of the Aosta Valley.
If you're looking for the best places to play poker, baccarat, or slots in Italy, you should definitely check out these impressive casinos.
Comments on this Top 4 of the Most Astonishing Casino Buildings in Italy article are welcome.
Italian Architecture Designs
Contemporary Italian Architectural Selection
Italian Architectural Designs – chronological list
Afragola Station, Napoli, southern Italy
Design: Zaha Hadid Architects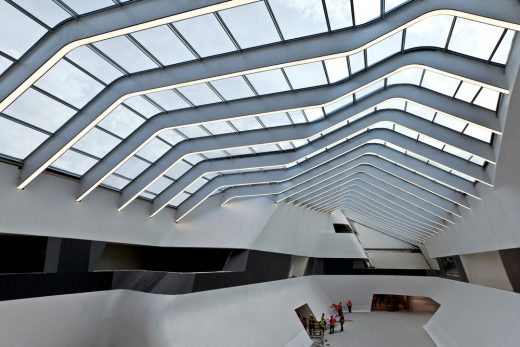 photograph : Jacopo Splimbergo
Afragola Station in Napoli
Pompeii Maximall, near Pompeii
Architects: Design International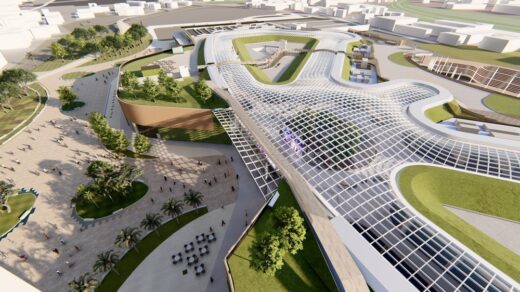 image courtesy of architects office
Pompeii Maximal Shopping Resort