Queen Ingrid Hospital Greenland, Architect, Godthåbsfjorden Building, Design, Architecture, Project
Queen Ingrid Hospital, Greenland : Godthåb Building
Health Development in North West Europe design by C. F. Møller Architects, Denmark
3 Mar 2011
Queen Ingrid Hospital Greenland
Extension of Greenland's national hospital, the Queen Ingrid Hospital, with a distinctive architecture
Design: C. F. Møller
Today, Greenland's national hospital, the Queen Ingrid Hospital, will inaugurate a new health centre and national pharmacy – with a distinctive architecture inspired by the ice floes of Godthåbsfjord.
C. F. Møller, Architects is responsible for the extension and for the general plan for the whole project.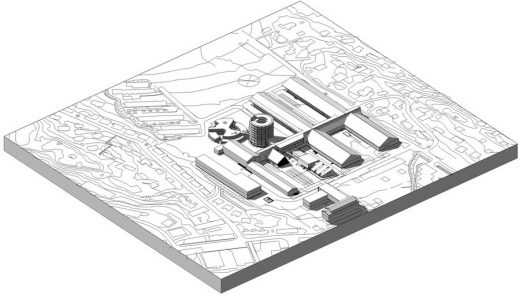 photo : C. F. Møller, Architects
Danish text:
Dronning Ingrids Sygehus
Nye faciliteter til Grønlands landshospital Landshospitalet på Grønland, Dronning Ingrids Hospital, indvier i dag nyt sundhedscenter og nyt landsapotek – med en markant arkitektur inspireret af bl.a. isblokkene i Godthåbsfjorden. Byggeriet er første etape af en plan, der skal fremtidssikre hospitalet. Bag nybyggeriet – og den samlede generalplan – står Arkitektfirmaet C. F. Møller.
Patienter og personale på Dronning Ingrids Hospital i Nuuk får nu og i de kommende år nye, bedre faciliteter – faciliteter, der forbedrer logistikken og giver mulighed for at integrere noget af det nyeste udstyr på området.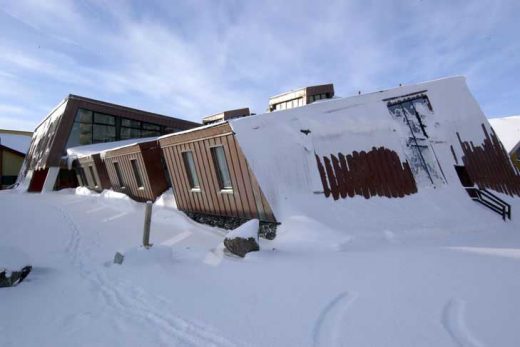 photo : Peter Barfoed / C. F. Møller, Architects
Fremtidssikring af hospitalet Hospitalet, der varetager den specialiserede behandling for hele Grønland og samtidig er lokalsygehus for Nuuk, var med bygninger fra 1980'erne efterhånden blevet utidssvarende på flere punkter.
Arkitektfirmaet C. F. Møller fik til opgave at udarbejde en generalplan for om- og udbygning for at fremtidssikre hospitalet. Første etape omfatter det nye sundhedscenter, kaldet Dronning Ingrids Sundhedscenter, samt det nye landsapotek, der nu bliver indviet.
Programmet for indvielsen, med start kl. 17.00 i dag grønlandsk tid (dvs. kl. 21.00 dansk tid), byder på taler ved bl.a. Grønlands sundhedsminister Agathe Fontain og arkitekt og partner Klavs Hyttel, Arkitektfirmaet C. F. Møller.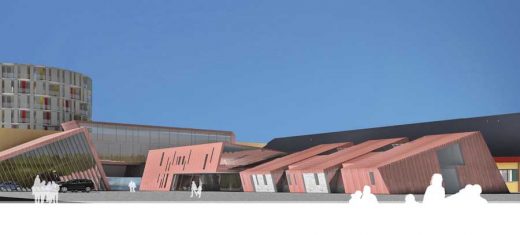 photo : C. F. Møller, Architects
Som en isblok
Nybyggeriet nærmest skruer sig op af terrænet som en isblok – og er også inspireret af naturen lige uden for hospitalets vinduer – isblokkene, de såkaldte isskosser, der flyder rundt i Godthåbsfjorden, og ikke mindst af Grønlands højeste fjeld, Sermitsiaq, der rejser sig bag byen.
Med både facader og tag klædt i kobber fremstår bygningen også som ét samlende hele – akkurat ligesom en isblok eller en fjeldtop.
Med sin iøjnefaldende, skulpturelle form henvender bygningen sig til byen og brugerne og markerer hospitalets nye hovedindgang – ligesom den fortæller om fornyelsen af hospitalet.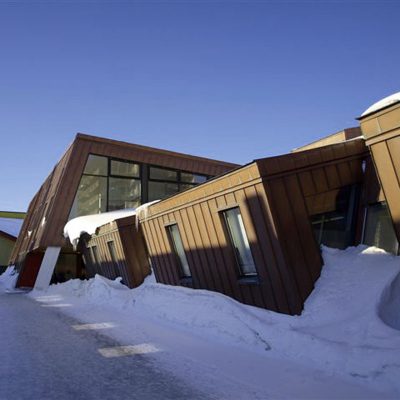 photo : Styrelsen for Sundhed og Forebyggelse, Greenland / C. F. Møller, Architects
Elementer fra iHospitalet
Anden etape i moderniseringen af Dronning Ingrids Hospital bliver bl.a. et nyt akutcenter og fem nye operationsstuer. Det er en eksisterende fløj, der er ved at blive ombygget og udvidet.
Her vil hospitalet bl.a. få mulighed for at integrere elementer fra iHospitalet, dvs. det interaktive hospital, fx kommunikation via trykfølsomme storskærme fra operationsstuerne til de andre personalegrupper for at optimere arbejdsgange og behandling.
Det nye sundhedscenter tilføjer 1500 m2 til Dronning Ingrids Hospital. Akutcentret og operationsafdelingen omfatter 1000 m2 nybygning og 2300 m2 ombygning.
Byggeriet er finansieret af A. P. Møller og Hustru Chastine Mc-Kinney Møllers Fond til almene Formaal samt af Selvstyrets egne midler.
Queen Ingrid Hospital Greenland images / information from C. F. Møller, Architects
Location: Queen Ingrid Hospital Greenland
Greenland Architecture
Greenland Building Developments – chronological list
Another Greenland Building by Danish architects:
Greenland National Gallery of Art
BIG + TNT Nuuk + Ramboll Nuuk + Arkitekti



image from BIG
Greenland National Gallery of Art
Another Greenlandic Building by Scandinavian architects:
Katuaq – Grønlands Kulturhus, Nuuk, Greenland
Schmidt Hammer Lassen Architects



photo : Joachim Ladefoged
Grønlands Kulturhus Nuuk
Ilulissat Icefjord
Design: Dorte Mandrup Arkitekter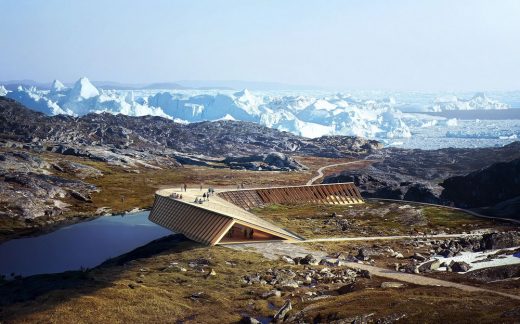 image from architects
Ilulissat Icefjord – 22 Jun 2016
Comments / photos for the Queen Ingrid Hospital Greenland Building design by C. F. Møller Architects Denmark page welcome
Website: Visit Greenland