A P Møller School Schlesvig, North German Education Building Photos, Architecture Design
A P Møller School, Germany : Schlesvig Architecture
German Education Development design by C. F. Møller Architects, Denmark.
21 May 2010
A P Møller School Schlesvig
Germany
Arkitektfirmaet C. F. Møller (C. F. Møller Architects)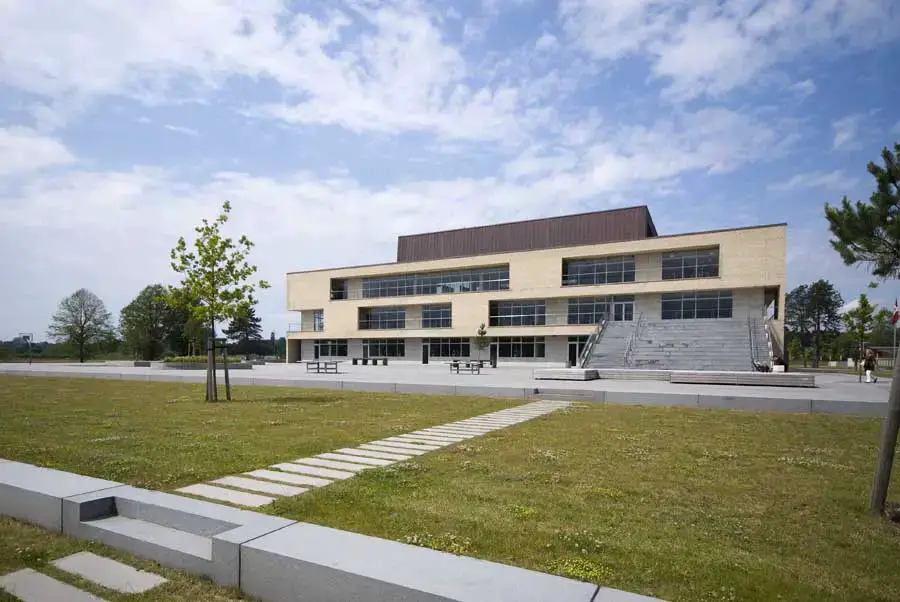 photo : Julian Weyer, C. F. Møller Architects
A P Møller School, Schlesvig Education Building
New values in educational architecture
by Julian Weyer, architect
The AP Møller School is the latest addition in a series of new Danish school buildings which, in their space and organisation, manifest the altered conditions of teaching in our time and changing expectations towards the physical environment of the school. At the same time, however, it is also distinguished from these schools in that it represents a hybrid of Danish and German teaching traditions, as a result of which it combines, in what one might call a privileged manner, the best of both these worlds.
Many of the best examples of Danish secondary school buildings since the fifties are elegant structures, well proportioned and arranged. Common to them all, however, is a fundamental distinction between corridors and teaching areas, on which point they deviate from today's ideal.




photos : Julian Weyer, C. F. Møller Architects
Today – mainly due to new demands in teaching and group work, as the architectural ideal in itself is not a new departure – the aim is to achieve overlap, i.e. the possibility of seamless transitions between different zones and functional areas, thereby creating a multitude of teaching areas which may be freely utilised.
While not necessarily visible in the exterior, this has brought about such a radical alteration in school interiors that new secondary school buildings can barely be said to have anything in common with their predecessors. The most important change in Denmark occurred with the introduction of the upper secondary school reform in 2004-05, which spelled the end of the familiar corridor-linked, identical classrooms as the hub of secondary school teaching and architecture.
The organisation and arrangement of the new schools clearly accords with the altered attitudes towards school life: gone are the days when a lunchroom might be hidden away, subordinate to the more important spaces, and housing a merely utilitarian function – or even reserved for the oldest students during the breaks, as the courtyards of certain schools were until the 1960s. Today, this hierarchy has been replaced by a broad focus on social skills and relations, which has brought all the formerly isolated functions literally into the centre.
A P Møller School Building – New Concepts
The upper secondary school reform altered the character of key educational principles; classroom periods, for example, were replaced by the broader concept of 'teaching time', in order to stimulate co-operation between the subjects and accommodate new, more flexible working methods. The physical environment should now offer new interdisciplinary possibilities and environments, and these requirements have found expression in a new school architecture with open spatial sequences, transparent teaching areas and common, unbounded functions such as 'interaction spaces' in central locations. The widespread use of information technology, via wireless networks, further reinforces the trend.
This can perhaps most easily be read in the new concepts and metaphors utilised in connection with such educational buildings, both as descriptive terms and as design guidelines: here, we have progressed from the idea of the 'room' as the core unit to speaking of interior 'landscapes', 'urban spaces', 'squares' and 'plazas', reflecting how we have moved from the idea of divided and separated spaces to spaces which are linked and continuous. The entire school can now be regarded as a unifying frame, with the smaller units acting as 'furniture' within a larger whole.
This use of language reflects that fact that the school is now more than just a place for the one-way 'transfer' of knowledge; it has become a space for exchange among persons of equal status – and consequently, an image of the ideals of civil society, showing how school students are now regarded and treated as independent and competent individuals. This development has clear parallels with the trends in workplace organisation generally: in office design, for example, the concepts of 'town' and 'landscape' have long since replaced the individual cell office.
And just as today it is regarded as inappropriate to design either pure corridors with individual offices or entirely open-plan offices, good educational architecture must offer a genuine choice between large and small group areas, between quiet and active zones.
When offered a diverse blend of both classic teaching rooms and spaces, together with niches, large and small, whose use and function are not definiteively programmed, students and teachers are able to find their own preferred spaces, indoors or outdoors, depending on the given situation. This not only results in flexible use of the teaching facilities and their capacity, but also, by allowing for greater self-help, provides an important signal which encourages the students to take responsibility for their own learning.


photo © Poul Ib Henriksen
The A.P. Møller School
The A.P. Møller School has been created to accommodate a blend of two teaching principles: the Danish teaching methods of the reformed upper secondary schools, which, in principle, largely obviate the use of classrooms, and the German educational structure, under which classrooms remain a requirement. The school encompasses an elementary school (from 7th grade and upwards) with an integrated secondary school superstructure.
Consequently, the building has several fixed teaching rooms, as well as an interior organisation which aims at through views and transparency, with classrooms and walkways that skirt the two large interior spaces in the form of open balconies and bridges, without traditional closed corridors.
The courtyard light well or assembly hall of earlier times has been replaced in the school in Schleswig by common terraced central spaces, encompassing an entrance hall/atrium, canteen, media library, student lounge and open teaching areas. This area can be further extended into the other large space, the gym, allowing all of the school's common areas to be used contiguously.
As a result, in the new secondary school, the areas outside the classrooms are no longer deserted when lessons begin. Instead, the whole building, including its break rooms, relaxation areas and quiet rooms, can be used for teaching and learning. The heart of all of this is the science centre, which in both practical and symbolic terms forms the hub of the school's structure: placing knowledge in the centre.
This flexible use of large spaces naturally makes considerable demands on the users and the building, if the educational environment is not to drown in noise and disturbance. Precise acoustic control is essential, as well as good visibility in the school, including for the staff and personnel, so that their presence is sensed and they can easily step in to help the smaller study groups.
The same new approach to the school's architecture can be read in the surrounding landscapes and sports areas. In classic upper secondary schools, the forecourt, main building, schoolyard, etc. often form individual units, and the gymnasium is frequently entirely separate from the teaching areas.
In Schleswig, by contrast, there is far greater interaction between the building and the landscape, with a forecourt that practically runs through the common rooms, and several informal, multi-functional elements located round about in the complex which allow teaching to take place in the open air if desired.


picture : Arkitektfirmaet C. F. Møller
A P Møller School – Building Information
Client: The A. P. Møller and Chastine Mc-Kinney Møller Foundation
Construction Manager: Maersk Construction (project and construction management)
Engineering: Rambøll A/S
Architect: Arkitektfirmaet C. F. Møller (C. F. Møller Architects)
Landscape: Kessler & Krämer Landschaftsarchitekten
Artist: Olafur Eliasson
Address: Schlesvig, Germany
Size: 15,000 sqm
Year: 2006-08
Competition year: 2006
A P Møller School images / information from C. F. Møller Architects
A P Møller School Germany : main page with photos
Location: Stadt Schleswig, northern VGermany
Architecture in Germany
German Architecture
German Architectural Designs – chronological list
Comments / photos for the A P Møller School German Architecture design by C. F. Møller Architects page welcome.