Eliava Park, Tibilisi Landscape Project, Georgia Architecture Development, Images
Eliava Park in Tibilisi
Contemporary Mixed-Use Landscape Development in Georgia – design by artytechs, Architects
6 Aug 2019
Eliava Park – Tibilisi Landscape
Architects: artytechs
Location: Tbilisi, Georgia
Eliava Park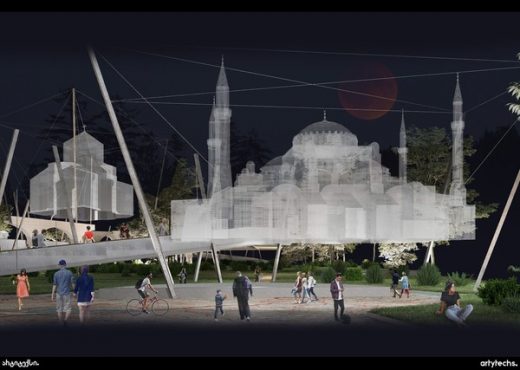 Georgia is an important transit country and with its geopolitical location it represents a bridge between the West and Central Asian countries. Georgia has unique resources, rich with economic and intellectual potential, attractive with natural resources, mineral and fresh waters and tourist attractions.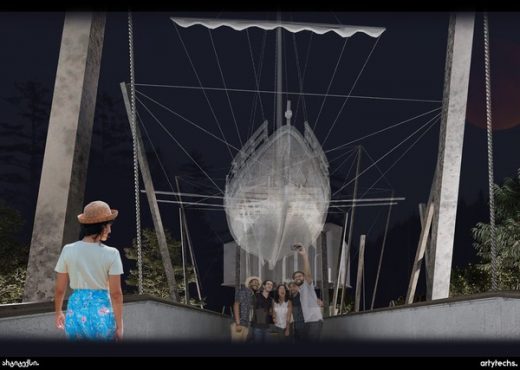 Ports are of big importance to Georgia's' transits, with Batumi port playing key role, it has always been advantageous by its geostrategic location. It was here, when oil first shipped with a tanker "Murex", whose author was famous Nobel. The port of Batumi is connected to all the maritime countries of the world, with railways and highways it is connected to Russian and Turkish countries as well as to Central Asian countries. Batumi Port is also used as the main location for the processing of oil from Kazakhstan and Azerbaijan. Georgia plays an important transit function in the modern economic realm.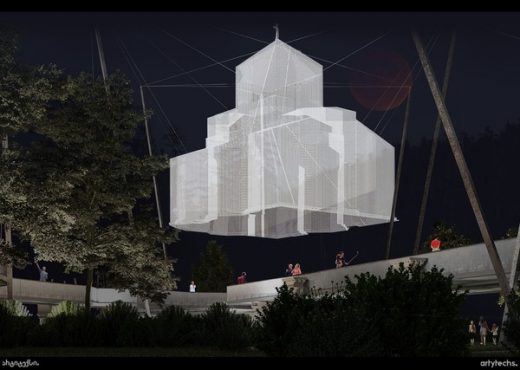 The simulated bridge in the park – a Silk Roads fragment- highlights its historical significance to the country. The Silk Road encompassed various regions, including Georgia's nearest neighbor countries, Turkey and Greece. On a bridge there are different symbols of the countries featuring locations of which Silk Road would normally pass. Each symbol is made of iron nets hanging on a wire rope. At night these illuminated models can be clearly perceived from distance as the symbols of Silk road countries. Illuminated hanging models are in accordance of a silk road map, each symbol representing a particular country highlighting its location on a historical road. These symbols include Turkey -Aya Sofia, Greece-Parthenon, Argonauts and Jvari monastery as a symbol of Christianity and country's' history.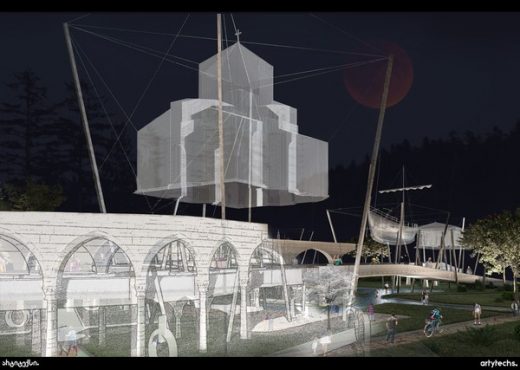 We believe this idea creates interesting space, both historically and tourist oriented.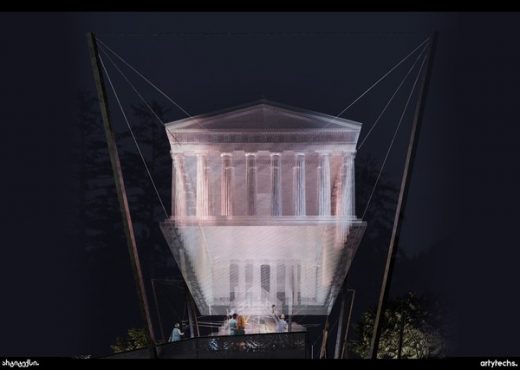 The Great Silk Road is a transcontinental trade path linking China with the Mediterranean and Black Seas. This road was used from II century BC. China, exported silk, mainly in Rome, Byzantium, the Middle East, and the Persian Gulf states. The Great Silk Road has contributed to the development of economic and cultural relations between the East and the West. In 139-126 BC the transcontinental trade-caravan route was opened, linking China with the Mediterranean and Black Sea coasts. 19th century's German geographer F Ferdinand von Richtofen beautifully baptized this road, calling it the "Silk Road". This road was part of the historically existing land, sea and river international trade routes. Trading routes along the Black Sea coast of Colchis Sec. existed in VIII-VII centuries BC. Silk fabrics, carpets, textiles, etc. were transported by trade highways to Transcaucasia and Georgia from Byzantium and Iran.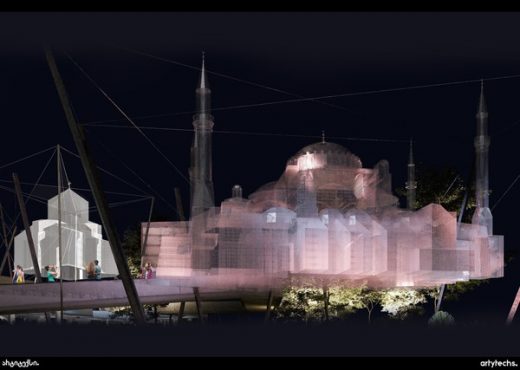 Situated on one of the routes of the Great Silk Road is the historic city of Tiflis that has a strategic trade center position at the crossroads of Russia's North Caucasus, Turkey, Armenia and the Republic of Azerbaijan. After slavery was ended in Georgia, noble men distributed areas of influence and controlled the trade route. Consequently, there were many shops, shopping areas and entertainment spaces. We brought to life these fragments and created a space with Tiflis houses typical to that period, which in the middle is crossed by a simulated Silk Road bridge. both sides food facilities will be provided.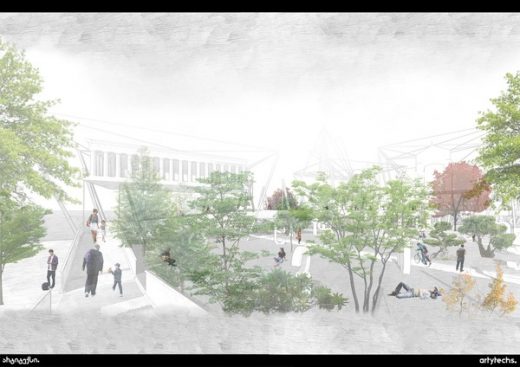 Mostly space is provided for cafes and Georgian souvenir shops, where old Georgian traditions, artifacts and spirit will be restored. There are also open cafes, fountains and umbrellas as lighting elements. On the territory there is a monument of a man playing chess, with a free chair on the opposite to take photos, imitating a game of chess.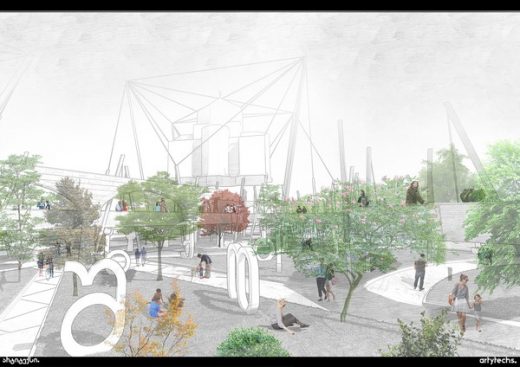 Orchestra – with chairs and instruments, but without musicians. Right next to each chair is installed an imitated model of various musical instruments with sensory equipment, that automatically starts to play when a person sits on a chair. As a result of sitting on several different chairs at the same time, the corresponding instrument will automatically start to play the notes. All instruments playing simultaneously will produce well-known works. Musical themes will be programmatically modified.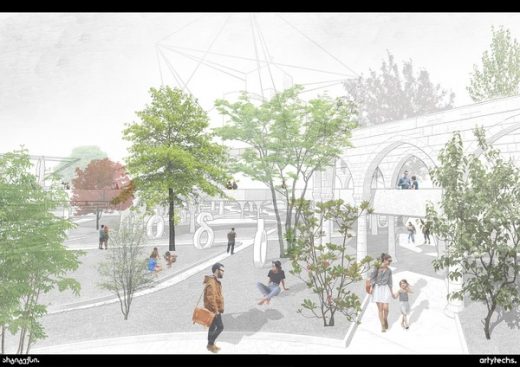 The green spaces, surrounded by the concrete path as depicted on the map of Old Tbilisi, is distinguished by various species of trees, ornamental plants and recreational spaces. They include a Japanese garden, a spruce area and a corner for ornamental trees, as well as metal chairs with imitating leaves and a branch of a tree, scattered in all areas of the square. Park is illuminated with Georgian alphabet, adding more interest to the park and which will also attract tourists. Every corner of the square is different and interesting.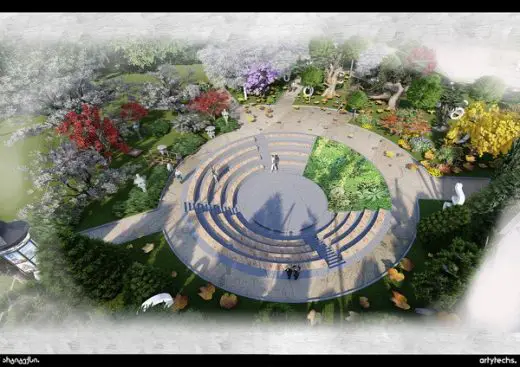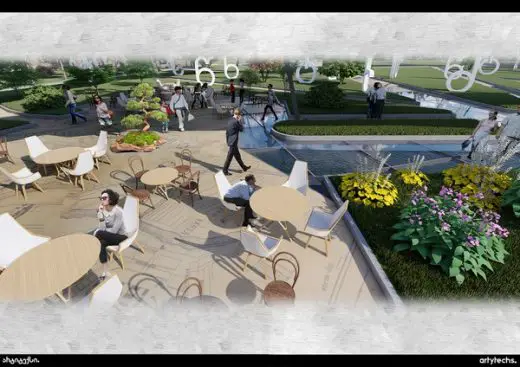 The square also features an open-air amphitheater for events. Along the open cafes there will be a water mirror with glass a surface and a children's zone with 3 meter tall book that will automatically leaf through a book and narrate fairy tale for children with acoustically vivid sounds and illustrated images.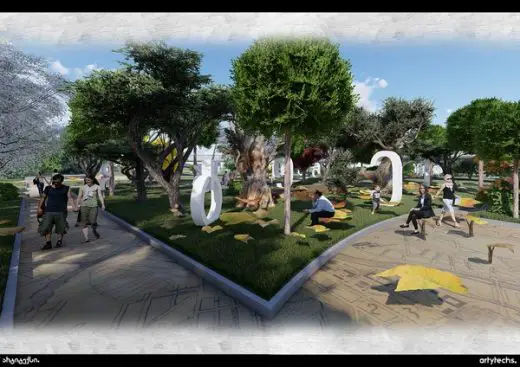 Eliava Park, Tibilisi – Building Information
Architecture: artytechs
Project size: 12000 sqm
Site size: 11240 sqm
Completion date: 2019
Building levels: 0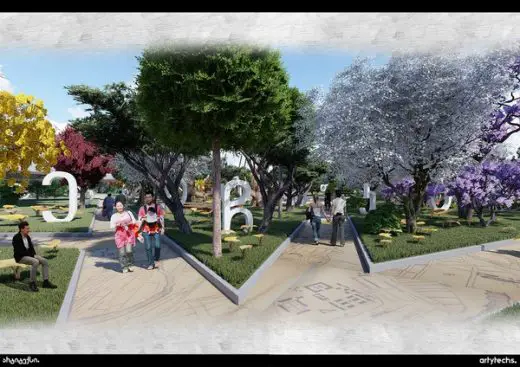 Key figures who contributed:
Daduna Shatashvili (Chief architect)
George Lezhava (Junior architect)
Saba Lazariashvili (Junior architect)
Levan Otarashvili (Junior architect)
Tako Kochiashvili (intern)
Giorgi Mirziashvili (intern)
David Marsagishvili (intern)
Eliava Park in Tibilisi images / information received 060819
Location: Tbilisi, Georgia
Architecture in Georgia
Contemporary Georgia Architectural Projects
Georgia Architecture Designs – chronological list
Kutaisi 'King David the Builder' International Airport
Design: UNStudio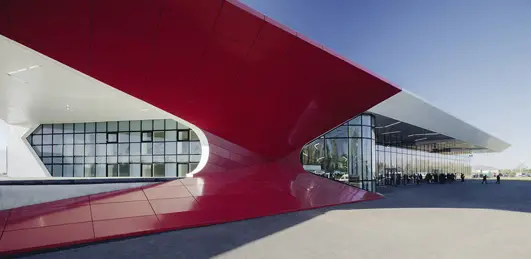 photograph © Nakanimamasakhlisi
Fuel Station + Restaurant in Batumi, south west Georgia
Design: Giorgi Khmaladze (Khmaladze Architects)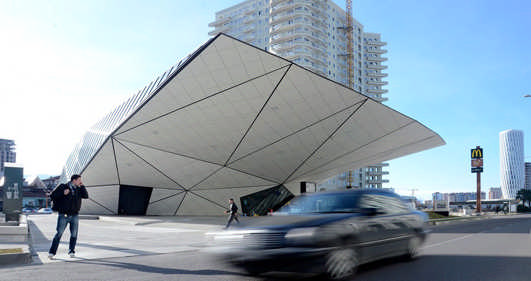 photo : Giorgi Khmaladze
Fuel Station Georgia
Lazika Municipality Building
Design: Architects of invention
Lazika Municipality Building
TBC Bank Headquarters, Tbilisi
Design: Architects of invention
TBC Bank Headquarters Georgia
Georgia Border Checkpoint Building
Georgia Landscape Architecture
Tbilisi Business Centre Building
Comments / photos for the Eliava Park in Tibilisi page welcome
Website: Tbilisi