HUBB Modular Furniture by Mecanoo and Gispen, Interior, Pictures
HUBB Modular Furniture Collection: Mecanoo + Gispen
Design Collection by Celebrated Dutch Architecture Practice: News + Images
16 + 15 Mar 2017
HUBB Modular Furniture Collection by Mecanoo and Gispen
Mecanoo and Gispen launch modular furniture for learning environments, Holland
New photos of HUBB collection added on 16th of March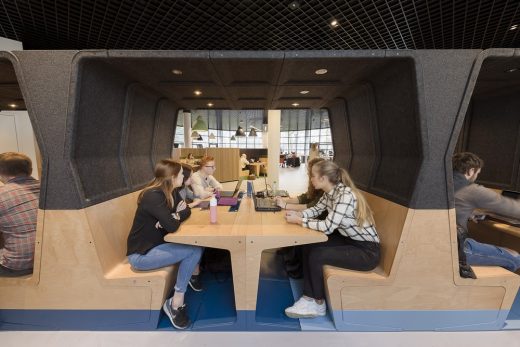 Delft – March 15, 2017 – Architecture practice Mecanoo has teamed up with furniture manufacturer Gispen to work on creating the learning environment of the future: one which is dynamic, open and people-oriented. The result is an innovative modular furniture collection called HUBB.
Design for (un)predictable change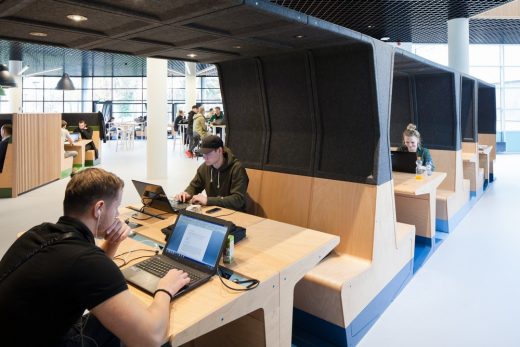 HUBB modular interior concept
The working and learning environment of the future
Mecanoo architecten and Gispen are collaborating to explore the working and learning environment of the future, spaces that accommodate multiple activities simultaneously, without becoming generic. Diversity, personalisation and addressing the specific aims of different activities are central to creating environments where creativity, innovation and identity flourish, and where people can exchange ideas and inspire one another.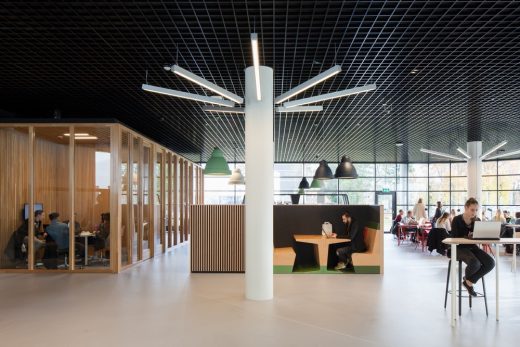 A modular furniture concept
HUBB responds to the rapid developments and changes within work and education environments, by facilitating different types of activities within existing contexts. With a seemingly simple core form, HUBB comprises a series of building blocks that enables endless combinations.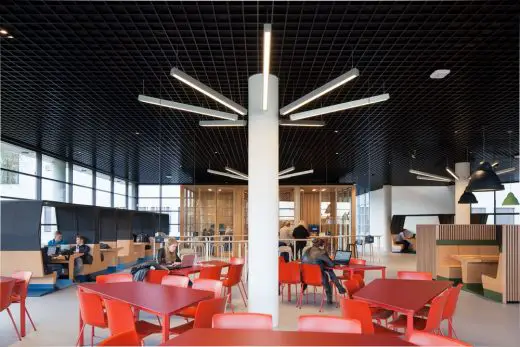 This offers the flexibility for customisation, plus the ease and quality of a proven system. And if the spatial requirements change, the building blocks can be easily reused by adapting or expanding the configuration. A set of chairs used for a collaborative setting can be transformed into a hub for concentrated working with the addition of a roof element. Or they become a bench when joined together. For every context there's a fitting combination that responds to the unique format of working or learning.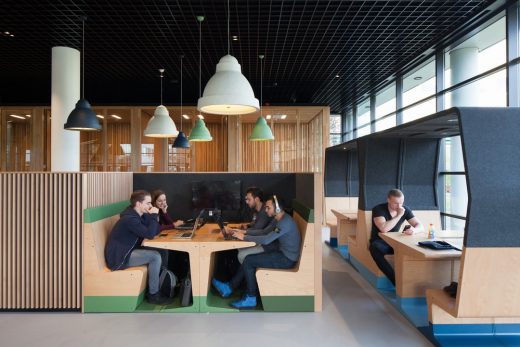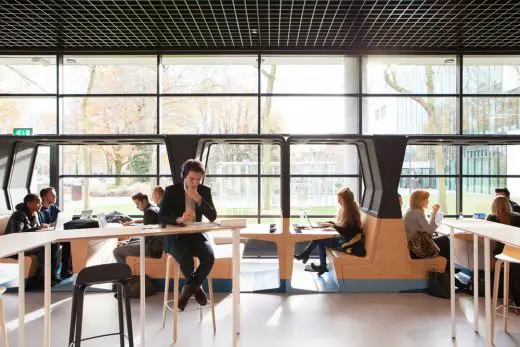 One space, three zones
The ideal working and learning environment offers zones for focused activity, collaboration and socialising, each characterised by different activities. Utilising the modular HUBB furniture concept, different zones flow seamlessly into each other, accumulating in a landscape that has the flexibility to be tailored to what's required at that moment. The diverse zones can be integrated in a single space where all users can find a space that suits their desired activity.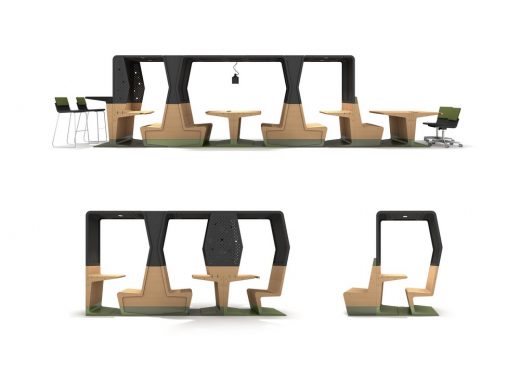 Circular production
With its modularity and standardised components, as well as the use of responsibly sourced timber and recyclable materials like PET and steel, HUBB is a highly sustainable solution. The series has been designed and engineered for manufacturing according to the principles of the circular economy. Every component is fully (de)mountable and reusable. HUBB is a timeless solution that will last for years to come.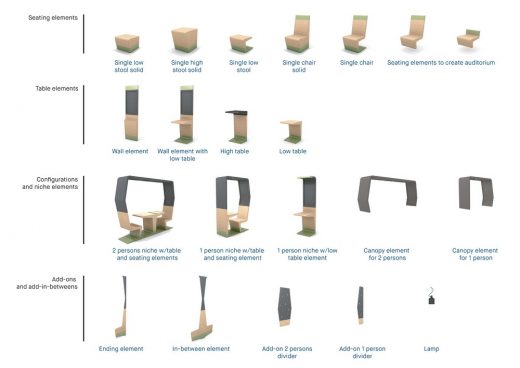 Project data: modular furniture series with seating elements, table elements, canopy elements, and add-ons and add-in-betweens; produced from steel, responsibly sourced timber, recycled PET material, with clicks and screws instead of glue
Designer: Mecanoo and Gispen
Design: 2015-16
Realisation: in production since 2016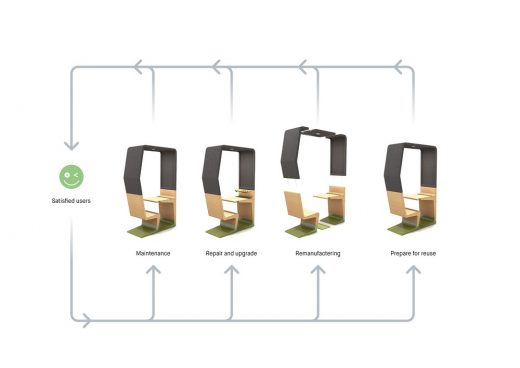 Learning is not limited to a single activity. In today's educational system, no semester is the same when it comes to the curriculum or the teaching methods. Therefore, learning environments should be designed in such way that they can respond to changing needs, both in the short and long-term.
Francine Houben, creative director at Mecanoo architecten, says: "Spaces in which creativity, innovation and identity are encouraged, and where people can exchange ideas and inspiration, provide a basis for lifelong learning."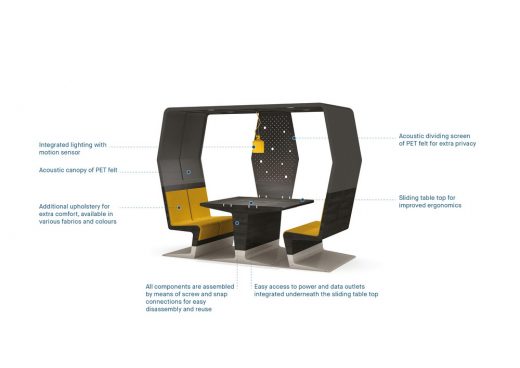 Endless combinations
HUBB allows for the creation of tailored learning environments which facilitate various activities. The furniture series consists of various elements with a seemingly straightforward basic shape which can be linked to form endless combinations and variations within a learning environment.
Paul Ketelaars, partner at Mecanoo architecten explains: "The series has been designed to form the backbone of a learning landscape which facilitates a wide range of different activities: from a zone for focussed study, to collaboration and a zone where one can meet friends and relax. HUBB's universal design ensures these zones blend seamlessly with one another."
Reconfigurable and sustainable
The modular system allows for the reconfiguration of HUBB elements when requirements change, making the series a future-proof interior solution. The series was designed and manufactured according to the latest insights on sustainability and the principles of the circular economy. It uses screw and snap connections instead of glue, and consists of steel, beech wood from reforestation forests, and PET felt.
VIDEO: Mecanoo and Gispen's vision on learning environments:

HUBB Modular Furniture Collection by Mecanoo and Gispen images / information from Mecanoo
Mecanoo : main page with news + building images
Mecanoo Architecten – studio information
Location: The Netherlands
Architectural Design
Mecanoo wins prestigious architecture prize in Boston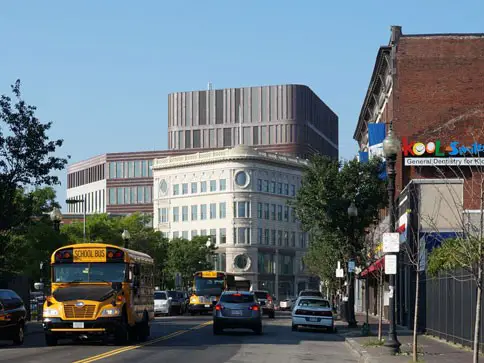 image by architects
Bruce C. Bolling Municipal Building
New Mid-Manhattan Library Building, New York City, USA
Design: Mecanoo and Beyer Blinder Belle, architects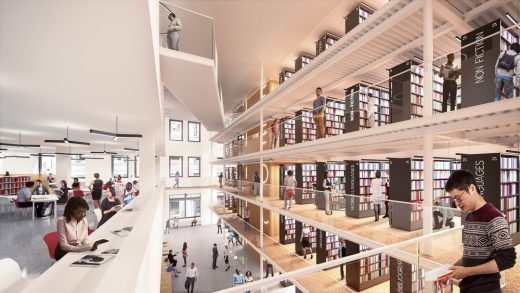 image from architect
New Mid-Manhattan Library Building
Manchester University Engineering Campus, UK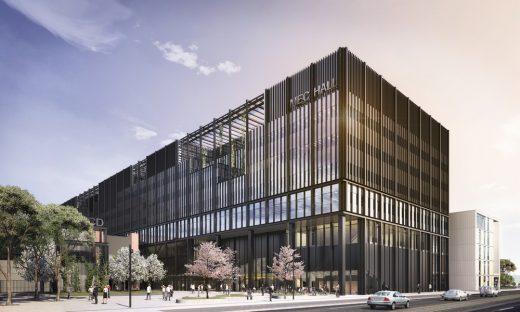 image : Mecanoo
Manchester University Engineering Campus by Mecanoo
Villa 4.0. Renovation, Hilversum, The Netherlands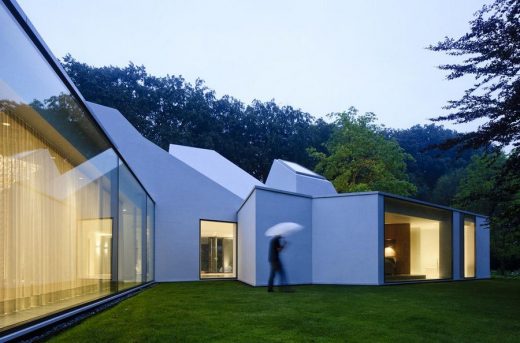 photo © Pedro Kok
Villa 4.0. design by Mecanoo
Commonwealth Institute Building



image © OMA
Furniture Architecture Designs – chronological list
Modern Architects



photograph © Adrian Welch
Bauhaus Building, Walter Gropius, 1925-26, Dessau, Germany:



image © Gordon Watkinson
Corian Lounge, Milan
Design: Amanda Levete Architects



photo : LeoTorri_DuPont_Corian
Corian Lounge Milan
Devon&Devon Launch 'Bath Couture' in Milan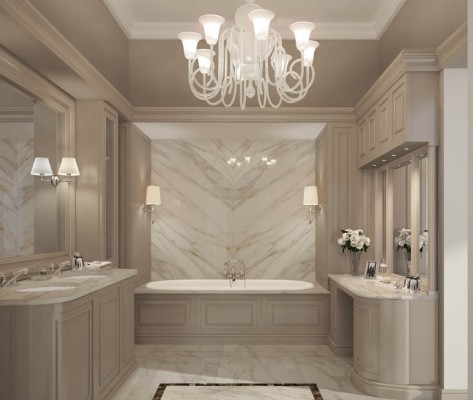 image from architect
Bath Couture in Milan
Barcelona Pavilion, Barcelona, Spain



photo © Adrian Welch
Website : Furniture Design
Comments / photos for the HUBB Modular Furniture Collection by Mecanoo and Gispen page welcome
Website: Gispen