2021 Museum Of Architecture Colour Memories Exhibition, MoA News
Museum Of Architecture Colour Memories Exhibition 2021
26 Apr 2021
Colour Memories exhibition from Museum of Architecture
"Colour is what makes memories come alive and it does the same with architecture, bringing a sense of joy, personality and individuality to buildings of all types and scales – as well as being a little bit fun."
Owen Hopkins, Director of the Farrell Centre at Newcastle University. Taken from his introduction to Colour Memories exhibition.
Colour Memories a new exhibition by Museum of Architecture opens online today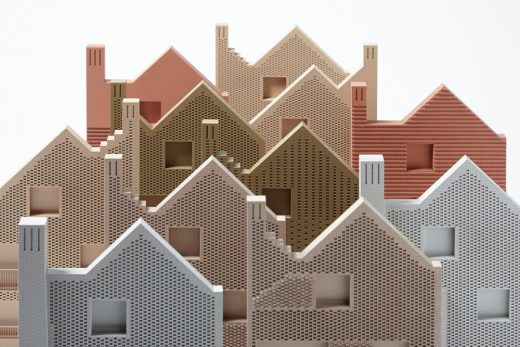 image © Morris+Company Sylvan Heritage models
"Colour is something that helps us recall memories and feelings. The steel blue of the ocean on a windy Autumn's day that gives us chills just thinking of it; bright neon-coloured lights in cities that evoke excitement and energy; and primary-coloured crayons strewn across a table harking back to the nostalgia and innocence of being a child. Narratives like these are driving the Museum of Architecture's Colour Memories exhibition, bringing the personal stories of architects, and the designs they inspire, to life."
Melissa Woolford, founder and director, The Museum of Architecture
Colour Memories – a new exhibition by The Museum of Architecture and sponsored by Axalta – is dedicated to exploring the role of colour in architecture and design. The exhibition captures the personal colour stories and inspirations of over 20 architects including, Jonathan Hagos' connections to salmon orange, Harbinder Singh Birdi's connection to traffic red and Paul Monaghan's connection to Victorian tile green. Each architect has chosen an Axalta colour sample to best represent their memory.
Polly: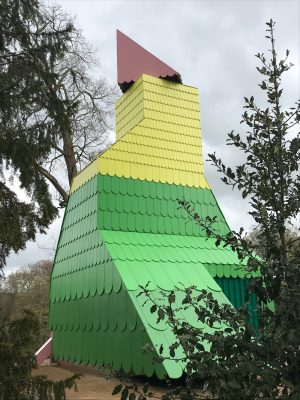 image © Charles Holland
Speaking about his colour memory Salmon Orange, Jonathan Hagos of practice Freehaus says: "Colours faded by sunlight, whether in reality or on the surface of the photographic prints depicting my childhood, are to me, seeped in nostalgia. No colour captures this more than the faded orange that defines my earliest memories. It was the colour of my parents Opal Kadett, parked outside the first home that I can remember."
Speaking about Green Chlorophyll, Catherine Pease from practice vPPR said: "(it) represents the colour of plants and nature: soft and calming; playful and ever-changing; innumerable and complex. As part of our work at vPPR, we are drawn to projects where landscape and architecture are intrinsically linked."
Art on the Underground: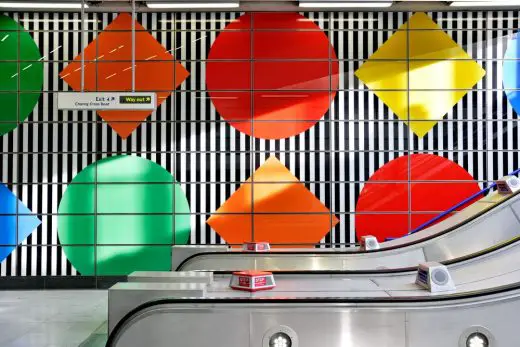 image © Hawkins_Brown and Daniel Buren
Colour Memories explores personal connections to colour and as well as ideas related to how colour informs the design process. It looks at the history of colour, colour in nature and biophilia, the impact of colour on our psychology and well-being, and the use of colour in architecture today. The exhibition showcases the impact and influence of new movements like Multiform and New London Fabulous and includes content from Studio Mutt and Office S&M. The role of teaching colour in architecture is considered by Professor Fiona McLachlan, professor of architectural practice at Edinburgh School of Architecture and Landscape Architecture and Antoni Malinowski co-director of Saturated Space at the Architectural Association. Other participants include: Asif Khan, Abre Etteh, Charles Holland, Chris Wilkinson, Katy Marks and Nimi Attanayake.
Speaking about Colour Memories, Dami Babalola, architecture colour expert at Axalta Powder Coatings UK, said: "Axalta Powder Coatings is pleased to be working with 20 talented architectural practices on this unique project. In this uncertain time we have decided to be flexible and create an entirely digital exhibition which showcases the personal associations we have with colour. We hope to highlight the wide variety of colours Axalta has to offer, as well as our commitment to providing the design community with the best and most creative colour solutions for their projects."
The exhibition includes exclusive interviews between Melissa Woolford, founder and director of MoA and James Crawford and Alex Turner from Studio Mutt, Hugh McEwen and Catrina Stewart from Office S&M and Paul Monaghan of AHMM and content from architectural writer Harriet Thorpe and architectural historian and curator Owen Hopkins.
Laura Sanjuan Soda Studio inspiration: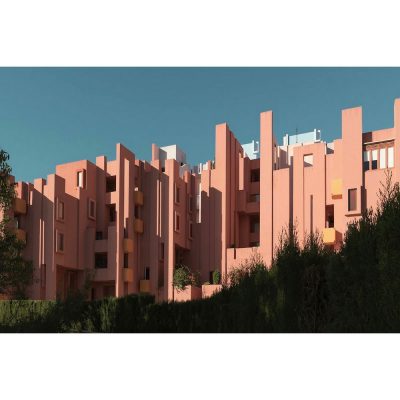 photo courtesy of designer
Featured practices:
1. Abre Etteh
2. Afterparti
3. AHMM
4. Asif Khan
5. Atelier La Juntana
6. Beasley Dickson
7. Charles Holland
8. Citizens Design Bureau
9. Freehaus
10. Hawkins Brown
11. Morris + Company
12. NimTim
13. Office S&M
14. SODA
15. Studio Aki
16. Studio Mutt
17. Unscene Architecture
18. vPPR
19. WilkinsonEyre
20. ZHD
Museum of Architecture Instagram: @MuseumofArchitecture
Museum of Architecture Twitter: @MoA_News
Hashtag: #ColourMemories
Westminster Academy School Interior by Paul Monaghan of AHMM: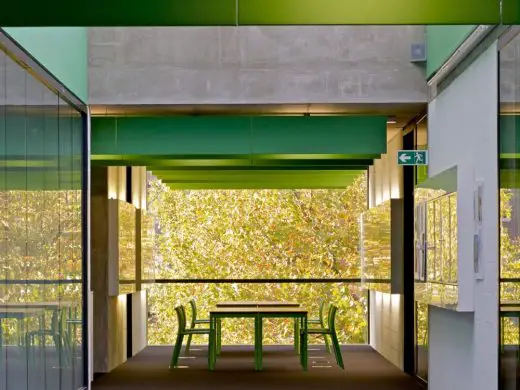 image © AHMM
Colour Memories by Museum of Architecture is sponsored by Axalta Powder Coatings
Colour Memories Exhibition 2021 Background
Museum of Architecture
Museum of Architecture (MoA) is a charity dedicated to finding new ways for the public to engage with architecture and to encourage entrepreneurship within architectural practice.
MoA provides opportunities for architects to collaborate with other industries and communities to be better informed about the places and people for which they are designing.
MoA has been a pop-up museum for twelve years and positions itself as a place where people come to learn about what is currently happening in architecture through exhibitions, events, talks, and public installations. MoA's programming provides insightful information for both the public and architects alike, linking architecture to contemporary culture to make it accessible to all.
www.museumofarchitecture.org
Charles Holland architect / designer, UK: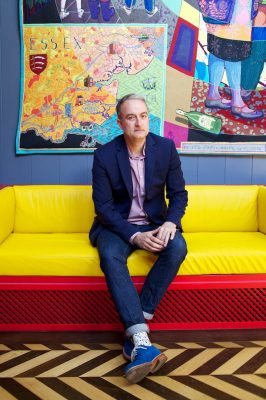 photo © Katie Hyams
Axalta
Axalta is a leading global company focused solely on coatings and providing customers with innovative, colourful, beautiful and sustainable solutions. From architectural and industrial design applications to light OEM vehicles, commercial vehicles and refinish applications, to electric motors, buildings and pipelines, our coatings are designed to prevent corrosion, increase productivity, and enable the materials we coat to last longer.
With more than 150 years of experience in the coatings industry, the 14,000 Axalta people continue to find better ways every day to serve our more than 100,000 customers in 130 countries with the finest coatings, application systems and technology. For more information visit axalta.com/powdercoatings-emea and follow us @Axaltapowdercoatingsemea on Instagram and on
LinkedIn.
Architect Chris Wilkinson in his Dulwich House, London, England: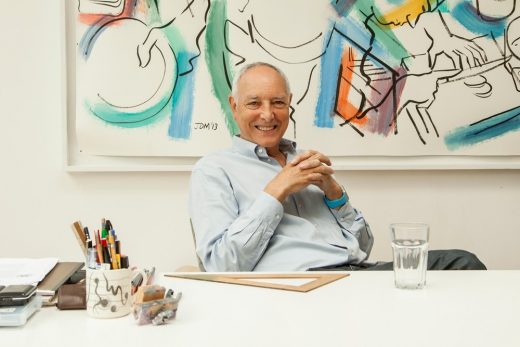 photo courtesy of architects office
Axalta Colour Experience Room London
The London Colour Experience Room is home to the wide and versatile powder coating offering of Axalta. An exciting and colourful environment to let your imagination go wild, we have a solution for every creative and architectural project. Located in the architectural heart of London at The Building Centre, there are over 700 colours, effects and finishes available. Book a meeting with our Colour Expert for guidance on the right choice of architectural powder coatings in both quality and colour.
For more information about the Colour Experience Room, visit www.axalta.com/colourexperienceroom
Location: London, England, UK
Architecture in London
London Architecture Designs – chronological list
Tottenham Pavilion Competition


image courtesy of architecture competition organisers
Tottenham Pavilion Competition
Museum Of Architecture Competition
Contemporary Buildings in London
Vauxhall Tower
Design: Broadway Malyan
Battersea Power Station Design
Design: various architects
London Architecture Walking Tours
London Architecture Competitions
Comments / photos for the Museum Of Architecture Colour Memories Exhibition page welcome