Harringay Warehouse District Design Contest, Haringey Building Competition, London News
Tottenham Pavilion Competition
30 Mar 2020
Tottenham Pavilion Competition Deadline Extension
Registration re-opened and the deadline is extended until 8th April.
The team behind Tottenham Pavilion are working voluntarily – they are trying theirr best to keep on top of communication. Your patience is appreciated.
The winning design will be the proposal use dfor the build phase in 2021 (subject to fully achieving fundraising target).
8 April 2020 – 24:00 hrs (midnight): deadline for submissions
Two New Judges Announced
Two local judges have joined the panel:
– Aida Esposito, Culture & Creative Specialist & Consultant for Haringey Council's Creative Enterprise Zone in Tottenham
– Hannah Iheoma Place, artist, photographer, writer & founding Director of Place A
post updated 6 Mar 2020 ; 21 Feb 2020
Tottenham Pavilion Competition News
Location: Northeast London, England, UK
Tottenham Pavilion Organisers Respond to Open Letter
A grassroots community project in South Tottenham, London borough of Haringey, responded today to an open letter sent by 23 leading figures in Architecture.
The project run by local residents is to design a temporary public pavilion on a former car park. The idea came from a much smaller pilot run in 2019 involving 50 local residents who created their own public pavilion through a series of arts workshops.
"The response to this year's project has taken us all by surprise" explains Carolina Khouri, one of three people running the project, "initially we thought we'd get a handful of applications from local artists, architects and designers."
To find a design, the organisers launched a design competition in February open to anyone to apply with the aspiration, subject to fundraising, of building the pavilion and launching it as part of the London Festival of Architecture 2020. The organisers and the website clearly state, however, that the architectural competition is being run independently and that the London Festival of Architecture does not endorse the competition.
Responding to the open letter sent, and concerns raised by other bodies in the architectural sector, the organisers acknowledge their naivety in the structure of the competition. For them, the project was devised on the same principle as similar warehouse-based projects, where people collaborate voluntarily or in-kind to make things happen. As a result of guidance provided, they have agreed to add an honorarium of £300 to all shortlisted designs and will clarify with applicants that a sketch is required, not a full architectural drawing. They are also including a fee proposal section in the application form.
The Tottenham Pavilion architecture competition is in two stages. They are committed to the above changes for the selection of short listed designs regardless of the fundraising outcome – with all shortlisted designs being exhibited during London Festival of Architecture 2020. However, as is made clear to applicants, the realisation and construction of the pavilion is subject to achieving sponsorship targets. If achieved, they will only progress with the construction phase if sufficient funds have been achieved to also cover fees.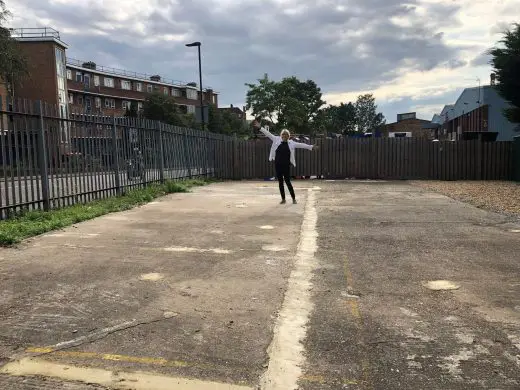 James West, one of the other event organisers explains the decision: "We have listened to the architectural community, reflected and made adjustments to the competition. Our aspiration has always been to seek positive outcomes – for those involved and for those who will benefit from the creation."
In contrast to the initial low key ambitions for the project, the organisers are now determined to raise the sponsorship required to achieve not only a winning design but also the full construction. "There has been national and international interest in the project" says James, "our challenge now is to raise enough money to make it happen, find leading judges to get behind it and make it work in a manner that gives everyone involved acknowledgement and reward".
The open letter was signed by 23 leading architects including Katy Marks of Citizens Design Bureau, Wilf Meynell of Studio Bark, Rory Harmer of Tate Harmer and Emma Perkin of Emil Eve Architects.
5 Feb 2020
Tottenham Pavilion Competition in Haringey
Tottenham Pavilion 2020, Northeast London, England, UK
Reimagine warehouse culture in the public realm.
In 2020, a new pavilion will be designed, self-built and opened for the general public to experience the unique characteristics of Harringay's warehouse district as part of the London Festival of Architecture.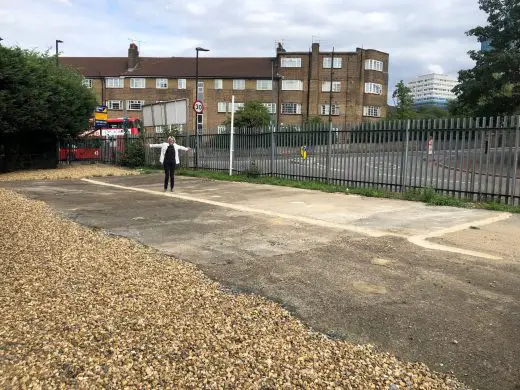 – Call out for architects, artists, innovators and imaginators.
– Competition to design a new kind of public space.
– Winning design will be featured in London Festival of Architecture 2020.
Register by: 8 March (previously 29 February 2020)
Proposal deadline: 29 March 2020
Full details and registration https://tottenhampavilion.com
Tottenham Pavilion is a competition to develop a public realm Pavilion that encapsulates and preserves the unique power of Harringay Warehouse District as an antidote to gentrification.
________________________________________
Harringay Warehouse District, in the London borough of Haringey, is a sprawling industrial site of around 322 units. Since the late 1990s the area has been occupied by self-employed artists, makers, musicians and entrepreneurs, a significant contrast to its former role as a major rag trade employer.
In the shadow of the mammoth Woodbury Down regeneration project, one of the most deprived wards in London, the warehouse micro-economy is a living breathing expression of a self-built community and one that is firmly trying to avoid the trappings of gentrification.
The area has a unique power dynamic – it's not simply grass root, nor bottom up, that's far too linear – it has a power source that comes from the clash of differences. This commission is about preserving the anti-gentrification anarchy of the area. The winning concept will learn lessons from a very unique corner of London and reinterpret them for a wider audience.
The site for the Tottenham Pavilion is a former car park cornering Seven Sisters Road (A503) with an estimated 40,000 vehicles passing by daily. Acting as the main gateway into Tottenham, the site is located between the Harringay Warehouse District and the wider residential community. A prime location with lots of visibility.
The design, open to anyone from architects to artists and designers to makers, needs to connect with the Harringay Warehouse District. To facilitate this connection, registered applicants can book to attend one of three Curated Events hosted within the warehouse district by filling in the form below.
The purpose of the Tottenham Pavilion is to create a physical space predominately for use by the local community in Haringey, and neighbouring borough of Hackney, to house a variety of activities:
• Gatherings: meetings, events, celebrations, sharing, talking
• Markets: various forms of showcasing events for arts, craft, fashion, food
• Performances: plays, dance, music
• Workshops: on various disciplines from sculpture to yoga, writing to design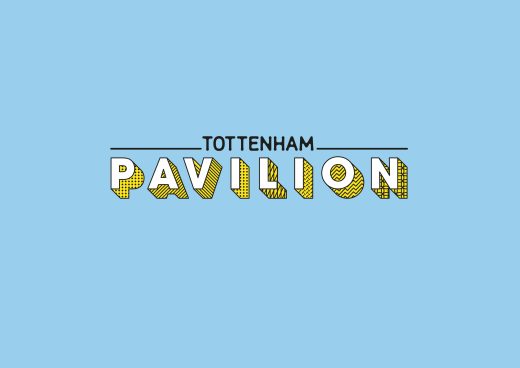 The winning design will draw from techniques, methods and ideas gleaned from the exploration of the Harringay Warehouse District. It will be a confident design that speaks with power offering an alternative message to gentrification. The design, judged by both leading figures in architecture and the local warehouse community, will lift expectations on how a public realm space can be enjoyed.
APPLICANT DEADLINE: 24:00 HRS (MIDNIGHT) SUNDAY 29 MARCH 2020
The building phase of the competition is subject to achieving fundraising targets.
Site plan: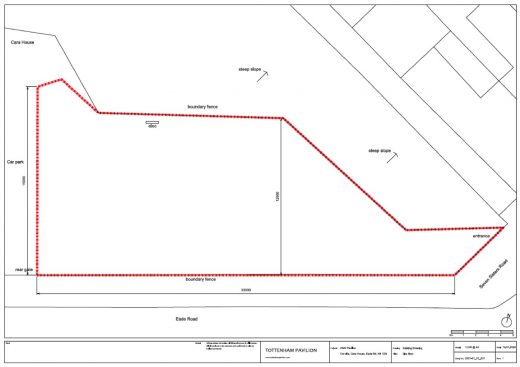 Tottenham Pavilion Competition images / information received 050220
Location: Tottenham, London N17, UK
London Architecture
Contemporary London Architectural Projects, chronological:
London Architecture Designs – chronological list
London Architecture Walking Tours by e-architect
Tottenham Hotspur Stadium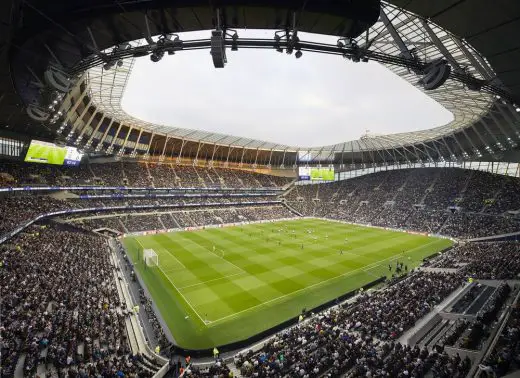 photo ®Hufton+Crow
Emirates Stadium : Arsenal FC ground, north east London
Design: HOK Sport Architecture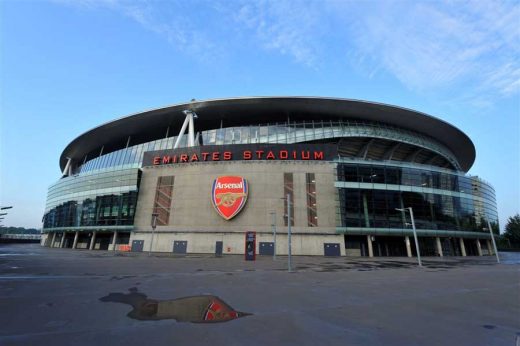 photo © Nick Weall
Tottenham Hale Redevelopment London
Comments / photos for the Tottenham Pavilion Competition Architecture page welcome