Architecture Foundation London Exhibition, Futures in the Making, Architectural Centre News
Architecture Foundation Events London
AF annual exhibition, England, UK – British Architectural Event News
14 Nov 2014
Architecture Foundation Exhibition 2014
Futures in the Making
The AF's annual exhibition is now open and presents intriguing new speculations from recent architecture graduates
The Architecture Foundation annual group exhibition showcasing speculative architectural futures explored in the work of recent architecture graduates has just opened at Feilden Clegg Bradley Studios' new gallery and will run for two weeks until the 28th November.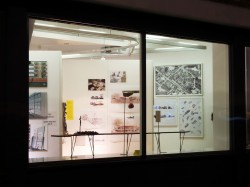 This year's edition of Futures in the Making explores new ideas for the social role of architecture from a rising generation of architectural talent. Grounded in a profound engagement with the regenerative potency of architecture, featured projects will present innovative and provocative forms of architectural exploration that reflect on architecture's capacity to engage and foster new social narratives in the context of wider social, economic and technological change.
From London to Freetown, a global range of case studies will explore socially oriented design schemes that engage in innovative forms of regeneration, placemaking and collective community identity. Featured projects will range from research-based proposals for new museum sites in Sierra Leone and subversive masterplans for Swiss alpine communes to new forms of vernacular material making and visions for the design of cyber-urban space.
The exhibition, curated by a joint AF Trustee and Curatorial Staff team led by Eric Parry and AF Exhibitions Curator Zofia Trafas, will showcase eleven projects, including drawings, models and research by selected postgraduate students from London architecture schools.
Featured participants will include: Alastair Browning (Bartlett School of Architecture, 2014); Joe Davis (The Cass, 2014); Eleanor Dodman (Architectural Association, 2014); Tom Green (University of East London, 2014); Yannis Halkiopoulos (University of Westminster, 2014); Kate Lynham (University of Greenwich, 2014); Alexandra McClean (The Cass, 2014); Ruby Ray Penny (University of Westminster, 2014); James Pockson (Royal College of Art, 2014); Olivia Wright (Royal College of Art, 2014); and Sandra Youkhana (Bartlett School of Architecture, 2014).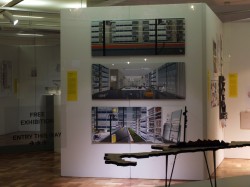 The Architecture Foundation is delighted to be partnering with Feilden Clegg Bradley Studios to showcase the exhibition, which will be housed in the ground floor gallery of their London headquarters in Tottenham Street W1.
This year's exhibition will follow the first Futures in the Making presented in Autumn 2013.
Event Programme
A panel discussion exploring the future of architectural education
Wednesday 26 November 2014, 7pm
Chaired by Robert Mull – AF Trustee and Dean and Director of Architecture at The Cass, confirmed speakers include: Neil Spiller -Dean of Architecture at the University of Greenwich; Peter Clegg – Senior Partner at FCBS (and Professor of Architecture at the University of Bath) and Gem Barton – editor of Edge Condition and lecturer at the University of Brighton.
Venue: Feilden Clegg Bradley Studios, Twenty Tottenham Street, London W1T 4RF
Tickets: Free with prior RSVP to eventbrite.co.uk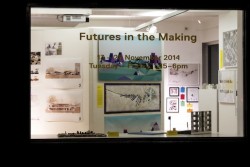 Eric Parry, Trustee of The Architecture Foundation, said of the exhibition:
"After last year's inaugural exhibition of Futures in the Making we are delighted to be able to continue this AF curated showcase of graduate work chosen from the riches of the London schools of architecture in 2013–2014. The AF's public programme continues to further our mission of cultivating new talent and innovative ideas of a cohort that in due course will make its mark on the built environment."
A public event will explore the themes of the exhibition. Further programme details will be announced shortly.
With special thanks to Feilden Clegg Bradley Studios for their support of the exhibition.
Exhibition Dates: 13 – 28 Nov 2014
Opening Hours: Tuesday – Friday, 1:45 – 6pm
Entry: Free admission
Venue: Feilden Clegg Bradley Studios, Twenty Tottenham Street, London W1T 4RF
More information: www.architecturefoundation.org.uk/programme/2014/futures-in-the-making
About The Architecture Foundation
The Architecture Foundation is a non-profit agency for contemporary architecture, urbanism and culture. We cultivate new talent and new ideas. Through our diverse programmes we facilitate international and interdisciplinary exchange, stimulate critical engagement amongst professionals, policy makers and a broad public, and shape the quality of the built environment. We are independent, agile, inclusive and influential. Central to our activities is the belief that architecture enriches lives.
www.architecturefoundation.org.uk
About Feilden Clegg Bradley Studios
Feilden Clegg Bradley has an international reputation for design quality, environmental expertise and architectural innovation. Our approach was recognised with the 2008 RIBA Stirling Prize, the UK's most prestigious architectural award, presented to Accordia, a scheme which is widely regarded as setting a new benchmark for housing in the UK. Established in 1978, and with offices in Bath and London, we have grown steadily to our present strength of 22 partners and over 103 staff.
www.fcbstudios.com
Architecture Foundation London Events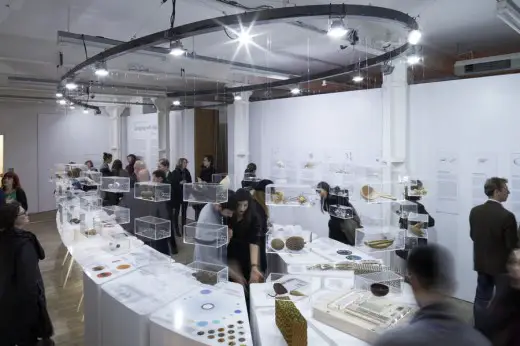 photo Courtesy Daniel Hewitt
Location: London, south east England, UK
The Architecture Foundation Links
Architecture Foundation architect : Zaha Hadid



picture from architect
Architecture Foundation Competition : Bankside Bikeshed
Architecture Foundation Exhibition : New Norwegian Architects
Architecture Foundation Show : Southwark Public Baths – London Festival of Architecture



photo © Julie Guiches /Exyzt
Architecture Foundation Discussion
Architecture Foundation Event : Architecture on Film
Architecture Foundation Office
The Architecture in The British Capital
Comments / photos for the Architecture Foundation Events London page welcome
Architecture Foundation Events London Events – page
Website : Architecture Foundation London