Architecture Foundation, London Architectural Centre, News, Exhibitions
Architecture Foundation London
AF London, England, UK – Events + News Archive
7 Feb 2014
Architecture Foundation Exhibition in 2014
NOW OPEN – Designing with Nature: The Architecture Foundation presents first-ever solo show of Exploration Architecture
The Architecture Foundation is delighted to present Exploration Architecture: Designing with Nature, the first-ever solo show of Exploration, a thought-leading architecture and design practice working in the field of biomimicry.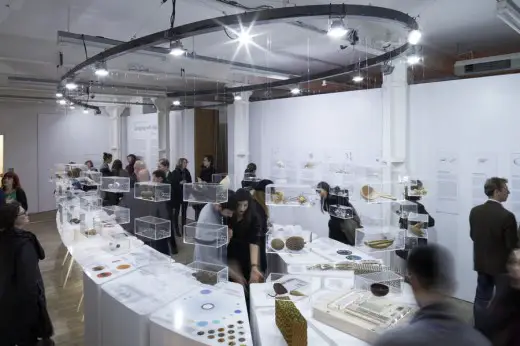 photo Courtesy Daniel Hewitt
Installed within The AF's Central London Project Space, an immersive display and striking 3D printed installation showcases a selection of four projects and prototypes from the studio's cutting-edge research on sustainable, nature-inspired design, including two new, previously unpublished schemes. Study models, infographics, and specially commissioned short films introducing Exploration's projects are presented alongside a myriad of natural specimens that inspired the designs – offering unique insight into the studio's practice of learning from nature in order to deliver future-facing solutions for architecture, systems design and materials production that address the major challenges of our age.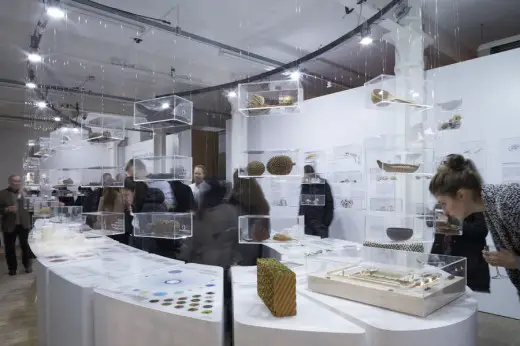 photo Courtesy Daniel Hewitt
Founder and Director of Exploration, Michael Pawlyn is a leading practitioner working in the field of biomimicry, a rapidly progressing discipline that is rigorously based on studying how functions are delivered in biological forms and translating these into new solutions for design and resource use. Prior to setting up his practice, Pawlyn worked with Grimshaw Architects for ten years and was central to the team that radically re-invented horticultural architecture for the Eden Project. He has lectured widely on the subject of sustainable design and is author of Biomimicry in Architecture (RIBA Publishing, 2011), a leading text in the field. In 2008 Exploration was short-listed for the Young Architect of the Year Award as well as the internationally renowned Buckminster Fuller Challenge.
Biomimetic Office Building: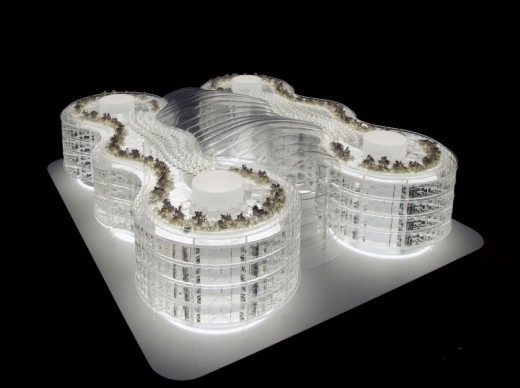 photo Courtesy Exploration Architecture
Showcasing Exploration's working philosophy and embracing 3D printing's capacity for radically increased resource efficiency, the exhibition's central installation takes the form of a long sweeping display designed to showcase innovative SKO software – a structural optimisation computer programme based on the adaptive growth patterns of trees and bones – and has been created with support from large-scale 3D printing pioneer Lukas Oehmigen of BigRep and Ultimaker.
The Sahara Forest Project:



photo Courtesy of The Sahara Forest Project Foundation
Michael Pawlyn, Director, Exploration Architecture, said of the exhibition:
"We were delighted to receive the commission for this exhibition from The Architecture Foundation and look forward to having the opportunity to show just how much biomimicry has to offer designers in moving beyond conventional approaches to sustainability. Rather than merely mitigating negatives, we need solutions that optimise positives and create a new paradigm of restorative design. Biomimicry draws on nature as a source of solutions that are already extremely well adapted to the very challenges we will need to address over the next few decades – from climate change to resource scarcity. The exhibition will also show Exploration's working methodology of initiating projects, and collaborating with specialists from different disciplines to overcome obstacles to radical new solutions."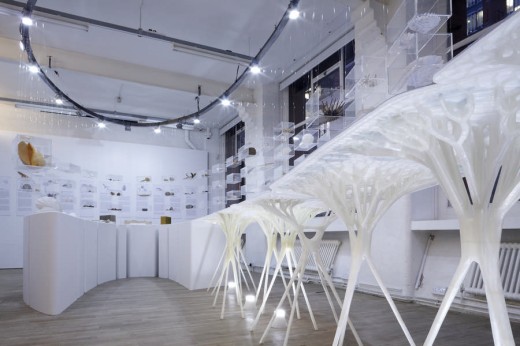 photo Courtesy Daniel Hewitt
At a time when architecture and society more broadly urgently need to reconsider their relationship to the natural world and move towards a more ecologically sustainable future, the exhibition offers a timely showcase of biomimicry, and the innovative approach to design and resource use it offers. The Architecture Foundation is delighted to have partnered with Interface, a pioneer in applying biomimicry to industrial design challenges, as a headline sponsor for this exciting exhibition that presents this emerging design discipline to a UK audience.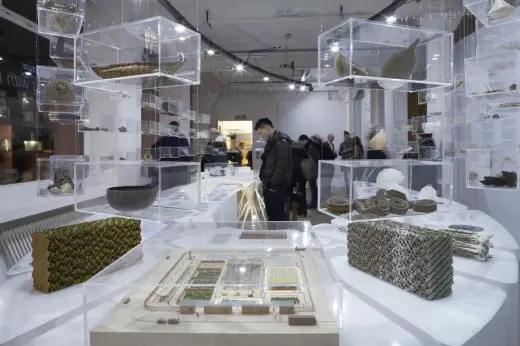 photo Courtesy Daniel Hewitt
Sarah Ichioka, Director, The Architecture Foundation said:
"The Architecture Foundation is excited to be presenting the first-ever solo exhibition of Exploration Architecture's field-leading research into nature-inspired design. The show and its accompanying public events programme will build upon The AF's core mission of presenting the best new ideas in architecture that have the power to shape and improve the quality of our built environment. We believe that the exhibition's cutting-edge installation design and engaging content will appeal to both a specialist audience and the general public and offer a unique platform to explore this practice's important work."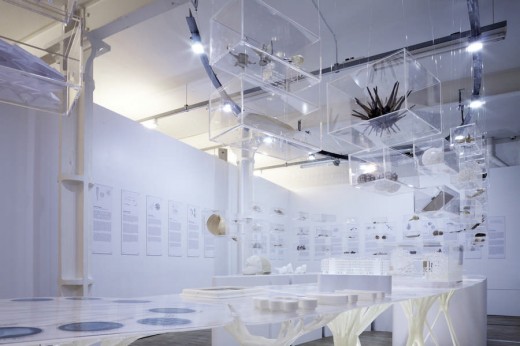 photo Courtesy Daniel Hewitt
Nigel Stansfield, Vice President & Chief Innovations Officer, Interface – Headline Sponsor of Exploration Architecture: Designing with Nature commented:
"We are proud to be supporting this exhibition and helping showcase the design possibilities of biomimicry. Nature has long been a source of inspiration for Interface and has led to some of our most sustainable and commercially successful innovations ever; this includes our non-directional flooring where tiles retain a randomness of pattern however they are laid, just like leaves on the forest floor, leading to reduced waste and costs. We hope that visitors to the exhibition will be inspired by what they see and encouraged to consult nature for sustainable solutions to future design challenges."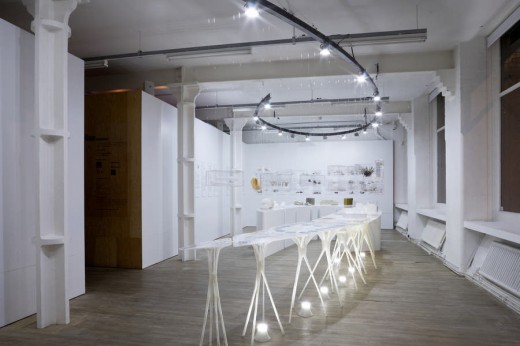 photo Courtesy Daniel Hewitt
The exhibition is accompanied by a public programme of events expanding on the themes of the exhibition, including a headline lecture by Exploration Director Michael Pawlyn, as well as a panel discussion exploring wider questions about the relationship between science, mathematics and the natural world.
Curated by: Exploration Architecture and The Architecture Foundation
Headline Sponsor: Interface
In-kind support: Lukas Oehmigen, BigRep; and Ultimaker
Image: Exploration Architecture: Designing with Nature. Courtesy Daniel Hewitt.
Exhibition Dates: 7 February – 15 March, Tuesday – Saturday, 12 – 6pm
Entry: Free admission
Venue: The Architecture Foundation, 136-148 Tooley St, London SE1 2TU, UK
The Architecture Foundation Public Events Programme
Designing with Nature: Michael Pawlyn Lecture
Monday 17 Feb 2014, 7pm
Exploration Architecture Founder and Director Michael Pawlyn will deliver a lecture presenting his working philosophy and latest projects featured in the Designing with Nature exhibition, including the Sahara Forest Project, designs for a Biomimetic Office, and two new, previously unpublished schemes for the BioRock pavilion and the Mountain Data Centre.
More information: www.architecturefoundation.org.uk/programme/2014/exploration-architecture-designing-with-nature/michael-pawlyn-lecture
Tickets: Standard: £5 / AF Members: £3/ Online: wegottickets.com
Designing with Parameters – What's Next?
Thursday 27 Feb 2014, 7pm
Parametric software has enabled architects and designers to create structures, buildings and environments that were impossible to imagine twenty years ago. But what is the future of such digitally based design and what are going to be the defining parameters of design in the future?
Join us for an evening exploring the evolution, future possibilities and pros and cons of parameter control in creating architecture. The expert panel will include Michael Pawlyn, founder and director, Exploration Architecture; Patrik Schumacher, director, Zaha Hadid Architects; and Nerea Calvillo, director, C+ arquitectos. The debate will be chaired by Dr Marcos Cruz, director of the Bartlett School of Architecture, UCL.
More information: http://www.architecturefoundation.org.uk/programme/2014/exploration-architecture-designing-with-nature/designing-with-parameters-whats-next
Tickets: Standard: £5 / AF Members: £3 / Online: wegottickets.com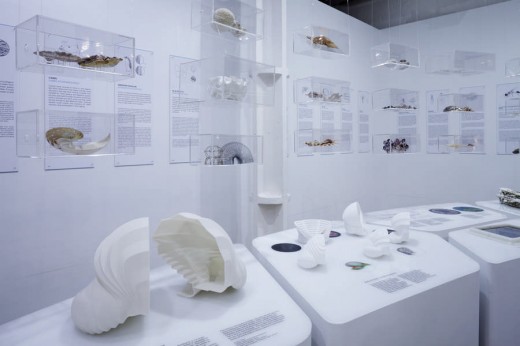 photo Courtesy Daniel Hewitt
About The Architecture Foundation
Founded in 1991 as the UK's first independent architecture centre, The Architecture Foundation is a non-profit agency for contemporary architecture, urbanism and culture. We cultivate new talent and new ideas. Through our diverse programmes we facilitate international and interdisciplinary exchange, stimulate critical engagement amongst professionals, policy makers and a broad public, and shape the quality of the built environment. We are independent, agile, inclusive and influential. Central to our activities is the belief that architecture enriches lives.
www.architecturefoundation.org.uk
About Michael Pawlyn
Michael Pawlyn established Exploration in 2007 to focus exclusively on biomimicry. In 2008 Exploration was short-listed for the Young Architect of the Year Award and the internationally renowned Buckminster Fuller Challenge. Prior to setting up the company Michael Pawlyn worked with Grimshaw architects for ten years and was central to the team that radically re-invented horticultural architecture for the Eden Project. He was responsible for leading the design of the Warm Temperate and Humid Tropics Biomes and the subsequent phases that included proposals for a third Biome for plants from dry tropical regions.
Pawlyn has lectured widely on the subject of sustainable design in the UK and abroad, and in May 2005 delivered a talk at the Royal Society of Arts with Ray Anderson, CEO of Interface. In 2007 he delivered a talk at Google's annual 'Zeitgeist' conference and in 2011, became one of only a small handful of architects to have a talk posted on TED. com. In the same year, his book Biomimicry in Architecture was published by the Royal Institute of British Architects. He is currently working on a range of biomimicry-based architectural projects and a book commissioned by TED (planned for completion/release early 2014).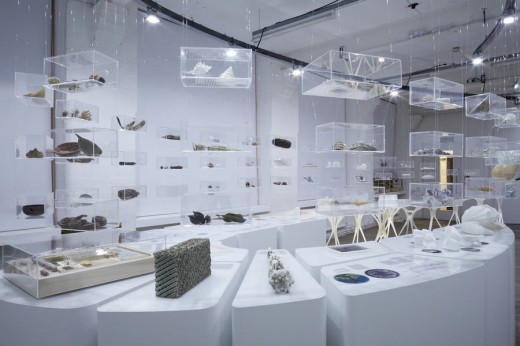 photo Courtesy Daniel Hewitt
About Exploration Architecture
Established in 2007, Exploration is an innovative architectural practice that draws its inspiration from nature. As leaders in the field of Biomimicry the practice has had the pleasure of working with some of the most visionary clients and brilliant proponents of biomimicry. Exploration have cultivated relationships with a wide range of experts and collectively bring a wealth of knowledge and experience to any project they are asked to undertake.
Exploration believe that there are huge environmental and economic benefits to be gained from studying the design solutions that nature has developed with the benefit of a 3.8 billion year R&D period and their portfolio demonstrates the advantages of this approach. The architecture is richer, the environmental impact is radically reduced and their clients benefit from efficiencies they never expected to receive. Several of the projects with which Exploration have been involved have achieved factor ten efficiency savings and, in one case, a factor one hundred saving.
www.exploration-architecture.com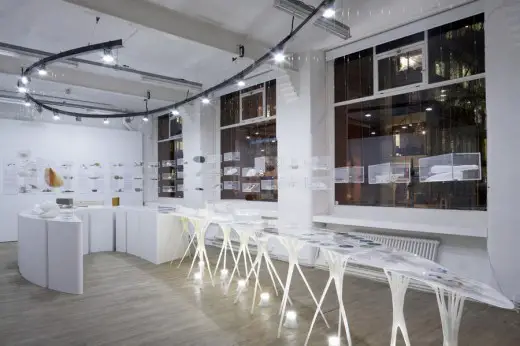 photo Courtesy Daniel Hewitt
About Interface
Interface is the world's largest global manufacturer of commercial carpet tiles. Its flooring products combine style and innovation with functionality and environmental credentials to help customers bring their design vision to life.
Interface was one of the first companies to publicly commit to sustainability, when it made a pledge in the mid-nineties to eliminate its impact on the environment by 2020. Known as Mission Zero, it influences every aspect of the business and inspires the company to continually push the boundaries in order to achieve its goal.
Interface is now more than half way to reaching Mission Zero and has been widely recognised for its achievements to date. Its products have also achieved several awards, specifically for design and innovation, the most recent being The Athenaeum Good Design Awards for Fotosfera and Urban Retreat.
www.interfaceflor.co.uk
About BigRep
Lukas Oehmigen is the mind behind BigRep. BigRep started as the OpenSource Project Le BigRep, an experimental large-scale 3D Printer which is currently evolving into a market ready, full-scale FDM 3DPrinter with a build volume of 1.5 cubic meters. The BigRep, which is scheduled for product launch in early 2014, will break through the boundaries of common desktop 3DPrinters and will allow architects, designers, artists and innovators to produce full-scale 1:1 prototypes and production-run objects with an unprecedented reduction in production costs. Lukas Oehmigen, is building two brand new BigRep machines exclusively to be able to print Exploration Architecture's exhibition design. It will take approximately two months to fine-tune, test and print the full exhibition piece.
www.lukasoehmigen.com
About Ultimaker
Ultimaker has been described as the fastest, most accurate desktop 3D printer. By focusing on quality and reliability and listening to our thriving community 3D printing is made easy- it becomes a question of what will you make rather than how.
Ultimaker is committed to sharing open source 3D printing technology with everybody! This core value runs throughout the Ultimaker community and is epitomised in the YouMagine website and our open source software Cura.

In this exciting emerging field there are endless possibilities for learning and development, new innovations and new processes. There are new paradigms that equate to a whole world of careers that haven't been thought of yet! We want to collaborate on innovative projects and ensure that the benefits of 3D printing are affordable and accessible for all.
www.ultimaker.com
30 Sep 2011
Architecture Foundation Exhibition
Flip Side of the Wall : Post Works at the AF
Post Works' exhibition Just the Flip Side of the Wall in the Architecture Foundation Project Space.


image from Architecture Foundation
Exhibition opening times:
30 Sep – 29 Oct 2011
Tue – Sat, 12.00 – 6.00pm
Venue: The Architecture Foundation, Ground Floor East, 136-148 Tooley Street, London, SE1 2TU
Admission Free
13 Jun 2011
AF Exhibition and talks
20 Houses Now Open: Exhibition and talks
Participants now revealed
20 Houses: A New Residential Landscape – The 2011 Wallpaper* Architects Directory at the AF
Tue – Sat, 12 – 6pm
13 Jun – 14 Jul
AF Project Space. 136-148 Tooley St, London SE1 2TU
Following the opening of the exhibition last night and the release of Wallpaper*s July edition of the magazine, we are delighted to reveal the 20 practices of the 2011 Wallpaper Architects Directory. Their commissions for the magazine – designs for a bespoke home for a fantasy countryside site – are currently on view at the Foundation until 14 July.
Join us for drinks, discussion and presentations in the AF's Skyroom over the course of the exhibition, as six of the exhibition's international practices take to the roof over two events. The practices will present their work and discuss fantasy architecture, real-world commissions, and the ideas that arose out of the Wallpaper* commission.
Featured Architects
Anttinen Oiva Architects – Finland
Architecture Republic – Ireland
Bourgeois/Lechasseur – Canada
Fourfoursixsix – United Kingdom
GH3 – Canada
Hurst Song Architekten – Switzerland
Karawitz Architecture – France
KITE Architecture – Japan
LHVH Architkten – Germany
Martin Gomez Arquitectos – Argentina/Uruguay
Moorhead & Moorhead – United States
Olaf Gipser Architects – The Netherlands
Pasel.Künzel Architects – The Netherlands
Sami Arquitectos – Portugal
Studio Octopi – United Kingdom
Svendborg Architects – Denmark
TAKA – Ireland
VOIS Architects – Greece
Warren Techentin Architects – United States
Zon-e Arquitectos – Argentina / Spain
Admission to the exhibition is free
FourFourSixSix (UK), Hurst Song Architekten (CH), pasel.künzel architects (NL)
Tue 14 Jun 6.30pm
The Skyroom, AF Rooftop, 136-148 Tooley St, London SE1
Presenting a series of designs that integrate house and landscape – floating in water, half-buried in earth or united with the landscape through virtual means, FourFourSixSix, Hurst Song Architekten, pasel.künzel architects will engage in a conversation about boundaries, sustainability and design harmony within existing natural landscapes.
Tickets: Standard: £7.00 / AF Members: £5.00 www.wegottickets.com
TAKA (IE), studio octopi (UK), Warren Techentin (US)
Tue 5 Jul 6.30pm
The Skyroom, AF Rooftop, 136-148 Tooley St, London SE1
TAKA, studio octopi, and Warren Techentin present residential retreat solutions that allow nature to take the lead and provide the inspiration for their form and programme; some designed around dominating rocky landscapes and built with specific views in mind, others connecting with the countryside through specific interactions with nature, or the memories of childhood camping.
Tickets: Standard: £7.00 / AF Members: £5.00 www.wegottickets.com
31 May 2011
Architecture Foundation Student Travel Award
KPF / AF 2011 Student Travel Award Winners
London, May 31st 2011: The Architecture Foundation, along with Kohn Pederson Fox Associates (KPF), are delighted to announce the winners of the KPF/AF 2011 Student Travel Award.
Holly Hayward, graduate of The University of Brighton has been announced as the winner of this year's KPF/AF Student Travel Award sponsored by Kohn Pedersen Fox Associates (KPF) and organised by the Architecture Foundation (AF). Now in its 7th year, the award supports British Architecture's emerging talent by encouraging new creative thinking and engagement in international research.
Holly Hayward design:




images : Holly Hayward
This year's theme asked students to investigate Work/Life Patterns of the Future, and demonstrate outstanding insight in to the future of our cities; patterns of how we work and live, and how this will affect or be informed by the design of buildings and urban spaces.
Holly Hayward, having recently completed Part One at The University of Brighton, won first prize for her submission "Cooking up the Collective", which examines the relationship between food production and consumption within urban contexts. She will receive a bursary of £1,750 to fund further research into urban food growing practices through travel to Detroit, USA and Marrakesh, Morocco as well as a summer work placement at KPF's office in London.
Ben Reynolds, a 4th year diploma student at the Architectural Association was awarded the second prize of £1,250 plus a work placement. His project was entitled 'The City and the Agency of Architecture". He will use his bursary to travel to Beijing and Tianjin, China to study the effects of increased land privatisation within rapidly shifting rural – to – urban environments.
This year's jury included KPF Principals John Bushell and Mustafa Chehabeddine; Russell Craig, Public Sector Manager at Cisco Systems; James Sellar, CEO of Sellar Properties and Sarah Ichioka, Director, The Architecture Foundation – along with Nandi Han, 2010 1st place winner of the award.
Commenting on the entries and the judging process, KPF Principal Mustafa Chehabeddine said: "The selection process this year was more engaging than ever and as the topic was broader, the submissions varied dramatically both in terms of subject matter and location. The Jury benefited from the addition of members from client bodies which resulted in interesting discussions about architecture, with its self proclaimed role of social responsiveness, and the practicality of some of the solutions proposed in the submissions. At the end the consensus was in favour of the two submissions that best dealt with the topic with in-depth analysis as well as clear graphics".
KPF Principal John Bushell, reflecting on the winning schemes said: "The two winners are very different and represent contrasting approaches to both project work and the travel proposal. One project is a very exciting and imaginative transformation of a car park into a vibrant public square with lots of potential patterns of use – it is a project that should happen immediately. The other is a thoughtful investigation and exploration of a wide range of different issues with a mixture of analysis and intuition. Both submissions were graphically sophisticated and beautiful, and both travel proposals were specific about research and recording of what is happening today (in Detroit and Beijing) in contrast to historic cultural patterns, collected in a way that can be shared."
Sarah Ichioka, Director, The Architecture Foundation said: "We are delighted to continue our relationship with KPF in producing this annual Student Travel Award as part of The Architecture Foundation's ongoing mission to identify and cultivate the UK's next generation of architectural talent and to encourage international exchange."
The winners of the award will present the results of their travel research and further travel research at an event held at the Architecture Foundation in October 2011. Students who received jury commendations for their entries will also exhibit their work at that time. The schemes awarded commendations are: Teo Boonting "Reforming Taipei Mai Station", The Bartlett; Abbey Oklak "New Culture for Building", University of Wales; Vershae Crawley "Re-Urbanising Palestine", University of Westminster; Linda Hagberg "Barrio Agriculture and Composting", The Bartlett; and Nora Nilsen "Natatio Urbem" from The Architectural Association.
Last year's prize winner Nandi Han successfully completed his internship at KPF's London office, where he has since been employed full time. Previous Prize winners include Je Ahn and Maria Smith recipients of the first prize in 2006 who went on to form the practice Studio Weave, noted for their winning project '140 Boomerangs' which was included in the London Architecture Biennale (now the London Festival of Architecture) and more recently their design for the world's longest bench in Littlehampton, East Sussex.
KPF / AF 2011 Student Travel Award Winners information from Architecture Foundation
Architecture Foundation Building
Address: South Bank / Bankside 123, Southwark, south London
Architecture Competition 2005; 2006-08
Zaha Hadid with Allies & Morrison Architects
News Update – Feb 2008:
Proposed Headquarters building abandoned
Dec 2007: contractor appointed – Rooff, east London
'The Prow', on behalf of Land Securities, part-funded by Arts Council + CABE
Location: Bankside, Southwark, south London, UK
Architecture Foundation : main page
Location: 136-148 Tooley Street, London, UK
AF Links
Architecture Foundation architect : Zaha Hadid
Architecture Foundation Event : Architecture on Film
Architecture Foundation Competition : Bankside Bikeshed
Architecture Foundation Exhibition : New Norwegian Architects
Architecture Foundation Show : Southwark Public Baths – London Festival of Architecture



photo © Julie Guiches /Exyzt
Architecture Foundation Discussion
Architecture Foundation Office
London Architecture
London Architecture Design – chronological list
Comments / photos for the Architecture Foundation London page welcome