Lotus Sculpture for Goodwood Festival of Speed 2012, West Sussex Formula 1 Cars Building, Project, Images
Lotus Sculpture Goodwood Festival of Speed
Architectural Installation at East Sussex Car Event, England design by Gerry Judah
7 Dec 2015
Lotus Sculpture for Goodwood Festival of Speed 2012
Location: West Sussex, England, UK
Design: Gerry Judah
Six historic Lotus Formula 1 cars were incorporated in a spectacular sculpture by artist Gerry Judah that was the centrepiece of last weekend's Goodwood Festival of Speed, Britain's largest car culture event. The 28-metre tall sculpture was the 16th created by Gerry Judah for the Festival of Speed, an annual event held in the grounds of Goodwood House in West Sussex, the family seat of the Earl of March.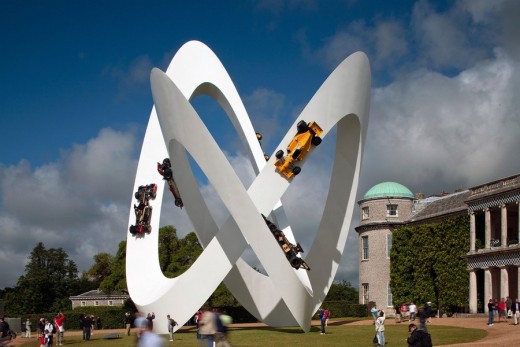 Each year, Goodwood has featured a marque, a carmaker that inspires disciples because of its style, success on the track, or both. In 2012, the featured marque was Lotus, the British car manufacturer that sponsored Gerry Judah's installation.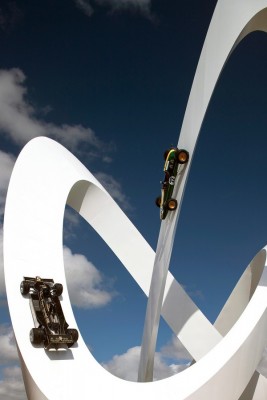 The sculpture was designed to capture the essence of Lotus from its beginnings to the present. A 3-D infinity loop was designed, resembling the grandest, most ambitious Scalextric track ever imagined.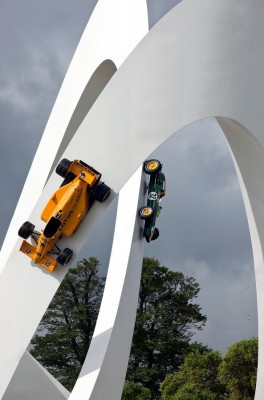 The track itself is a triangular section of 6mm flat sheet metal with a "continuously variable curve developable" surface, which was painted white. These were fabricated by Littlehampton Welding and transported 22 miles to Goodwood in 11 sections by individual articulated lorries and a police escort.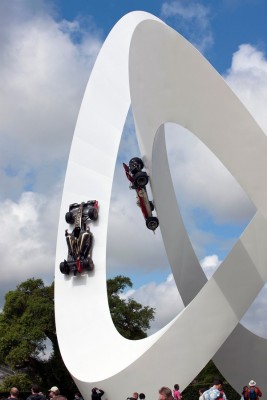 Multiple cranes were used to erect the installation and place six significant Lotus cars onto its surface. The cars, which were loaned by Classic Team Lotus and the Lotus F1 Team, included a green and yellow Type 32B, the car in which Jim Clark won the 1965 Tasman Series in Australia and New Zealand, and a red-and-white Type 49, in which Graham Hill raced to the crown. The other cars were a JPS-liveried Type 72, in which Emerson Fittipaldi became the sport's youngest champion; a black-and-gold '79 responsible for Mario Andretti's world title; a yellow Lotus 99T driven by Ayrton Senna; and the current Lotus grand prix car as driven by Kimi Raikkonen and Romain Grosjean.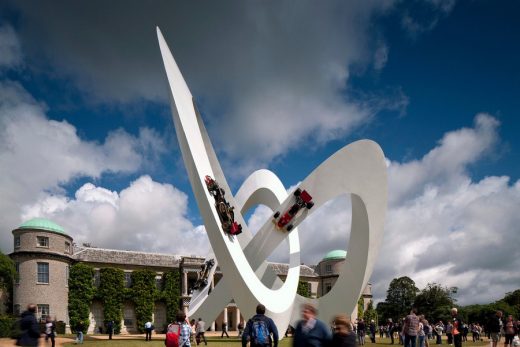 Gerry Judah worked closely with Lord March and Lotus to determine the design. The winding curves represent Lotus's natural environment: cars that are built for cornering. The 150-metre-long track is shaped into the shape of a half-hitch, or trefoil, knot.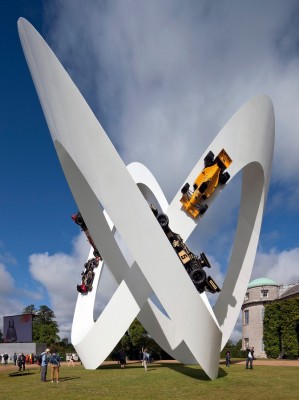 "What you see in the structure is the track, but inside it is 98% empty space," explains Gerry Juddah. "In automobile terms, this would be a monocoque body, a tribute to the legendary designer and Lotus founder Colin Chapman's introduction of monocoque chassis construction to automobile racing."
"The monocoque structure, which is made of steel plates and joined together to create the loop, is meant to highlight the engineering DNA of Lotus," confirms Gerry Judah. "It's a lightweight engineering construction and I think its form shows the Lotus psychology and culture."
"What we have here is a technique for building freeform shapes. In the future, we expect that lots of structures will be built like this, from bridges and large span buildings, to roller coasters, but before that we will be building some even more spectacular sculptures."
With the Festival over, the sculpture is being dismantled and will be brought to Lotus's Norfolk headquarters. Though the cars will be removed and returned to Clive Chapman's Classic Team Lotus workshop and to the Lotus F1 Team, the sculpture will be displayed on a plot next to the Hethel test track.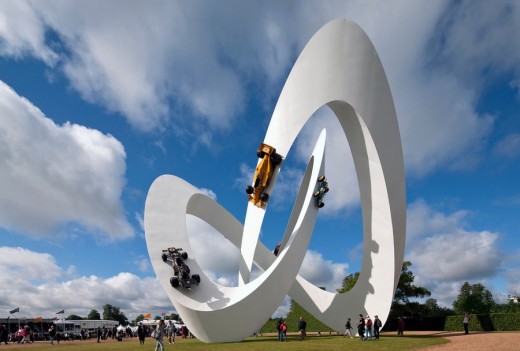 About Gerry Judah
Gerry Judah was born in 1951 in Calcutta and grew up in West Bengal before his family moved to London when he was 10 years old.
As a boy, the dramatic landscapes of India and the ornate architecture of its temples, mosques and synagogues with their theatrical rituals had a profound effect on Judah's developing psyche. These theatrical elements were to resurface in his later work.
Austere London, still in its post-war drab, was a shock to the young boy, and he chose to spend as much time as possible in his bedroom conjuring up with pencils and paper imaginary landscapes, architectural fantasies and futuristic cars. In short, he became an artist.
He left Whitefield Secondary Modern School, London in 1969 and, after working in a number of jobs from kitchen porter to architectural draughtsman, he went on to study Foundation Art and Design at Barnet College of Art (1970 to 1972) before obtaining a Double First-Class Honours degree in Fine Art at Goldsmiths College, University of London (1972–1975) and studying sculpture as a postgraduate at the Slade School of Fine Art, University College London (1975–1977).
After college, Judah set up his studio in Shaftesbury Avenue, the theatre centre in the West End of London. There, he began to work on large sculptures. Needing still to earn his keep and finance his work, he took casual work round the corner in many theatres as a stagehand and scenic artist. This included work at the Royal Opera House, English National Opera, Royal Festival Ballet, London Contemporary Dance, Sadlers Wells Royal Ballet, Royal Shakespeare Company and the Royal National Theatre.
Judah was taken with the public nature of this work and decided to find settings for his own art in more public arenas than the rarefied spaces of conventional galleries. He began to build a reputation for innovative design, working in film, television, theatre, museums and public spaces.
He created spectacular settings for institutions such as BBC, British Museum, Natural History Museum, Imperial War Museum, Paul McCartney, Michael Jackson, Led Zeppelin, Robert Plant and Jimmy Page, The Who, David Bailey, Terence Donovan, Sting, Godley and Creme and Ridley Scott Associates. He has also created spectacular sculptures for Ferrari, Porsche, Audi, Jaguar, Mercedes Benz, Renault, Ford, Rolls-Royce, Honda, Toyota, Land Rover and Alfa Romeo at the annual Goodwood Festival of Speed and has designed bridges in London and Cambridge.
Amongst a number of commissions from public museums and institutions, Judah was asked by the Imperial War Museum in London to create a large model of the selection ramp in Auschwitz Birkenau for the Holocaust Exhibition opened by the Queen. Extensive research and numerous visits to Auschwitz led Judah to produce a highly acclaimed work that encouraged him to take his art in yet a new direction.
Returning to his fine art beginnings he began to make art born of his reflections on historical events. He created a body of large three-dimensional paintings exploring the devastations of war and the ravages man has made upon the environment caused by recent conflicts in Eastern Europe and the Middle East with solo exhibitions: 'FRONTIERS' at the Timber Yard, London in 2005, 'ANGELS' at the Royal Institute of British Architects, London in 2006 and the British High Commission, India in 2007, 'MOTHERLANDS' at the Louise T Blouin Foundation, London in 2007, 'COUNTRY' at Wolverhampton Art Gallery, Wolverhampton 2009 and 'BABYLON' at Flowers East Gallery, London 2009. Judah completed a major commission for the Imperial War Museum North, Manchester in 2010 and held a solo exhibition of his work in New York in the same year.
Gerry Judah's work has also been exhibited at the Whitechapel Art Gallery, Camden Arts Centre and Yorkshire Sculpture Park and has entered many international public and private collections including the Charles Saatchi Collection London, Anita and Poju Zabludowicz Collection London, Imperial War Museum London, Essy & Fatima Maleki Collection London, David Roberts Collection London, Chris Drake Collection Sussex, Centre for Arts Israel, Irena Hochman Collection New York, Bobby Kapoor Collection India, Museum of Old and New Art Australia and The Earl of March Goodwood.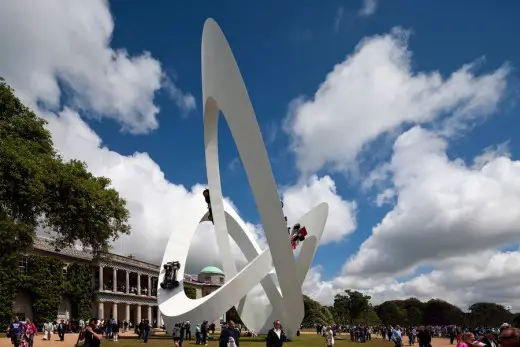 Lotus Sculpture – Building Information
Client: Lotus Cars
Design and Production: Gerry Judah
Engineering: Capita Symonds
Fabrication & Installation: Littlehampton Welding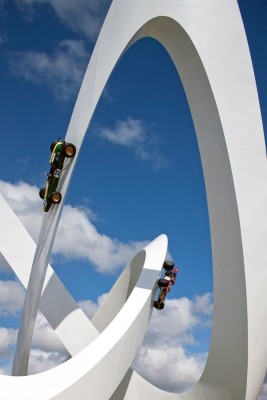 Photographs: David Barbour
Lotus Sculpture for Goodwood Festival of Speed 2012 images / information received 071215
Aston Martin Sculpture Goodwood Festival of Speed 2019
Porsche Sculpture for Goodwood Festival of Speed 2018
Location: Goodwood, West Sussex, UK
Central Sculpture for Goodwood Festival of Speed
Central Sculpture for Goodwood Festival of Speed 2017
Design: Gerry Judah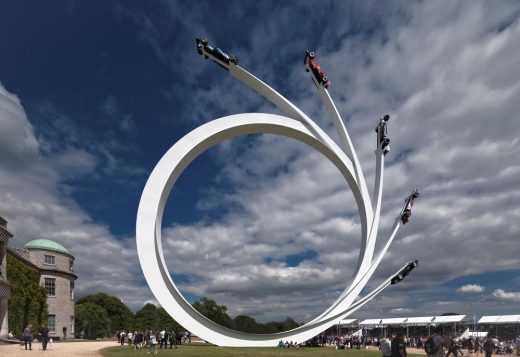 photograph : David Barbour
Central Sculpture for Goodwood Festival of Speed 2017
The latest sculpture by Gerry Judah for the Central Feature at Goodwood Festival of Speed 2017 displays five Formula One cars chosen to celebrate Bernie Ecclestone's career and involvement in Grand Prix racing.
Mazda Sculpture for Goodwood Festival of Speed 2015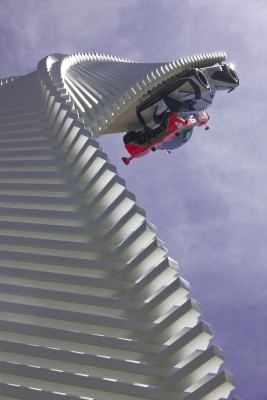 photo : David Barbour
Mazda Sculpture for Goodwood Festival of Speed 2015
Gerry Judah's Centrepiece at the 2015 Goodwood Festival of Speed celebrates the Mazda Motor Corporation's unique motorsport heritage with a powerful fusion of sculptural innovation and engineering precision.
English Buildings
English Architecture Designs – chronological list
Swiss Re Building – 30 St Mary's Axe
Comments / photos for the Lotus Sculpture for Goodwood – England Architecture page welcome
Website: Gerry Judah