Future Energy, Architecture Article, Building dialogue, Design agenda discussion
Future Energy : Architectural Growth
Architecture Discussion – article by Nigel Henbury, Englnd, United Kingdom
5 Nov 2013
Future Energy
Future Energy
The recent announcement of the winning masterplan for Expo 2017 in Nur-Sultan (formerly Astana), Kazakhstan merits consideration as a significant event.
Expos are organised to showcase new moves in our existence on this planet. A fusion of past mistakes, successes and future aspirations as beacons of conscience are made manifest under a 'mother theme'.
In 2017, this will be future energy


Nigel Henbury
The choice of Astana as host city can be viewed as inspired, controversial or ill-conceived in the context of the appointed theme depending on your viewpoint.
Kazakhstan is in the upper tier of countries in comfortable ownership of natural resources that can power and supply human endeavour and consumption for the next generation.
Ownership of energy resources given current technologies developed for mass 'on demand' consumption is a powerful position to be in right now.
EXPO-2017 in Astana, Kazakhstan
Design: Adrian Smith + Gordon Gill Architecture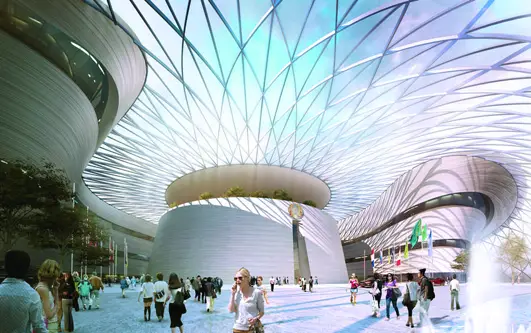 image © Adrian Smith + Gordon Gill Architecture
Attitudes must change to extend the life of the fossil fuel resource where the urge to enjoy the premium of guaranteed national income for business and government has to be tempered with investment into what used to be 'alternative' but now referred to as 'renewable' forms of energy.
That requires political will and is not the subject of this piece.
However the Expo event should be an expression of global conscience in the evolution of our education, science, and industry. The tricky part is that its manifesto has to be relevant in three phases of the future – between now and 2017, in the months of 2017 and 2017 onwards.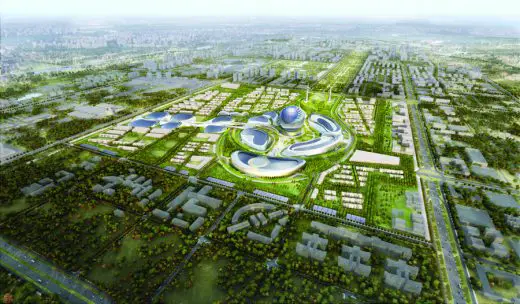 images © Adrian Smith + Gordon Gill Architecture (AS+GG)
Will technical solutions specified for the buildings now be cutting edge at the Expo and thereafter will buildings be adaptable to further developments? Can the hype be delivered and if so enhance people's perception of the endeavour to refine public and social architecture?
Generally, the competition entries have indicated futuristic forms over a matrix of geometric circulation planning with the emphasis of the winning design by AG+SS on smart building technologies to harbour the 'recovery' of natural forms of energy.



images © Adrian Smith + Gordon Gill Architecture (AS+GG)
Astana will be a severe proving ground for these systems with extreme summer and winter temperatures and should give valuable feedback on the life cycle performance of materials and systems on the front line of enabling the 'recovery' of energy.
The scale of the project is high risk as the floor space created is not insignificant so the conceptual energy systems must prove their longevity and economic benefit in operation and maintenance.
The organisers hope to attract 5 million visitors to a relatively remote city with a population of less than a million. There is a 'new frontier' feeling to all this – motivation for those in the international 'vertical' and 'horizontal' architectural and engineering communities, who will have the opportunity to contribute to the detail planning and design, to move forward on a positive message.
Nigel Henbury
Nigel Henbury is a golf course architect based in England. He is a Diploma Graduate of Portsmouth School of Architecture, England, and also a Licentiate Member of the Landscape Institute, UK.
Architectural Articles by Nigel Henbury
Architectural Growth – 22 May 2012
Material World – 6 Nov 2012
Architectural Articles – Selection
Placebo Architecture : article by Karolina Szynalska – 27 Sep 2011
Nature Architecture : article by Trevor Tucker. 15 Sep 2009
Sustainable Buildings – Building Issues : article by Adrian Welch
Architectural Energy Depletion
Comments / photos for the Future Energy Architectural Article page welcome