Low-carbon, CO2-neutral, Sustainability, Green Architecture Contest, Zuecca Projects Design Prize News
Sustainable Revolution Call For Submissions, 2020
11 May 2020
Global Design Competition
Deadline for submissions: June 21, 2020
As a reaction to the unprecedented moment that we are all experiencing, Zuecca Projects has decided to launch its first ever Open Call, on the theme of Sustainable Architecture and Design.
The International Call for Submission "Sustainable Revolution" is open to Architecture and Engineering Firms, Designers, Projects and Companies that are forward looking into the future and offering sustainable solutions and possibilities to the New World we will go to inhabit from here on out.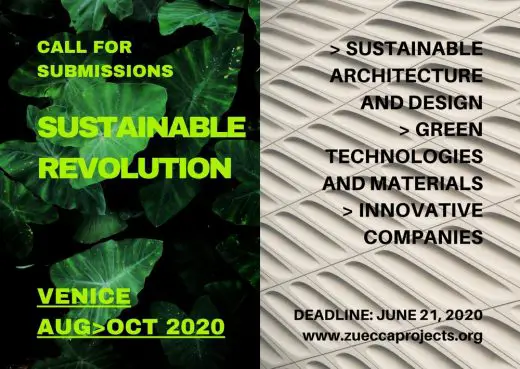 Call For Submissions: Sustainable Revolution
Selected projects and submissions will be included in the exhibition "Sustainable Revolution" organized by Zuecca Projects in Venice, from August 28 to October 30, 2020. Hosted at Squero Castello, less than ten minutes from the Biennale Arsenale, the exhibition wants to share a positive and progressive message to the global audience that every year attends one of the most important event and platform dedicated to international Architecture.
The theme of Sustainability will be illustrated with emblematic researches and innovations, and through projects (concept, built or in progress) focused on innovative materials and technologies.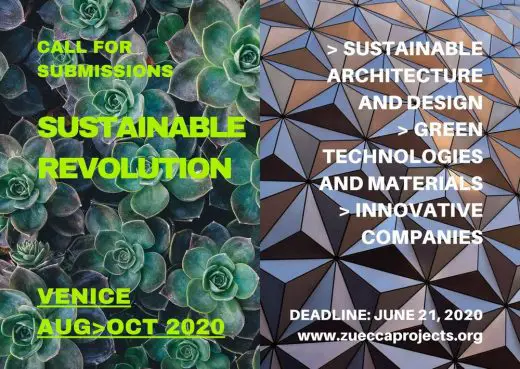 Zuecca Projects is a not for profit organization founded in Venice that has developed internationl art and architecture projects since 2011. The exhibitions organized by Zuecca Projects has included artists and architects such as Eisenman Architects, Jonas Mekas, Marina Abramović , TO Arquitectos, Juergen Teller, Ai Weiwei and Izolyatsia, to name a few.
On the occasion of the Biennale Architettura 2020, Zuecca Projects is also organizing the official Collateral Event "Domus", focused on Tropicalia, the biggest greenhouse in the world, by Codefy architects.
HOW IT WORKS
Submission is for free.
The Call is open to International Architects, Designers, Firms and Individul Professionals, Companies and Researchers, with no age/sex/nationality limitations.
Deadline for submissions is June 21, 2020.
Materials to submit: web-link to the project (if available), brief English description (max 1 A4 page) that specifies its sustainability, max 2 relevant pictures, contacts.
How to submit: by email to [email protected] (Wetransfer is also allowed)
Submissions will be reviewed by Zuecca Projects Management and Curatorial team. A response will be sent only in case of selection.
What to exhibit: if selected, each project will be presented through 1 model/sample of products, and it will have at its disposal a wall portion of 1mtx2mt height (for two-dimensional materials as panels, screen, printed materials, etc.). The possibility to showcase more materials can be discussed with the organization.
The exhibition is organized, installed and promoted by Zuecca Projects. The exhibition will run from August 28 to October 30, 2020 at Squero Catello (Castello 366, Venice). Zuecca Projects has the right to modify date and place of exhibition in case of need.
In case of selection, the participation requires an exhibition management fee of 800€.
The production and shipping to/from the exhibition space in Venice of the selected materials, is at architects'/designers'/companies' expenses.
Zuecca Projects will promote and communicate the exhibition, as well as organize an opening reception. The organization of dedicated events for participants and sponsors involved, can be discussed with the organization.
All necessary information and materials should be provided within the deadline. Entrants are responsible that the submitted materials don't infringe any property right.
All the entrants authorize Zuecca Projects to publish the submitted materials for the promotion of the exhibition. The copyrights and property of the projects and materials submitted remain with the respective applicant at all times.
Zuecca Projects is not responsible for the materials shipped and exposed during the show.
CALL FOR SUBMISSIONS: Sustainable Revolution
Sustainable Architecture and Design
Deadline for submissions: June 21, 2020
For info and submissions: [email protected]
Sustainable Revolution Competition Call For Submissions image / information received 110520
Architecture Competitions
Current / Recent architectural contests on e-architect:
Tottenham Pavilion Competition
London Architectural Competitions
Main Library Gwangju Competition
LafargeHolcim Awards for Sustainable Construction
Flexible Housing Competition for Great Places Lakes & Dales Partnership
LFA 2019 Architecture Competition
Comments / photos for Sustainable Revolution Call For Submissions page welcome