RMJM Quarantined Architects Database, Coronavirus Impact Advice, COVID-19 Tips in 2020, Guide
RMJM Database for Quarantined Architects News
24 Mar 2020
Quarantined Architects Database due to COVID-19 Impact
RMJM Introduces Database for Quarantined Architects
Much of the global news is currently being dominated by stories of Covid-19 and the impact it is having on the people as they are quarantined and self-isolated. In February, videos went viral of scenes in Wuhan where quarantined residents across the city were chanting the phrase " jiā yóu" from their windows and balconies as they encouraged one another to keep going and persist despite the adversity they have been facing. Literally translated from mandarin, 加油 (pinyin: jiā yóu) means "Add Oil". The phrase is a Chinese expression of encouragement that is often used as a motivating rallying cheer.
Inspired by the optimism and encouragement the people of China have shown each other and the world, RMJM is launching RMJM Jiayou. This new initiative will offer opportunities to ensure that architects, engineers and designers affected by the coronavirus crisis around the world can keep working and earning while they are distanced from their workplaces and teams.
"In establishing this initiative, our goal is to provide opportunities for architects who are confined to their homes to connect and work with other architects and the RMJM studios around the world. We want to create a collaborative platform to keep our peers working and motivated over the coming months." RMJM Family
The announcement of Covid-19 as a global pandemic encouraged RMJM to establish this initiative to support architects and designers worldwide. RMJM felt it is their responsibility as global citizens to support their peers around the world. The RMJM Jiayou initiative will offer architects the opportunity to be involved in live projects.
The website jiayou.rmjm.com will serve as the initiative's central database. Users logged into the system will receive access to a tender database of international projects, can upload their CVs and receive support directly from RMJM's Marketing Team in compiling the necessary tender documentation to present a bid.
RMJM wants to encourage businesses across all sectors to engage in similar initiatives.
"We are more interconnected now than ever, and in this moment of need, we must reach out to our neighbours and offer our support." RMJM Family
Agricultural Bank of China in Ningbo design by RMJM Architects: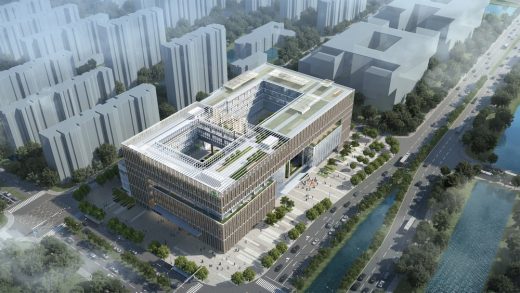 picture from architects
About RMJM
Founded by Sir Robert Matthew and Stirrat Johnson-Marshall in 1956, RMJM Group is one of the largest, most geographically and culturally diverse architecture firms in the world. With studios across five continents, the RMJM family can share knowledge, expertise and design talent, enabling them to think quicker and act faster. Working stronger together, they are global enough to make a difference while still being local enough to be personal. Through their shared vision of success, RMJM has spent more than 60 years creating a legacy of world-class design.
March 2020
Coronavirus Impact
COVID-19 Remote Working for Architects
COVID-19 Remote Working for Architects
The impact of coronavirus on the property market
Coronavirus on the property market
Global equity markets have been hit hard by the coronavirus, which has been the catalyst for the biggest market sell off since the 2008 crash.
RMJM Posts
Building Articles
For all the latest breaking news on COVID-19 visit the UK government website page: Coronavirus (COVID-19): UK government response.
Comments / photos for the RMJM Database for Quarantined Architects: COVID-19 Impact page welcome