Private Rental Housing Design Competition, House Building Architecture Contest, News
Private Rental Housing Competition
Residential Building Architectural Contest, England, UK
11 Jun 2013
Private Rental Housing Design Competition
Architects and students of architecture around the world invited to submit designs for housing in the private rental market
Submission deadline : 28 Aug 2013 2.00pm GMT
The Royal Institute of British Architects (RIBA), the Wates Group and Wates Family Enterprise Trust are delighted to announce the launch of an ideas competition for homes designed for the private rental market.
Research has shown that an increasing number of households are renting rather than buying, with a predicted 1 in 5 UK households to be renting in 2016. Renting homes in the UK has long been an ad-hoc arrangement of private landlords buying properties designed for sale, rather than developments designed with the long term renter in mind.
In 2012 the RIBA supported an independent inquiry into how more and better homes can be built in Britain, chaired by Sir John Banham, and published in The Future Homes Commission report. The Wates Group and Wates Family Enterprise now seeks to build on this theme by exploring what a specifically designed privately rented suburban neighbourhood might look like through the vehicle of a RIBA competition.
Open to architects and students of architecture worldwide, a total prize fund of £12,000 is on offer with £6,000 allocated for the first prize.
The winners and a selection of other designs will be showcased to the media, industry stakeholders and government representatives at a prestigious event to be held at the Florence Hall, RIBA on the 25 November 2013.
The competition will be judged by a high profile panel to include Tim Wates, Director, Wates Group and Simon Allford, Director, AHMM acting as the RIBA Adviser (Winner of AJ 100 Practice of the Year and Building Magazine Practice of the Year).
Tim Wates, Director, Wates Group said: "We at Wates are pleased to sponsor this competition alongside RIBA. Passion for housing runs deep in Wates and, indeed, the business began when my great grandfather built two small houses in Purley, South London. Private rental is becoming an increasingly important part of the housing mix and the likelihood is that large scale investors will enter the market in the next few years. We therefore felt that this competition, which seeks new ideas for suburban private rental, is ideally timed and we are sure that there will be some really exciting entries. Our hope is that the ideas generated will influence the design of future rental schemes in a very positive way with real benefits to people and communities."
Simon Allford, Director, AHMM – RIBA Adviser said: "I am delighted to be involved in this ideas competition which will, through exhibition and publication, help to promote and provoke debate about the design requirements of the emerging Private Rental Sector (PRS) in the suburban condition. We are looking to gather and share ideas of how design reacts to changing demographics and thus how design can inform policy.
Key questions are does the PRS call for a different urban and typological model? If it does how and why might that model be different? That is of course if it is different at all. Regardless it is important that there is broad design as well as detailed policy thinking on the challenges ahead. This ideas competition offers the opportunity for speculation on the design of new places and homes that respond to changing family structures whilst helping to construct new ideas of community.
This ideas competition sets out to both capture and crystallise this important debate."
For further details and to find out how to register for the competition please visit www.architecture.com/competitions and follow the link to Live Competitions. The deadline for receipt of design entries is 2.00pm on Wednesday 28 August 2013.
Private Rental Housing Design Competition information from RIBA Competitions
Private Rental Housing Design Competition : current page
Location: Kingston University, Penrhyn Road, London, England, UK
Private Rental Housing Contest Background
Wates Giving is the charitable programme of the Wates Family Enterprise Trust, set up by the Family owners of the Wates Group. As part of its work, Wates Giving seeks to promote thought leadership around topical social issues to advance ideas and address solutions. For further information visit www.watesgiving.org
Established over 116 years ago, Wates Group, is one of the UK's leading construction companies, employing over 2,600 people and posting a turnover of £1.2bn in 2012.
A stable presence in a changing market, Wates works on a variety of projects across the public and private sectors, from building new homes and providing planned and responsive maintenance to housing associations and local authorities; through to office interiors; constructing projects in the commercial, retail, heritage and education sectors; and partnering on joint-venture developments.
The first privately-owned company ever to be awarded Business in the Community's Community Mark in recognition of its leadership and excellence in community investment, Wates is distinguished by its commitment to leaving a lasting legacy in the places where it works. It is committed to delivering outstanding projects that are underwritten by adaptability, creativity and sustainability – values which are, in a word, Wates.
London Architecture Competitions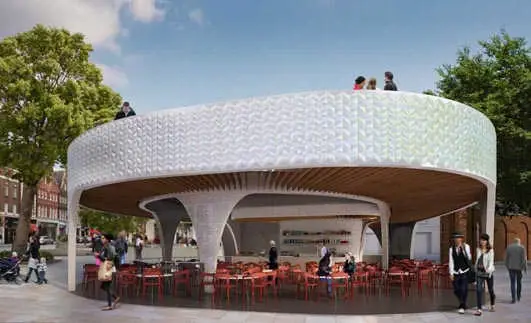 image by architects
Comments / photos for Private Rental Housing Competition – UK Residential Architecture Contest page welcome