Park Russia Competition, Moscow Architectural Contest, Winning Architects, Building
Park Russia Design Competition 2014
Moscow Architectural Competition – Winners News
13 Jan 2014
Park Russia Competition Winners
Update on international contest of "Russia" park
The winning team for the design competition for Park Russia, Moscow:
Cushman & Wakefield and international consortium including Gillespies, Feilden Clegg Bradley Studios, Buro Happold and Rider Levett Bucknall win "Park Russia" development masterplan & business strategy competition in Moscow Region
Park Russia is an ambitious tourism and cultural project on over 1,000 hectares and 30 km south of Moscow.
Monday, 13 January 2014 (Moscow, London) – Cushman & Wakefield and international consortium including Gillespies, Feilden Clegg Bradley Studios, Buro Happold and Rider Levett Bucknall win "Park Russia" development masterplan & business strategy competition in Moscow Region.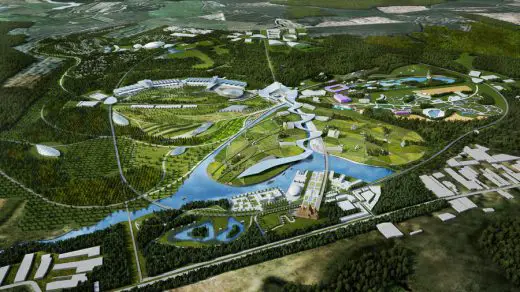 image © GILLESPIES LLP
The Cushman & Wakefield consortium announces that it has been selected as the winner of the contest organized by the Russia Geographic Society and Moscow Region Government for the Masterplan and Business Strategy for the development of Park Russia. Park Russia is an ambitious tourism and cultural project on over 1,000 hectares and 30 km south of Moscow near Domodedovo airport.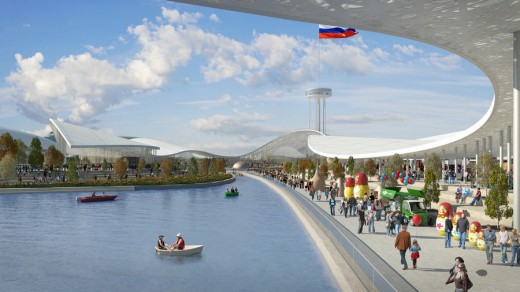 image © GILLESPIES LLP
The consortium's winning proposals provided the Jury with a masterplan and business strategy showing three main zones of the park and opportunities for investment in leisure projects for the day visitor and in the development of a strong tourism resort destination where large numbers of visitors will stay in the park. The business strategy shows a 12 year investment period, principally by the private sector, and Cushman & Wakefield show how viable development projects can be marketed to the private sector.
The development is to have strong "green" building credentials and intends to optimise rail access from Moscow and Domodedovo to cope with the large numbers of annual visitors ranging up to a potential 10 million per annum. Russian cultural experts NEBA directed the unique cultural & heritage program of the proposals.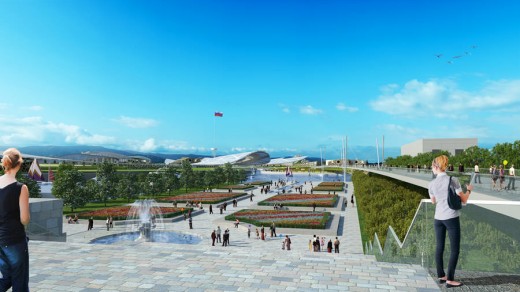 image © GILLESPIES LLP
The master-planners were UK based:
• Gillespies was the Design Team Leader, Masterplanner and Landscape Architect for the competition-winning design;
• Buro Happold created an engineering framework for Park Russia to become an exemplar for green development in Russia, defining a new standard for integrated design including a strategic rail and road plan with an emphasis on public transport;
• Feilden Clegg Bradley Studios were responsible for designing the cultural and commercial heart of the Park proposal with a particular focus on the central transport interchange hub that will be the gateway to key attractions;
• Rider Levett Bucknall provided the costs and project programming inputs to the financial model;
• Fourth Street placemaking economists provided the destination economic analysis.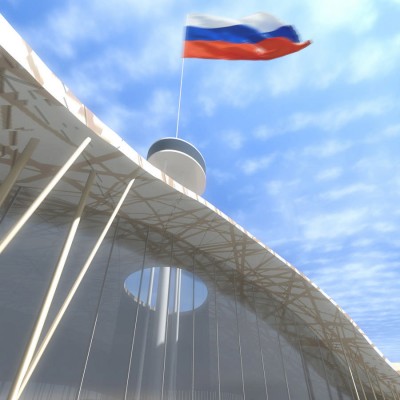 image © FCBStudios
Cushman & Wakefield and consortium companies will start working on the project in the beginning of 2014 with the aim of mobilizing private sector investment.
Project Leader Richard Tibbott FRICS of Cushman & Wakefield Russia, sees this Park as
"a uniquely Russian leisure park responding to Russian consumer desires for imaginative leisure and cultural development and creating a major new destination for the rapidly growing Russian visitor economy" – it will be a credible comparator to Singapore's Gardens by the Bay and eventually to the Parks at Orlando, Florida".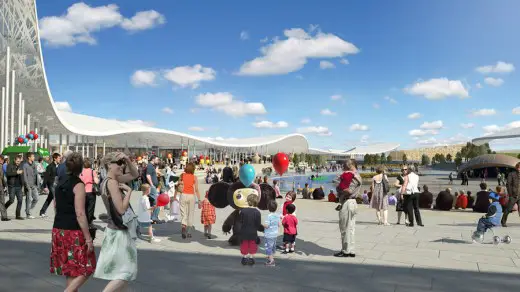 image © GILLESPIES LLP
Sergey Riabokobylko FRICS, Managing Partner Cushman & Wakefield, Russia comments:
"It was a great opportunity to participate in the extremely interesting integrated development project of Park Russia and it's a great honor and responsibility to win this contest. We believe that our vast experience on the Russian Market and the work of our Consortium around the world will allow us to create a truly innovative concept for Park Russia that will make it a signature leisure destination of global significance".
The Cushman & Wakefield consortium comprises:
Russian companies: Strategy Partners Group, NEBA Cultural, Terra Viva, Country Format
International masterplanners from the UK: Gillespies, Buro Happold, Rider Levett Bucknall, Feilden Clegg Bradley Studios & Fourth Street Place Consultants (UK)
Specialists: Puy du Fou International (France), MaxMakers (Switzerland), Jack Rouse Associates (USA), Ray Hole Architects (UK), Populous (UK), & Conventional Wisdom(USA).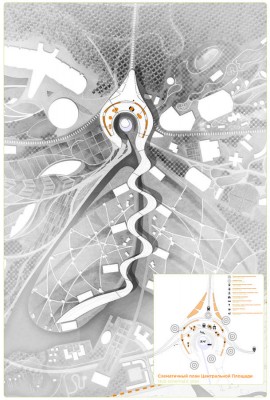 image © FCBStudios
Jim Diggle, Partner at Gillespies who led the design team says of the competition winning design:
"Park Russia features an inspiring and compelling design vision captured in a robust Masterplan framework. It has been designed to be delivered flexibly over many years. It will be an unforgettable destination based on multiple and complimentary attractions, offering layers of interest with fun and learning experiences for all. Gillespies' Masterplan for Park Russia celebrates the country's unique history, cultural legacy and future. Park Russia embraces innovative sustainable design, with best practice green principles enshrined in the Masterplan and major constituent design components such as buildings, landscape and supporting infrastructure."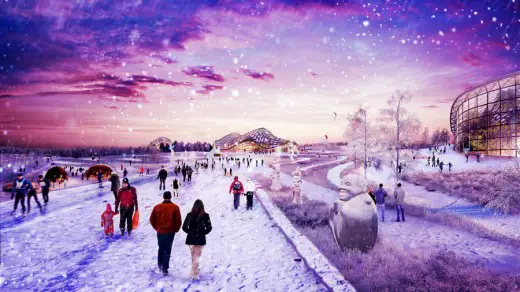 image © GILLESPIES LLP
Gerry Prodohl, Buro Happold's group director for Transport, cited
"Access will play a key part in the delivery of the new Park, and ensure ease of connectivity for the millions of annual visitors, as well as improving movement across the region. Buro Happold developed a strategic rail and road plan with an emphasis on public transport that will see a new rail link created between Domodedovo airport and the Park, as well as greatly improved rail services between the airport and Moscow. These interventions will act as a catalyst for wider economic and infrastructure growth."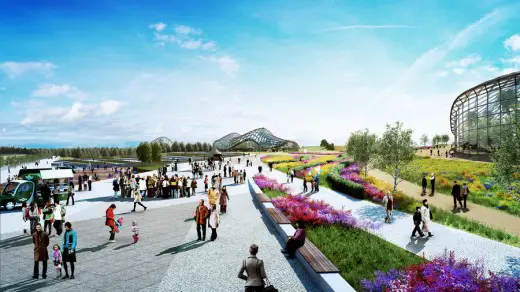 image © GILLESPIES LLP
Andy Theobald, Partner at Feilden Clegg Bradley Studios said:
"We are delighted to have the opportunity of creating the first element of an extremely ambitious vision – planting a seed that will potentially grow into a sustainable and playful cultural parkland."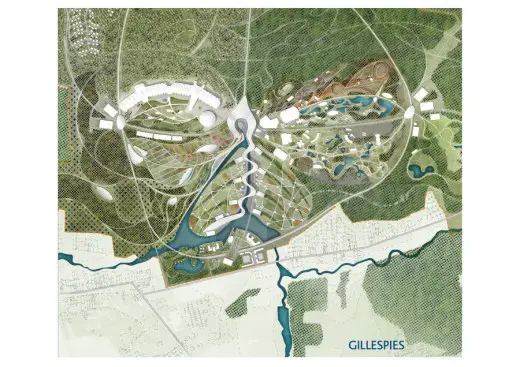 image © GILLESPIES LLP
Mark Weaver, director at Rider Levett Bucknall said:
"We are delighted to be part of the winning consortium for Park Russia. This is an exciting large scale, long term scheme that heralds a new era of tourism and culture for Russia worldwide. It will without doubt further help to boost the country's construction sector, which remains one of the key catalysts of economic growth in Russia. We look forward to strengthening our relationship with all partners involved and deliver quality expertise and advice to deliver maximum results for the client.

image © GILLESPIES LLP
Park Russia Design Competition Winners
About Cushman & Wakefield
Cushman & Wakefield is the world's largest privately-held commercial real estate services firm. The company advises and represents clients on all aspects of property occupancy and investment, and has established a preeminent position in the world's major markets, as evidenced by its frequent involvement in many of the most significant property leases, sales and assignments. Founded in 1917 it has 250 offices in 60 countries and more than 16,000 employees.
It offers a complete range of services for all property types, including leasing, sales and acquisitions, equity, debt and structured finance, corporate finance and investment banking, corporate services, property management, facilities management, project management, consulting and valuation. The firm has more than $4 billion in assets under management globally. A recognized leader in local and global real estate research, the firm publishes its market information and studies online at www.cushmanwakefield.com/knowledge. Cushman & Wakefield has been successfully operating in the Russian Market since 1995, with more than 150 employees working in Moscow office.
About Gillespies
Gillespies is a leading UK-based global urban design and landscape architecture practice, with a specialism in leisure and tourism destinations. Gillespies has gained extensive experience in Russia over many years and is currently working on multiple projects in Moscow and St Petersburg, including the recent Moscow Expansion competition win. Gillespies are also the masterplanners behind many highly successful international visitor destinations and attractions. Gillespies has also implemented projects in many sectors including leading residential and commercial developments, educational and healthcare developments, and high‐profile public realm and urban design schemes.
About Buro Happold
Buro Happold is an independent international practice of consulting engineers. Since 1976 we have grown in size and reach to serve public and private clients across a full range of sectors through an international network of 24 offices. We draw on the multidisciplinary skills, knowledge and experience of our local experts to design and deliver award winning building, infrastructure and environmental projects that excel for clients, engage with communities and enrich the lives of users.
Sustainability, innovation and holistic consulting are at the heart of everything we do and we are committed to touching the earth lightly. We think harder and are dedicated to addressing the big challenges that face the planet – climate change, population growth and scarcity of natural resources.
Current and recent projects include the Louvre (Abu Dhabi), the London 2012 Olympic Stadium, the King Abdullah Financial District (Riyadh), Zaryadye Park (Russia), the Royal Shakespeare Theatre (Stratford) and Jinboa Street (Beijing).
About Feilden Clegg Bradley Studios
With an international reputation for our ethical and cultural approach to design, FCB Studios also have great expertise working in sensitive historic contexts in places as varied as London, Bangladesh and China. We work across many different types of buildings, from museums and art galleries to universities, schools and housing. We are known for our ability to really listen to clients and to work with them to provide places and spaces that serve their needs now and long into the future.
Creative collaboration is at the core of our approach and we bring great enthusiasm, curiosity, inventiveness and passion to all our projects. We have over 30 years' experience of working on significant cultural, landscape and environmental projects. These include the Stirling Prize winning landscape and housing masterplan for Accordia in Cambridge and, currently, the Festival Wing at London's Southbank which includes new education, performance, and social spaces alongside the renovation of Hayward Gallery and Queen Elizabeth Hall. We recently achieved the first BREEAM outstanding and LEED platinum building in China at Meixi Lake.
Feilden Clegg Bradley Studios
About Fourth Street
Fourth Street are economists and management consultants who specialize in the delivery of new visitor destinations. They have advised some of the world's leading attractions, including the British Museum, the V&A, the O2 Arena and the Royal Botanic Gardens. Their clients include Merlin Entertainments, the Football Association, Siemens and The BBC. They have also worked extensively across Russia and the FSU, including major destination projects in Moscow, St Petersburg, Almaty, Astana and Tbilisi.
About Rider Levitt Bucknall
Rider Levett Bucknall is an independent, global property consultant, providing advice focused on the cost, quality and sustainability of the built environment. The firm, which has over 3,000 staff operating from more than 100 offices, offers three core services – Quantity Surveying, Building Surveying and Project Management. These are complemented by a number of advisory services.
It utilises a Responsible Management philosophy, helping clients to spend less money and delivering more efficient, cost conscious and sustainable results on both a corporate and asset basis. Its international reach ensures that it provides services in line with the latest innovations and examples of best practice, supporting expertise in a range of sectors including civil and social infrastructure, commercial, energy, sport and leisure, retail, and residential.
Park Russia Design Competition image / information received 130114
5 Dec 2013
Park "Russia" Contest Second Stage Consortiums
Update on II stage of the international contest of "Russia" park
The Directorate of the Park "Russia" and participants of the II stage of the international contest have visited the site for the Park "Russia".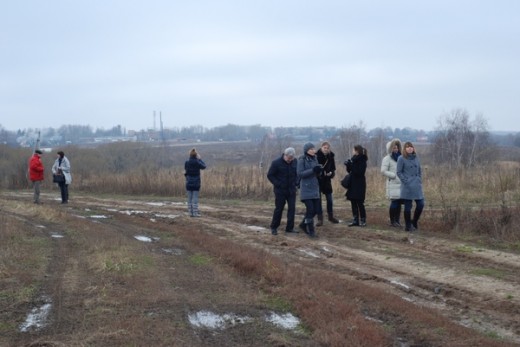 image from organisers
Russia Theme Park Contest
Location: Domodedovo, Moscow, Russia
Russian Architecture
Russian Architecture Tours



photo : Alexey Naroditskiy
Russian Architecture Competitions
Russian Architecture Competitions
Perm Museum Competition



image from architects
Belgorod Architecture Competition Russia
Nikola-Lenivets Architecture Competition
Russia Architecture Competition
Moscow Architecture Competition
Comments / photos for the Park Russia Design Competition – Moscow Architecture Contest page welcome