A101 New Town Project Moscow, Architecture Contest, Building, News, Design
A101 New Town Project – Moscow Masterplan, Russia
Russian Architectural Competition – design by Maxwan
26 Nov 2010
Project A101 Moscow
A101 Out of the Freezer : Largest European New Town Restarts
After having won an international competition, Maxwan in 2007 completed the masterplan for Project A101 in Russia. The A101 new town is located just outside Moscow's MKAD ring road and is built out on 6,000 hectares of land of the grounds of a former sovchoz. With 320,000 expected inhabitants, A101 is Europe's single largest urban project in the making.
The project features close to 120,000 new homes in a wide variety of types and sizes. They are planned around 13 mixed-use centres, a large business park (500,000 m2 floor space) and a university. A new light-rail network will connect to Moscow subway lines red and orange. A fine-mazed road network will be put in place. To establish a high level of social infrastructure, the development will include 2 hospitals, 20 health clinics, 60 schools, and 150 kindergartens. Self-sufficiency is the key principle in the vision for A101.
Masshtab, the development company, is currently holding a competition for the detailed design of the first large site (150 hectare, >1 million m2 residential floor space). Four architecture firms have been selected to submit proposals: MVRDV/Next, KCAP, EDDEA and HA&S. The results of the competition will be exhibited in the Museum of Architecture in Central Moscow coming December.
MAXWAN ARCHITECTS + URBANISTS is an international practice dedicated to contemporary architectural and urban design. Working on a broad variety of subjects, Maxwan have designed widely recognized projects such as the "Saw Tooth Tower (Nuilding)" in Rotterdam, the "Office Building F&I" (Maastricht Aachen Airport) and "50 Bridges" for the City of Utrecht.
Maxwan have made a name for themselves internationally with innovative proposals for the new town of Leidsche Rijn (75,000 residents and a hidden highway), the 10,800 houses Master Plan for Barking Riverside, the Master Plan A101 for a new city of 300,000 inhabitants on the fringes of Moscow, the master plan for 2,000 houses in the Dnepr River Delta, Kiev Ukraine and most recently the urban design for the Waalhafen Zone in Rotterdam with in its center "Skill Bill" a new building typology reconnecting the harbour with the city.
We encourage collaboration between clients, colleagues and specialist consultants. In each of our projects, we seek to merge cultural, technical and esthetical influences into an inextricable and beautiful whole.
A101 Urban Block Competition
An open international competition with a total prize fund of 40.000 USD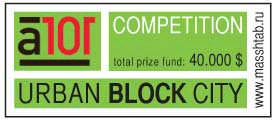 image from the organisers
Masshtab Development Company is announcing a competition for the design of urban blocks for the A101 urban development: a new town of around 150.000 people and 13 million sq m of housing located south of Moscow. The design for this town will be based on the Urban Block concept, developed by curator Bart Goldhoorn. 80% of the blocks in the A101 project will have a standard size. During the development of the area over 500 blocks of these blocks will be built.
At this moment, four well-known architecture firms are working in competition to design a masterplan for the first phase of this development:
MVRDV (NL), KCAP/Next architects (NL), EDDEA (ES) and Hilmer, Sattler, Albrecht (GER)
In the open international Urban Block competition architects are invited to develop a block design that can be used on the plots in the A101 project. A jury will choose winning projects for which a total prize fund of 40.000 USD is available.
All projects that fulfill the minimum requirements of the program will become part of an Urban Block Catalogue and will be considered for realization depending on the location and the stage of development of the project. These projects will be exhibited together with the Masterplan projects in the Museum of Architecture in Central Moscow from December 3 to December 31 2010.
A101 Urban Block Competition – Prize fund
1st prize: 15.000 USD
2nd prize: 10.000 USD
3rd prize: 5.000 USD
5 honorable mentions: 5 x 2000 USD
A101 Urban Block Competition – Timeline
10 Nov Registration deadline
Nov 28 Deadline for Digital files
Dec 1 Deadline for Model
Dec 2/3 Jury
Dec 3 Announcement of winners and opening of the exhibition
Jan 1 Exhibition closure
A101 Urban Block Competition information from Curator
Location: Moscow, Russia
Moscow Architecture Developments
Contemporary Moscow Buildings
Moscow Building Developments – chronological list
Russian Architecture Tours by e-architect
Moscow New Town Masterplan – Selection
Bolshoi Moscow Competition
Design: various architects
Moscow City Agglomeration Competition
Moscow City Agglomeration Competition
Design: OMA
Moscow City Agglomeration Development
"Aeroflot – Russian Airlines"
Architect: Vladimir Plotkin
Aeroflot Offices Moscow
Tsvetnoy Central Market
Design: Lifschutz Davidson Sandilands
Tsvetnoy Central Market : Moscow Department Store Building
Dynamo Stadium Building
Design: Erick van Egeraat
Dynamo Stadium
Comments / photos for the A101 New Town Project Moscow page welcome