MASDAR Smart City and Sustainable Development Contest, Design Competition
MASDAR Smart City Competition
Architectural Contest Entry – design by Sauter Carbon Offset Design
5 Jan 2014
MASDAR Smart City Design Competition
MASDAR excepts the Sauter Carbon Offset Design Entry for the Smart City and Sustainable Development Blogging Contest
"How can cities contribute to the advancement of sustainable development and address issues including water, energy and waste?"
The Floating Smart City E- Zone Community and Power Station
Jan. 5th 2014 – The Smart City E- Zone is a Sustainable, Post Carbon, totally self sufficient community that generates its own electrical power, supplies its own drinking water and processes its own sewage.
Manhattan E-Zone Marina Community: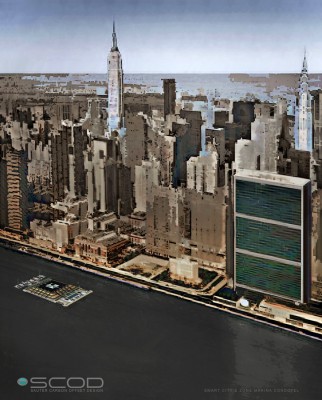 image from Sauter Carbon Offset Design
The most advantageous locations for Smart City E- Zones are in or close to the world's coastal cities.  These include mega business centers like New York and Singapore and also comprise today's ever growing retirement resorts like Miami and Bali. In all of these places by the sea we find an abundance of sun, wind, waves and currents. Studies have shown that the optimum way to Harness these 4 sources of green energy is to dedicate the environmental interaction of a floating platform to the task of capturing all 4
Coastal cities that need to increase the size of their most commercial areas, can do so without pursuing costly landfill projects that take many years, but instead construct in far less time and at far less expense an anti-roll semi submersible platform that will enlarge their city center and not be subject to the flooding we saw in New York City caused by extreme weather and hurricane storm surges
It should be said that the Smart City E- Zone community is not just a futuristic dream, but a realistic post carbon path to sustainable developments . As with all the technology that impacts our lives, the expectation of future technological advances shouldn't prevent us from obtaining existing well priced, well established, readily available technology that is clearly beneficial to everyone at this crucial time for mankind.
The Smart City E – Zone Marina Condotel shown here is the smallest Prototype of a completely self sufficient, multiple dwelling that is simple and cost effective to construct, highly efficient, and as a commercially viable exercise will promote the global advancement of smart city E- Zone developments.
Bali E-Zone Marina Condotel Resort: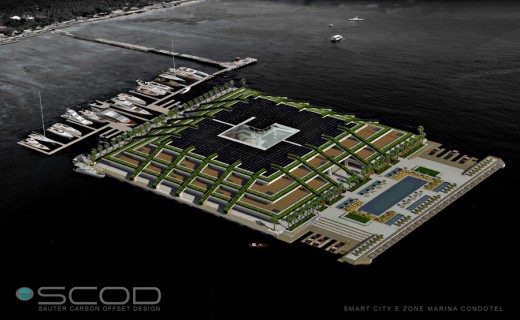 image from Sauter Carbon Offset Design
Located next to any coastal city the E- Zone Marina Condotel can be among the most exclusive 5 Star Boutique Hotels in the world, offering 50 luxury suites ranging from 100 to over 300 square meters.
Employing this general arrangement the E- Zone Marina Condotel and Power Station will fulfill all the energy requirements of the entire complex including 24/7 Air Conditioning and heating. At the center of the Solar paneled roof is a vertical axis Wind Turbine set above a domed atrium lobby connecting to a marina promenade lined with restaurants, galleries and shops. From there you go to a park terrace set over a Water Turbine wave energy generating system
The energy harvesting systems add 10 to 20% to the cost of the project. Even so the ROI is expected to be under 5 years due to high energy requirements associated with 5 Star Hotel services.
Plugged into the grid the E- Zone Marina Condotel produces twice the amount of energy it needs, offsetting its power from the grid at night for a net zero gain without the use of a large storage system. However, as we are talking about luxury accommodation, the 5 star rates easily cover the additional cost of overnight and cloudy day backup battery storage.
As the Smart City E – Zone Marina Resort is also a zero carbon Power Station it qualifies as a Certified Carbon Offset Project. With this designation a partial cost of the Photo Voltaic, Wind and Wave energy generating system can be recovered by Carbon Offset Credits sold worldwide. But more importantly the E- Zone's Zero Carbon Resort status is bound to generate worldwide media attention, insuring its success by placing it at the forefront of Eco Tourism.
Richard Sauter,
SauterCarbonOffsetDesign.com
Location:Dubai
Masdar Architecture
Masdar City Abu Dhabi
Masdar Design Competition
Masdar Headquarters
Masdar Headquarters Abu Dhabi
Masdar Institute Campus
Masdar Plaza
Architecture Competitions
72 Hour Urban Action Competition
120 HOURS – Architecture Competition
Comments / photos for MASDAR Smart City Competition – Architecture Contest Entry page welcome
MASDAR Smart City Competition – page
Website: www.sautercarbonoffsetdesign.com