Low-cost House Design Competition News, Architecture Contest 2020
Low-cost House Design Competition
8 Feb 2020
Low-cost House Design Competition Open Call
Open Call: Low-cost House Design Competition
Type: Open/International/Architecture
Location: Worldwide/Concept
Language: English
Website: https://Low-costHouse.com/
Registration Deadline: May 31
Submission Deadline: June 1
Price: USD 45-75
We are pleased to announce the launch of an annual international design competition: Low-cost House Design Competition.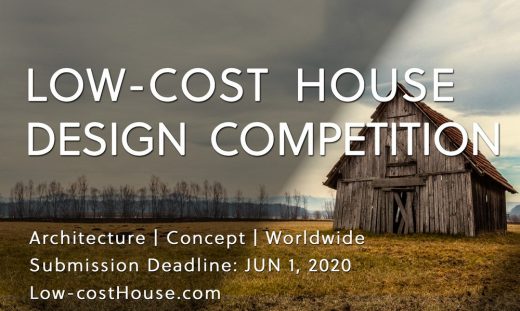 The architecture competition is designed to challenge and seek creativity with ideas and concepts in architectural design, as well as landscape design or site planning. This competition aims to promote alternative solutions to housing, coming up with affordable and sustainable units with limited size and budget to the urgent demands for a house of urban poor.
The challenge is both multidisciplinary and multi-scale, a minimal housing capable of fulfilling the residents' requirements of thrift and sustainability. This year's competition focuses on low-cost house, an affordable and innovative solution to the basic need for small-sized housing for residents. The competition gives the opportunity to think about social, cultural and environmental effects in sustainable design, construction, and operation. Entrants are challenged to conceive a new and original concept for a low-cost house with expandable units or local materials, however, it is not strictly limited to "low tech". A degree of flexibility and alternative choices are allowed, for example aggregated technologies or prefabricated modular structures, provided it is delivered with adequate justification and feasibility.
Your designed low-cost house has to be no more than 2 floors (including the ground floor) with maximum 500 sq.ft (46 sq.m) for single floor plan, and has to feature basic components for living. Possible solutions for plumbing and electricity should be figured out for the family to live comfortably. We also encourage the creation of a new living style that's not only limited for houses but also can be like pavilions, structures, or landscape that focuses on urban problems and raises awareness of the sustainability.
The competition brings together participants from diverse academic backgrounds and careers, including but not limited to students or experienced designers, working individually or in teams. The finished entry is judged by a panel of interdisciplinary housing and community experts, professional architects. Winning participants will receive cash prize with certificate. The total prizes are $1,000, including $500 for the first-place winner. Winning projects will be posted on the official website as a competition portfolio with an exhibition launched.
Please visit website for more details https://Low-costHouse.com
SCHEDULE
Feb 1 Competition Launch
Feb 1 – Feb 29 Pre-Registration
Mar 1 – Mar 31 Early-bird Registration
Apr 1 – Apr 30 Standard Registration
May 1 – May 31 Last-minute Registration
Jun 1 Submission Deadline
Jun 1 – Aug 10 Jury Deliberation
August 15 Announcement of Winners
Note: All deadlines are 09:00 am GMT (Greenwich Mean Time)
AWARDS
First Prize – $500 + Certificate + Portfolio Publication
Second Prize – $300 + Certificate + Portfolio Publication
Third Prize – $200 + Certificate + Portfolio Publication
10 Honorable Mentions to be published on the official website
REGISTER NOW
Please visit https://Low-costHouse.com/register-now/
Current / Recent architectural contests on e-architect:
Tottenham Pavilion Competition
London Architectural Competitions
Main Library Gwangju Competition
LafargeHolcim Awards for Sustainable Construction
Flexible Housing Competition for Great Places Lakes & Dales Partnership
LFA 2019 Architecture Competition
Comments / photos for Low-cost House Design Competition page welcome