HER PLACE Design Competition, Architecture Contest News, Architectural News
HER PLACE Design Competition
24 Feb 2021
HER PLACE Design Challenge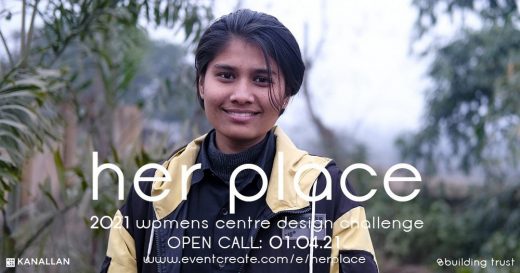 Building Trust are very excited to announce the launch of our 9th Design Competition. The competition entitled HER PLACE challenges architects, designers and engineers to submit an innovative design proposal for a girls' development centre that will welcome girls from Nepalese municipalities, spreading knowledge to support rural areas and above all provide a safe environment for deeply vulnerable young women in need.
Contestants should consider the climate and site conditions, along with sustainability to create an innovative design. Building Trust international will work alongside competition partners, local government and the winning team to build the winning proposal in Nepal this year.
We would greatly appreciate any support which e-architect could give by placing the competition details and link to our website on the e-architect website and associated social media pages. Please see posters attached for your use.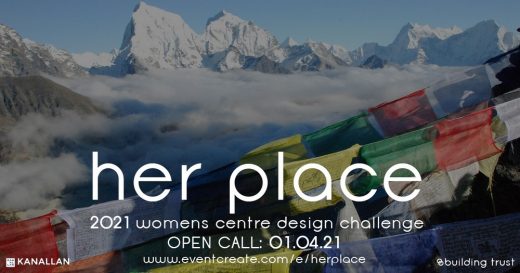 The competition brief can be viewed here.
Please note when participants have registered they will receive a site plan, google map location, short video of the site, unique reference number and information on how/where to upload their proposal.
Registration Information:
Registration: £100 ( Final day for registration 1st April 23:59pm GMT)
Announcement of winners to be posted on www.buildingtrustinternational.org – 24th April 2021
HER PLACE Design Challenge images / information received 240221
Architectural Competitions
Current architectural contests on e-architect:
Archasm Co-living California Design Competition
10 April 2021: Standard registration
9 May 2021: Late registration
10 May 2021: Submission deadline
Archasm Co-living California Design Competition
Win an Architect Design Competition News
High Profile Panel Join the Search for Creative Culture and Heritage
Award winning art & architecture studio Wignall & Moore, have launched a competition to seek out the most innovative client briefs and architectural proposals, judged by an expert panel:
Win an Architect Design Competition
Vinfast Global Showroom Design Competition 2021
Vinfast is one of the Vietnam rising smart vehicle manufacturers that has global presence.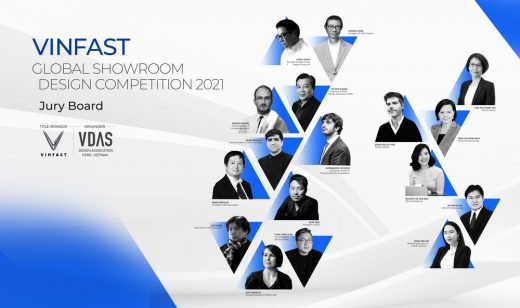 The VinFast Global Showroom Design Competition 2021 (VFDC 2021) is one of the most attractive architectural competitions in terms of scale, prestige level, and prize value for designers.
It aims to search for the most excellent showroom design idea that will be used globally, to showcase VinFast smart car models in international markets. Offering an appealing prize scheme with a total value of up to USD 60,000, it provides all architects and designers across the world a lifetime opportunity to showcase their talents to the global stage.
Architecture Thesis Of The Year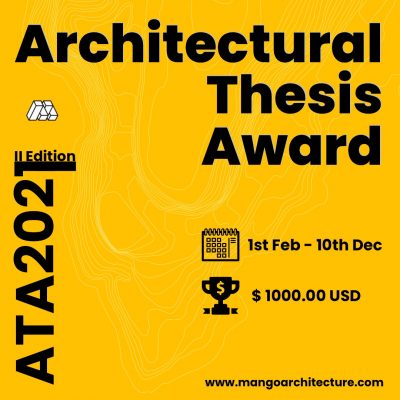 Mango Architecture is happy to announce their second edition of the annual Architectural Thesis Award, after great success in ATA2020 with 350+ registrations from around the globe. The International Thesis Award, launched with the aim of promoting and giving a global platform to showcase the talents of Young Graduates and Post Graduates, acknowledging the projects amongst young and influential industry professionals.
Recent architecture contests on e-architect:
2A Continental Architectural Awards 2020
2A Continental Architectural Awards 2020
Re-imagining Stations Competition
Network Rail Re-imagining Stations Competition
3rd Generation New Towns in Korea Design Contest
3rd Generation New Towns in Korea Architecture Competition
Tottenham Pavilion Competition
London Architectural Competitions
Main Library Gwangju Competition
LafargeHolcim Awards for Sustainable Construction
Flexible Housing Competition for Great Places Lakes & Dales Partnership
LFA 2020 Architecture Competition
Comments / photos for HER PLACE Design Challenge page welcome