CHART 2019 Architecture Competition Winners, Copenhagen Architecture Design Contest
CHART 2019 Architecture Competition Winners News
Nordic Architecture Design Contest News – pavilions to house gastronomy, media and artistic partners
13 Jun 2021
CHART Architecture competition
CHART 2021 Architecture Competition
3 Jun 2019
CHART 2019 Architecture Winners
Architecture of the future: CHART announces the finalists of the architectural competition for young architects
Copenhagen – CHART unveils the five finalists that have been chosen to realise their temporary pavilions in Charlottenborg's courtyards, held at the end of August 2019 in Copenhagen, Denmark. The finalists have been selected by an international jury from 54 proposals submitted by budding creatives, makers and architects from across the Nordic region.
Based on this year's theme materiality, each of the five finalists presents an innovative and artistic approach to how architecture, through rethinking materials and craft, can pave the way for a more sustainable future.
CELL PAVILION, CHART Architecture finalist 2019 by Josefine Rita Vain Hansen and Marie Louise Thorning: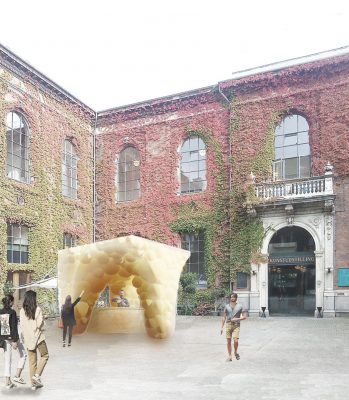 images courtesy of designers
ROCK PAPER CNC, CHART Architecture finalist 2019 by Oskar Koliander, Diana Smiljkovic and Gustav Kjær Vad Nielsen: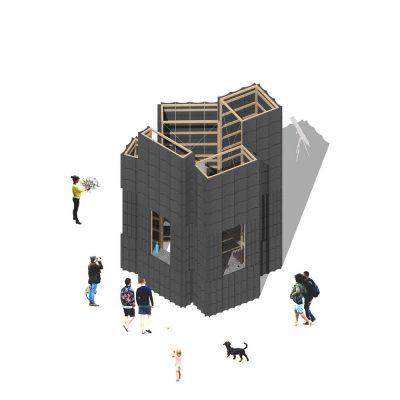 SALARIA PAVILION, CHART Architecture finalist 2019 by Cristina Román Díaz and Frederik Bo Bojesen: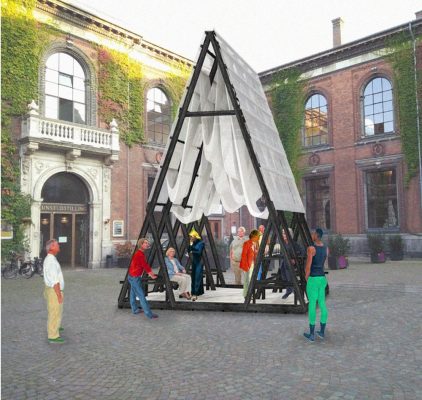 SNUG AS A BUG IN A RUG, CHART Architecture finalist 2019 by Mathias Bank Stigsen and Andreas Körner: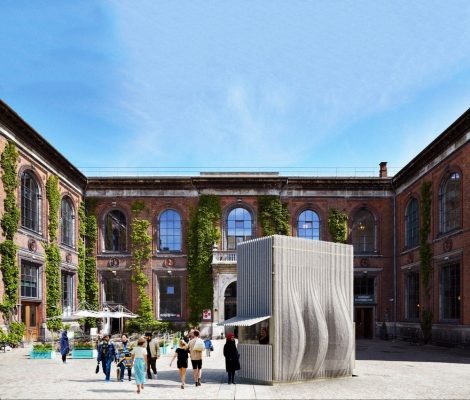 SULTAN, CHART Architecture finalist 2019 by Anne Bea Høgh Mikkelsen, Katrine Kretzschmar Nielsen, Klara Lyshøj and Josefine Østergaard Kallehave: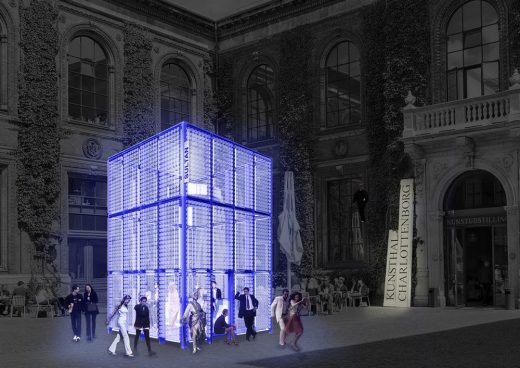 "At most art schools, one works with their art form in 1:1, at the film school, the visual arts school, the theatre school, and the design school, it is simply at the core of the learning process. At architecture schools, on the other hand, students do not have the opportunity to work with materials at such a scale, and as a newly graduated architect, few students get to work with projects that are particularly experimental.
We have chosen five projects that are innovative, experimental and diverse in their choice of materials, and which we believe give the finalists a unique opportunity to push both the participants' and the audience's ideas about how materials can create architecture". – David Zahle, partner of Bjarke Ingels Group (BIG) and chair of the CHART Architecture jury. The five projects can be experienced in the courtyards at Charlottenborg during CHART, 30 August – 1 September, where they will house CHART's bars and restaurants.
SULTAN
Based on an ordinary everyday object, IKEA's Sultan mattress, the architects Anne Bea Høgh Mikkelsen, Katrine Kretzschmar Nielsen, Klara Lyshøj and Josefine Østergaard Kallehave have designed a pavilion that addresses mindless consumerism. By reusing each part of several Sultan mattresses (wood, springs, foam and fabric), the quartet transforms a flat disregarded object into a living space.
SNUG AS A BUG IN A RUG
The architect duo Mathias Bank Stigsen and Andreas Körner's pavilion rethinks the relationship between building and viewer. Where conventional building materials rarely ask you to touch them, SNUG IN A BUG AS A RUG, made from a latex-coated polymer fabric is an experiential and sensorial design, which invites visitors to hug its façade and nestle into the pavilion's enclosures – providing a much-needed break from the festivities at CHART.
SALARIA PAVILION
The architects Cristina Román Díaz and Frederik Bo Bojesen's pavilion is an ode to a mineral of enormous biological and cultural importance: salt.
Taking inspiration from both salt's taste and cultural significance, the duo considers the transitory and fragile qualities of this mineral's structural makeup. The result, a sculptural construction made of wood, fishnets, salt crystals and clear polycarbonate which frames salt in a new context.
ROCK PAPER CNC
At a distance, the construction looks like a stone construction, but the black building blocks, which comprise ROCK PAPER CNC are in fact made from recycled paper produced by hand, in CNC cut moulds. This pavilion by visual artist Oskar Koliander, and architects Diana Smiljkovic and Gustav Kjær Vad Nielsen, utilise waste as raw material and rethinks how it can be revitalised through traditional craftsmanship and new digital methods.
CELL PAVILION
A cell is both a biological building block and a minute space in itself. This dual consideration is the point of departure for architects Josefine Rita Vain Hansen and Marie Louise Thorning's pavilion, where a number of air-filled latex cells form the building blocks in a light, spacious structure that imitates a living organism.
International, interdisciplinary jury
The jury for CHART Architecture this year consists of a number of international profiles in architecture, art and design. The chair of the jury is architect and partner of BIG, David Zahle (DK), who is behind the M/S Maritime Museum of Denmark and the Copenhagen's Zoo's newly opened panda house. In addition, the jury consists of Senior Architectural Curator for Italy's National Museum of Contemporary Art and Architecture, MAXXI, Pippo Ciorra (IT); founder of the Copenhagen-based design and architecture studio Spacon & X, Nikoline Dyrup Carlsen (DK); design editor for magazine Wallpaper*, Rosa Bertoli (UK); the Danish visual artist Lea Porsager (DK), who has recently been commissioned to create a monument in Sweden for the victims of the tsunami disaster in 2004 titled, Gravitational Ripples.
A professional stepping stone
As part of CHART's talent programme, the goal of CHART Architecture is to strengthen the young talent's professional development by offering wide international exposure and providing qualified professional support. In the lead up to CHART, the engineering and consultancy firm Arup will facilitate workshops for the five finalists who will cement and qualify their projects, focusing on, among other things, sustainable design. BLOXHUB also offers networking and guidance for the finalists. During CHART, one of the five pavilions is awarded a special prize.
"When we at CHART focus on young architects, it is because we want to contribute to the professional development of the young talents. Across architecture, design and contemporary art, there is a great academic exchange, and therefore we set the framework for showing how creative alliances can help develop both their own subject and our everybody's physical surroundings". – Nanna Hjortenberg, Director of CHART
The five pavilions will each house CHART's bars and restaurant partners, which this year consist of an organic burger bar Gasoline Grill, the Japanese gastropub Jah Izakaya & Sake Bar and Copenhagen's first oyster bar, Rouge Oysters.
To ensure the pavilions afterlife, this year CHART has initiated a collaboration with Copenhagen Architecture Festival (CAFx) where the pavilions will be re-exhibited in connection with CAFx in 2020.
ABOUT CHART ARCHITECTURE
CHART Architecture is a 72-hour open architectural competition targeted at graduate students and newly graduated architects. The goal of CHART Architecture is to show the young talents' visions and innovative solutions that challenge our understanding of form and materials. With the theme materiality, CHART encourages the participants to investigate how materiality, physicality and presence can be a starting point for reflections on how we shape the society of the future. CHART Architecture is realised in partnership with Realdania, Dreyer's Foundation, FOSS and the City of Copenhagen. Knowledge and resource partners for the project include Arup, BLOXHUB, and Copenhagen Architecture Festival (CAFx).
ABOUT CHART
CHART is the leading annual event for contemporary art and design in the Nordic region. CHART builds on Copenhagen's strongholds of art, design and architecture and explores the cross-fields between these creative practices. Presenting an art and design fair, a number of curated exhibitions and a vast public programme of talks, film screenings, concerts and performances CHART offers a single-entry point to the Nordic art and design scene for both an international and national audience. Since 2013, CHART has manifested itself as an important international platform for Nordic contemporary art and culture. In 2018, CHART had 28,500 visitors over three days, which is an increase of 51% from the previous year. CHART as a non-profit organisation is financed through partnerships and collaborations.
From the top: The Cell Pavilion, Salaria Pavilion, ROCK PAPER CNC, Sultan, Snug as a Bug in a Rug
Location: Realdania, Jarmers Pl. 2, 1551 København V, Denmark
CHART 2019 Architecture Competition Winners information / images received 030619
Previously on e-architect:
2 Sep 2018
CHART 2018 Architecture Winners
"Tight Knit" was announced as the CHART 2018 Architecture Winners. The design draws from the oldest traditions of craft – knitting and weaving.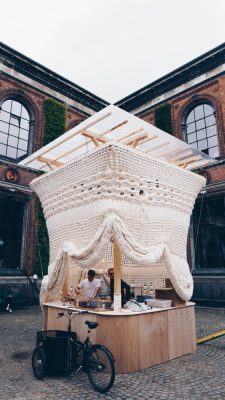 CHART Architecture 2018, Tight Knit, Photography by BARSK / @barskprojects
CHART 2018 Architecture Winners
13 Apr 2018
CHART ARCHITECTURE Competition 2018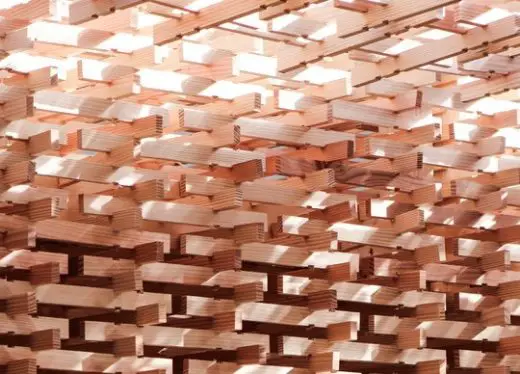 photo © David Hugo Cabo
CHART ARCHITECTURE Competition
26 Apr 2017
CHART ARCHITECTURE Competition 2017 Finalists
Algae Dome, Aleksander Wadas, Rafal Wroblewski, and Anna Stempniewicz Anna Astempniewicz, 2017: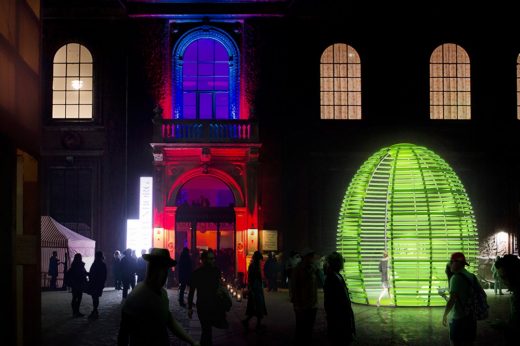 image Courtesy architecture office
CHART ARCHITECTURE Competition Finalists
Location: Copenhagen, Denmark
Architecture in Copenhagen
Copenhagen Architecture
Copenhagen Architecture Designs – chronological list
Carlsberg Central Office, Valby
Design: C.F. Møller Architects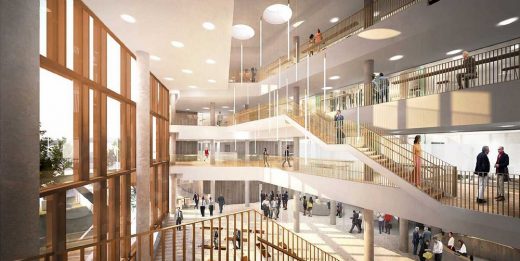 image Courtesy architecture office
Carlsberg Central Office in Valby
Tingbjerg Library and Culture House, Tingbjerg, Skolesiden 4, DK-2700 Brønshøj, Denmark
Design: COBE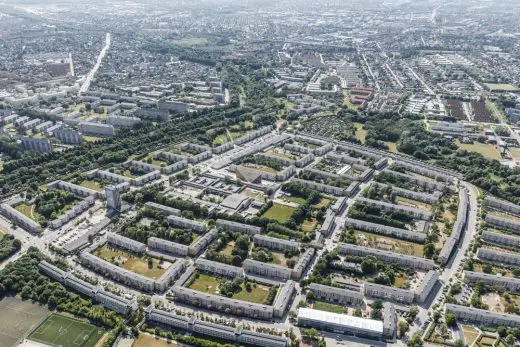 photo : Rasmus Hjortshøj – COAST
Tingbjerg Library and Culture House
Architecture Competitions
Ocean Platform Prison Architecture Competition
Nikola-Lenivets Architecture Competition
Triumph Pavilion Architecture Competitions
Copenhagen Architecture Designs
Copenhagen Building Developments
Comments / photos for the CHART 2019 Architecture Competition Winners page welcome