Helsinki Guggenheim Competition Andrea Maffei Design, Architecture Contest Entry, Building, Architects
Andrea Maffei's Submission for Helsinki Guggenheim
Finland Architectural Contest – port of Eteläsatama design by AMArchitects
15 Dec 2014
Helsinki Guggenheim Competition Entry by Andrea Maffei
Design: AMArchitects
The competition is about the construction of the new Guggenheim Museum in Helsinki. The project area is located near the port of Eteläsatama, a central urban area with great cultural significance for Helsinki.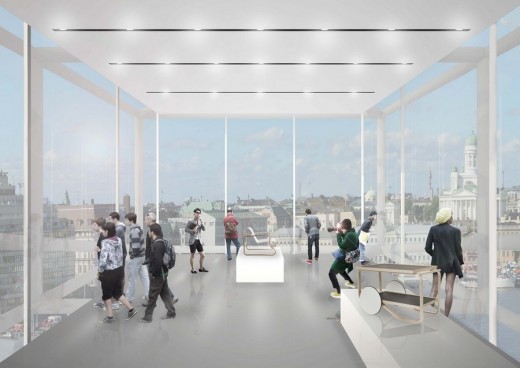 The design concept is defined by many project ideas. These are:
The relation with the elements of the city
The dimensional matrices of the project result by the main elements of the project area like the quay and the curve that define Laivasillankatu.
In order not to limit the view of the sea from Tähititonin Vuori Park and from the buildings on Laivassilankatu (including the Palace Hotel), the height of the museum is limited to 9 meters.
Through the footbridge across Laivassilankatu, that extend Bernhardinkatu down to the sea, is created a connection with the Design and Finnish Architecture Museums; this allows visitors to access to the functions of the museum roof like the theater, the sculpture garden, the park and the panoramic tower.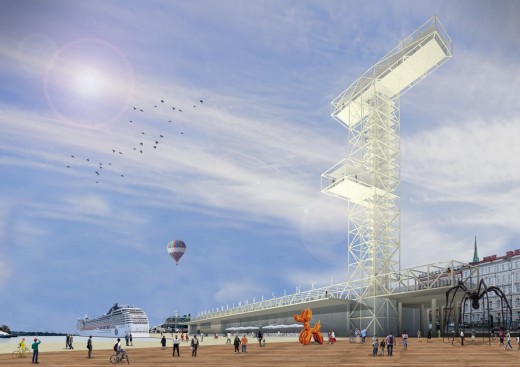 The great museum space
The open space allows to visit the museum without having to overcome barriers such as stairs or ramps.
The functional and architectural quality of this space is remarkable because it allows to define different configurations of the space and of the visit paths through moving walls with ceiling rails in accordance with the exhibition needs like temporary exhibitions or any kind of event.
The indoor height of 8 meters also allows to expose art works of considerable size.
The service areas are facing towards the central space through glass walls.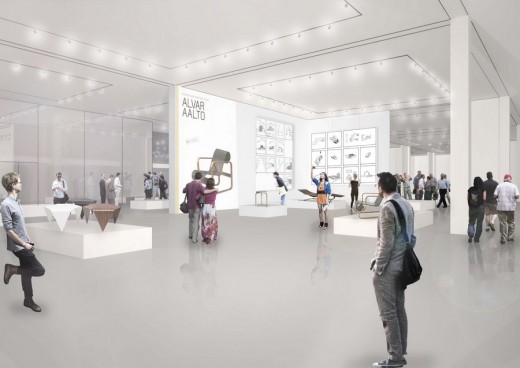 Structural Elements
Spatial and functional characteristics are defined by truss structures that reminds the mechanical elements of a port; the truss beam, parallel to the quay, allows to free up space on the ground floor and the first floor by limiting the number of the columns while the panoramic tower defines, through the design of the structures, a lightweight landmark in the harbor skyline.
Open Spaces
In addition to the museum function the concept design define a Multi-Purpose space on the roof that is a natural extension of the public space of the city. So, regardless of the museum opening hours, the visitor can enjoy a privileged view of the city through the panoramic tower, participate to an artistic event from the stands of the theater, live the park (natural extension of Tähititonin Vuori Park) and the sculpture garden or, more simply, walk by the roof to reach easily the museum.
The Cafe / Bar, the Design Store and the restaurant are independent from the museum and allow opening hours even in the evening.
Materials of finnish tradition are used in the museum, like teak wood on the roof. The plants solutions will get great energy saving and sustainability.
So the project defines a place with great functional diversity and creates a new centrality in the port of Eteläsatama that brings new innovative features to the fruition mode of a museum with a great architectural quality reached through specific design and planning choices.
Andrea Maffei's Submission for Helsinki Guggenheim – Building Information
Location: Helsinki Finland
Program: Guggenheim Museum
Client: Guggenheim Foundation
Competition Time: June 2014 – September 2014
Project Leader: Andrea Maffei
Design team: Stefano Bergagna, Davide Cazzaniga, Giuliano Godoli, Giorgio Ramponi, Yijie Wu / Andrea Maffei Architects s.r.l. Milano
Total area: 11.824 sqm
Covered area: 10,941 sqm
Maximum Height: 75.10
Materials: concrete, steel, glass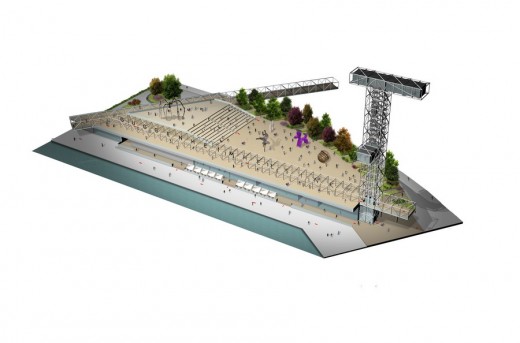 Andrea Maffei's Submission for Helsinki Guggenheim information / images from Andrea Maffei Architects
Guggenheim Helsinki Museum Design Contest
Entries to this Finnish architecture contest, on e-architect:
Guggenheim Helsinki Museum Design Contest entry by Nizio Design International, Architects
Guggenheim Helsinki Competition entry by PM²G + MESH Architects
Helsinki Guggenheim Design Competition entry by Ostrowscy Architekci
Guggenheim Helsinki Competition entry by Smith Scott Mullan Associates
Location: Helsinki, Finland
Architecture Competitions
Russian Architecture Competition, Russia



image from competition organisers
Nikola-Lenivets Architecture Competition
Triumph Pavilion Architecture Competition, London, UK



image from competition organisers
Triumph Pavilion Architecture Competitions
Great Fen Visitor Centre Architecture Competition
Ocean Platform Prison Architecture Competition
Website: AMArchitects
Comments / photos for the Andrea Maffei's Submission for Helsinki Guggenheim page welcome
Website: Guggenheim Helsinki Design Contest Submissions, Finland