2A Continental Architectural Awards 2020 Competition News, Architecture Contest 2020
Alternate Realities 2020 News
28 July 2020
Alternate Realities 2020 Open Call
Open Call – Alternate Realities 2020
This competition exists in an Alternate Reality. You make the rules in this realm. Does gravity exist? Do humans live on Earth? How far has technology advanced? You decide!
The aim of this competition is to explore wild design ideas – what architecture truly means and what it can achieve without any constraints. Let your imagination run wild and create spectacular designs that grab the world's attention. The intention is to spark a conversation regarding issues plaguing the world, through design dialogue.
Architecture is a unique amalgamation of the nuances of the art world and the pragmatism of the real world; therefore, it has the power to not only capture people's imaginations, but also to strongly influence their lives.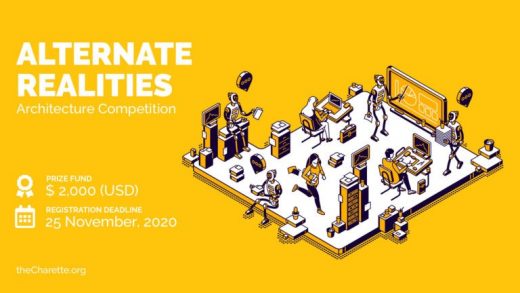 For the Alternate Realities competition, participants are required to design an architectural response to an issue that the world is facing – climate change, pandemics, biological warfare, nuclear proliferation, social inequality, etc. Your design doesn't necessarily have to be a solution. It can also be a visual commentary. Your Architectural Response may fall anywhere on the Utopia – Dystopia spectrum. Remember, reality can be anything you want it to be in this realm.
Unleash your creativity – Surprise us!
Be critical – Say something about the world.
Striking visuals – Capture the imagination of architects and non-architects alike.
No design is too wild!
JURY
Mark Foster Gage, Michael Hansmeyer, Mond Qu, Adrian Welch, Kevin Veehuizen
AWARDS
3 winning entries and 10 honorable mentions will be selected. theCharette will award a total of $2,000 (USD) in prize money to competition winners as follows:
First Prize: $ 1,000 (USD)
Second Prize: $ 600 (USD)
Third Prize: $ 400 (USD)
Honorable Mentions: The jury will choose up to 10 honorable mentions.
Type – Competition Announcement (Ideas)
Organizers – the Charette
Eligibility – Open to all
Registration Deadline – Nov 25, 2020
Submission Deadline – Nov 30, 2020
Fee – $45 (USD)
Visit theCharette.org/alternate-realities-2020 for more information.
Alternate Realities 2020 Open Call images / information received 280720
Architectural Competitions
Current / Recent architectural contests on e-architect:
2A Continental Architectural Awards 2020
2A Continental Architectural Awards 2020
Re-imagining Stations Competition
Network Rail Re-imagining Stations Competition
3rd Generation New Towns in Korea Design Contest
3rd Generation New Towns in Korea Architecture Competition
Tottenham Pavilion Competition
London Architectural Competitions
Main Library Gwangju Competition
LafargeHolcim Awards for Sustainable Construction
Flexible Housing Competition for Great Places Lakes & Dales Partnership
LFA 2020 Architecture Competition
Comments / photos for Alternate Realities 2020 Open Call page welcome