Xi'an Exhibition, ORB Media Group, Architecture, Building, China film house News, Design, Image
ORB Media Group Xi'an Exhibition
Chinese Architectural Project – design by Dr Margot Krasojevic Architect, London
26 Nov 2010
Xi'an Exhibition
Design: Margot Krasojevic
总体布局 ORB Media Group Xi'an Exhibition, China
The exhibition design, commissioned by ORB media group and China film house, exposes their strategies to lead and reflect a new "cultural evolution" of global entertainment.
ORB Media Group Xi'an Exhibition: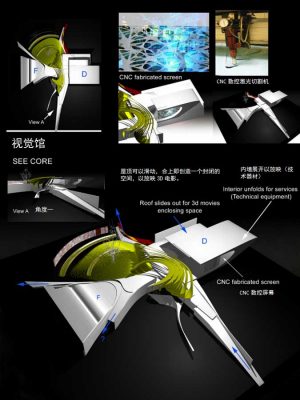 The creative properties in both Hollywood and China crossing multiple platforms from film special effects, technology and online games:
The exhibition intends to show 5 areas of the gaming and film industry as a cross cultural dialogue between China and The U.S. Mr. Chang Qiang a structural engineer specialising in digital fabrication from Tsinghua University advised on the 3d printing and laser cutting of the hyperbolic structure and the surface routing, printing facades and motion capture stages.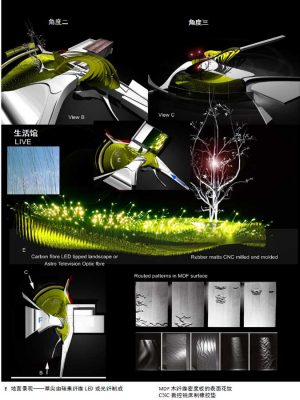 The LIVE ground area is a 3 dimensional patterning afforded by oblique laminate construction techniques and subtractive CNC milling process. The entire site is routed as an undulating landscape. The form will follow the NURBS geometry and be put together like a puzzle routed in 3d.
SEE – Entertainment Production Technology
DIMENSION尺寸100feet x 100feet x 20feet 长100英尺(约15米),宽100英尺(15<米),高20英尺(6米)
视觉馆 – 先进电影娱乐摄制技术
Programme:
组成部分:
– A section for 3d movies to display, possibly on a large screen or multiple small screens (it may need to be a separated area dark enough for the 3d movies to be visible).
3D电影放映区,使用大屏幕或数个小屏幕。(需要一个相对独立黑暗的区域以放映电影。)
– A section for the history of 3d, where there are panels with art, cameras and video on display.
3D历史展示区:由艺术品、照相机、视频等组成。
– Next is the motion capture stage, which needs to be a large open space fairly well lit.
动作捕捉舞台:长宽各33英尺(约10米),高20英尺(6米)的开放空间。灯光充足。
Construction and Materials notes:
建筑材料
– Corian panels which can be laser cut to create screens
杜邦人造石板"可丽耐",激光切割成屏幕。
– Roof Slides out for 3d movies, enclosing the space
屋顶可以滑动,合上即创造一个封闭的空间,以放映3D电影。
– Interior unfolds for services (technical equipment). Technical equipment unfolds from structural frame of wall.
内墙展开以放映(技术器材)。设备器材从墙的结构里探出。
– There are CNC fabricated screens. Should be made using CNC laser cutting machines.
数控机关切割机生产的屏幕
– Fabricated screens slide.
移动的屏幕
FEEL – Experiential Experiences
感受馆 – 体验科技/ 演变型体验
(大小参看建筑尺寸图)
组成部分:
– Area to show Haptic technologies (like the Nintendo Wii) and self development and educational games. Audience members can interact
触摸技术(任天堂Wii)区,自我发展与教育类的游戏,观众可以参与互动
– Machines analyzing brainwaves, heartmath, physical body. Response technologies.
分析测量脑电波、心电图和其他身体特征的机器区。反应测量科技。
– Areas for teachers
教练/讲师示范区
Construction and Materials notes:
建筑材料
Plastic vacuum formed sections or rubber clad hill roll in FEEL core
塑料真空管或胶皮材料
LIVE – Green
生活馆 – 绿色科技与生活方式
(大小参看建筑尺寸图)
– What's in it:
组成部分:
– A display of Orb's Ancient Future village – Orb's future xi'an production studio.
奥普的古典未来城展示 –未来的奥普西安制作中心
– Green city models/examples from leading architects and designers
顶尖建筑/设计师的绿色城市模型
– Resting area with tree and grass
有树有草的休憩区
– Areas highlighting green in water, air, transportation, materials
关于空气、水、运输、材料运用等方方面面的绿色概念的介绍
– Area highlighting the concepts, green designs and practices incorporated into our exhibit (are our materials all green and available in china? Not sure how feasible it is to do this. this is optional.)
解释奥普展区是如何运用绿色概念构思、制作及运行的(视可行性而定)
Construction and Materials notes:
建筑材料
– Fibre optics in and around the tree and the floor (grass) in LIVE core. Carbon fibre LED tipped landscape or Astro Television Optic Fibre.
树身和树周围的地面(草)用光纤制作。 地面景观——草尖由碳素纤维LED或光纤制成 。
– Rubber Matts CNC milled and molded.
数控铣床制模并制造的橡胶垫
– Artificial landscape in LIVE core will be fabricated using a CNC mill from computer graphic so as to incorporate texture and artificial landscape within corian or a plaster based material. E in plan render
数控铣床和电脑图像制作人造景观,材料可用可丽耐或灰泥的质地。
– Electrochromic glass panels or reinforced structural glass (acid etched with imagery or poems chosen if approved), now switched to LED's on Plexiglass OR Hand routed Styrofoam sealed with ceramic fibre panels containing screens or glass. G in plan render. Diamond Sutra can be laser cut out of wood and backlit with Led's.
G墙:原用电致变色玻璃板或强化结构玻璃(可用酸蚀刻图像或诗歌),现在或改为在树脂玻璃或手塑泡沫塑料外包陶瓷纤维板悬挂LED显示器。
Orb Entertainment Content
奥普娱乐内容展
(大小参看建筑尺寸图)
What's in it
组成部分
– Orb's history, philosophy and content displayed through high definition displays, moving light displays, panels, concept art, etc.
– 高清显示屏上展示奥普的历史、哲学、内容。移动灯光表演,展板,概念艺术等。
Construction and Materials notes:
建筑材料:
– 普通展板、显示屏、灯光等。无特殊要求。
Transmedia
超媒体中心 尺寸:长13米,宽6.5米。参见建筑尺寸图。
What's in it:
组成部分:
– An interactive environment/machine/display that shows what transmedia is, what it can be, what it can do. To be decided…
将采用交互式的装置阐述超媒体的内涵、由来、功能和内容等。(未定)
Construction and Materials notes:
建筑材料
– Steel frame/scaffolding type frame underneath the entire scheme as the proposal. Has section changes for the raps lifting viewer into the transmedia area.
整个展区下用钢筋 / 脚手架的框架撑起,上升的走道将参观者带入高出地面的超媒体中心。
Steel or laminate wood frame of Transmedia pavilion outer frame C sanded and sprayed white or covered in toughened plasterboard if wood frame.
外壁为钢或层压木框架,磨砂喷白漆;如果是木的框架,外可以用坚硬的灰泥面板覆盖。
Gauze screens refer to optical networks used in inner transmedia pod for immersive environment. C
内壁光纤网的纱屏打造一个沉浸式的环境。
– Translucent screen gauze refer to Lucents optical networks. Projected onto.
类似朗讯光纤网的半透明纱幕用来反射投影
– Inner immersive pod containing plasma screens embedded in structural steel inner frame.
内豆荚型墙壁用钢材结构支持,配有等离子荧幕。
Entrance, Exit, Walkways
入口,出口,走道
Construction and Materials notes:
建筑材料
Back lit etched glass panels for introduction to ORB along G by the B3
G墙旁的B3区域:玻璃蚀刻着奥普的介绍内容/图案,背后投光照亮。
– Plywood sheets above 19mm for the circulation and some of the wall spaces
循环走道B 与一些墙壁:由19毫米以上胶合板制成
– Poured rubber or vinyl tiles which will cover ramps B1,B2,B3 and B4 to prevent falls. Alternatively can be painted with anti slip paint red
第一张图中的B1,B2,B3,B4走道:用橡胶或塑料瓷砖铺设以防滑,也可用防滑红漆。
Fibre glass tubing for floor lighting which spreads from tree originating from LIVE area.
地面照明:生活馆中的树延伸出玻璃纤维管提供照明
Xi'an Exhibition images / information from Dr Margot Krasojevic
Location: Xi'an, China
Architecture in China
Chinese Architecture Designs – chronological list
Projects by Margot Krasojevic – Selection:
Dance School
Dance School
Fractal Geometry Tower, New York, USA
Fractal Geometry Tower : 1st Place Research Category – Architecture of Israel
Swimming Pool : Altered States, subconscious realities and pathological space
Swimming Pool Design
Comments / photos for the Xi'an Exhibition – Chinese Architectural Project page welcome