Nanchang Vanke Retail floating pier commercial design, New Chinese buildings, Jiangxi Province project images
Nanchang Vanke Retail floating pier design
14 October 2023
Design: SPARK
Location: Nanchang, Jiangxi Province, China
The floating pier commercial Nanchang, Jiangxi Province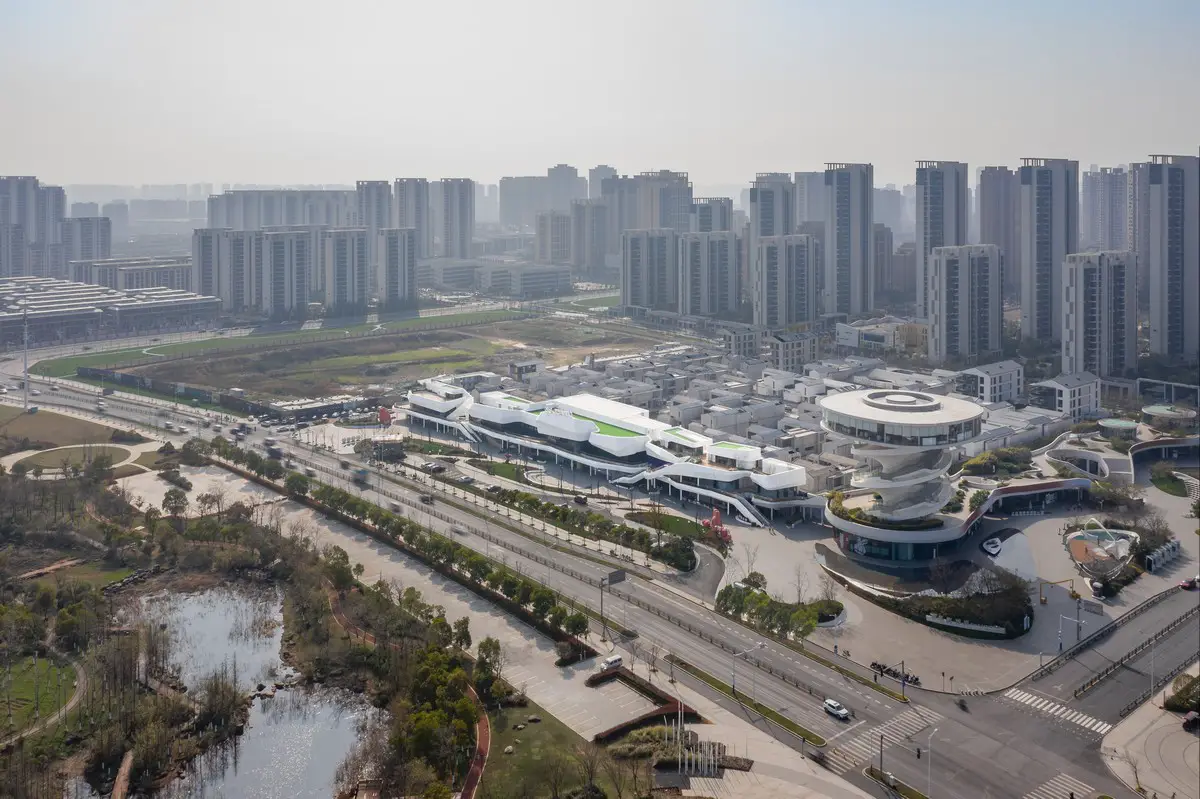 photos by CreatAR
Nanchang Vanke Retail floating pier commercial, Jiangxi
Project Site
The project is located in the southwest corner of the central city Nanchang, Jiangxi Province. The east side of our site is adjacent to Xiang Lake, which is rich in hydrology and has several tributaries of the Fu River flowing into it.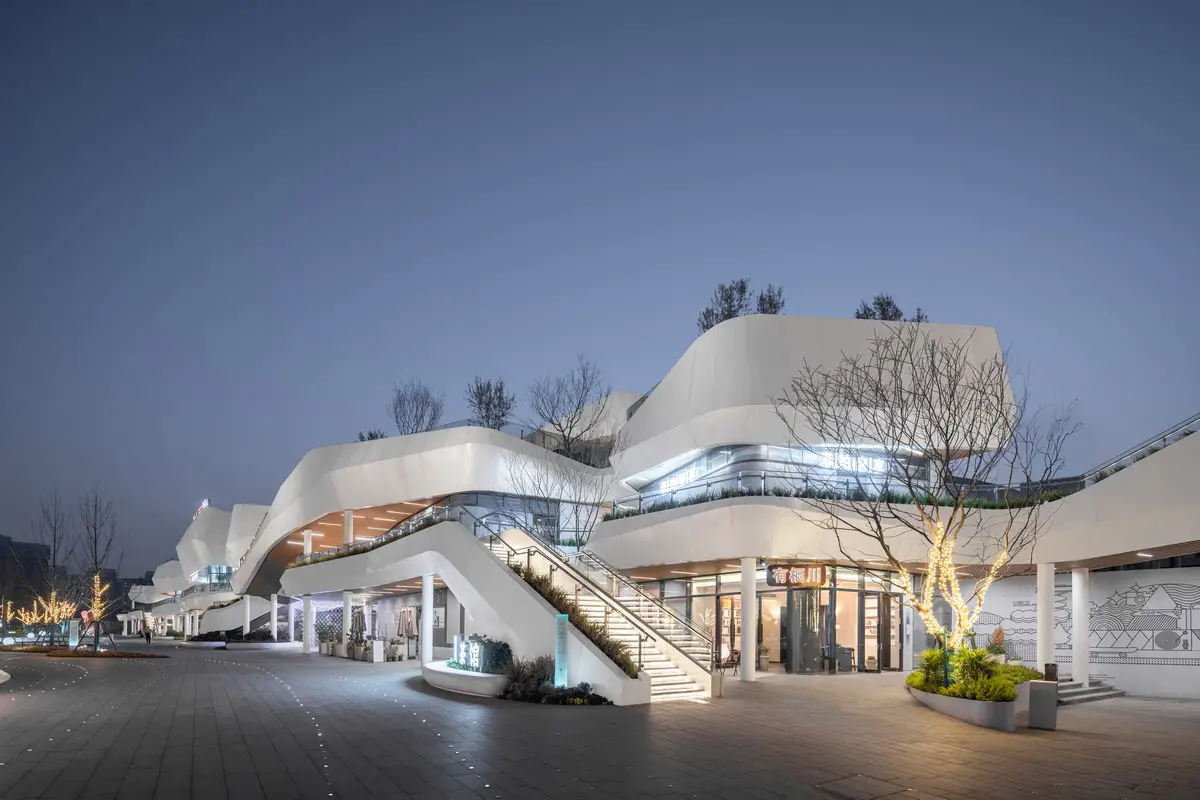 The client hopes that the entire area can become a cultural and leisure destination with Nanchang characteristics, creating a water-friendly leisure and entertainment complex, a liveable environment that coexists and thrives with the ecosystem. Thus, the location of this project, the core area of both the Waterfront Cultural and Leisure Corridor and the Waterfront Community Living Area, it is of great significance for the client's vision of the region.
SPARK's team
SPARK's team for this project is a team of fun-filled, energetic designers who enjoy taking fresh perspectives and creative approaches to every project. We are from London, Singapore, Shanghai, Italy, and Spain. Through our personal feelings and multiple rounds of discussions, we presented a scheme that combines the site environment, culture, and functions particularly for this site.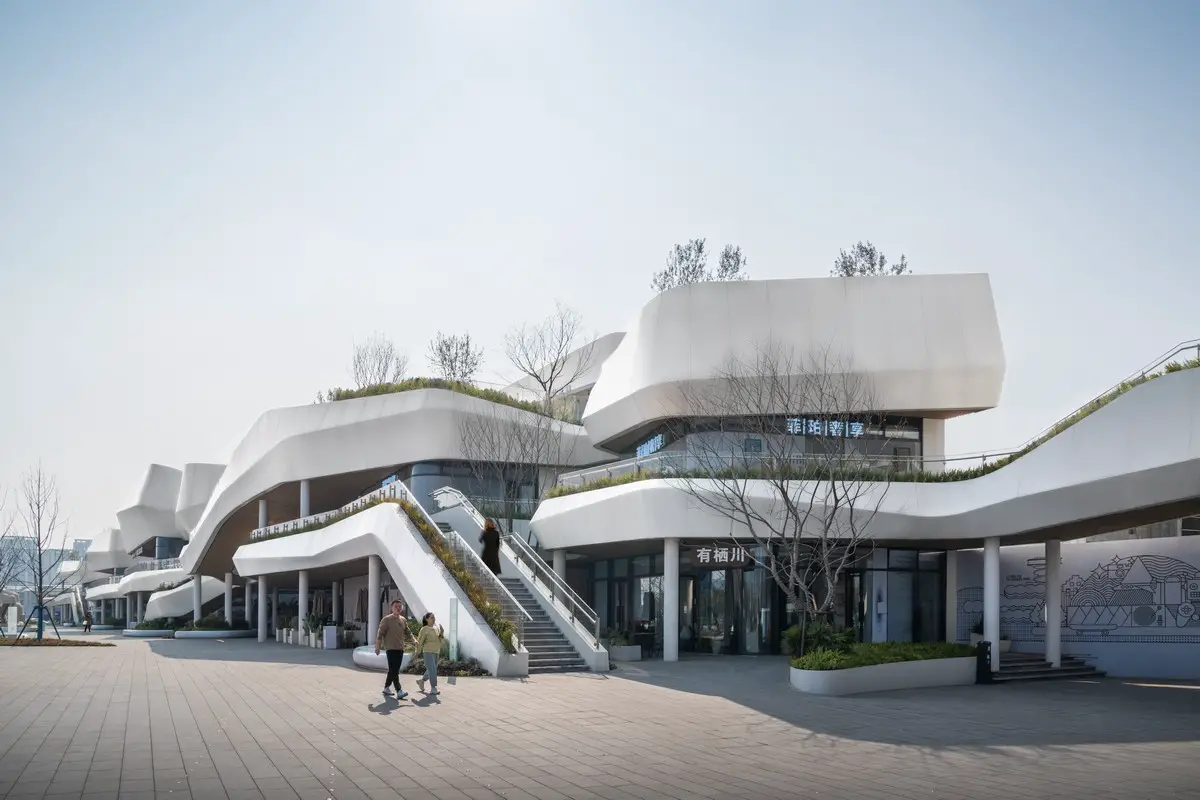 Inspiration
Our inspiration comes from the organic forms of Nanchang's red soil and natural wetlands, as well as the power inherent in the linear, interwoven, and undulating topography. These elements reminded us of the ink-wash paintings of local literati. We hope to absorb these elements and apply them to the design of the undulating three-dimensional contours of the commercial façade.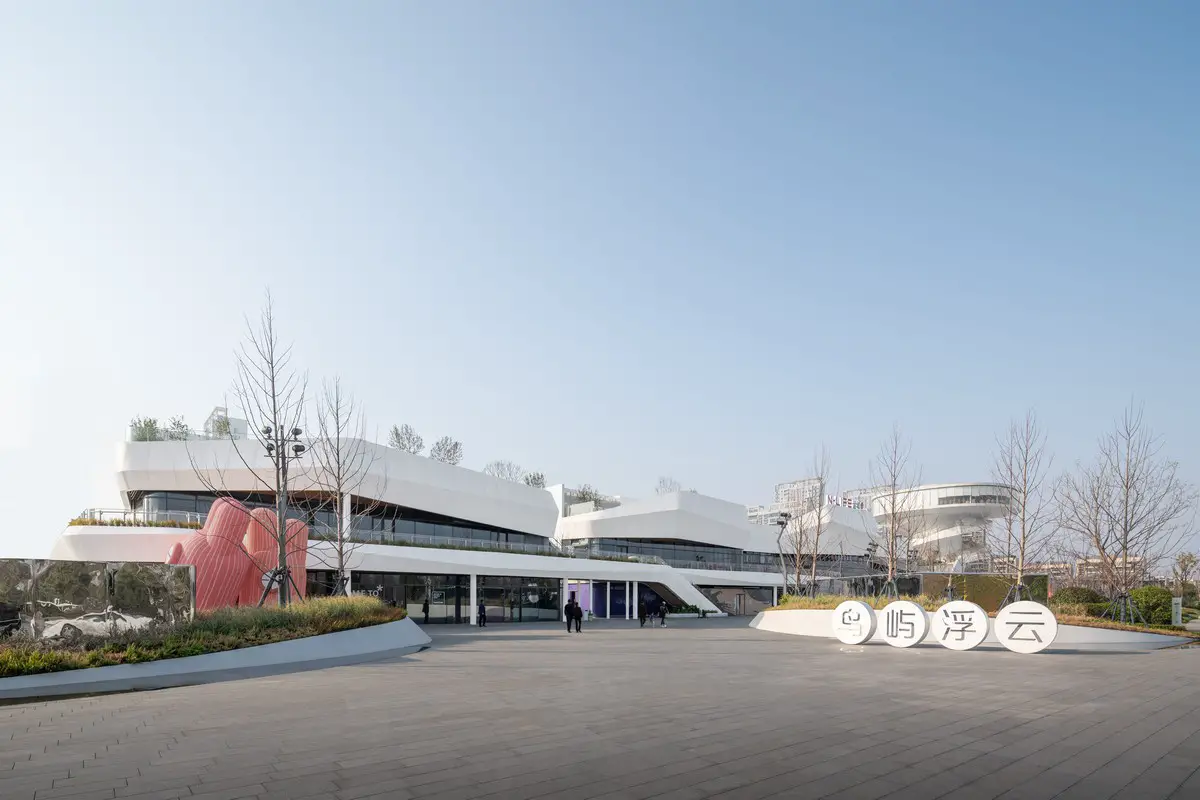 Form Making
The adjacent villa project follows a strict grid design. Integrating the wetland landscape concept of Xiang Lake with the grid villa was a challenge encountered during the initial conception of this design. To address this issue, we created corridors by cutting into traditional strip commercial blocks, which not only echo the forms of the villas but also introduce the wetland landscape.
Additionally, we extracted curved design elements from the local wetlands and red soil and applied them to the design of commercial outdoor terraces. These terraces are connected on the second and third floors, serving as a transition from the natural landscape to the grid villas. This approach not only promotes the connectivity between the villa and the landscape, but also endows the commercial architecture with distinct identity.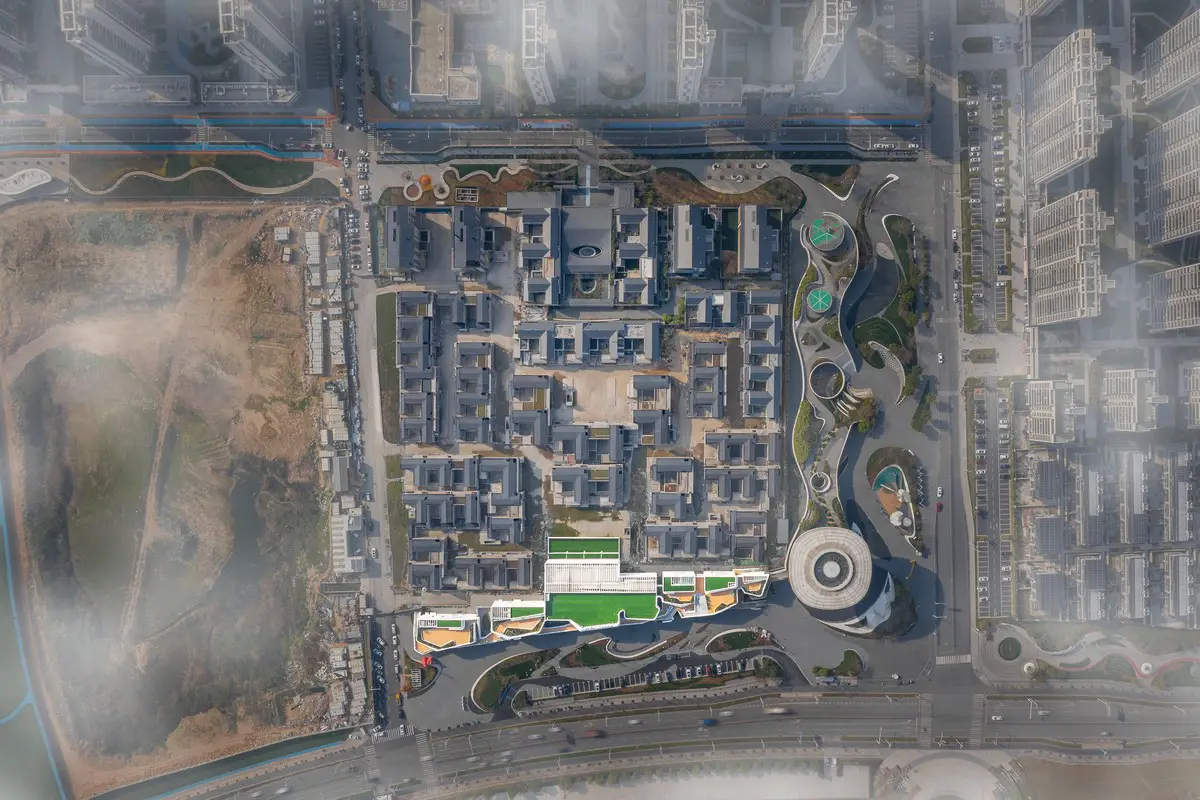 Circulation
We intentionally integrated the commercial circulation path into the design of the "façade", connecting people from ground level to rooftop terraces, and from walkways to courtyards, creating maximum practicality and comfort. The commercial pedestrian traffic is redirected to higher floors, greatly enhancing the spatial value of the higher floors. This design embodies an open, charming, and integrated community space where people can shop, stroll, enjoy food, and experience unique spatial delights.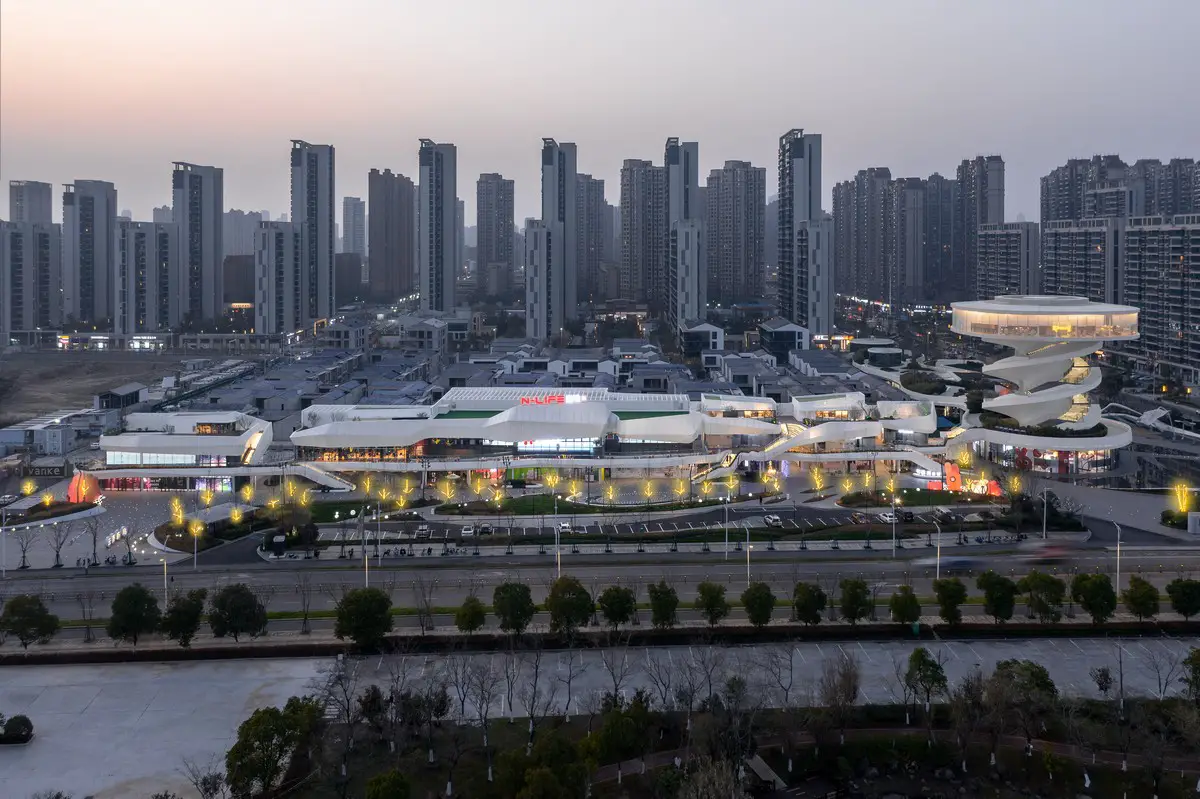 Material and Colours
In order to create a suitably scaled and tension-filled curved façade, the project underwent multiple rounds of material research, starting with plain concrete, small-texture titanium zinc plate, GRC, and ultimately settling on aluminum curtain wall. This material was chosen for its ability to achieve a pure and naturally flowing architectural effect with the minimum number of panels and joints.
The largest single curtain wall in this project exceeds 7 meters in height, encompassing the entire upper section of the parapet wall, the folding façade design, and the outdoor ceiling details. In terms of colour scheme for the façade, the design opts for white and grey tones that serve to highlight the green hue of the wetland plants.
The use of white aluminium panels, ultra-white glass, light grey stone flooring, and dark grey metal frames creates a rich sense of layering and different gradients in the façade design. At the same time, the warm colour scheme for the outdoor terraces and ceilings complements the curved contours, highlighting the regional characteristics of Nanchang's red soil.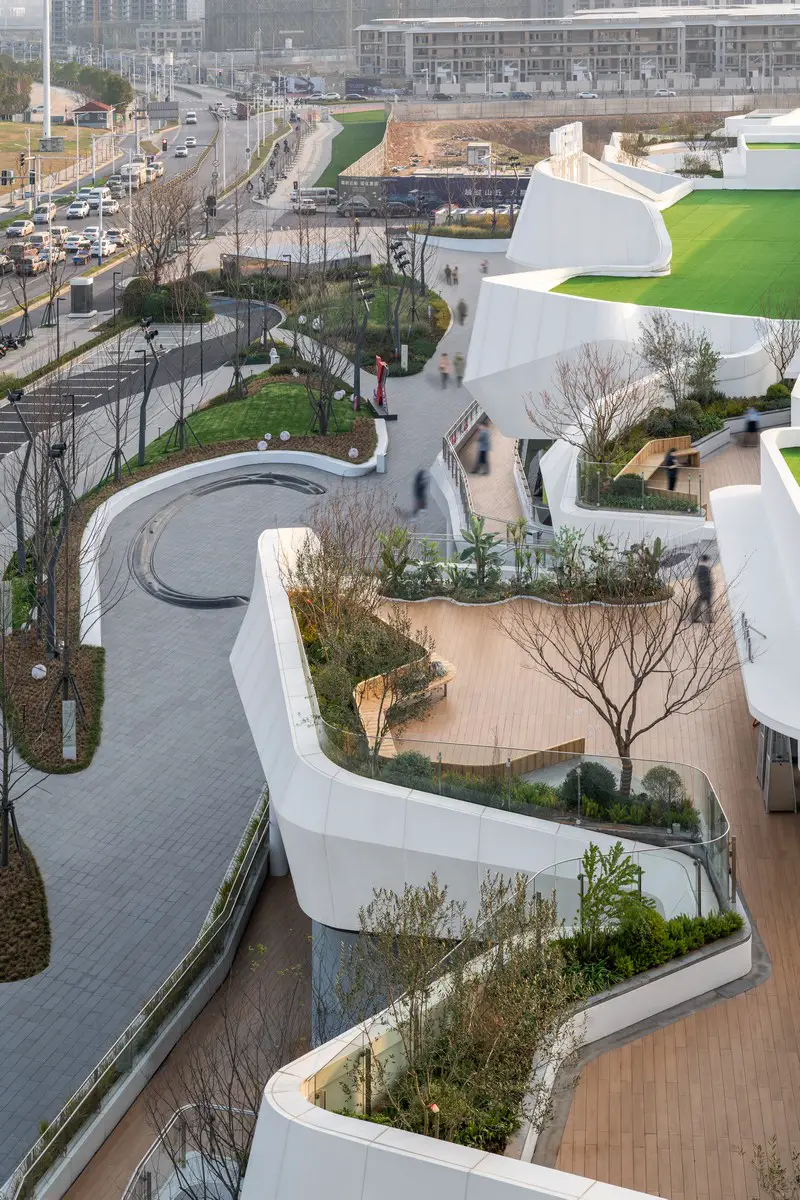 Summary
The floating pier commercial project is an important part of the overall development of the Nanchang central urban area, with the aim of breaking through traditional community commercial models and creating a more iconic regional destination with a broader urban perspective. However, there are two key conflicts in this project.
Firstly, the villa community itself has higher requirements for privacy, which needs to be balanced with the public nature of the commercial area. Secondly, it is necessary to integrate the natural wetland landscape of Xiang Lake with the grid villa building forms.
The design starts from the local regional characteristics of Nanchang and cleverly resolves these conflicts through architectural design language, presenting more possibilities for community commercial activities, providing more outdoor space for the commercial area, and providing a better platform for visitors to enjoy the beautiful scenery of Xiang Lake. This may be the true value of this project.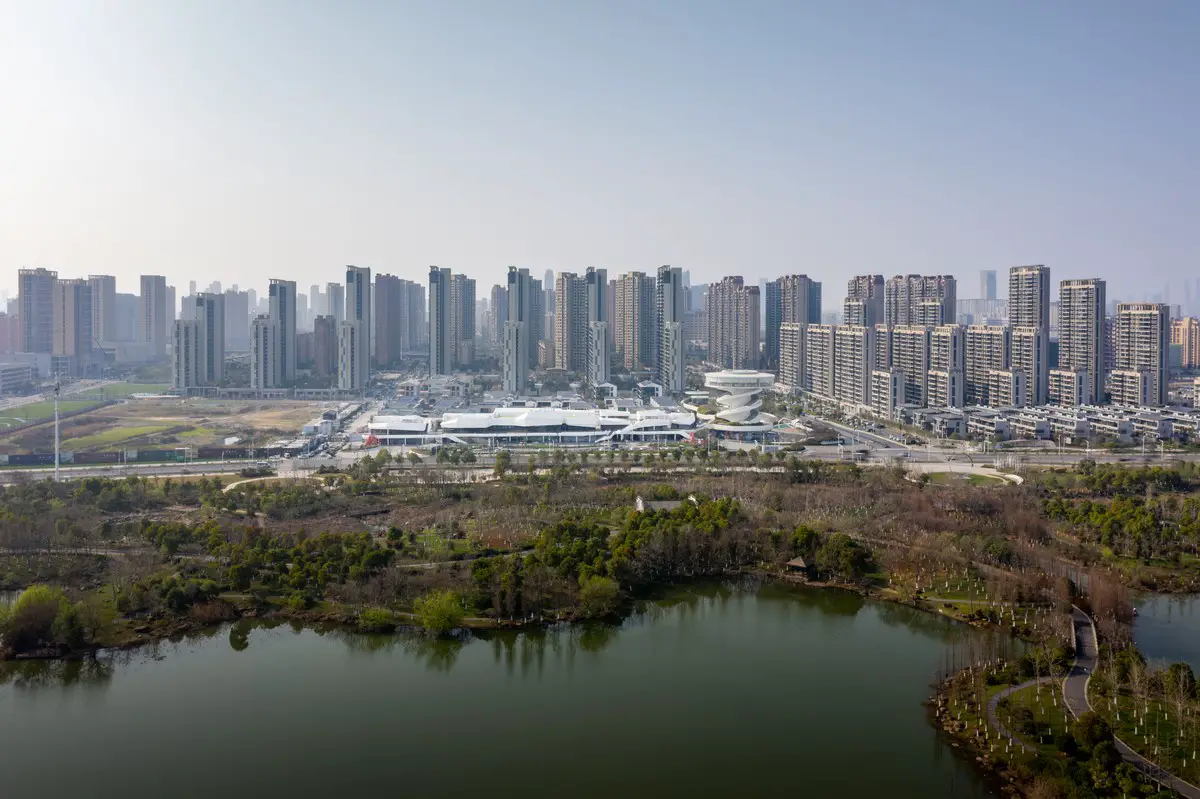 Nanchang Vanke Retail floating pier commercial – Building Information
Project Name: Nanchang Vanke Retail
Completion Year:2022
Total GFA (sqm): 8,696 sqm
CREDITS:
Architecture Design: SPARK
Client: Shu Zhu, Shuiping Xiong, Qinghua Zhou, Xianlong Zhao, Huile Li, Fanfan Fan, Zhiting Liu
Team: Stephen Pimbley, Wenhui Lim, Yao Jun, Luca Maccarinelli, Zhusong Mei, Javier Campoy, Mark Mancenido
Photo credits: ZY Architectural photography、 CreatAR Images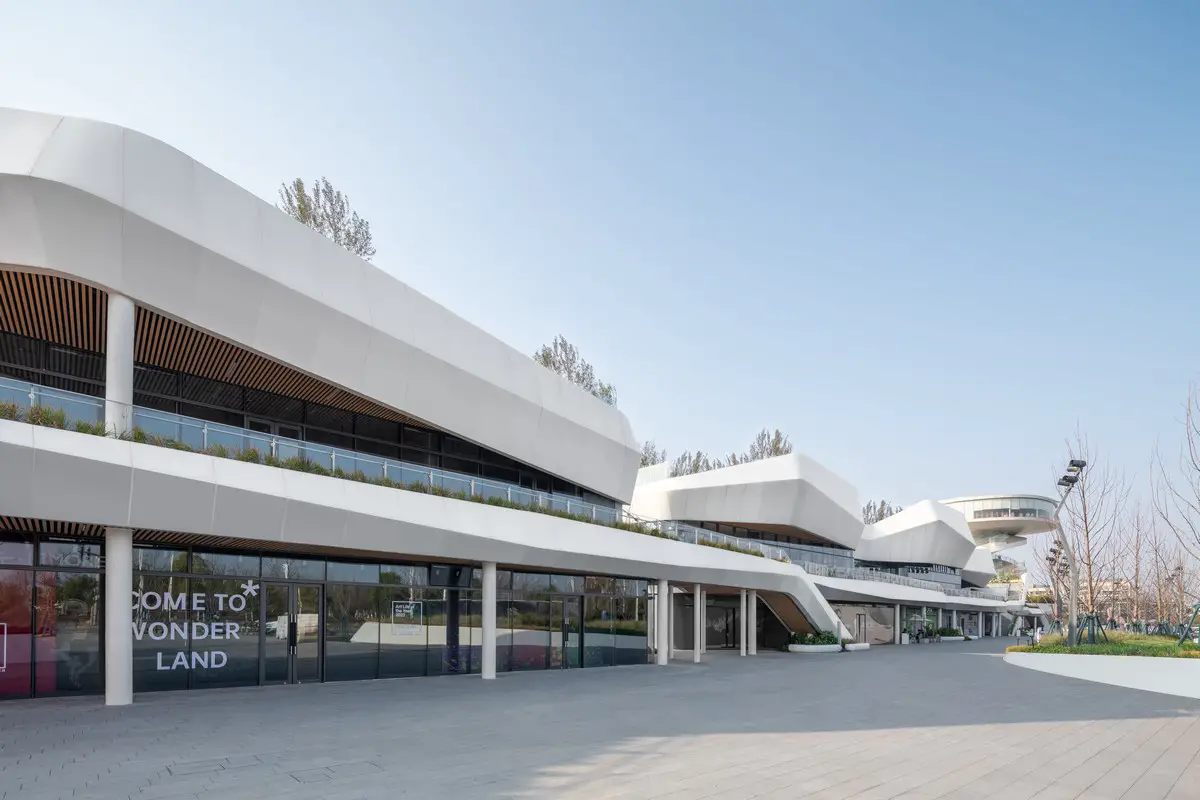 SPARK
SPARK is a global team of designers and thinkers creating architecture, urbanism, interiors, landscapes, research and branding.
Using the evocation of the studio's name "SPARK"; we have built vibrant, distinctive designs by generating ideas, collaboration, communication and an energy borne out of possibilities.
We love people, places and all forms of culture, our open source of inspiration to purposefully transform and regenerate environments.
We have designed at all scales; from handbags, pavilions, residential towers, mixed-use, waterfront destinations, civic buildings to urban planning.
Our award winning projects include Clarke Quay in Singapore, the Shanghai International Cruise Terminal and the Starhill Gallery in Kuala Lumpur. Our Homefarm and BeachHut projects won the Future Experimental Category at the World Architecture Festival in 2015 and 2016. SPARK's residential towers Arte S and MK won the German Design Council's Iconic Awards for 2018 and 2021.
SPARK Retro First
SPARK operates across disciplines and scales to make sense of the forces that shape our cities. We work with developers and communities to provide greater agency and transformative potential of existing buildings without resorting to costly and environmentally damaging wholesale demolition and rebuilding.
We provide a platform for design, research, curation, consultation and transformative realisation, that provokes a wider conversation about the city and its existing building stock. This is critical when the subject of reuse of existing buildings is so apposite to the wider issues of social and environmental sustainability. Developers need to look more positively at older buildings to boost the quantum of retrofit and refurbishment projects and the transformation of Singapore's current building stock to reduce the heavy carbon emissions associated with new build projects. SPARK has built a reputation on the innovative transformation of buildings and has won many awards for its work including the transformation of Clarke Quay in Singapore and Starhill Gallery in Kuala Lumpur.
"It is all too easy to reach the "convenient" conclusion to demolish but putting reuse and transformation at the heart of what we do might take more time, creativity and effort but knocking down our urban heritage, in all its forms, is simply unsustainable. We need to extend the life of existing buildings wherever possible. Retrofitting provides an opportunity to achieve significant embodied carbon savings through reuse rather than rebuild. We will never meet the carbon targets set by the Paris Climate Accord and protect the future of humanity if we continue to consume buildings in such a linear fashion" said Stephen Pimbley, Founder of SPARK.
www.sparkarchitects.com
www.instagram.com/sparkarchitects
Nanchang Vanke Retail floating pier commercial images / information from Spark architects
Location: Nanchang, Jiangxi Province, China
China Architectural Designs
Chinese Architecture Designs – architectural selection below:
China Architecture Designs – chronological list
Yantai Experience Centre
Architects: More Design Office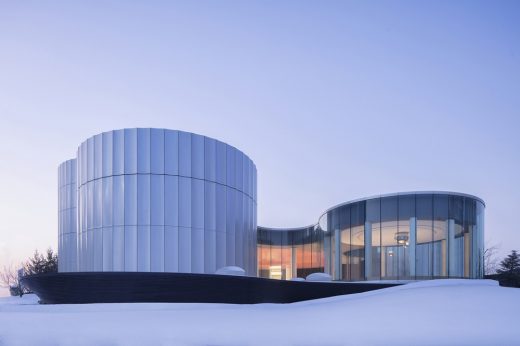 photography by Hai Zhu, Zhi Xia
Yantai Experience Centre Shandong
Zaozhuang Citizen Service Center, Minsheng Road, Xuecheng District, Zaozhuang
Design: Shanghai United Design Group Co., Ltd. (UDG)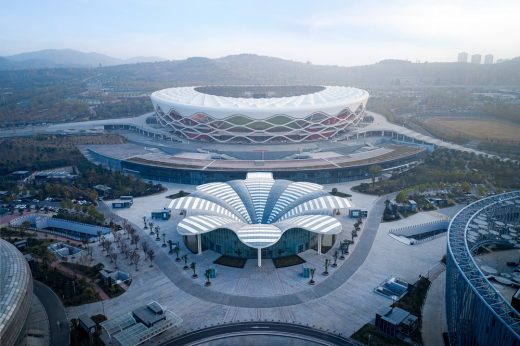 photo © MLEE STUDIO
Zaozhuang Citizen Service Center, Shandong
Nanchang Building
Undulating Lines in Nanchang
Design: Mohen Chao Design Associates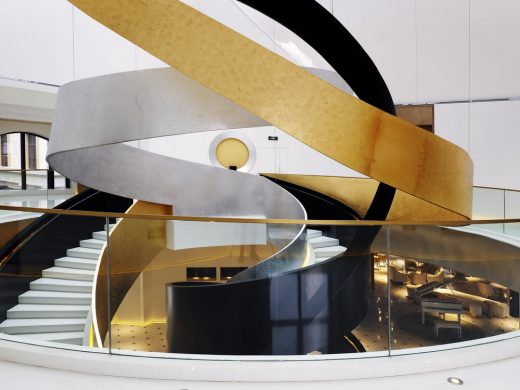 image courtesy of architects practice
Undulating Lines in Nanchang
Chinese Buildings
Chinese Buildings – Selection:
Shanghai Sanctum
Architects: Wutopia Lab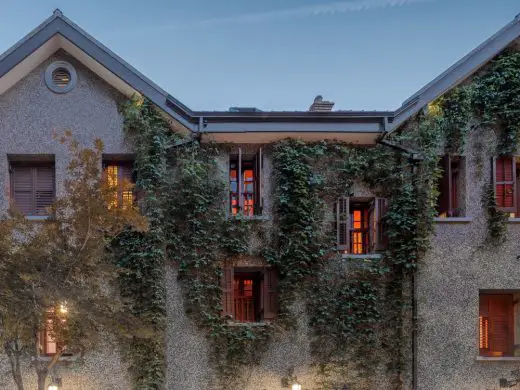 photo : CreatAR Images
Sinan Bookshop in Shanghai
Guangzhou Opera House, Guangzhou
Zaha Hadid Architects
Zaha Hadid opera house
Comments / photos for the Nanchang Vanke Retail floating pier commercial Buildings page welcome.