1/2 Coffee & Bar Xiamen, Fujian Café Building Photos, Gulangyu Store, Modern Chinese Architecture
1/2 Coffee & Bar Xiamen, Fujian
18 June 2022
Design: CUN PANDA NANA Team
Location: Dadeji Bathing Beach, Shengqi Mountain, Gulangyu Island, Xiamen, Fujian, China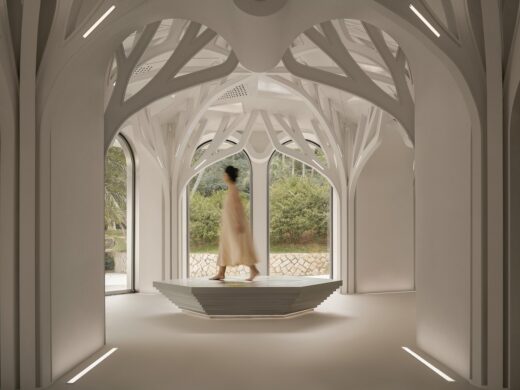 Photos by Liu Xinghao, Yan Yu Architectural Space Photography, Yu Vision
1/2 Coffee & Bar in Xiamen, China
In 2018, a new cafe named 1/2 opened in Xiamen. In the past 4 years, it has developed into a coffee brand integrating coffee, inn, and customization. During the rapid development period, it plans to launch branches in Xiamen and surrounding islands. CUN PANDA NANA received this design commission. The client expects to create a composite space in Gulangyu that is more in line with the surrounding natural environment and more suitable for local architecture.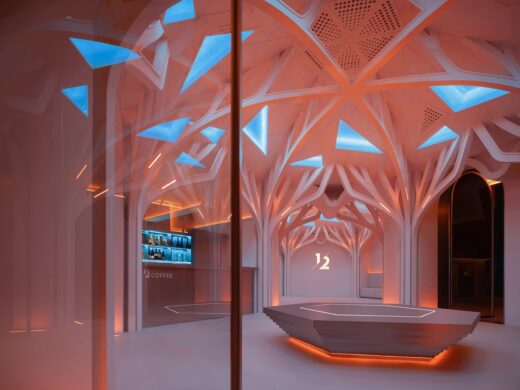 A marine garden, a living museum of world architecture, a city of world heritage…these are the various annotations people give to Gulangyu, most of which show people's fantasies and yearning for this small isolated island. As designers, Cai Xuanna and Lin Jiacheng are also expecting that in the future 1/2 Coffee & Bar (Gulangyu Store) will become one of the unique annotations of Gulangyu.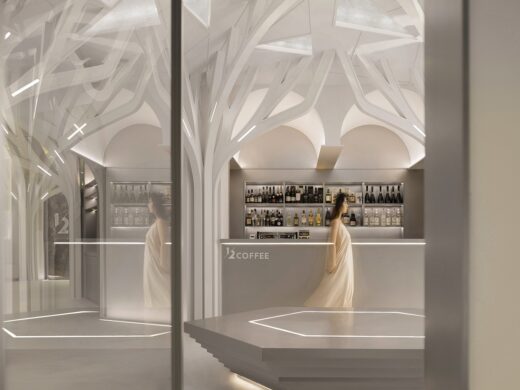 Designers Cai Xunna and Lin Jiacheng start from the brand concept of 1/2 Coffee & Bar that an interesting life is half of mountains, rivers, lakes, and seas. Based on nature, the interior design organically combines the characteristics of the island and responds to the brand's ambition with a diverse and composite space.
Located in Dadeji Bathing Beach on Shengqi Mountain of Gulangyu Island, the original structure of the project was part of the 19th-century building of Deji Company, which is a dome building with a natural sea view. The round architectural lines appear natural and harmonious next to the Dadeji Beach on Gulangyu Island.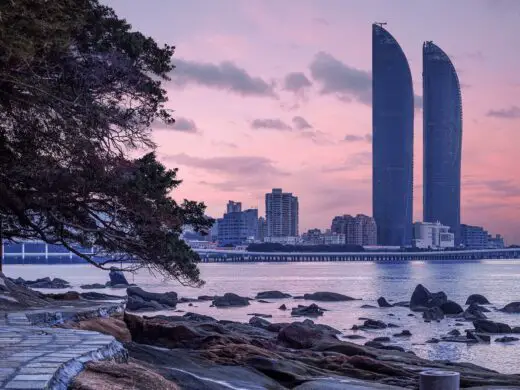 A simplified veranda architectural style is adopted to retain a large proportion of the original architectural form. The small-leaf ficus commonly seen on the island grows indoors in another way, where the main steel structures look like tree trunks, growing around the space and stretching out a broad "canopy" covering the ceiling, to create shadows and a shelter from the sun and rain in the humid, hot, and rainy subtropical region. It also creates an unseen space for ventilation and heat dissipation.
Layers of leaves on the canopy form shadowy lights under the illumination of the "sunshine", projected on the ground. In the 1/2 Coffee & Bar, light strips are embedded in the gaps between the "twigs and trees" on the top, full of leisurely fun.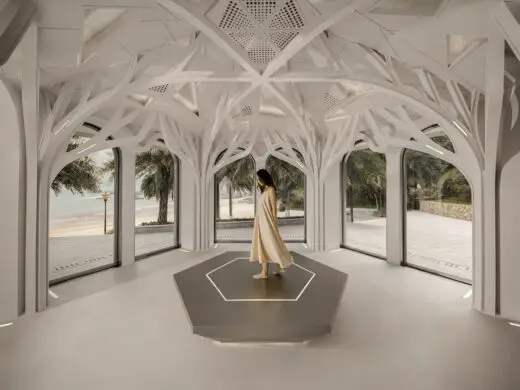 When night falls, the surrounding is gradually wrapped in darkness, and the 1/2 Coffee & Bar shows its second identity. The gentle daytime forest sparks under the modern neon light. Whether it's the 1/2 logo, the "trunk", or the "shade" big or small, they all have a bolder and modern appearance appealing to nightlife lovers.
The gradually mature design skill is something to be commended. However, it is also necessary to avoid the stereotypes of strong vision and atmosphere. Giving a new entry point for the new generation of designers, designer Lin Jiacheng starts from the urban context, history and culture, and natural resources to create a spatial memory for 1/2 Coffee & Bar that belongs to Gulangyu Island.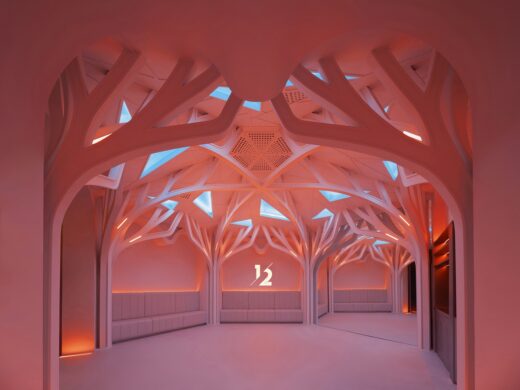 1/2 Coffee & Bar Xiamen, Fujian, China – Building Information
Project Name: 1/2 Coffee & Bar (Gulangyu Store)
Location: Xiamen, Fujian, China
Area: 250 ㎡
Chief Designer: Cai Xuanna, Lin Jiacheng
Design Company: CUN PANDA NANA Team
Website: www.cunpanda.com
Design Time: 2021.02
Completion Time: 2021.11
Lighting Design: Vidlux&Crisman
Photography: Liu Xinghao, Yan Yu Architectural Space Photography, Yu Vision
Text/Image: CUN PANDA NANA Team
Editor/Typesetting: CUN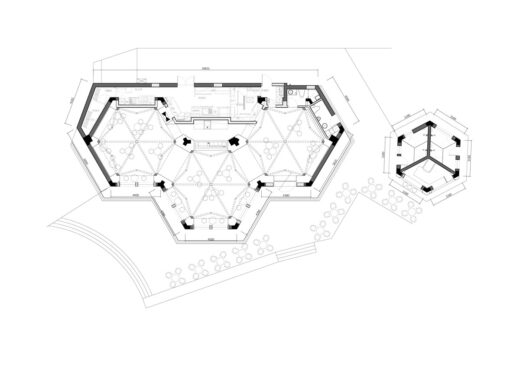 二分之一咖啡(鼓浪屿店)
项目名称:二分之一咖啡(鼓浪屿店)
项目地址:福建厦门
项目面积:250㎡
首席设计师:蔡泫娜 林嘉诚
设计师公司:寸匠熊猫NANA团队
设计网站:www.cunpanda.com
设计时间:2021.02
完工时间:2021.11
灯光设计:光合共筑Vidlux&Crisman
摄影师:刘星昊_言隅建筑空间摄影 羽视觉
首发|寸匠熊猫NANA:鼓浪屿的昼与夜
摘要:一分为二,昼与夜
2018年,厦门市上多了一家咖啡店名叫二分之一。4年过去,这家咖啡店已成长为集咖啡、民宿、定制为一体的咖啡品牌。在快速的生长期,二分之一咖啡生活选择在厦门市及周边岛屿开辟分店,寸匠熊猫NANA收到他们的设计委托,业主期待在鼓浪屿创造一个与周边自然环境更契合,与当地建筑更为贴切的复合空间。
海上花园,万国建筑博物馆,世界遗产提名项目……人们给鼓浪屿添加各种注解,而绝大多数注解都展示着人们对这个小小的离岛充满幻想与向往。作为设计师的林嘉诚,也期待着在不久的将来,二分之一咖啡(鼓浪屿店)也成为鼓浪屿的独特注解之一。
设计师林嘉诚从二分之一咖啡的品牌理念"有趣的人生,一半是山川湖海"出发,空间以自然为本底,有机地结合岛屿场地特色,并以多元复合的空间回应了品牌的野心。
白昼森林
二分之一咖啡坐落于鼓浪屿升旗山的大德记浴场,项目的原始基底是一栋19世纪的"德记洋行"的一部分,是有着天然海景的圆顶建筑。圆润的建筑线条在鼓浪屿大德记沙滩旁,显得自然又和谐。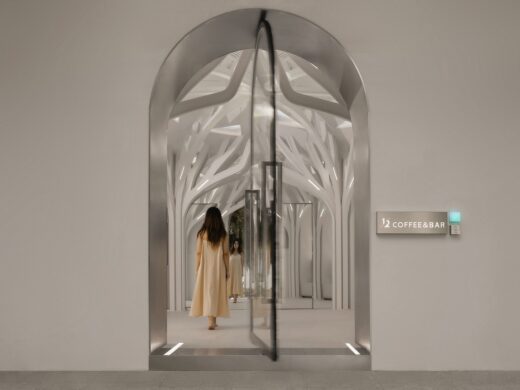 建筑外观采用简化的外廊式建筑风格,保留大比例的建筑形态构成。小岛上常见的小叶榕以另一种方式在室内生长开来。主要的钢结构体系像树干一般生长在空间周边,树干伸展出宽广的"树冠"覆盖空间顶部,进而制造出遮蔽和阴影,创造出在湿热多雨的亚热带地区既能遮阳避雨,又能通风散热的"灰空间"。
树冠上层层叠叠的叶,在"阳光"的照射下,形成影影绰绰的光投射在地面上。在二分之一咖啡生活,设计师在屋顶的"枝木"间隙中嵌入灯带,充满闲适悠然的趣味。
黑夜霓虹
入夜,周边渐渐被黑暗包裹,二分之一咖啡显示了TA的第二个身份。
白天里的温柔森林和现代霓虹灯光摩擦出灿烂的火花,不管是1/2的标志、"树干"、还是大大小小的"树荫",它们都有了更大胆的现代宣言,吸引着夜晚爱好者前来光顾。
在灯光的照耀下,小叶榕般的钢结构变得更像厦门现存唯一的哥特式教堂——"天主堂"。树干、树冠转变成柱、飞扶壁、拱腹、拱肋……
哥特式的建筑语言,让空间更具本土性和戏剧感,也正是因其戏剧感才更契合其夜晚的酒吧身份。
设计技巧逐渐成熟是件值得嘉奖的事,但于此同时,也需要回避强视觉、强氛围的技术俗套。设计师林嘉诚给出新生代设计师一个新的切入点,从城市风貌、历史文化、自然植被出发,为二分之一咖啡(鼓浪屿店)塑造了一个独属于鼓浪屿的空间记忆。
1/2 Coffee & Bar Xiamen, Fujian Gulangyu Store, China images / information received 170622 from CUN PANDA NANA Team
Location: Dadeji Bathing Beach, Shengqi Mountain, Gulangyu Island, Xiamen City, Fujian Province, China
Xiamen Architecture
Xiamen Architectural Designs – recent selection below:
Buduo Teahouse,, Nanshan Village, Fengnan Farm, Xinmin Town
Design: Wanmu Shazi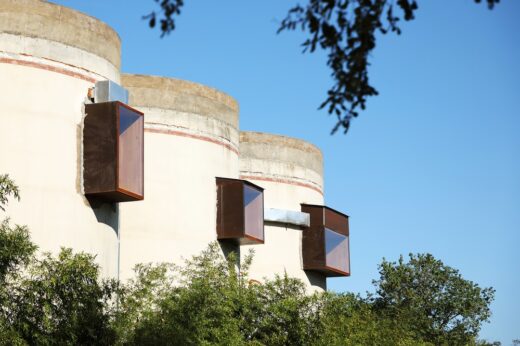 photo : 1988 Photography Studio / A Qi
Buduo Teahouse, Xinmin Town, Xiamen
Hotel WIND in Fujian Province Hotel – by TEAM_BLDG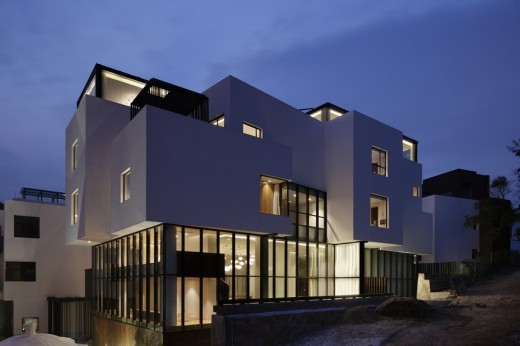 building image from architects
Woodwork Enthusiast's Home by ZMY Design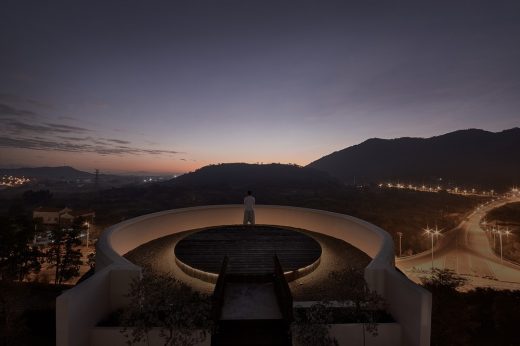 photography ® Wu Yongchang
Xinhee Design Center Offices in Xiamen by MAD architects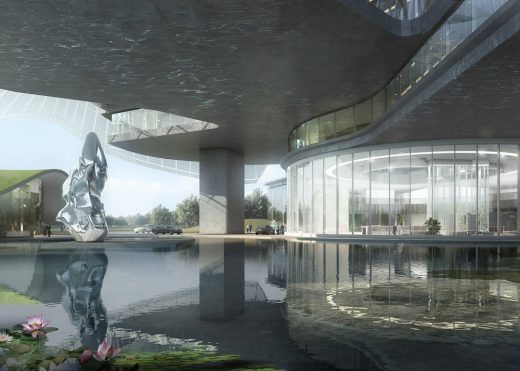 image courtesy architects
La Pizza Xiamen Restaurant Interior
Vankely Xiamen North Station Complex Masterplan design in China by NL Architects
Architecture in China
China Architecture Designs – chronological list
Beijing Architecture Walking Tours
Black Soul, Fuzhou, Fujian, southeastern China
Architects: JST Micro-design Laboratory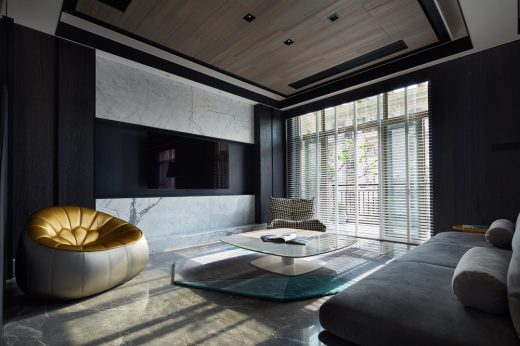 photograph : Li Di
Fuzhou Building
Comments / photos for the 1/2 Coffee & Bar Xiamen, Fujian Gulangyu Store design by CUN PANDA NANA Team page welcome