Mixed-Use Town Planning, Chinese Masterplan, Fujian Province Buildings, Architecture, Architect, Images
Vankely Xiamen North Station Complex
Masterplan design in China – design by NL Architects
8 Apr 2014
Vankely Xiamen North Station Complex, Fujian Province
Design: NL Architects
Xiamen North Station Complex, Xiamen, Fujian Province, China 2013 – 2014
Vankely (Vanke alley) is the design for a public 'street' within Xiamen North Station Complex, a fairly large residential compound in the city of Xiamen, near a major railway station.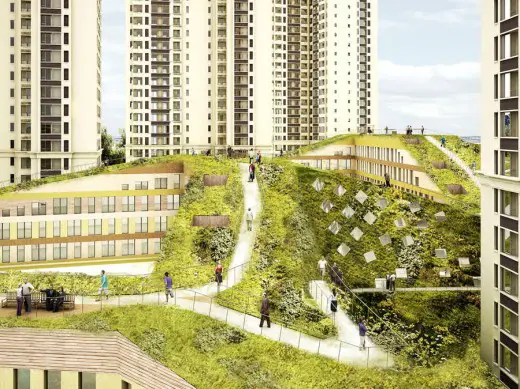 The renowned Housing Corporation Vanke has invited us to work with them on a new urban typology for combining shops with SOHO's.
SOHO stands for Small Office / Home Office: a compact studio type that merges residential program with office functions.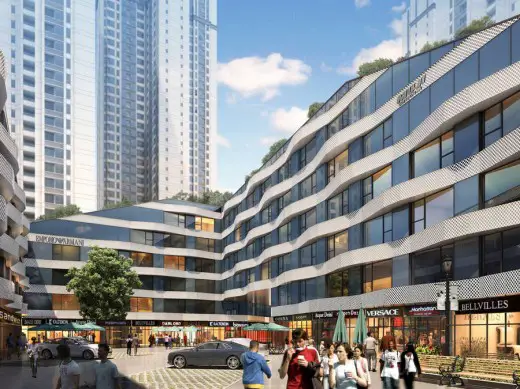 222 units of about 30m2 are required; all will be placed on top of a 10.000m2 shopping base.
The eight towers are not part of the assignment; they are the virtual precondition that forms the immediate context for the new shopping street. The layout of the high-rises is based on a computational model that enhances the allocation of units relative to orientation and proximity to optimize land use. Currently the towers are under construction, the 'street' will follow soon.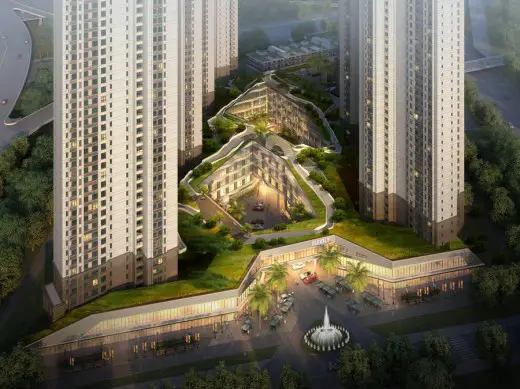 In order to minimize the impact of the backside of the street the shops as well as the SOHO are covered in landscape: a green hill comes into being that will form a very attractive natural base for the towers.
By introducing a series of 'bridge buildings' over the narrower sections of the pulsating shopping street, a sequence of well defined plazas comes into being. These squares will all have a specific character. The bridges contain SOHO style apartments as well. The height of the bridges increases towards the center of the complex.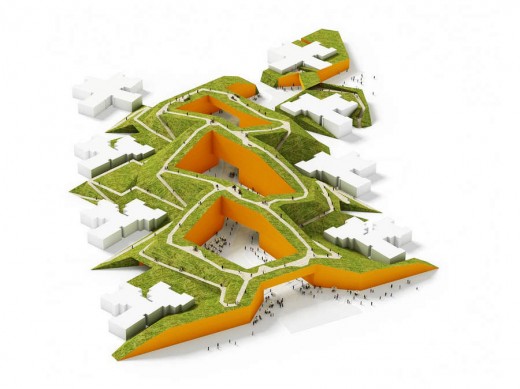 The accessible green roof will extend the landscape and reinforce the natural impression. It will also allow the inhabitants of the towers to use the entire footprint of the compound.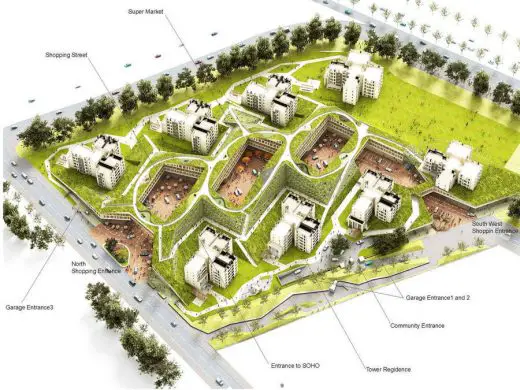 Fire regulation prescribes that a certain distance to be maintained from the neighboring buildings. The outline of the 'alley' explores the potential of this obligatory offset.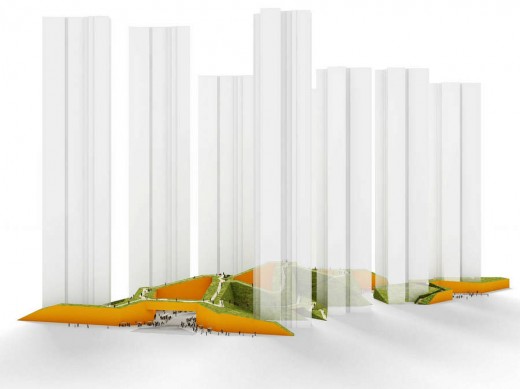 A pleasant and potentially profitable configuration of the street is created by pushing the new street all the way up to the minimum distance from the residential towers.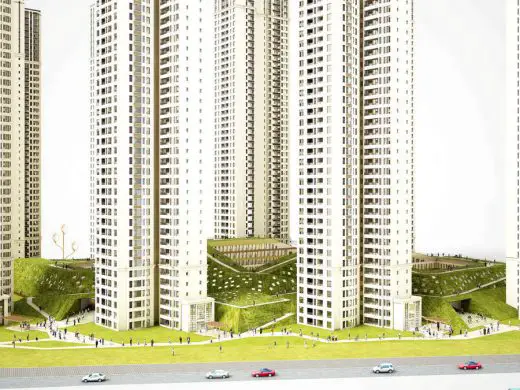 The consequential meandering layout creates seductive perspectives and increases the total surface. As such the shopping 'interface' could be extended. Vankely is a data driven 'canyon'.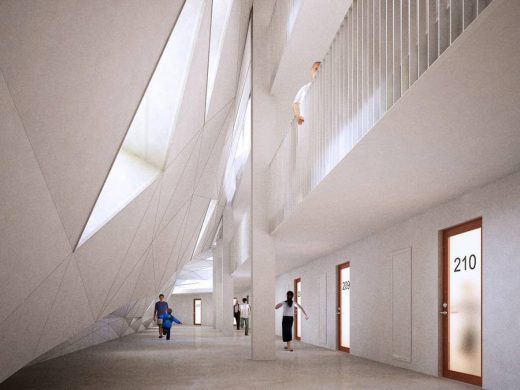 The SOHO bridges are higher than the perimeter. As such a 'natural' silhouette comes into being; an undulation that brings in light and view.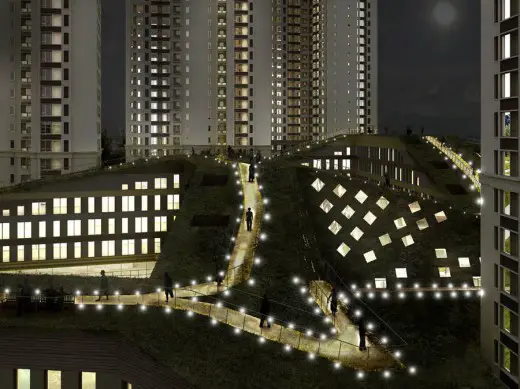 Vankely Xiamen North Station Complex – Building Information
Project: Vankely – Xiamen North Station Complex, China 2013 – 2014
Client: Vanke Real Estate Development Co., Ltd. Hainan
NL Architects: Pieter Bannenberg, Walter van Dijk, Kamiel Klaasse
Team: Gen Yamamoto and Zhongnan Lao with Qian Lan, Yuxiao Chen, Aleksandra Babicka, Kurt Wu, Jakub kupikowski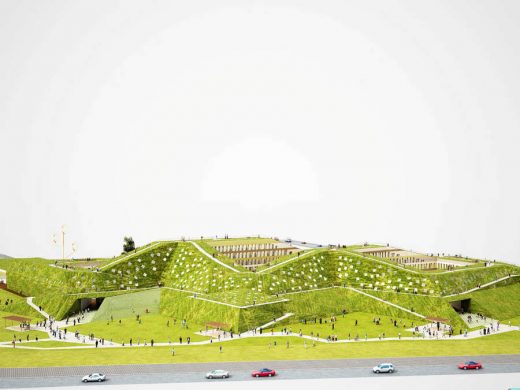 Vankely Xiamen North Station Complex images / information from NL Architects
NL Architects, Netherlands
Location: Xiamen North Station Complex, China
Xiamen Architecture
Fusion Sale Center in Xiamen Building
Design: Kris Lin architect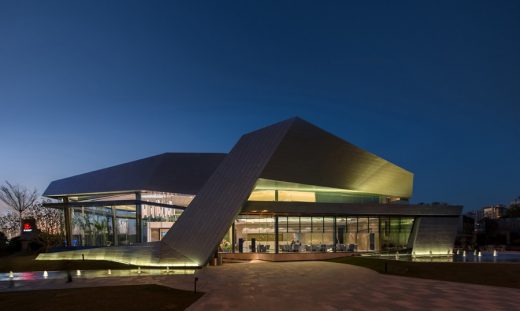 Xiamen Building
Huijin International Center, Xiamen Office Building Tower by Leo Daly, architects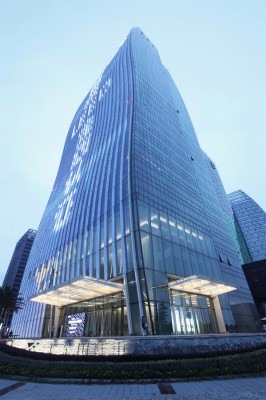 building image from architects
Xinhee Design Center Office Building in Xiamen by MAD architects – 11 Aug 2016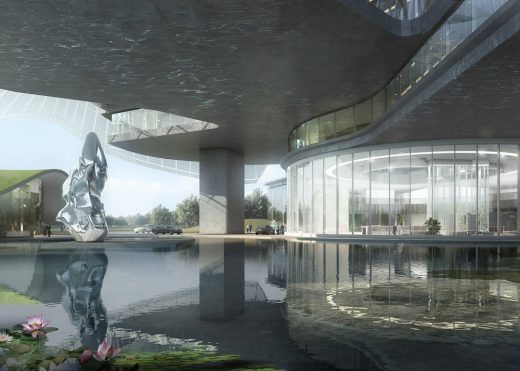 image courtesy architects
Water Cube Beijing – famous Chinese architecture
Comments / photos for the Vankely Xiamen North Station Complex page welcome