9th Avenue Parkade and Innovation Centre Calgary, Canada Building Development, Canadian Architecture
9th Avenue Parkade + Innovation Centre in Calgary
27 June 2022
9th Avenue Parkade + Innovation Centre
Design: 5468796 Architecture in collaboration with Kasian Architecture, Interior Design, and Planning
Location: Calgary, Alberta, Canada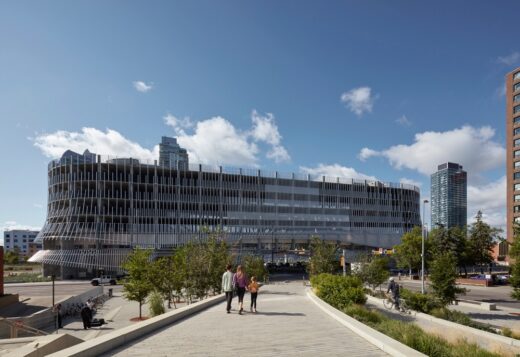 Photos: James Brittain
9th Avenue Parkade + Innovation Centre, Canada
The City of Calgary required a downtown parkade to free up multiple lots for development. Understanding the likelihood of the building's future obsolescence, municipal officials also wanted a creative solution that would justify the expenditure now and in the future. And so the clients, Calgary Municipal Land Corporation and the Calgary Parking Authority, asked the collaborative team of 5468796 Architecture and Kasian Architecture, Interior Design and Planning to design a 510-stall parkade that could be easily converted into an office, light industrial or residential building.
The project site – adjacent to the new Calgary Library, Calgary City Hall and the Studio Bell, (the National Music Centre) – included an unbuildable easement for an underground light rail tunnel, which cuts through the middle of the project site and represents what the city determined was a 20% loss in buildable area.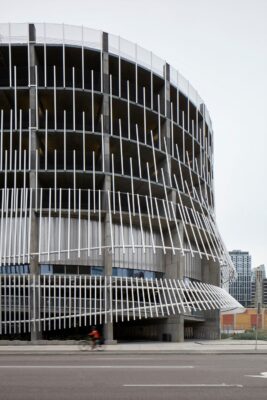 The design team's solution is a building in the form of an elliptical helix, bridging the easement and thereby recapturing much of the lost land value. Vehicles enter at grade, directly over the easement. The ellipse creates a street-wide interior courtyard and 12-metre shallow floor plates allow daylight and ventilation to pervade the interiors from multiple directions – critical features should the structure be converted to a new use. The floor plates ascend on a 1-2% gradual slope to avoid the need for vehicular ramps that would require eventual removal.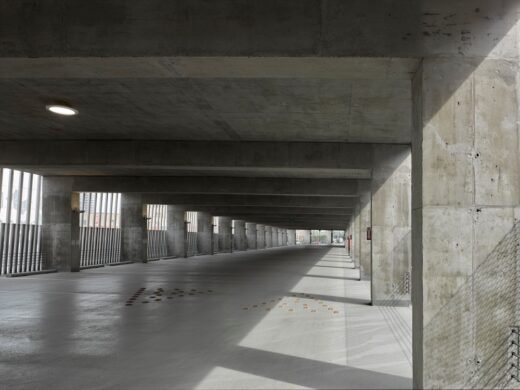 Ceiling heights of 4-metres, clear spans, and universal load-bearing capacity contribute to a variety of gradual or wholesale changes with low-cost ramifications. The vehicle entrance, with clearances that allow for maintenance of the underground tunnel, is flanked by pedestrian and bicycle entrances, and activities such as a basketball court. These activate the frontage along 9th Avenue SE and frame the southern edge of the developing East Village neighbourhood. Spherical bollards, coloured concrete patterns under foot, and a traffic mirror ceiling ensure the central courtyard is a lively and vibrant place with a distinctive and memorable aesthetic, enriched by additional public amenities including a cafe patio and an outdoor exhibition space.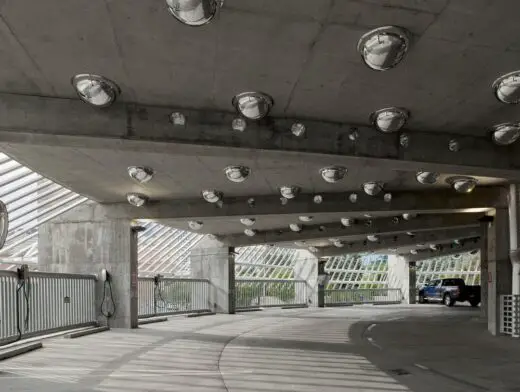 The structure is enveloped in a distinctive guard shroud, raised strategically around the perimeter to provide pedestrian, bicycle, and vehicular access. The members of the shroud hold a fine-grained mesh that acts as a pedestrian guardrail today, while easily and inexpensively accommodating conversion into residential/commercial suite balconies with no additional work required.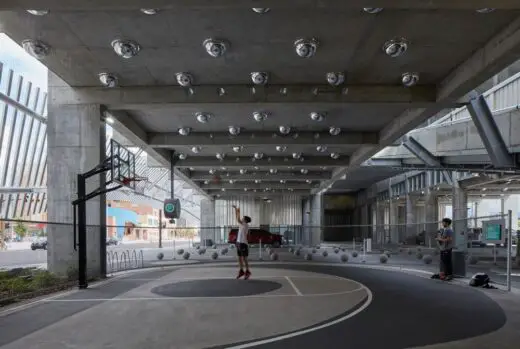 Halfway into the design process, the client solidified a partnership with Platform, an entrepreneurial hub for the city's burgeoning innovation community. This was the first test of the adaptable design – requiring conversion of the plan into an open and flexible office space that can be easily modified for use by individuals and small 9th Avenue Parkade + Innovation Centre, Calgary, Canada and large groups, and occupying the space on an hourly, daily, monthly, or yearly basis.
The design team proposed that Platform occupy the first two levels of the building to animate the street frontage. By suspending a light-framed vehicular ramp that cuts through the central courtyard, the vehicular circuit was removed from within the structure. The ramp also offers drivers an unexpected user experience. It can be easily removed later once and if vehicular access is no longer needed.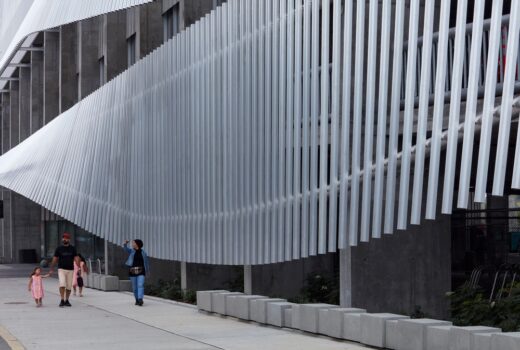 Inside, Platform is imagined as a space ripe with opportunities for work and collaborative potential. Its relatively raw and generic 4,500 square meters can be adapted and appropriated by tenants at will — even for light industrial use. The nexus connecting the two levels is a pitch stage that cuts through the second floor, connecting the principal entrance with both floors and encouraging both organized and impromptu meetings.
The space is designed to enable evolution over time. An 'Infrastructure Frame' hangs overhead but within reach, suspended from the ceiling to a datum at 2400mm above the floor, to facilitate easy connections and reconfigurations, thereby providing ultimate flexibility for any layout. Beneath the 'Infrastructure Frame' are generic pods that vary in openness — from fully open to closed. Users and staff can easily access power from overhead, and arrange the portable lights and mobile furniture to meet their individual or group requirements.
The succeeding six levels comprise 280,000 square feet of parking, with light-washed, pedestrian-forward routes, and elevated views in all directions. Clear, simple, and single-direction circulation is explained with distinctive wayfinding – created by the architects as an extension of the building design.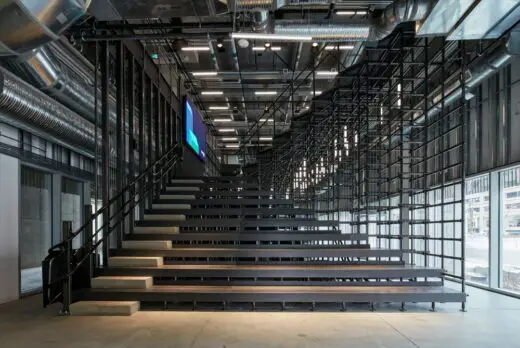 In its next life, the parkade can be converted partially or entirely, gradually or expeditiously, and to one or more uses. The shallow slope provides a 'flat' floor within acceptable tolerances for class B or C office or light industrial space. The imperceptibly shallow spiral creates an 'infinite' floor plate, allowing for great flexibility in the future. Residential conversions can be achieved with a surface topping material.
Beyond providing the necessary urban infrastructure to serve the city, as well as an overarching design intention to see the structure's use transform for the needs of the future, the design of the 9th Avenue Parkade and Innovation Centre contributes to the urban fabric of the City of Calgary in a distinct way. Engaging local photographers, car enthusiasts, and public appreciation within a key cultural neighbourhood, the project continues the district's reputation for strong design excellence.
Since the opening of the parkade portion of the project, its functional aesthetic has been making regular appearances as a defining backdrop for Calgarians. It actively contributes to the public realm and to the design conversation of our cities – that conventional typologies can evolve beyond the accepted standard to provide delightful, inspiring experiences and spaces. The success of the project is the result of a diverse design and client team demanding
more of the project brief and developing innovative, business-conscious solutions in order to integrate a long-term, iconic design into Calgary's urban identity.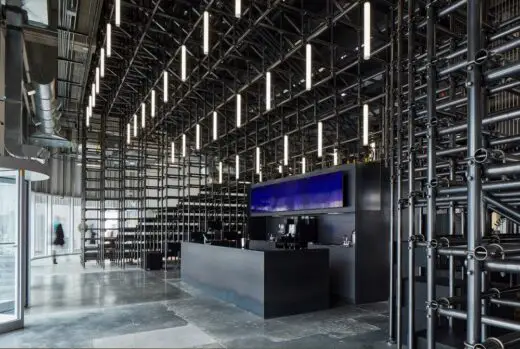 9th Avenue Parkade + Innovation Centre in Calgary, Canada – Building Information
Architect: 5468796 Architecture and Kasian Architecture, Interior Design and Planning
Location: Calgary, Alberta, Canada
Project Value: $80M
Project Size: 285,000 sqft Parkade + 50,000 sqft Innovation Centre
Project Completion: winter 2022
Kasian Team Leaders: Joanne Sparkes, Katherine Robinson
5468796 Team Leaders: Johanna Hurme, Sasa Radulovic
Client: Calgary Municipal Land Corporation and Calgary Parking Authority
Structural: Entuitive
Mechanical + Electrical: Smith + Andersen
Civil: Aplin Martin
Landscape Architect: Scatliff Miller Murray
Accessibility: Level Playing Field
Shroud: Heavy Industries
About 5468796 Architecture
5468796 Architecture is a Winnipeg-based, full-service architecture studio founded in 2007. The practice questions the status quo through new architectural
propositions and specializes in projects that require design innovation. 546 seeks projects that explore the potential for density, affordability, sustainability achieved through non-traditional means and a dynamic design approach.
For more information about 5468796 Architecture: http://www.5468796.ca/
About Kasian Architecture, Interior Design and Planning
We believe the power of design can create a better world. As architects, designers, and planners, we champion people and apply design solutions that improve lives and create a deeper connection between people and place. With an insatiable curiosity for the world, we leverage our in-between thinking to make the invisible visible.
We operate globally from our offices across Canada and partner with our clients who are visionaries, passionate and courageous ― together we achieve results that make a difference to entire communities.
For more information about Kasian Architecture, Interior Design and Planning: https://kasian.com/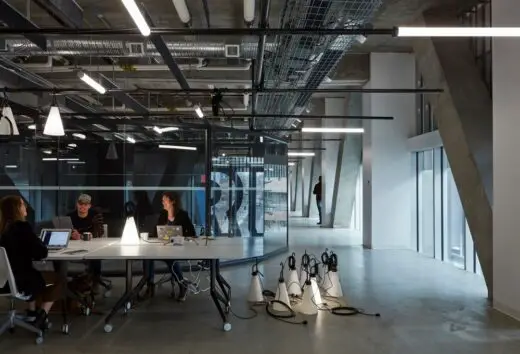 About Calgary Municipal Land Corporation
Calgary Municipal Land Corporation (CMLC) was incorporated in 2007 as a wholly owned subsidiary of the City of Calgary to implement and execute the Rivers District Community Revitalization Plan – a public infrastructure program approved by the City of Calgary and the Province of Alberta to kick-start Calgary's urban renewal.
Our success traces back to the fact that we deeply believe in the project. The Rivers District Revitalization Plan provides our city, province and country with an extraordinary asset that's helping to elevate Calgary's reputation as one of the world's best places to live, work and visit.
About Calgary Parking Authority
The Calgary Parking Authority fulfills the City of Calgary's parking mandates and implements the municipality's parking policies by managing on- and off-street public parking facilities, enforcement programs and providing parking advisory services. Their mission is to contribute to vibrant, safe and accessible communities by managing and administering parking resources. Today, the Calgary Parking Authority uses leading-edge technology to provide public parking on-street, in parkades and in surface parking lots.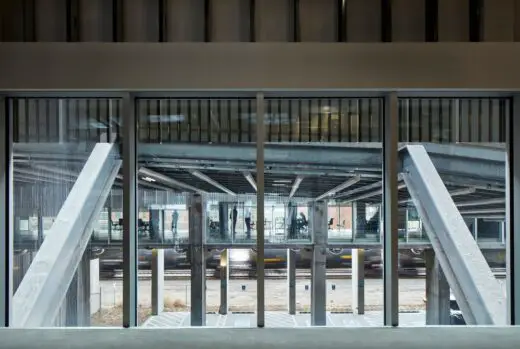 Photography Credit: James Brittain
Drawing / Diagram / Rendering Credit: 5468796 Architecture
9th Avenue Parkade + Innovation Centre, Canada images / information received 270622 from 5468796 Architecture in collaboration with Kasian Architecture, Interior Design, and Planning
Location: Calgary, Alberta, Canada, North America
Calgary Architecture
Contemporary Architecture in Calgary
New Central Library
Architects: Snøhetta and DIALOG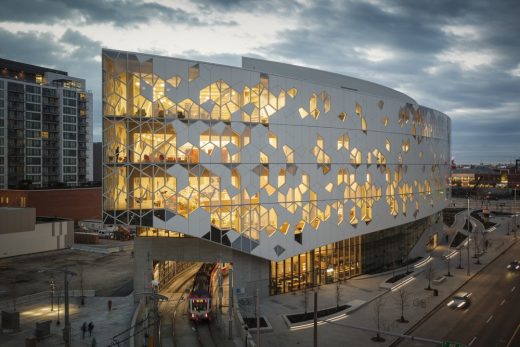 photography © Michael Grimm
New Central Library in Calgary
TELUS Sky Tower
Design: BIG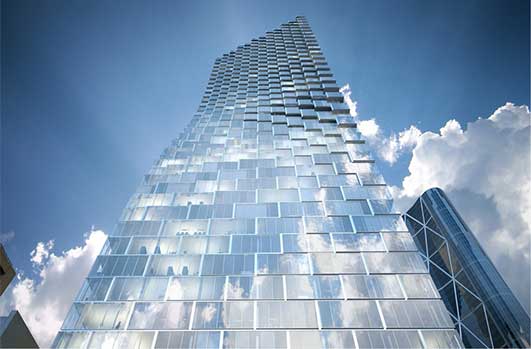 image from architect
TELUS Sky Tower
SODO Residences, 620 10 Avenue SW, Beltline District
Architects: IBI Group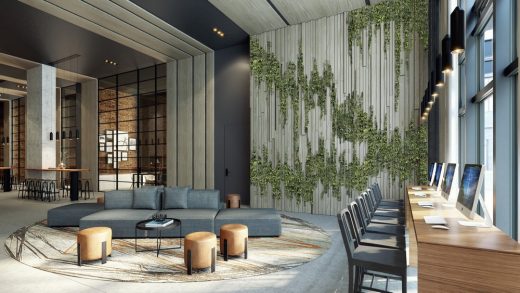 image courtesy of architects office
SODO Residences Calgary
Canadian Architecture
Contemporary Architecture in Canada
Canadian Architecture Design – chronological list
Absolute Towers, Mississauga, Canada
Tower Architectural Designs
Comments / photos for the 9th Avenue Parkade + Innovation Centre, Canada designed by 5468796 Architecture in collaboration with Kasian Architecture, Interior Design, and Planning page welcome