Zalando Headquarters Building Berlin, German Office, Shoes and Fashion Goods, Images
Zalando Headquarters Berlin-Friedrichshain
HQ Building Development Germany – design by HENN, architects
20 Sep 2016
Zalando Headquarters in Berlin-Friedrichshain
Location: Berlin, Germany
Design: HENN
Zalando Headquarters Berlin-Friedrichshain
English text (scroll down for German):
Ground-breaking ceremony for the new Zalando Headquarters building in Berlin
Berlin – September 2016: On September 6th 2016, the ground-breaking ceremony for Zalando's new headquarters in Berlin-Friedrichshain, adjacent to the Mercedes-Benz Arena, was held in the presence of David Schneider of Zalando Management Board, Berlin's governing mayor Michael Müller (SPD), building senator Andreas Geisel (SPD) and architect Gunter Henn.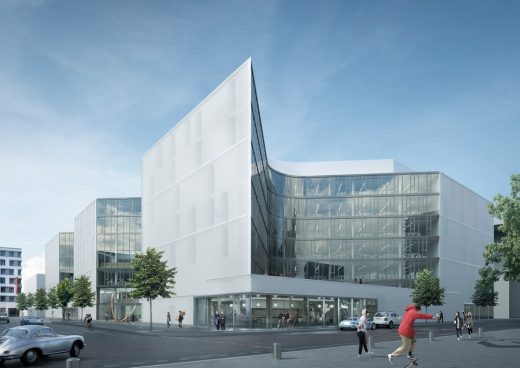 The plan envisages an ensemble consisting of two new buildings for Europe's largest online dealer in the footwear and fashion trade. As the result of an invited architecture competition, HENN won the assignment in 2015 with its distinctive design, in which Zalando's corporate identity will be manifested in the cityscape.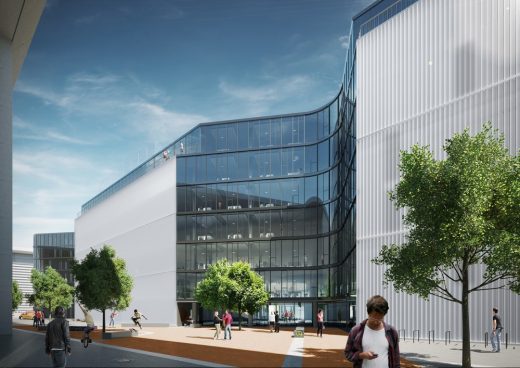 The building cubature reinterprets the typical Berlin block perimeter development, shifts its contours diagonally so that the inner courtyards are moved to the outer edges, creating naturally illuminated workspaces. The combination of transparent and translucent façades allows views from both the interior and the outside. The central "market place" makes the company and its identities perceptible – enabling exchange beyond the boundaries of individual fields of expertise.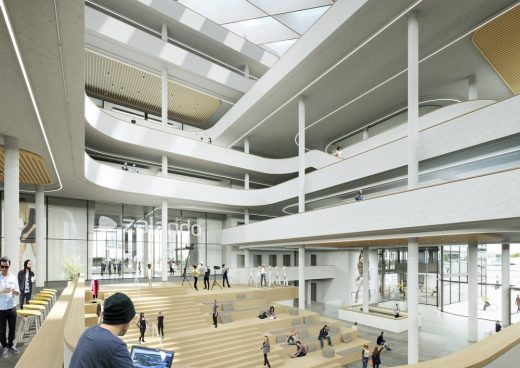 The foyer is flanked by a broad staircase with seating steps which merge into the showroom and can be used for events. Connected to this arrangement are an auditorium, conference and training rooms as well as a café and a canteen. The offices are organised in so-called "neighbourhoods" each of which offers rooms for concentration and interaction. Rooms for project work and social interaction are arranged centrally around the atrium with desks on the periphery for concentrated work.
The working areas can be flexibly adapted to changing team sizes. "Catwalks" connect all areas with each other both vertically and horizontally thereby facilitating informal meetings. The rooftop terrace can be used for sporting activities, conferences and festivities. In autumn 2018, Zalando Campus will be opened to mark the company's tenth anniversary.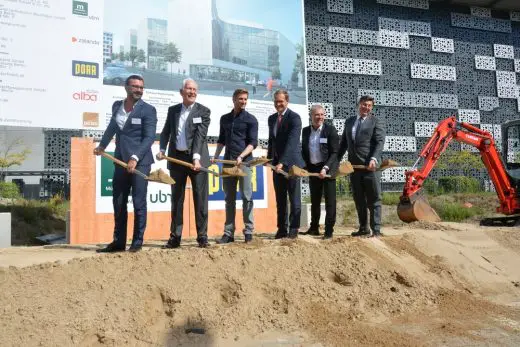 German text:
2018 der Zalando Campus eröffnet werden.
Spatenstich für Neubau des Zalando Hauptquartiers in Berlin
Berlin – September 2016: Am 6. September 2016 wurde im Beisein von Zalando-Vorstand David Schneider, Berlins Regierendem Bürgermeister Michael Müller (SPD), Bausenator Andreas Geisel (SPD) und Architekt Gunter Henn der Spatenstich für den Neubau des Zalando Hauptquartiers in Berlin-Friedrichshain neben der Mercedes-Benz-Arena gefeiert.
Geplant ist ein Ensemble aus zwei Neubauten für Europas größten Online-Anbieter im Schuh- und Modehandel. Mit ihrem markanten Entwurf, der die Unternehmensidentität von Zalando im Stadtbild in Erscheinung treten lässt, konnte sich HENN 2015 in einem eingeladenen Architekturwettbewerb durchsetzen.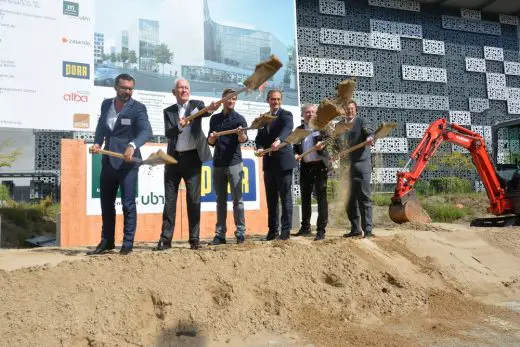 Die Gebäudekubatur interpretiert die typische Berliner Blockrandbebauung neu, verschiebt deren Raster diagonal und lässt so für natürlich belichtete Arbeitsflächen die Innenhöfe an die Außenkanten rücken. Die Kombination aus transparenten und transluzenten Fassaden gewährt Ein- und Ausblicke. Der vertikale "Marktplatz" macht das Unternehmen und seine Identitäten spürbar und ermöglicht den Austausch über die Grenzen der eigenen Disziplin hinaus.
Das Foyer wird von einer breiten Treppe mit Sitzstufen flankiert, die in den Showroom mündet und für Veranstaltungen genutzt werden. Auditorium, Konferenz- und Schulungsräume schließen sich neben einem Café und der Kantine daran an. Die Büros sind in sogenannte "Neighbourhoods" gegliedert. Jeder dieser Bereiche bietet Konzentrations- und Interaktionsräume. Räume für die Projektarbeit und den sozialen Austausch sind mittig um das Atrium platziert und Schreibtische für konzentriertes Arbeiten an der Peripherie. Die Arbeitsbereiche lassen sich flexibel an wechselnde Teamgrößen anpassen.
"Catwalks" verbinden alle Bereiche sowohl horizontal als auch vertikal miteinander und erleichtern so informelle Treffen. Auf der Dachterrasse wird sportliche Betätigung ermöglicht, können Konferenzen organisiert und Feste gefeiert werden. Zum zehnjährigen Firmenbestehen soll im Herbst.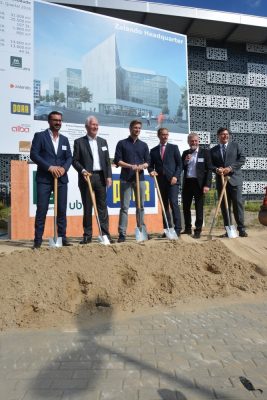 Zalando HQ Berlin-Friedrichshain – Building Information
Title: Zalando Headquarter – Campus A, Berlin
Bauherr / Client: Münchner Grund Immobilien Bauträger GmbH
Mieter / Hirer: Zalando SE
Architekt Gesamtplanung / architect: HENN – Berlin, München
Tragswerkplanung, Technische Gebäudeausrüstung / structural engineering, technical fitout: Happold Ingenieurbüro, Berlin
Landschaftsplanung / landscape architecture: Atelier Loidl Landschaftsarchitekten, Berlin
Innenarchitektur Konzept / Interior Concept: KINZO, Berlin
Bauphysik / building physics: Müller-BBM GmbH, Berlin
Fassadenplanung / facade planning: KFE Kucharzak Fassaden Engineering, Berlin
Fläche / building area: 37 908 m²
Planungszeitraum / planning time: 2015–16
Bauphase / construction periode: 2016-18
Wettbewerb / competition: 1. Preis/ 1st Prize
Arbeitsplätze / workplaces: bis zu 2.700 / up to 2.700
images © HENN
Zalando Headquarters in Berlin, Germany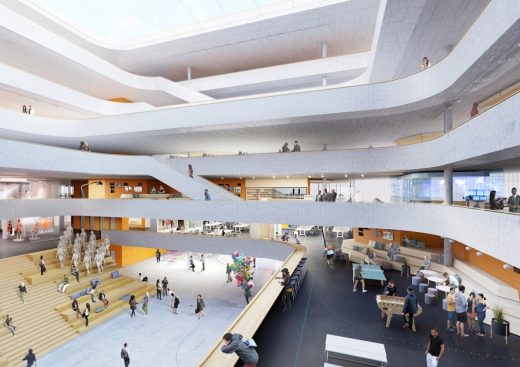 image from architects office
Zalando Headquarters Building – 17 Nov 2015
Location:Berlin-Friedrichshain, Germany '
Berlin Architecture
Berlin Architecture Walking Tours
Berlin Architecture Designs – chronological list
Buildings close by, to the south:
Potsdamerplatz Buildings



photo © Adrian Welch
Debis Building



photo © Adrian Welch
Zalando Headquarters Berlin architects – HENN
Holocaust Memorial



photo © Adrian Welch
Comments / photos for the Zalando Headquarters Berlin Architecture page welcome
Zalando Headquarters Berlin Building
Website : Zalando