PGA Catalunya House, Contemporary Catalan Properties, Resort Homes Spain, Spanish Architecture
PGA Catalunya Villa : New Catalan Houses
Modern Spanish residential buildings – design by various architects
14 May 2013
La Selva Show Villa
Design: Studio RHE
Location: Catalonia, Spain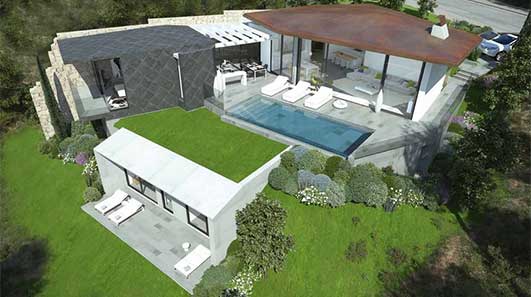 image from PGA Catalunya
Contemporary Catalan Property
Overlooking the perfected landscape of the PGA golf course we described a simple arced line in the landscape. This line of local Catalan stone creates a strong visual and structural anchor throughout the site for the contemporary house design, as sculpture in the landscape.
The stone wall is broken to provide framed views as glimpses of landscape perfection and merges the landscape with the building to create the illusion of living in the forest with views punctuated by the rich tree canopy.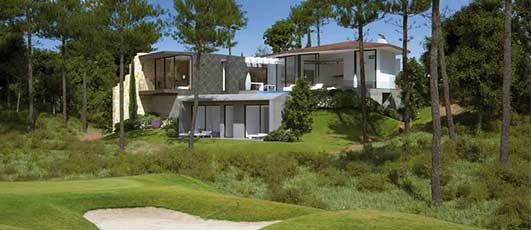 image from PGA Catalunya
As the wall descends the natural slope providing total privacy from the neighbouring houses and plateaux of space are created providing an elevated Reception area looking over the terrace and in!nity edge pool with the mountains beyond and appearing to be set among the tree canopy beyond, a pergola and vine covered private courtyard with green planted roofs minimises the building's scale and impact upon it's natural surroundings.
On arriving at the front door entrance the visitor is greeted with a rich view of this 'ancient' wall contrasting with bold modern form, and a dramatic double height space that is bridged with a unique and private journey to the master bedroom. This exclusive owners suite is arranged as a "ying structure, part of the house but separated and entirely private, with grandstand views of the scenery and course below.
This arrival sequence is part of the richly choreographed experiences that can be unveiled or left as secure and private for the residents only.
Alongside the local stone wall the building materials are all chosen for their local connections and ability to age with beauty, with very strong sustainable design credentials the house uses deep overhangs for shade, high thermal mass walls with heavily insulated enclosures and carefully designed natural ventilation for cooling the house. Warmth is maintained by high performance double glazing capturing low winter sunshine, natural !res, solar panels and under"oor heating.
Rain water is collected, and grey water recirculated for reuse wherever possible, low- energy lighting and low- energy white goods.
The house is designed to be a part of the landscape and to create a special relationship with it's spectacular surroundings, maximising the enjoyment of this special place.
La Selva Show Villa images / information from PGA Catalunya
PGA Catalunya House architect : Studio RHE
Previously:
7 Dec 2011
PGA Catalunya Property
PGA Catalunya Completes its Third Show Property for 2011; the Semi-Detached Villa
PGA Catalunya is proud to announce the completion of its third show property this year with the unveiling of the spectacular semi-detached villa. Designed by prestigious Catalan architects Damian and Francisco Ribas this property is situated in a private garden enclave surrounded by mature natural woodland and views to the surrounding Montseny Mountains.
Latest PGA Catalunya Villa:





images from PGA Catalunya
In line with what has been a very successful year for PGA Catalunya, this property sold almost immediately when released to the market in the first quarter of 2011. Irish investor Joe Thomas explains why he immediately fell in love with this special home "I purchased a semi-detached villa because of its location and quality of build; the straight lines, the roominess, the open atrium between the two floors were all aspects of the home that appealed to me." Joe was also attracted by the resort's location "As…an avid sun worshipper, golfer, skier and football mad the location ticks all the boxes…ideally placed on a golf course, close to the coast, mountains and town of Girona and very close to the wonderful city of Barcelona".
Barcelona based architects Damian and Francisco Ribas who have been involved in the PGA Catalunya project since 1999 and have already designed the popular golf clubhouse, have taken great pride in creating the development's first semi-detached property.
Latest PGA Catalunya Villa:




images from PGA Catalunya
Damian Ribas explains how he was careful to ensure that the architecture seamlessly complements its beautiful surroundings. 'Part of the joy of PGA Catalunya is the beauty of its spectacular surroudings from the carefully manicured 300 hectares of estate grounds to the majestic Pyrenees mountains that lie beyond. Our architecture strives to incorporate these beautiful environs into the living areas with wall to wall sliding glass doors, expansive terraces, private gardens and double height vaulted ceilings. As such this home is inspired by the region and its traditions whilst still maintaining a 21st century feel'.
With 14 sales confirmed, 8 reservations in place and 15 contracts currently under negotiation PGA Catalunya has had a strong year in terms of sales. The resort has also recently been named as both a Top 100 Golf Course and a Top 100 Worldwide Course by Golf World and has just welcomed new Chief Executive Officer Julio Delgado to spearhead the estate's next phase of growth.
PGA Catalunya Villa images / information received 071211
15 Aug 2011
PGA Catalunya Home
Architects discuss PGA Catalunya Villa Design
PGA Catalunya Villa : interview with Irish architects de Blacam and Meagher – external link
Blacam & Meagher show villa:



image from PGA Catalunya
PGA Catalunya homes have been named after the architects that designed them.
25 Jul 2011
PGA Catalunya House
PGA Catalunya Unveils Two Beautiful Show Homes and Announces Impressive Sales to Date
PGA Catalunya Villas – two show homes, designed by two architect studios, Lagula Arquitectes SLP (Barcelona) and de Blacam & Meagher (Dublin).
Lagula show villa:





images from PGA Catalunya
25th July 2011: PGA Catalunya is proud to announce that its two spectacular showhomes; Lagula and de Blacam & Meagher are now officially open and ready for inspection. The homes, located in the La Vinya and La Selva neighbourhoods of the resort, have been named after the architects that designed them and are spectacular examples of what is to come at PGA Catalunya.
Investment Director Richard Strappe explains "The launch of these homes provides us with the opportunity to showcase life at PGA Catalunya and to demonstrate the calibre of the real estate and the community that we are creating. Lagula and de Blacam & Meagher are perfect examples of the homes that owners at PGA Catalunya will be able to create following consultation with their chosen architects".
Each home has been fitted to a very high specification with minimalist furniture and the most luxurious materials. The 300sqm de Blacam & Meagher property offers a secluded pool, specially designed outside kitchen, integrated external speakers and an authentic al fresco barbeque oven. Lagula meanwhile covers 455sqm and features an expansive glass facade overlooking glimpses of perfectly manicured fairway and the home's large private decking and pool area. Sun loungers are partially submerged in the water whilst the owner's suite has a whirlpool bath and uninterrupted pool and garden views. Both homes will use solar energy for water heating.
Blacam & Meagher show villa:



image from PGA Catalunya
In terms of sales, 2011 has been an exciting year for PGA Catalunya so far. There have already been 14 confirmed sales for the year-to-date and PGA Catalunya is currently negotiating the closing of an additional 20. PGA Catalunya is very excited to report this pipeline of 34 sales so early in the year. Buyers are originating from a variety of different markets including the UK, the Netherlands, Germany, France, Switzerland, Scandinavia and the local Catalan market. With the planned high speed rail link between Barcelona and Figueres due to open next year and a guaranteed €1.25 exchange rate on the sale of all plots until September 2011, now is the perfect time to invest at PGA Catalunya.
PGA Catalunya is a luxury resort spread over 300 hectares of countryside and around two world-class golf courses including The Stadium Course which is currently ranked 2nd in Spain. PGA Catalunya comprises elite leisure facilities and a select number of villa plots, stylish modern townhouses and apartments for sale. A consciously low-density development, each property is set within an average of 1.4 hectares enjoying views over sprawling fairways, mature forests and beyond to the Pyrenees mountains.
PGA Catalunya Villa Prices
Lagula Show Villa: €2.2m
de Blacam & Meagher Show Villa: €1.4 m
Golf-front plots start at €380,000
Turnkey villa opportunities starting at €950,000
Golf Retreat Apartments, available from €325,000
Dynamic townhouses available from €625,000
PGA Catalunya Location
Crta. Nacional II, Km 701, Caldes de Malavella, 17455, Spain
PGA Catalunya Websites: www.lifeatpga.com / www.pgacatalunya.com
PGA Catalunya Villa : interview with Lagula Arquitectes – external link
Location:Crta. Nacional II, Km 701, Caldes de Malavella, 17455, Spain
Barcelona Architecture Walking Tours
Recent Barcelona House Designs
Casa, Les Franqueses del Vallés
CPVA Arquitectes



picture : Simon Garcia
Les Franqueses del Vallés house
Casa M
RTA-Office



picture from architects
Casa M Barcelona
Barcelona Houses
Barcelona house interior
marià castelló, arquitecte



image from architect
Barcelona house interior
Casa 101, Mollet del Vallès, Catalunya
H ARQUITECTES


photo : Starp Estudi
Catalonian house
Comments / photos for the PGA Catalunya Houses page welcome
PGA Catalunya Villas – Catalan Property – page
Website: Architecture Walking Tours – city walks