1000m2 of desire. Architecture and sexuality Centre de Cultura Contemporania de Barcelona, CCCB Show
1000m2 of desire. Architecture & sexuality
Exhibition at Barcelona Centre of Contemporary Culture – CCCB, Catalonia, Spain
14 Oct 2016
1000m2 of desire. Architecture and sexuality Exhibition in Barcelona
Curated: architect Adélaïde de Caters and the CCCB's head of exhibitions la Rosa Ferré
Venue: CCCB
Dates: 26th October 2016 – 19th March 2017
Bubble House. Design Studio Chrysalis. Playboy magazine, April 1972: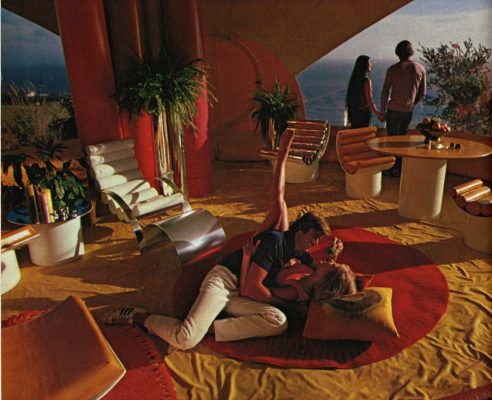 photo © Richard Fish
1000m2 of desire. Architecture and sexuality at CCCB
Centre de Cultura Contemporània de Barcelona – 26/10/16 to 19/03/17
Press conference: Tuesday, 25th October at 11am
Opening: Tuesday, 25th October at 7.30pm
The exhibition looks at the way Western society has planned, built and imagined spaces for sex from the 18th century to the present day.
With some 250 exhibits, including drawings and architectural models, art installations, audiovisuals, books and other materials, the exhibition explores the power of spaces as the driving force of desire and shows how architecture has been a tool that controls behaviour and creates gender stereotypes in our patriarchal society.
It presents some of the projects that have subverted traditional models and advocated utopias of sexual cohabitation, or private spaces designed solely for pleasure. It looks afresh at the proposals of Claude-Nicolas Ledoux, Charles Fourier, De Sade and Guy Debord, the radical architecture of the 1960s and 1970s, Carlo Mollino, Adolf Loos, Nicolas Schöffer, Wilhelm Reich, Playboy architecture and works by contemporary architects and artists.
Many people refer to today's sexual freedom as sexual liberalisation. At a time when our daily lives are monitored by production and consumption, which spaces are reserved for pleasure today?
#expodesig
Playboy Bed: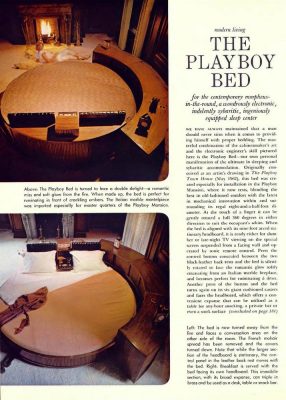 photo : Playboy Magazine, april 1965
"1000m2 of desire. Architecture and sexuality" curated by the architect Adélaïde de Caters and the CCCB's head of exhibitions la Rosa Ferré, will be at the CCCB from 26th October 2016 to 19th March 2017. It underpins the need to reappraise, for contemporary times, the validity and interest of some of the radical, speculative projects that seem to speak directly to us today, even though some of them date back more than 200 years.
Drawings and architectural models, artworks, installations, films and documentaries, books and other materials invite us to consider how sexualities are constructed in accordance with specific cultural codes subject to norms that govern bodies and discourses, and the nature of the space of desire and pleasure in our society.
The exhibition highlights the way certain forms of resistance to established norms have largely originated from informal architecture and the appropriation of places. It shows how architectural practice has been dominated by men until very recently and, as a result, spaces designed for pleasure have been imagined from male desires and fantasies. Architecture as the physical design of a space and setting makes up a substantial part of our fantasies. Many of the exhibits have never been created before and are constructed through language or the projected image.
The exhibition is divided into three thematic sections: Sexual utopias, Libertine refuges and Sexographs and includes several independent spaces that act as 'mini exhibitions' each one curated by different specialists: a recreation of Nicolas Schöffer's Centre for Sexual Leisure (Eléonore de Lanvandeyra Schöffer and Guillaume Richard), a reading room containing libertine novels (Marie-Françoise Quignard), an installation dedicated to Playboy magazine and its architecture (Beatriz Colomina and Pep Avilés) and an archetypal 1970s cinema (Esther Fernández).
It also presents William Kentridge's new installation Right Into Her Arms, which the South African artist created for his production of Alban Berg's Lulu.
Colour drawing of section of the Panopticon or Inspection House, 1794-95, Jeremy Bentham: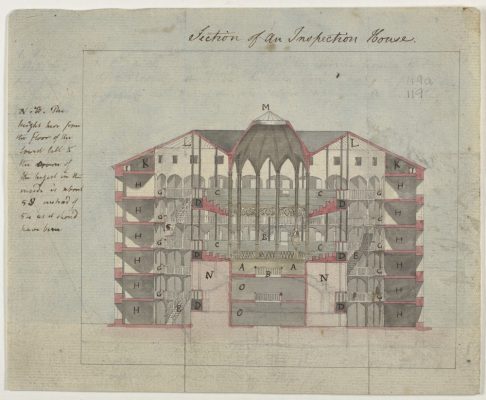 photo © Bentham Papers, UCL Library Services, Special Collections
Curators: Adélaïde de Caters and Rosa Ferré
Advisors: Beatriz Colomina, Esther Fernández and Marie-Françoise Quignard
Exhibition design: stage designer Sabine Theunissen
Catalogue with texts by: Adélaïde de Caters, Beatriz Colomina, Pol Esteve, Esther Fernández, Fulvio Ferrari, Rosa Ferré, Marie-Françoise Quignard, Rem Koolhaas / Ingo Niermann
The exhibition has received loans from prestigious international institutions, including FracTurbulence Orleans, the MoMA Architecture Department New York, the Bibliothèque Nationale de France (BNF) and the Biblioteca Nacional de España (BNE). And from the collections of the architects who have taken part in the project and given generously of their time.
L'Appel, 1944, Paul Delvaux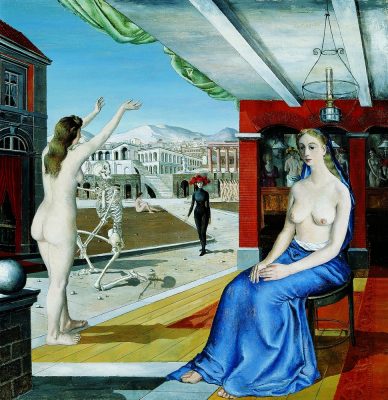 photo : Colección Telefónica © Fernando Maquieira
EXHIBITION SECTIONS
The exhibition is divided into three thematic sections:
1) SEXUAL UTOPIAS (18TH-20TH CENTURIES)
The exhibition begins with some of the speculative projects by architects, thinkers, artists and communities who have sought to have an impact on sexual behaviour by monitoring spaces.
It examines the sexual utopias of the 18th century such as the temple of pleasure, the Oikema, imagined by the architect Claude-Nicolas Ledoux; the Parthenions, which Restif de la Bretonne organised according to detailed rules in his treatise on prostitution, Le Pornographe; and Charles Fourier's settings for erotic and gastronomic orgies. Fourier's proposal reveals an imagination, a radicalism and extreme relevance with the phalanstery as the engine of a utopian community governed solely by its inhabitants' desires.
The exhibition also features one of the Marquis de Sade's cabinets which reveals how he constructed his narrative utopia of excess through his passion for architecture and the performing arts.
Reformist or subversive, these sexual architectures of the 18th and early 19th centuries are contrasted and establish a certain continuity with more contemporary utopias from the modus vivendi of hippy communities to the radical architecture of the 20th century: Ettore Sottsass, the Archigram and Superstudio groups, Rem Koolhaas/OMA, Haus-Rucker- Co and Ricardo Bofill's Taller de Arquitectura.
The exhibition also seeks to put the spotlight on the visionary work of Nicolas Schöffer who was closely associated with the Situationists and part of the French radical architecture movement in the 1960s. He designed a utopian city, the Ville Cybernétique (1955 -1969) which contained its own Centre for Sexual Leisure. A vast installation recreates this space made up of volts, dancing cybernetic sculptures and perfume.
Devalle House, 1939-1940, Carlo Mollino: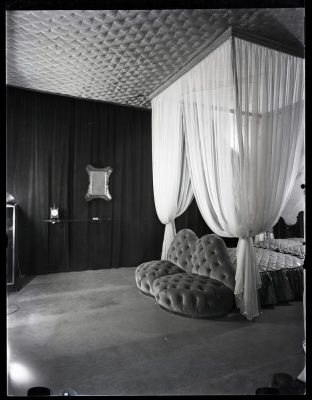 photo : Politecnico di Torino, Sezione Archivi della Biblioteca "Roberto Gabetti" © Fondo Carlo Mollino
2) LIBERTINE REFUGES (18TH-20TH CENTURIES)
This section explores the power wielded by spaces as driving forces of desire and analyses the nature of private realms conceived entirely as settings for pleasure, from the French aristocracy's petites maisons of the 18th century, with their rooms, décor, and specialist furnishings, to the bachelor pads suggested by Playboy magazine. It shows the role of architecture as a sensorial experience in seduction strategies and how sophistication in the design of constructional and mechanical devices can fire the erotic imagination.
Architecture and storytelling worked osmotically during the 18th century in a game of mutual fascination. The exhibition presents the architecture of two iconic novels in this regard, La Petite Maison (1758) by Jean-François de Bastide and Point de Lendemain (1777) by Vivant Denon.
The reading room containing libertine novels is presented in this section of the exhibition.
Devised by the specialist Marie-Françoise Quignard, it features novels by Nerciat, Crébillon, Servigné, Choderlos de Laclos and De Sade, among others. The libertine novel, related to the materialistic philosophy of the day, has a single objective: to celebrate desire and the enjoyment of the body. Entering the libertine's chamber is like entering an imaginary world where the characters are subjected to all the fantasies of desire. It is also like stepping into the atmosphere of enclosed places: into boudoirs, convent cells or brothels where we follow the narrator, the clandestine observer, while the story unfolds.
The exhibition devotes a whole section to Playboy, curated by Beatriz Colomina. The magazine defined a new identity for men that included how they should dress, what they should listen to, drink and read, as well as the environment they ought to live in as well as the furnishings and interior décor. From Frank Lloyd Wright to Mies van der Rohe and including John Lautner and Ant Farm, alongside designs by the Eames, George Nelson, Eero Saarinen and Harry Bertoia, architecture and design are presented as tools capable of altering a code of conduct. As a media machine that had an enormous impact by treating women and buildings as objects of fantasy and desire, Playboy made a significant contribution to the transformation of 'intimacy' into a public spectacle.
This section reproduces Hugh Hefner's legendary bed (in contrast to the traditional double bed invented in the 18th century which remains the dominant setting for our lives today). According to another of the leading specialists in the Playboy phenomenon, Beatriz Preciado: "The round, revolving bed, connected to a radio-cum-phone-cum-hi-fi system, was used as a place for orgies as well as an office for Hefner who ran his business for years in his pyjamas and without leaving the house. The bed has become a true multimedia platform, the direct predecessor of our laptop computer and a media extension of our libido, as well as a new centre of production and consumption."
The exhibition also reveals that the architecture of the Modern Movement is a project based on masculinity, which underplays its erotic dimension. Beatriz Colomina sums it up by saying "women are the ghosts of modern architecture". Adolf Loos designed a bedroom for his wife, Lina, as if it were a fur-lined case and dreamt up a Parisian house for Joséphine Baker.
The exhibition also presents the enigmatic and sensualised home interiors designed by Carlo Mollino, and, as a counterpoint to these intimate spaces, the home of Rudolph Schindler in California, which features an experimental programme for two couples living together, with outdoor beds/sleeping baskets.
The fall of Babylon (about 1950, reissue of a 19th century engraving), Anonymous: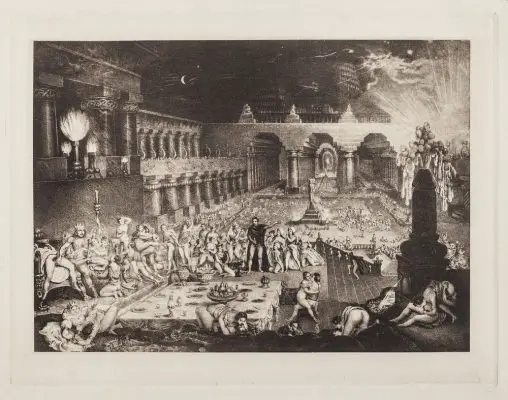 photo : Collection Mony Vibescu © Gilles Berquet
3) SEXOGRAPHS (20TH-21ST CENTURIES)
Following in the wake of Guy Debord's Situationism, the exhibition presents a number of maps of contemporary passions through pieces by architects and artists (such as Bernard Tschumi, ecoLogicStudio (Claudia Pasquero and Marco Poletto), Jean-Didier Bergilez, Danli Wang, Pol Esteve, Marc Navarro and Ania Soliman). It reveals how public spaces are coded, among them parks, streets and public toilets. The exhibits in this section include two impressive series of photographs, The Valley by Larry Sultan and The Park by Kohei Yoshiyuki.
The screening room was one of the spaces transformed by the discourses of the sexual revolution of the late 1960s. It was a space that embraced an increasing sexualisation until the advent of the first legalised films.
In the United States of America in the 1970s spaces opened up for the consumption of this medium to the female gaze and envisaged an experience of collective viewing that continued until the mid-1980s, when video technology moved it into people's homes. The exhibition features an archetypal cinema of the 1970s, where clips from legendary films will be shown, curated by Esther Fernández. We will see how these venues are all highly ritualised social systems.
They are domains in which initiation and transgression act as the driving force of desire: a particular type of lighting, smells and music are part of this informal architecture. They are designed for and, at the same time, govern particular practices. They are all spaces of representation that reflect group mythologies.
But what are the spaces lie today? Undoubtedly cyberspace, with internet sites and encounters apps for every taste, is growing in importance. Now that we are fully steeped in the technological utopia, artists, such as Yann Mihn, are engaged in a search for telepathic ecstasy. Mihn is working on the prototype of a machine that will enable total immersion in virtual reality and stimulation.
In Hacer el amor en abstracto: la arquitectura de la cultura de baile, the architect and artist Pol Esteve examines the spatial experience of discotheques and raves and the way in which a combination of technologies such as stroboscopic lights, music and drugs can produce orgasmic effects and a displaced sexuality.
Ingo Niermann proposes a community of volunteers with his platform of an army of love, thearmyoflove.net, who will create situations and spaces of satisfaction for those who are "usually excluded", people with physical problems or with a body that does not match conventions of attractiveness.
Desire in the 21st century is the desire of others expressed through recognition and in the competition for representation. From the selfie to Instagram, we are compelled to look happy; the internet makes the laborious construction of the image of our private lives compulsory.
Do images on the web represent or replace relationships by sublimating them? Is the hypersexualisation of society, as it is represented by the media, substituting actual sexual life? Society seems to have plunged into a narcissistic depression in which the internet functions as a masturbatory machine. In the Western context, in which permissiveness is no longer transgression but the norm, what role does space play in reviving transgressive eroticism, in re-eroticising society?
This project explores the interstices of freedom in certain non-normative spaces for desire, such as the queer movement, and the way these constitute revolutionary resistance to commodified scenarios and to the control of increasingly all-encompassing social structures.
Atti Fondamentali. Amore: la Macchina innamoratrice, 1971 – 1973: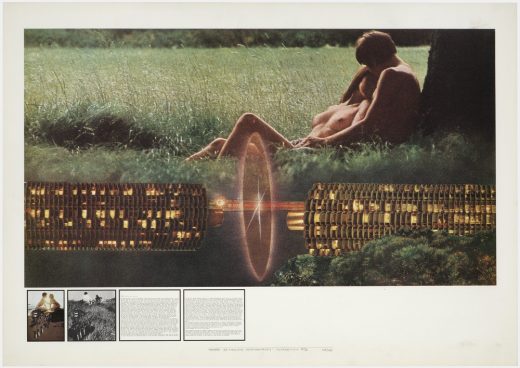 photo : Archivio Superstudio © Superstudio
1000m2 of desire. Architecture and sexuality images / information received from Centre de Cultura Contemporania de Barcelona, CCCB
Location: Centre de Cultura Contemporania de Barcelona, Barcelona, Spain
Barcelona Architecture
Barcelona Architectural Designs – chronological list
Barcelona Architecture Walking Tours
Centre de Cultura Contemporania de Barcelona [CCCB]
Pinon, Viaplana, Mercade, Architects
Centre de Cultura Contemporania de Barcelona
Barcelona buildings near Centre de Cultura Contemporania de Barcelona [CCCB]
Barcelona Museum of Contemporary Art, Plaça des Angels, Ciutat Vella
Richard Meier & Partners, Architects; Associate Architect – F.J. Ramos i Associats
Museum Contemporary Art
Blanquerna Url, Faculty of Information Science, Ciutat Vella
Freixas, Miranda, Bou, Gonzalez / Various Architects
Blanquerna url Barcelona
Photos © Adrian Welch / isabelle lomholt
Barcelona Museum of Contemporary Art
Guest pavilion 1401, Sa Tuna, Begur, Catalunya
Design: Nordest Arquitectura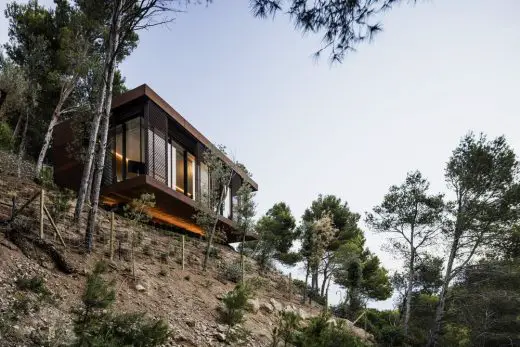 photo : Adrià Goula
House in Sa Tuna, Begur
Cheriff Restaurant, Barceloneta
Interior Design: Mesura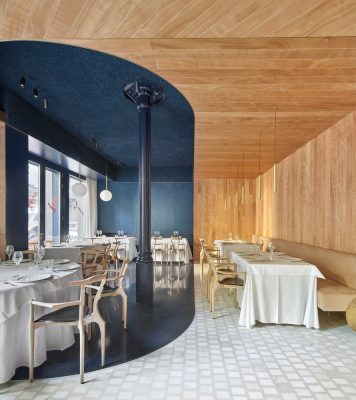 photo : Jose Hevia
Cheriff Restaurant Interior in Barceloneta
Comments / photos for the 1000m2 of desire. Architecture and sexuality at Centre de Culture Contemporania de Barcelona – CCCB page welcome