2022 Stephen Lawrence Prize Shortlist, Architecture, UK Low Cost Buildings, RIBA Award News
Stephen Lawrence Prize 2022 Shortlist
Royal Institute of British Architects (RIBA) Award for projects with construction budget of less than £1 million
22 + 21 July 2022
The Royal Institute of British Architects (RIBA) has today (Thursday 21 July) announced the shortlist for the Stephen Lawrence Prize 2022.
The prize was established in 1998 in memory of Stephen Lawrence, a teenager who was on the road to becoming an architect when he was tragically murdered in a racist attack in 1993. Founded and supported by the Marco Goldschmied Foundation, the prize is intended to encourage new architectural talent and award the best projects with a construction budget of less than £1 million.
The seven shortlisted projects are:
Hackney School of Food by Surman Weston (London)
A previously derelict school keeper's house and garage transformed into a community hub, where local children learn how to grow and cook food.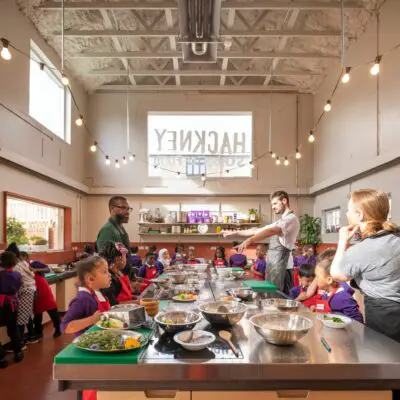 photo © Jim Stephenson
Leeds Footbridge by Gagarin Studio (Yorkshire)
A sculptural city-centre footbridge made from recyclable materials that also acts as a transfer structure for the district's heating network.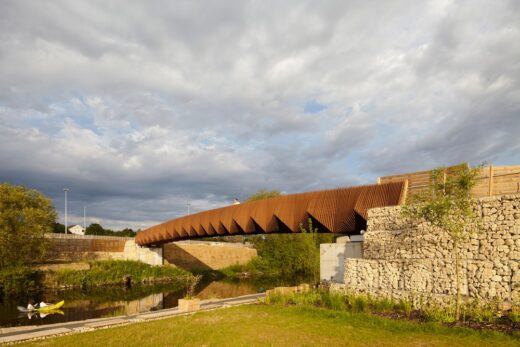 photo © Andrew Wall
Leeds Footbridge
Leyton House by McMahon Architecture (London)
A finely-detailed, contemporary four-storey home slotted onto a small corner plot in Waltham Forest.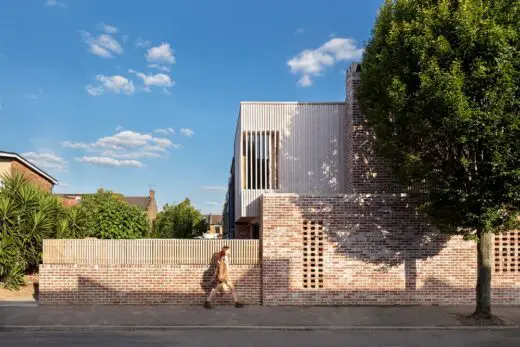 photo © Fernando Manoso
Peveril Gardens and Studios by Sanchez Benton Architects (London)
A Brutalist retrofit creating a public walled garden and studios that support the local arts community.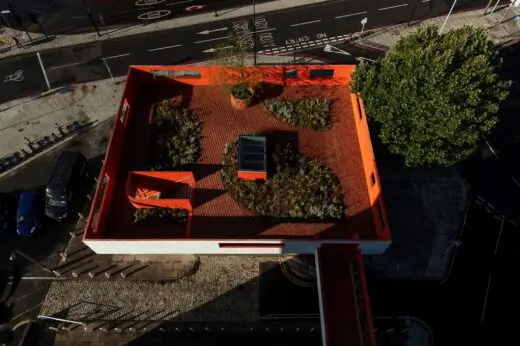 photo © Oskar Proctor
Peveril Gardens and Studios, London
Ravine House by Chiles Evans + Care Architects (East Midlands)
The painstaking restoration of a 1960s modernist house that experiments with sustainable technologies such as geothermal heating.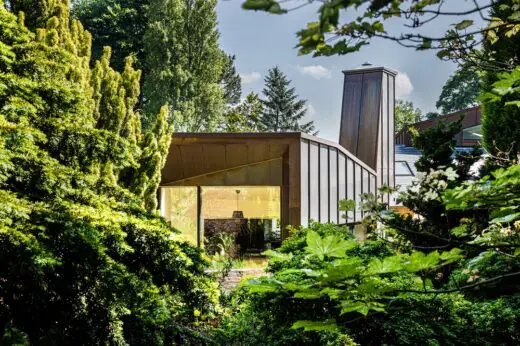 photo © Dug Wilder
Ravine House
Surbiton Springs by Surman Weston (London)
A contemporary A-Framed detached suburban house that takes inspiration from design ideas spanning the past 500 years.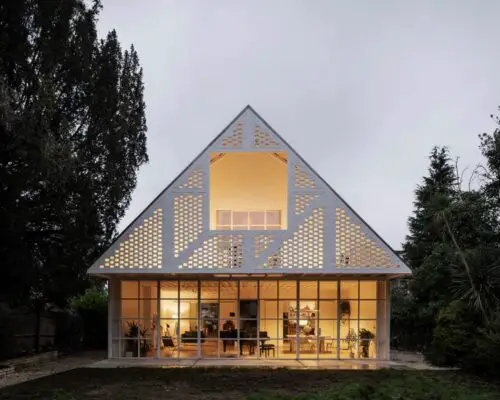 photo © Johan Dehlin
Surbiton Springs
The Parchment Works by Will Gamble Architects (East Midlands)
An extension to a Grade II listed Victorian house that incorporates the ruins of a historic parchment factory and cattle shed.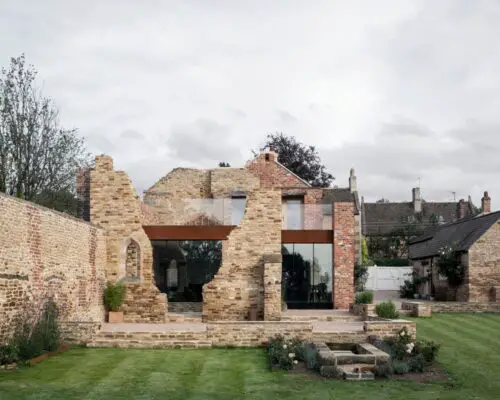 photo © Johan Dehlin
The Parchment Works
The 2022 Stephen Lawrence Prize jury comprised: Managing Trustee of the Marco Goldschmied Foundation Matthew Goldschmied (Chair); Baroness Lawrence of Clarendon Doreen Lawrence OBE; and winner of the 2021 Stephen Lawrence Prize and Director at Tonkin Liu Mike Tonkin.
Matthew Goldschmied said: 
"I am honoured to chair the Stephen Lawrence Prize jury in place of my father, Marco Goldschmied, who was sadly unable to participate this year, and has since passed away.
As a jury, we were seriously encouraged by the climate-conscious ethos that underpins so many of these small projects. From those that prioritise the re-use and adaptation of existing buildings and historic structures, to those that experiment with materials and technologies to meet low-carbon ambitions.
We were also delighted to select three projects that focus so heavily on fostering community: projects that create vibrant spaces and connections for both new and established communities and demonstrate the power of architecture to lift spirits and enhance lives.
My father launched this prize in 1998 with the intention of rewarding new architectural talent, and it has since evolved into a celebration of schemes that show the possibilities of innovative design on modest budgets. Before he passed away, I had a chance to discuss this year's shortlisted projects with him; he was smiling and nodding with great satisfaction throughout. He delighted in the selection process, the variety of design expression, the visits and the award night. Above all, he cherished the people alongside whom he founded the Stephen Lawrence Prize, and those who were embraced into its community.
I am confident he would be proud both of the emerging practices we see here, and the talent and ingenuity embodied in these seven truly unique schemes."
The winner of the Stephen Lawrence Prize 2022 will be announced at the RIBA Stirling Prize ceremony on Thursday 13 October at RIBA HQ, 66 Portland Place, London.
Stephen Lawrence Prize 2022 Shortlist buildings and architects information received from RIBA 210722
Previously on e-architect:
Stephen Lawrence Prize Winners
2019 RIBA Stephen Lawrence Prize Winner
Stephen Lawrence Prize 2021 Winner News
Cork House, Berkshire, Southern England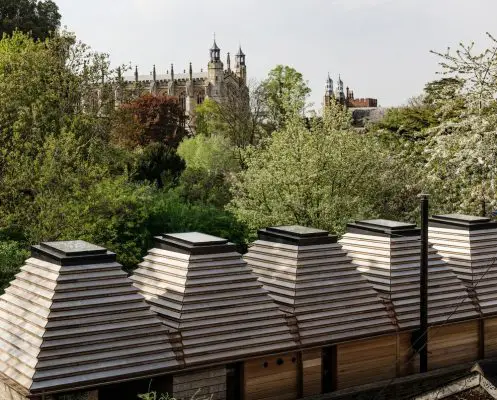 photo © Ricky Jones
2019 RIBA Stephen Lawrence Prize Winner
2018 RIBA Stephen Lawrence Prize Winner
2018 RIBA Stephen Lawrence Prize Shortlist
2017 RIBA Stephen Lawrence Prize Winner
The Houseboat, Poole Harbour, Dorset, Southern England
Design: Mole Architects and Rebecca Granger Architects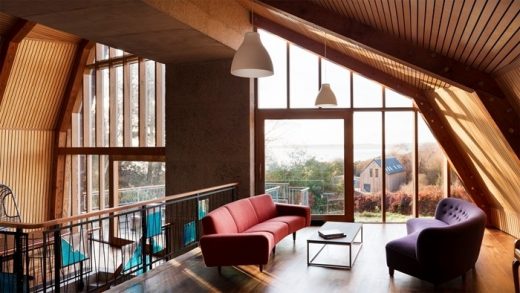 photo © Rory Gardiner
The Houseboat near Poole Harbour winner of Stephen Lawrence Prize 2017 – Stephen Lawrence Prize 2017 Shortlist
2016 RIBA Stephen Lawrence Prize Winner
House of Trace, London by Tsuruta Architects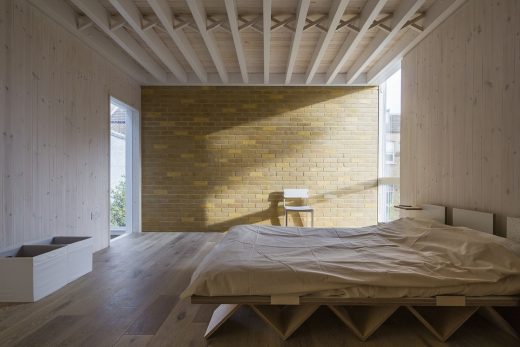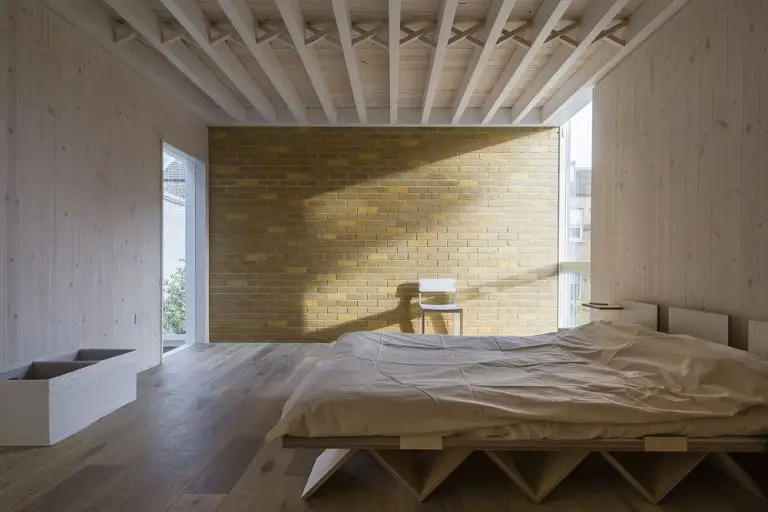 photo : Tim Croker
House of Trace – Stephen Lawrence Prize 2016 Shortlist
2014 Stephen Lawrence Prize Winner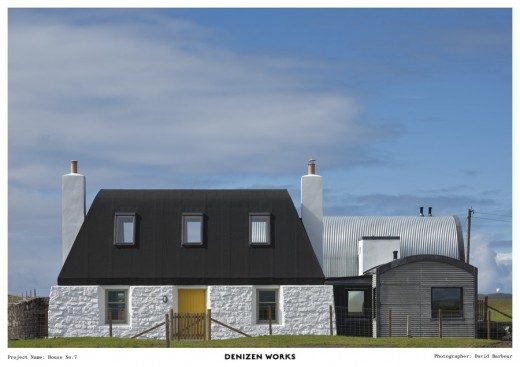 photo courtesy of RIBA
House no 7, Isle of Tiree
Stephen Lawrence Prize Winner in 2013
Montpelier Community Nursery, Brecknock Road, N19 by AYA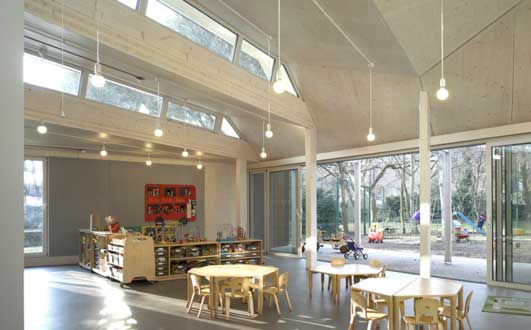 photo : Nick Kane
Stephen Lawrence Prize Winner 2012
Kings Grove London – Stephen Lawrence Prize 2012
Royal Institute of British Architects Awards
Stephen Lawrence Memorial Lecture
Comments / photos for the Stephen Lawrence Prize 2022 Winner page welcome
Website: RIBA Stephen Lawrence Prize