2019 Stephen Lawrence Prize Winner, Cork House Berkshire, Shortlist, Architecture, UK Low Cost Buildings, RIBA Award News
Stephen Lawrence Prize 2019 Winner
Royal Institute of British Architects (RIBA) Award for projects with construction budget of less than £1 million
9 Oct 2019
2019 Stephen Lawrence Prize Winner
Cork House wins Stephen Lawrence Prize 2019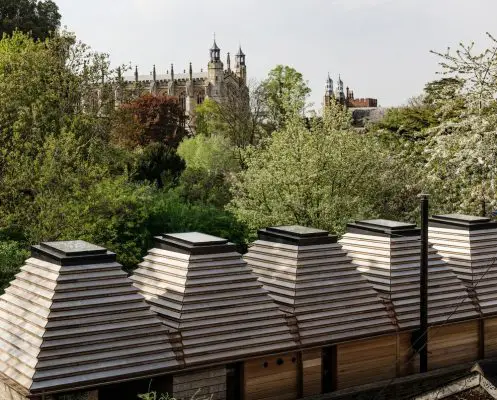 photo © Ricky Jones
The Royal Institute of British Architects (RIBA) has named Cork House, an ingenious carbon-neutral private house in Berkshire, made almost entirely from cork, as winner of the 2019 Stephen Lawrence Prize.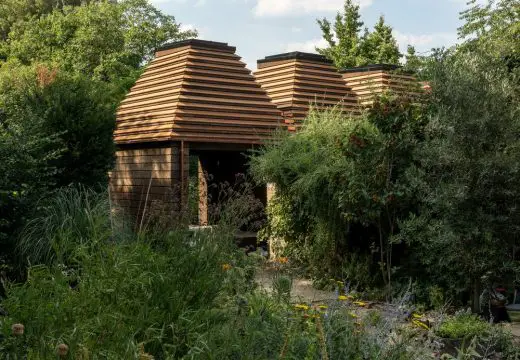 photo © Ricky Jones
Cork House, by Matthew Barnett Howland with Dido Milne and Oliver Wilton has solid structural cork walls and a cork roof. All the cork components simply slot together, without glue, enabling them to be easily disassembled, reused or recycled. Located in the grounds of a Grade II listed 19th century mill house, it beautifully reflects and respects its natural surroundings.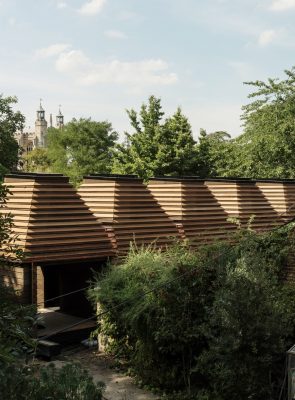 photo © Ricky Jones
The Stephen Lawrence Prize aims to encourage new, experimental architectural talent, celebrating and rewarding projects with a construction budget of less than £1 million. First awarded in 1998 in memory of Stephen Lawrence, who was taking steps to become an architect before his untimely death in 1993, the £5,000 Prize has been sponsored by the Marco Goldschmied Foundation since its inception.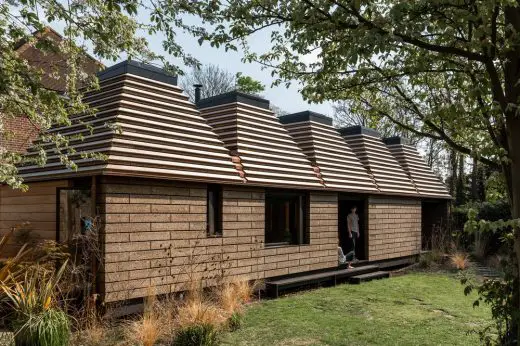 photo © Ricky Jones
Stephen Lawrence Prize founder Marco Goldschmied said:
"Cork House is a unique fusion of ancient construction methods and cutting-edge technical research to produce a highly innovative, low carbon solution with a wide variety of applications from mass housing to emergency shelters. We are delighted to present Matthew Barnett Howland, Dido Milne and Oliver Wilton with the Stephen Lawrence Prize 2019.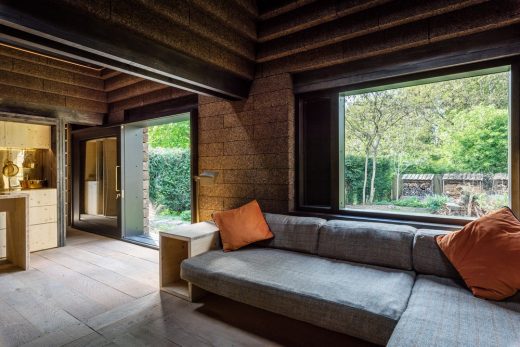 photo © Ricky Jones
In addition, the judges and I would also to give a special mention and £1,000 award to an ingenious and beautifully detailed family home on the site of a tumbledown double garage, Pocket House by Tikari Works."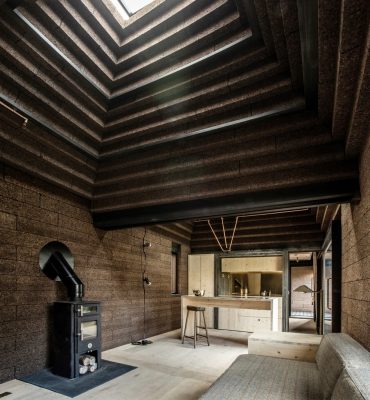 photo © Magnus Dennis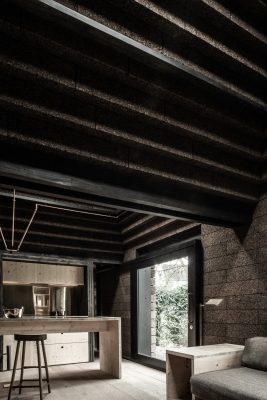 photo © Magnus Dennis
The judges for the 2019 Stephen Lawrence Prize were Baroness Lawrence of Clarendon, Doreen Lawrence OBE, the mother of Stephen Lawrence; Marco Goldschmied, RIBA Past President and Founder of the Marco Goldschmied Foundation, which established the Stephen Lawrence Prize in 1998, and Meredith Bowles, Tonkin Liu, who won the 2018 Stephen Lawrence Prize.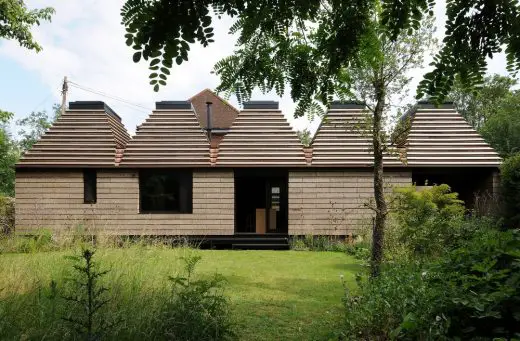 photo © David Grandorge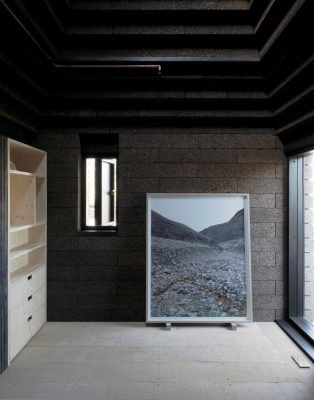 photo © David Grandorge
Previous winners of the Stephen Lawrence Prize include Old Shed New House by Tonkin Liu Architects (2018),The Houseboat by Mole Architects (2017), House of Trace by Tsuruta Architects (2016); The Fishing Hut by Niall McLaughlin Architects (2015); House No 7 by Denizen Works (2014); Montpelier Community Nursery by AY Architects (2013); Kings Grove by Duggan Morris Architects (2012); and St Patrick's Primary School Library and Music Room by Coffey Architects (2011).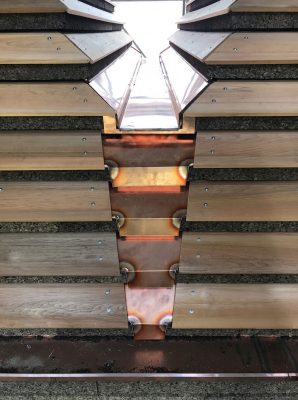 photo © Alex de Rijke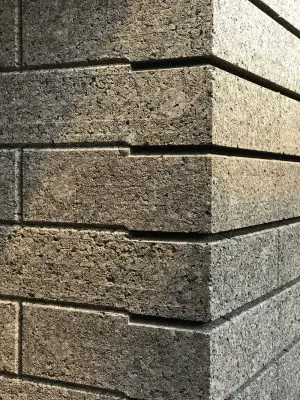 photo © Alex de Rijke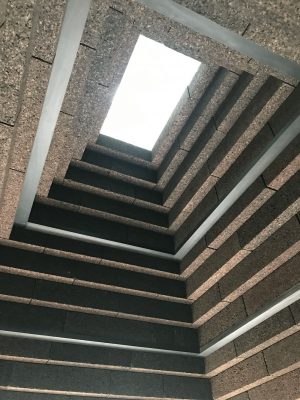 photo © Alex de Rijke
Photographer credits: © Ricky Jones, © Alex de Rijke, © Magnus Dennis, © David Grandorge
Stephen Lawrence Prize 2019 Winner information from RIBA
Stephen Lawrence Prize Winners
2017 RIBA Stephen Lawrence Prize Winner
The Houseboat, Poole Harbour, Dorset, Southern England
Design: Mole Architects and Rebecca Granger Architects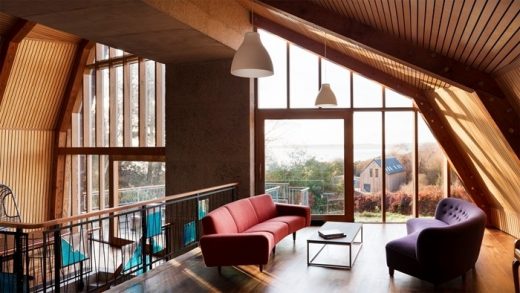 photo © Rory Gardiner
The Houseboat near Poole Harbour winner of Stephen Lawrence Prize 2017 – Stephen Lawrence Prize 2017 Shortlist
2016 RIBA Stephen Lawrence Prize Winner
House of Trace, London by Tsuruta Architects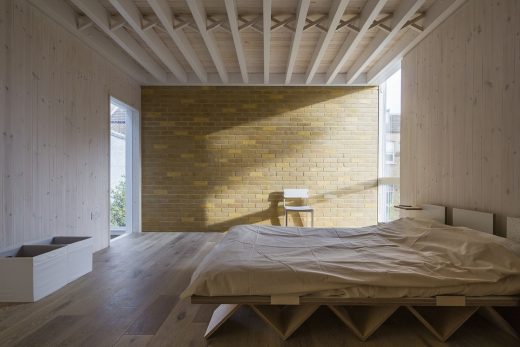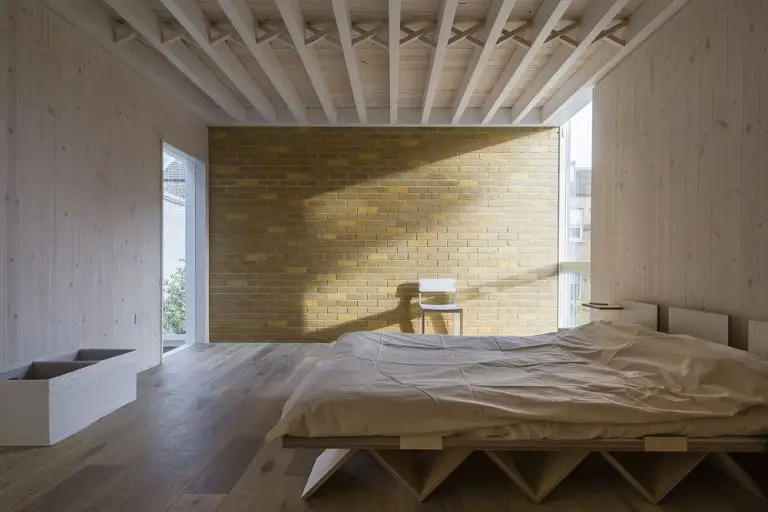 photo : Tim Croker
House of Trace – Stephen Lawrence Prize 2016 Shortlist
2014 Stephen Lawrence Prize Winner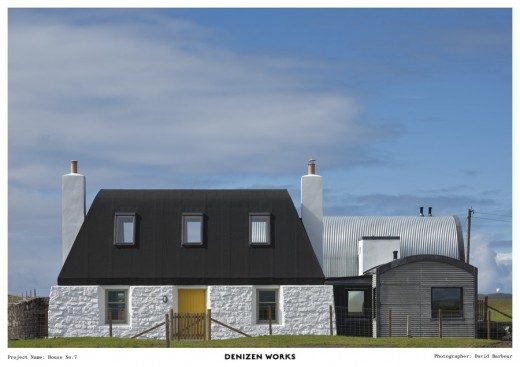 photo courtesy of RIBA
House no 7, Isle of Tiree
Stephen Lawrence Prize Winner in 2013
Montpelier Community Nursery, Brecknock Road, N19 by AYA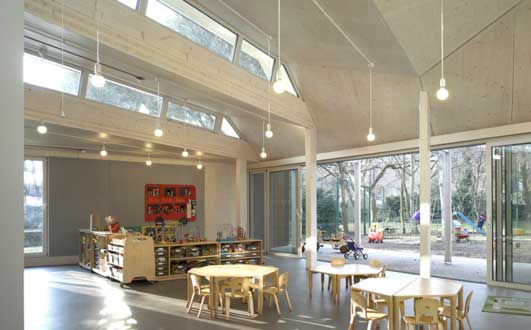 photo : Nick Kane
Stephen Lawrence Prize Winner 2012
Kings Grove London – Stephen Lawrence Prize 2012
Royal Institute of British Architects Awards
Stephen Lawrence Memorial Lecture
Comments / photos for the Stephen Lawrence Prize 2019 Winner page welcome
Website: RIBA Stephen Lawrence Prize