Civic Trust Awards Shortlist 2012, British Buildings Prize, Britain, News
Civic Trust Awards 2012 – Shortlisted Buildings
Architecture in England, Scotland, Wales & Northern Ireland
16 Jan 2012
Civic Trust Awards 2012 Shortlist
2012 Civic Trust Awards – Shortlist of Winners
1. Arc and The Apex, Bury St Edmunds, Suffolk, England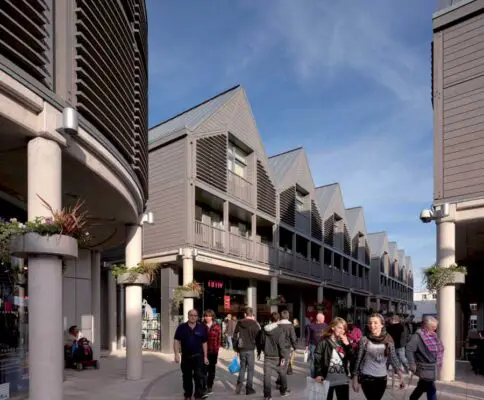 photo © Morley von Sternberg
The Arc shopping centre makes an outstanding civic contribution to the town both in terms of reinforcing its sense of place and giving it an economic boost that has extended to the areas beyond. The Apex is a very successful public building that accommodates a wide variety of performances and other activities and which contributes greatly to the civic life of the town.
2. Brockholes Visitor Centre, Preston, Lancashire, England



photo © Ioana Marinescu
This is a delightful building sitting within a piece of land, a former quarry, located between two motorways. It sits low in the landscape, and gives the impression of a building floating on a lake. you feel like you are in a small oasis.
3. Chelsea Academy, London



image © Tim Crocker
This building provides a very impressive solution to a tight urban site. The enthusiasm of the staff, users and local community for this a wonderful and inspiring building is evident.
4. Cockermouth Shopfront Heritage Grant Scheme, Cumbria, England



photo © Allerdale Borough Council
This project contributes in many ways to Cockermouth and the entire approach at individual and community level is highly commendable.
5. Corby Cube, Northamptonshire, England



photo : Hufton & Crow
This is a great public building combining several civic functions under one roof and a huge achievement for all concerned.
6. Crewe YMCA, Cheshire, England



photo © Alan Williams Photography
The redevelopment and extension of the existing building maintains and significantly improves the essential services provided by the YMCA to the local community.
7. Crown Woods College, Eltham, London



photo © Peter Durant
Neat, unassuming, the school is well set into its site and with a good track record of careful consultation on the design with all interested parties.
8. Forest Park Special School, Southampton, England



photo © Nigel Barker – HCC Property Services
A shining example of how, budgets allowing, a special school should be built.
9. Gosport Railway Station, Hampshire, England



photo © Re-Format – Nigel Rigden
This development has brought back into beneficial use an "at risk" heritage asset, the grade II* former Gosport Railway Station. It is a welcome new use for a very important part of Gosport's heritage.
10. H10 London Waterloo, London



photograph © Tim Crocker
The new H10 hotel is thoughtfully composed and architecturally distinguished with very good sustainability credentials.
11. Hackney Marshes Centre, London



image from architects
The building not only serves the local community but with its unique facilities is a national asset. It makes an outstanding contribution to the quality and appearance of the environment, demonstrates the best of architectural design, sustainability and inclusive design. It also makes a major contribution to the social, cultural and economic benefit to the community
12. Harpa Concert Hall, Iceland



photo : Nic Lehoux
This building bears within it a spirit one has to admire. A vibrant and inspiring focal point for the community with an internal architecture that is at once simple and complex.
13. Horsley Church 3 in 1, Gloucestershire, England



photo © Millar Howard Workshop
This project demonstrates how a good design team and an enlightened client can achieve so much within a tight budget.
14. Hospice Djursland, Denmark



photo © Adam Mork
A very well designed scheme, with admirable architecture which functions well and delivers a surprising range of pleasurable qualities for patients and staff alike.
15. Kendrew Quadrangle, Oxford, England



photo © Peter Durant
A beautifully crafted modern building added with such respect and sensitivity to its surrounding listed buildings and historic grounds.
16. Klong Toey Communty Lantern, Bangkok, Thailand



photo © TYIN tegnestue Architects
In an area deprived of public services a social scheme has emerged within the setting of a Bangkok slum. It offers space and opportunity to gather and engage. This small but important community project has sprung up to help tackle local issues providing a platform for shared activities such as sport, play, dramatic performance and public meetings.
17. Las Arenas, Barcelona, Spain



photo © Adrian Welch
The original building has undergone substantial repairs and has been sensitively restored. The design has renewed the existing building's relationship with its context and the wider city views with impressive results.
18. Lyric Theatre Belfast, Northern Ireland



photo : Dennis Gilbert/VIEW
This is an exemplary project demonstrates best practice of how to commission, design and construct a major new public building into a confined inclined urban site and into the physical and emotional world of a city.
19. Maggie's Centre – Maggie's Cheltenham, Cheltenham, England



image © Peter Durant
A high quality building with a domestic scale that is already treasured by its users.
20. Michael Faraday Community School, London



photograph : Morley von Sternberg
The engagement process with staff, parents, pupils and the wider community has clearly influenced the design to ensure the building meets their needs and has been achieved in a way that is exciting and meaningful and goes well beyond serving just the needs of the school acting as a beacon to the community as well.
21. National Museum of Scotland, Edinburgh, Scotland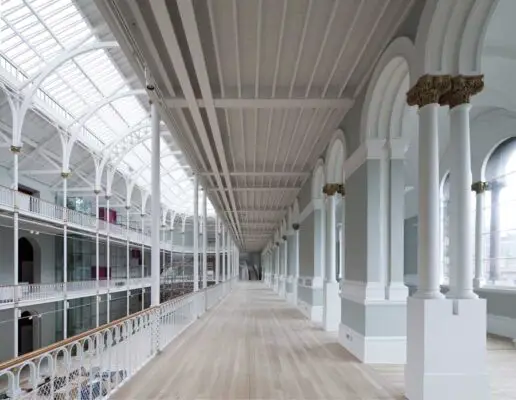 photo © Paul-Riddle.com
The quality of the interior and exhibition give the building an international standing which one would expect to visit in any European capital city.
22. New Horizon Youth Centre, London



photo © David Grandorge
The scheme is exemplary in its understanding of client needs, its engagement with users and the way in which a small new building entirely transforms its immediate environment.
23. Plaza Super Cinema, Stockport, Cheshire



photo : Brock Carmichael Architects
The scheme is delivered to a very high standard and has contributed positively to its immediate surroundings. Painstaking research and restoration that has been undertaken to bring this building back close to its original form.
24. Prince's Gardens : Imperial College, London Halls of Residence, London



photo © Tim Soar
The design of this new building respects and enhances the delightful square and reflects the style of the original 1840s terraces which still remain.
25. Priory Church in Wales Primary School, Brecon, Powys, Wales



photo © Tom Roe
Designed from the outset with inclusion at the heart of the process. This delightful building and external space can be used intuitively by all. The school reflects a rare natural combination of inclusion and sustainability.
26. Pudding Mill Lane Pumping Station, London



photo © ODA
Demonstrates that utilitarian buildings, in the hands of talented architects, can be designed as convincing reminders of the great British engineering tradition – and to fit seamlessly into a modern urban context.
27. Royal Conservatory TELUS Centre for Performance and Learning, Toronto, Canada



photo © Tom Arban
The smooth and modern treatment of the new build element couples well with the more rustic treatment of the existing building. The scale theme of the building is deeply embedded in the theatre and provides a treasure hidden behind the clear glass facade.
28. Royal Welsh College of Music & Drama, Wales



photo : Nick Guttridge/BFLS
The original building has been ingeniously transformed and the new extension is a pleasure to experience. It makes an outstanding contribution to the quality and appearance of the environment.
29. Sainsbury Laboratory, Cambridge



photograph © Hufton+Crow
This is an exceptionally well conceived, designed and executed building.
30. Sammy Ofer Wing, National Maritime Museum, London



photo © Julien Weyer
A very successful project, it meets the requirements of a demanding brief, enhances a sensitive site, is popular with the local community and visitor numbers have risen significantly.
31. Saxton, Leeds, England



photo © Joel Chester Fildes
A 'reinvention' of redundant social housing stock. The design is intelligent, sophisticated and witty.
32. South London Gallery, London



photo © David Grandorge
A very successful and well designed scheme which greatly improves the gallery, its accessibility and community benefit.
33. Splash Point, Worthing, Sussex, England



photo © Craft Pegg
Taking an unused public realm space and creating places for sitting, watching, playing and just being is highly successful.
34. Stanislavsky Factory, Moscow, Russia



photo © John McAslan + Partners
A high quality regeneration scheme which refurbishes existing buildings and combines new build elements. This is a mature development which is important to the City of Moscow planners and conservation groups alike.
35. The Granary, London



photo © Tim Crocker
This is an example of what can be achieved on a limited budget merely by applying determination and imagination.
36. The Hepworth Wakefield, Yorkshire, England



Courtesy The Hepworth Wakefield. photo © Iwan Baan
An outstanding building, which has been beautifully detailed and constructed.
37. The Holburne Museum of Art, Bath, England



image : Paul Riddle
An excellent, rare example of a successful marriage between a startling new structure and a well loved Grade I Palladian building.
38. The Iron Market, Port-au-Prince, Haiti



image : Hufton & Crow
A vibrant and exciting regeneration. An example of designers and local stake holder groups coming together to create the best setting for the local entrepreneurial culture.
39. The Longest Bench, Littlehampton, Sussex, England



photo © David Barbour
This is a delightful addition to the urban realm and makes an outstanding contribution to the built environment. It demonstrates excellence, and makes a positive benefit to the local community.
40. The Royal Shakespeare and Swan Theatres Transformation, Stratford-upon-Avon, England



photo : Peter Cook
This project has successfully transformed and reinvented the RST to create a distinctive and sustainable community asset, with global appeal.
41. The Scotsman Steps, Edinburgh, Scotland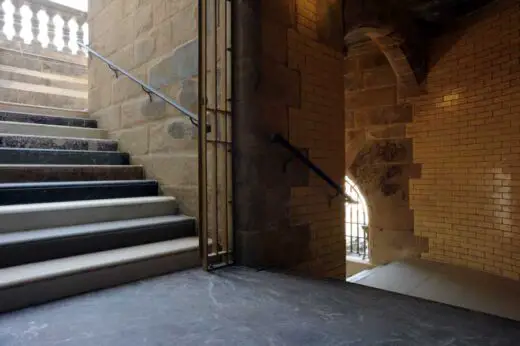 photo © Gaultier DeBlonde
This artwork delivers tangible cultural, social, environmental and economic benefits. It has reinstated a route which is both historic and convenient.
42. The Triangle, Swindon, England



image : Glenn Howells Architects
The development does so much in the way it mixes unit and occupancy types, and pulling together environmental and physical design elements, including access which is both physical and social.
43. Turner Contemporary, Margate, Kent, England



picture : Richard Bryant/Arcaidimages.com
A bold simply designed building. The most special achievement of this project is the contribution it is making to the regeneration of Margate and the relationship of the team with educational outreach programmes.
44. UNISON HQ, London



photo © Morley von Sternberg
The scheme provides a vastly improved environment which has generated an uplifting spirit within the organisation.
45. University of Wales, Newport City Campus, Wales



photo © Martine Hamilton Knight
This building has a monumental impact, helping to unify the city whilst setting a high standard of architecture for the future.
46. University of Winchester's Performing Arts Faculty Studios, England



photo © Keith Collie
A fine piece of contemporary architecture which compliments other recent developments which have done so much to uplift the environmental quality of the campus.
47. Warrior Square Gardens, St Leonards on Sea, East Sussex



photo © Colin Philp
This is an interesting & refreshing approach to a public square, making it an attractive place for meetings, relaxation & social events for the community.
48. Watts Gallery, Surrey, England


photo © David Grandorge
The original gallery buildings have been sensitively extended and restored with outstanding results.
49. Wem Town Hall, Wem, Shropshire, England



photo © Baart Harries Newall
This is a successful and vibrant reuse of an existing building, which now provides a busy and popular facility in the centre of Wem.
50. Westfield Folk House, Mansfield, East Midlands, England



photo © Martine Hamilton Knight
The Grade 1 building has been lovingly restored, respecting the original materials and giving the building a new lease of life.
51. Wexford County Council Headquarters, Ireland
The architectural design is of very high quality with very clear design principles, apparently simple but quite complex plan that is very legible at all levels.
52. Zero Carbon House, Brimingham, England



photo © Martine Hamilton Knight
A very dense piece of architecture packed full of sustainable strategies and experimental techniques. The building is a living experiment that can feed back into the architectural and building communities.
More contemporary British property is welcome on e-architect, please send information & credited photos
Civic Trust Awards : main page
Civic Trust Awards Winners – Previous Years
Civic Trust Award Winners 2011
Civic Trust Awards 2011



photo : Paul Tyagi
Civic Trust Awards 2010
Civic Trust Awards 2010 Scotland Shortlist
Previously:
Civic Trust Awards 2009
Civic Trust Awards 2009 : information from BDP Architects
Civic Trust Awards 2008
Location: UK
Architecture Awards
Civic Trust Awards Scotland 2003
Contemporary Architectural Designs
Comments / photos for the Civic Trust Awards in 2012 – Shortlisted Buildings page welcome