2016 AZ AWARDS Jury, Canadian Buildings, Projects, Toronto Design Contest, Azure magazine News
AZ AWARDS 2016 Jury
International Architectural Awards – Architecture Competition by Azure magazine, Toronto, Ontario, Canada
19 Feb 2016
2016 AZ AWARDS Jury
AZ AWARDS 2016 Jury News
Each year, a jury of internationally renowned experts in the areas of product design, architecture, landscape architecture and interiors convenes in Toronto to evaluate the entries of the AZ Awards, AZURE's international architecture and design competition.
Launched by Toronto-based Azure magazine in 2011, the annual AZ Awards has become one of the most influential and significant design and architecture awards programs worldwide.
Now in its 6th year, the AZ Awards attracts entries from some of the most innovative firms around the world. In 2015, over 700 architects, landscape architects, product designers, interior designers, students and manufacturers from 43 countries entered the AZ Awards. From this impressive number of entries, the jury selected 66 finalists, singled out for their innovative design, environmental or social benefit, or for simply evoking, as Vitruvius called it, delight.
AZ AWARDS 2016 Jury: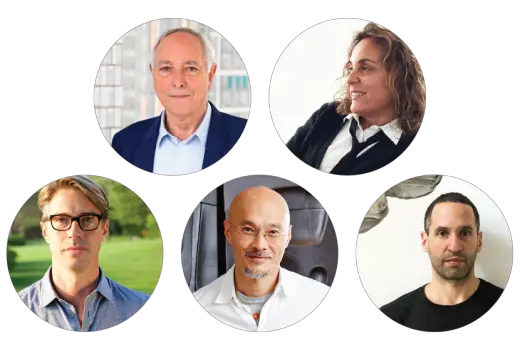 AZURE is proud to present the jury for the 2016 AZ Awards:
Chris Wilkinson
A founding principal of London architecture firm WilkinsonEyre, Chris Wilkinson
established himself with his Supersheds, including the Stratford Market Depot
and Stratford Station, part of London's Jubilee Line extension. His practice went
on to win back-to-back RIBA Stirling Prizes for his conversion of a defunct steelworks
into the Magna Science Adventure Centre in Rotherham (2001) and for the
Gateshead Millennium Bridge (2002). Other award-winning built works include
the Mary Rose Museum in Portsmouth and the Guangzhou International Finance
Center in China. Among his accolades are an Honorary Fellowship of the American
Institute of Architecture, honorary doctorates at Westminster University and Oxford
Brookes University and inclusion in the Order of the British Empire Millennium
Honours list.
Anna Simone
Anna Simone is a co-founder and partner of Cecconi Simone, a Toronto interior
design firm synonymous with high-end, award-winning interiors in the retail,
corporate, hospitality and residential fields. Simone has applied her signature
sophisticated style to countless international projects, from private seaside
residences in Anguilla to a community in Dubai consisting of 8,000 residential
units, to more than 75 multi-unit high-rise buildings in her home city. Simone was
also one of the forces behind the Pug Awards (2004-2014), whose program recognized
the best and the worst of Toronto's architecture with the aim of engaging
the public with city's development.
Thomas L. Woltz
Landscape architect Thomas L. Woltz, principal of Nelson Byrd Woltz Landscape Architects in New York and Virginia, has filled his portfolio with projects that bridge complex biological systems and restoration ecology with function, resulting in hundreds of acres of reconstructed wetlands, reforested land and thriving wildlife
habitats. His focus on ecological and environmental restoration within public parks, urban engineered landscapes, and working farmlands, has earned him over 90 international, national and regional awards. Notable completed projects include the Memorial Park Master Plan in Houston and Citygarden in St. Louis. Woltz is currently working on one of his most technically ambitious projects to date: the landscape design for New York City's Hudson Yards.
John Tong
After 20 years as a founder and lead designer at 3rd Uncle Design, in 2012 Toronto architect John Tong established +tongtong, where he emphasizes creative collaboration within a diverse range of projects. Tong is noted for the Drake Hotel Toronto and Drake Devonshire Inn, a circa-1880 foundry converted into a hip rural retreat, and Her Majesty's Pleasure, a Toronto space incorporating a café, retail boutique, beauty salon and bar – both of which earned him prizes from the U.K.'s Restaurant & Bar Design Awards. His work has been exhibited at the Venice Architecture Biennale, the MoMA, the CCA and the Design Exchange.
Omer Arbel
Vancouver designer Omer Arbel has been exploring the inherent mechanical, physical and chemical qualities of raw materials for over a decade. He is the creative director of Bocci, known internationally for its hand-blown glass lighting and powerful installations, presented at the Victoria and Albert Museum in London and at Spazio Rossana Orlandi in Milan, among other premier venues. Last year, Bocci opened its first European showroom inside an historic courthouse in Berlin. Named Bocci79, the multi-storey building is now operating as a showroom and archive for some of Arbel's largest lighting and architectural projects and explorations.
The 2016 AZ AWARDS is presented by Audi, Keilhauer, and Rado, and sponsored by Cosentino, TD Bank Group, Urban Capital, George Brown School of Design,
CRH Canada Group and Alpi.
Media Partners: Archello, Archiexpo, Archilovers, Archinect, Archiproducts,
Architect's Newspaper, Architonic, Bustler, core77, Dezeen, World-Architects
and v2com
Submissions close Friday, February 26, 2016
For more information visit awards.azuremagazine.com
Azure
Azure (azuremagazine.com) is the flagship title for Azure Publishing, a
leading international media brand with a global perspective on contemporary
architecture and design. Azure is published in both print and digital formats.
Azuremagazine.com serves as an online hub for architects, designers and
manufacturers at the forefront of their industries. Follow Azure on Twitter
@AzureMagazine, Instagram @azuremagazine.com and find us on Facebook
AzureMagazine.
Eligibility
The 2016 AZ Awards are open to:
Designers and design firms from all disciplines
Architects, landscape architects and architectural firms
Post-secondary students enrolled in design and architecture programs in 2015
Clients and manufacturers
Projects must be completed by December 31, 2015
Products must be prototyped or in production
Concepts must have been developed or presented for the first time in 2015
Categories
Architecture: Residential buildings; commercial and institutional buildings
over 1,000 square metres; commercial and institutional buildings under 1,000
square metres; temporary and demonstration projects
Landscape Architecture: Public and private landscapes
Interiors: Residential spaces; commercial and institutional spaces
Design: Furniture; furniture systems; lighting fixtures; lighting installations;
interior products; architectural products
Concepts: Unbuilt competition entries; concepts/prototypes
A+ Award: Projects developed by a student enrolled in a post-secondary
design or architecture program in 2015. The winner will receive a $5,000
cash prize.
All entries may be considered for the Social Good Award and/or the Environmental
Leadership Award by election. A winner in each of these two categories
will be selected. Projects may be entered in one or both categories.
For the Social Good Award, projects must advance social equity and have a
positive impact on the collective realm.
For the Environmental Leadership Award, projects must show sensitivity and
respect for the use and management of natural resources throughout their
lifecycle, especially with respect to materials and energy use.
SUBMISSIONS CLOSE FRIDAY, FEBRUARY 26, 2016.
Online entry portal and more information at awards.azuremagazine.com
2016 KEY DATES
JANUARY 4: Call for entries
FEBRUARY 26: Deadline for entries
MARCH: Finalists notified
APRIL 5 – MAY 6: People's Choice voting
JUNE 17: AZ Awards Gala in Toronto
JUNE 20: AZ Awards Annual Issue on newsstands
For more information: awards.azuremagazine.com / azuremagazine.com
AZ Awards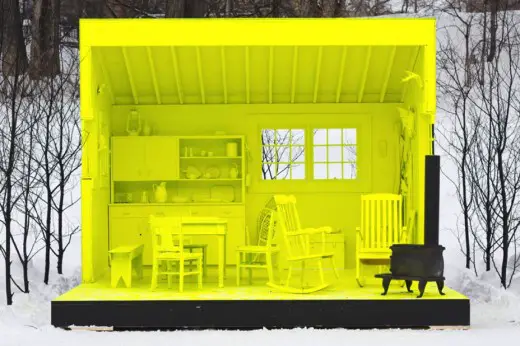 AZ AWARDS – past winners + info & images
Website: AZ AWARDS by Azure magazine
Location:Toronto, Canada
Architecture Awards
American Institute of Architects Gold Medal
2015 Wood Design & Building Awards Winners
Comments / photos for the AZ AWARDS 2016 Jury – Architecture Competition by Azure magazine Toronto page welcome
AZ AWARDS 2016 Jury