Aga Khan Award 2019 Winner, Architects, Architecture, Buildings Shortlist News, Design
Aga Khan Award for Architecture 2019 Winner
AKAA: International Architectural Prize: News Shortlisted Buildings and Developments
12 Sep 2019
Aga Khan Award for Architecture 2019 Ceremony
The Award Ceremony is happening tonight in Kazan, Russia.
There, the official Award book will be introduced.
This monograph includes essays on issues raised by the Master Jury's selections of the shortlist and the winners for the 2019 Award, has been published by ArchiTangle Publishers, Berlin, Germany. They are a new publishing company and this is their first book.
AKAA 2019 Book cover: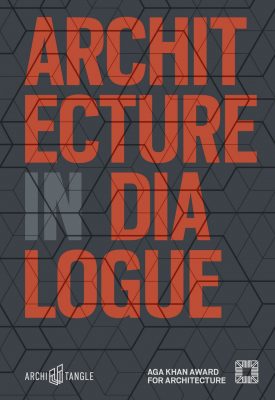 The book, Architecture in Dialogue, edited by Andres Lepik, includes descriptions and illustrations of the 20 shortlisted projects, including the six winning projects.
For more information, please see:
Aga Khan Award for Architecture 2019 Winners Book
ArchiTangle GmbH
Meierottostraße 1 ⁞ 10719 Berlin
+49 30 98390338
da@architangle.com ⁞ www.architangle.com
2 Sep 2019
2019 Aga Khan Award for Architecture Winner
X-Architects wins Aga Khan Award for Architecture 2019 with Wasit Wetland Centre Sharjah, United Arab Emirates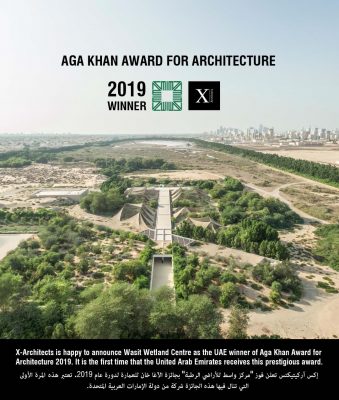 Architect: X-Architects, Dubai, United Arab Emirates
Client: Environment and Protected Areas Authority, Sharjah, United Arab Emirates
Completed: 2015
Site Area: 200,000 sqm
Winner selected from the 20 shortlisted projects for the 2019 Aga Khan Award for Architecture, netting US$ 1 million in prize money. The shortlisted projects were located in 16 different countries.
The prestigious prize-giving ceremony in the historic centre city of Kazan, Republic of Tatarstan, Russian Federation, in the autumn of 2019.
Part of a much larger initiative by Sharjah's Environment and Protected Areas Agency to clean up and rehabilitate this ancient chain of wetlands along the Persian Gulf coast, the Wasit Wetland Centre aims to supply information and education about this unique environment and to encourage its preservation.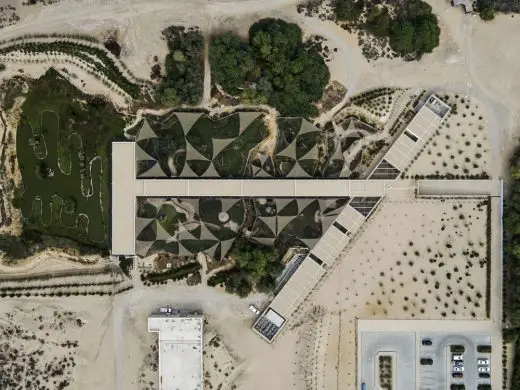 photograph © X-Architects Nelson Garrido
In designing the visitor centre, the architects took advantage of the site's natural topography to minimise its visual impact by making it appear submerged into the ground.
Visitors descend a ramp to arrive at an angled intersection between two linear elements of the building: one, to the sides, containing services and administrative offices; the other, ahead, a long viewing gallery flanked by aviaries where birds can be seen in their natural habitat. At the far end of the viewing gallery, a third linear element, running perpendicular, houses a café and multipurpose space with views out over the open wetlands.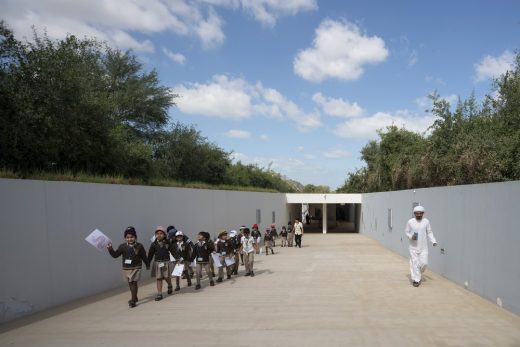 photograph © Aga Khan Trust for Culture / Cemal Emden (photographer)
A cantilevered steel truss roof over the viewing gallery avoids the need for peripheral columns, allowing seamless glazed façades. The interior is deliberately minimalistic throughout, placing the full focus on the surrounding nature: informative displays are the only adornment on the supporting central wall.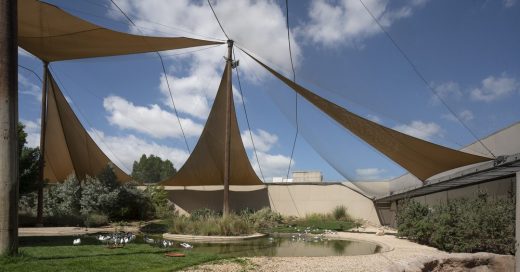 photograph © Aga Khan Trust for Culture / Cemal Emden (photographer)
The façade glazing is slightly tilted, to enhance reflections of the landscape for the birds while minimising reflections for people looking out. The floor being lower than the ground outside, a continuous concrete sill provides a place to sit and contemplate birds at their level.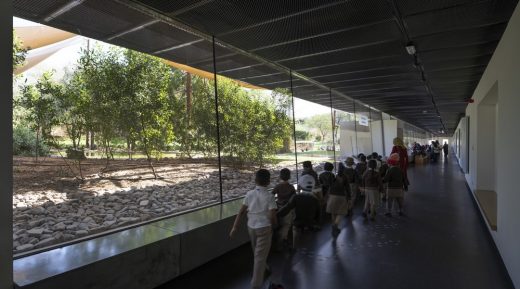 photo © Aga Khan Trust for Culture / Cemal Emden (photographer)
To counter the very hot desert climate, the roof is well insulated and the glass is shaded by its overhang. Some fabric shading is also provided over the aviaries. Rainwater harvested from the roof is discreetly directed to specific areas of the landscape via carefully placed spouts that are camouflaged by landscape elements.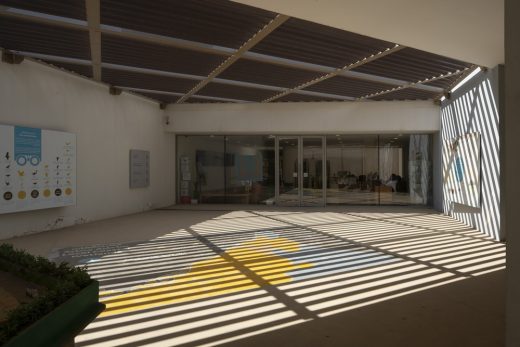 photo © Aga Khan Trust for Culture / Cemal Emden (photographer)
Six bird hides scattered around a lake created in the middle of a 200,000m2 site follow a unified aesthetic but are each individually designed for their context, and employ some recycled wood and plastic in their construction, reinforcing the ecological message.
Ground floor plan layout: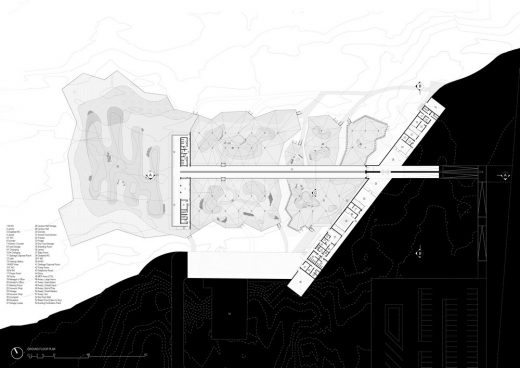 image © X-Architects
What had become a waste dumping ground has had its indigenous ecosystem restored, and is proving a popular place for visitors to appreciate and learn about their natural environment.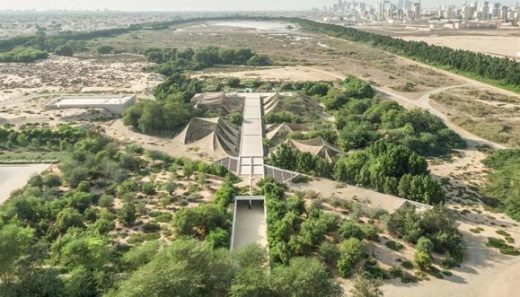 Aga Khan Award for Architecture 2019 Shortlisted Projects
Aga Khan Award for Architecture 2019 Shortlist
Alioune Diop University Lecture Building Bambey, Senegal
Architect: IDOM, Bilbao, Spain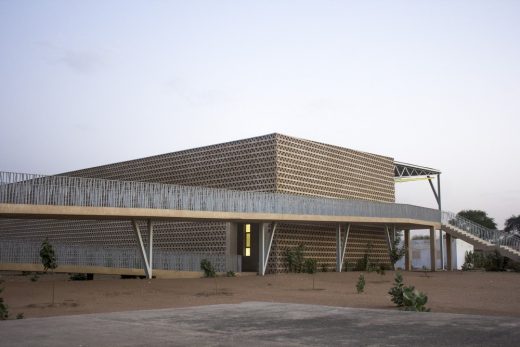 photograph © Aga Khan Trust for Culture Chérif Tall
Warka Water, Dorza, Ethiopia
Architect: Arturo Vittori, Rome, Italy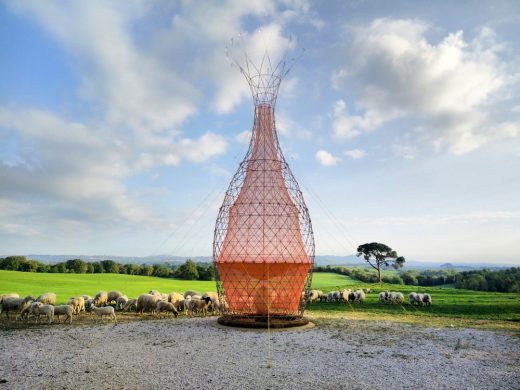 photograph © Architecture and Vision Arturo Vittori
Ashinaga Uganda Dormitory Nansana, Uganda
Architect: Terrain Architects, Tokyo, Japan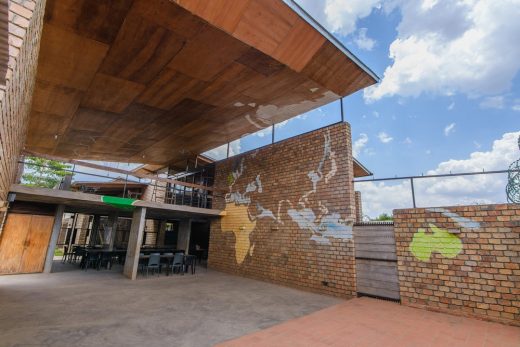 photograph © Aga Khan Trust for Culture Jjumba Martin
Tadjourah SOS Children's Village Tadjourah, Djibouti
Architect: Urko Sanchez Architects, Nairobi, Kenya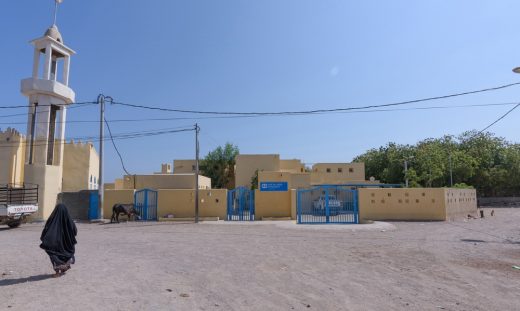 photograph © Aga Khan Trust for Culture Jjumba Martin
Muttrah Fish Market Muscat, Oman
Architect: Snøhetta, Oslo, Norway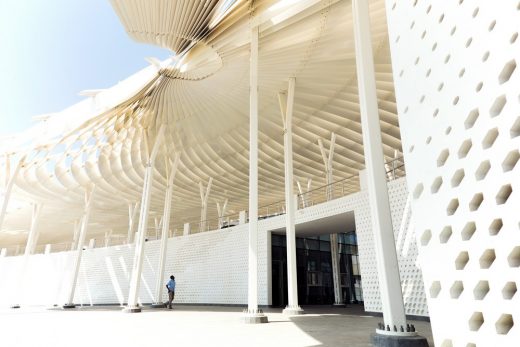 photography © Firas Al Raisi, Luminosity Productions
Mutrah Fishmarket Muscat Building by Snohetta
Revitalization of Muharraq Muharraq, Bahrain
Architect: Authority for Culture & Antiquities Conservation Department, Manama, Bahrain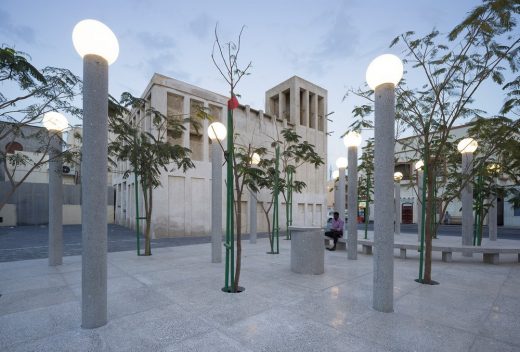 photograph © Aga Khan Trust for Culture Cemal Emden
Concrete at Alserkal Avenue Dubai, United Arab Emirates
Architect: OMA: Office for Metropolitan Architecture, Rotterdam, Netherlands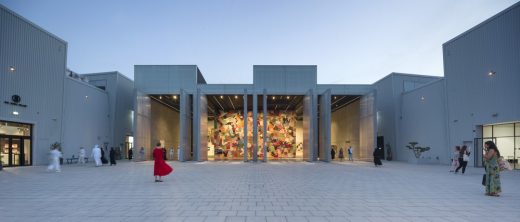 photograph © Aga Khan Trust for Culture Cemal Emden
Concrete Venue Dubai Alserkal Avenue by OMA
Al Mureijah Art Spaces Sharjah, United Arab Emirates
Architect: Mona El Mousfy, Sharmeen Azam Inayat, Sharjah, United Arab Emirates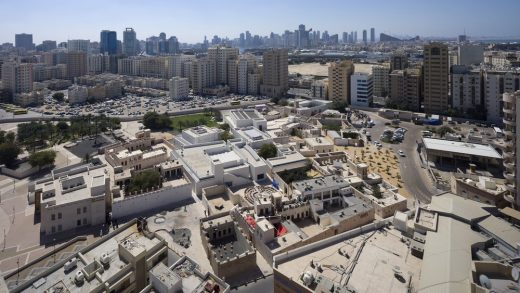 photograph © Aga Khan Award for Architecture / Arriyadh Development Authority
Msheireb Museums Doha, Qatar
Architect: John McAslan + Partners, London, United Kingdom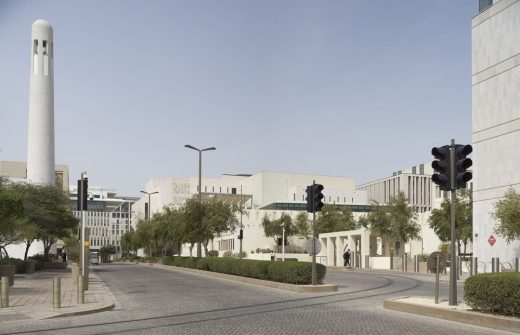 photograph © Aga Khan Trust for Culture Cemal Emden
Jarahieh School, Al-Marj, Lebanon
Architect: CatalyticAction, London, United Kingdom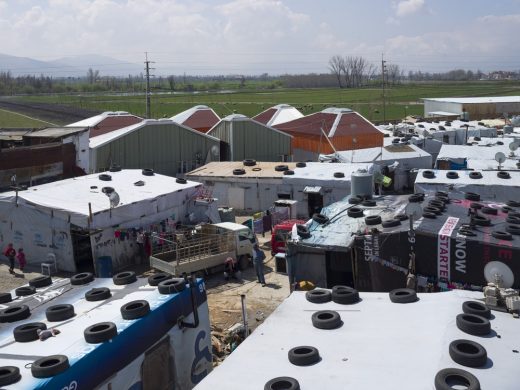 photograph © Aga Khan Award for Architecture / Arriyadh Development Authority
Palestinian Museum Birzeit, Palestine
Architect: Heneganh Peng Architects, Dublin, Ireland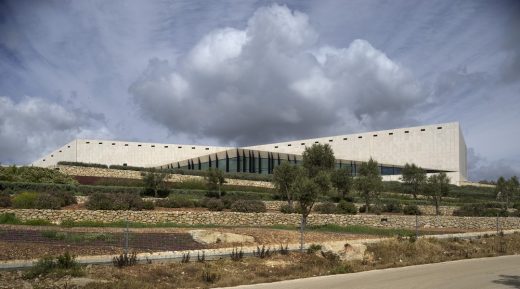 photograph © Aga Khan Trust for Culture Cemal Emden
Palestinian Museum Birzeit by Heneghan Peng Architects
Enghelab Street Rehabilitation Tehran, Iran
Architect: Iwvan Consultants, Tehran, Iran
Arcadia Education Project South Kanarchor, Bangladesh
Architect: Saif Ul Haque Sthapati, Dhaka, Bangladesh


photograph © Aga Khan Trust for Culture Sanndro di Carlo Darsa
Amber Denim Loom Shed Gazipur, Bangladesh
Architect: Archeground, Dhaka, Bangladesh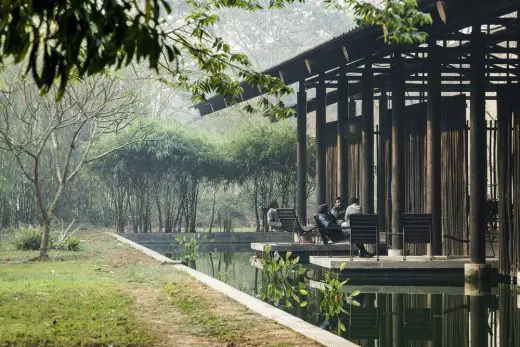 photograph © Aga Khan Trust for Culture Sandro di Carlo Darsa
Amber Denim Loom Shed by Archeground
Taman Bima Microlibrary, Bandung, Indonesia
Architect: SHAU Architects, Bandung, Indonesia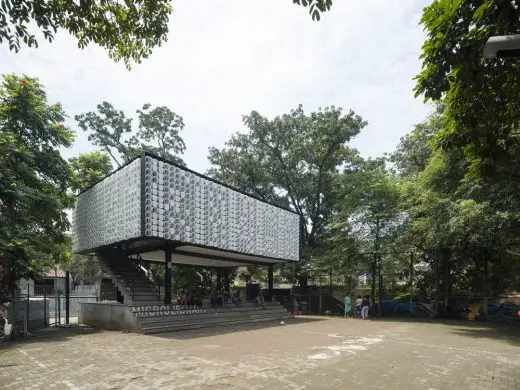 photograph © Aga Khan Trust for Culture Cemal Emden
Taman Bima Microlibrary by SHAU Architects
AM Residence Jakarta, Indonesia
Architect: Andramatin Architect, Jakarta, Indonesia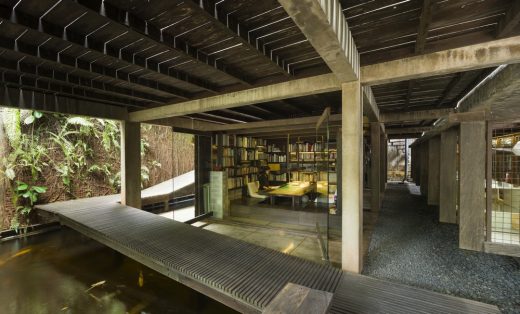 photograph © Aga Khan Trust for Culture Cemal Emden
AM Residence by Andramatin Architect
Courtyard House Plugin, Beijing, China
Architect: People's Architecture Office, Beijing, China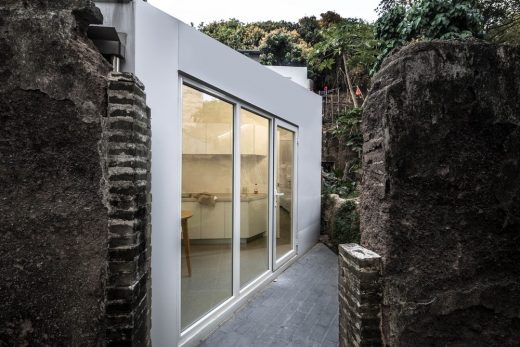 photograph © People's Architecture Office
Courtyard House Plugin by People's Architecture Office
Tatarstan Public Spaces Development Programme, various locations, Tatarstan, Russian Federation
Architect: Architecturny Desant Architectural Bureau, Kazan, Tatarstan, Russian Federation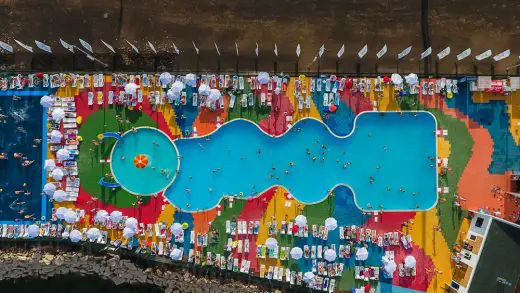 photograph © Ivan Petrov
Beyazıt State Library Renovation, Istanbul, Turkey
Architect: Tabanlioğlu Architects, Istanbul, Turkey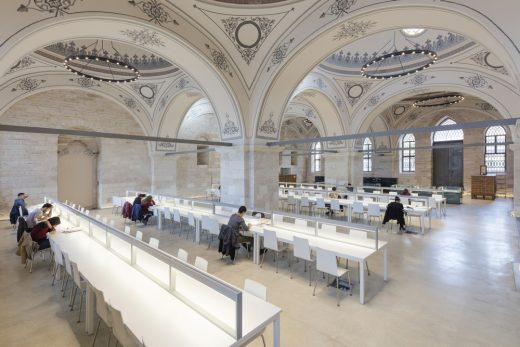 photograph © Emre Dörter Photography
Aga Khan Award for Architecture
Aga Khan Award for Architecture 2019 Shortlist images / information received 250419
Location: Doha, Quatar
Asian Architecture
World Architecture Festival Awards
Comments / photos for the Aga Khan Award for Architecture 2019 Winner page welcome