Palestine Museum, Palestinian Building Design Contest News, Birzeit University Project Images
Palestinian Museum : Architecture Competition
Architectural Competition – winners, designs, architects
25 Apr 2019
Palestinian Museum Birzeit shortlisted for 2019 Aga Khan Award for Architecture
This Palestine building designed by Irish architecture firm Heneganh Peng Architects is one of the 20 shortlisted projects for the 2019 Aga Khan Award for Architecture, competing for US$ 1 million in prize money.
Palestinian Museum Birzeit shortlisted for 2019 Aga Khan Award for Architecture
6 Apr 2012
Palestinian Museum Architecture Competition News
Palestine Architecture Contest
Contest won by Heneghan Peng, architects based in Dublin, Ireland
Location: campus of Birzeit University, near Ramallah on the West Bank
Site photo – looking west: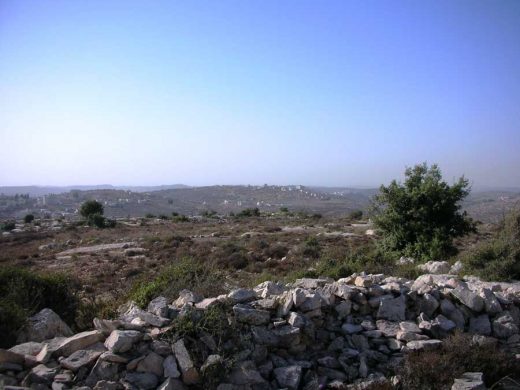 image from organiser
People's Museum Birzeit
Text from Rimal Publications:
"Hundreds of years being part of various empires, and now under a painful occupation, robbed generations of Palestinians of their own history. To build a museum, to collect stories is a peaceful, and meaningful investment in the future of a people. It is an act of hope." – Gertrud Sandqvist
The idea and realization of People's Museum could be situated anywhere in the world, but its location in occupied Palestine gives it a special significance. In a country where people cannot travel freely – but where their tales and objects can – the intention is to spread the idea so that knowledge and culture can be shared.
Palestinian culture is usually neglected and suppressed by occupation forces with the intention of denying its very existence: since there is no Palestine, there can be no Palestinian culture. In this context, a museum exhibition showcasing historic and everyday Palestinian culture also becomes an act of resistance.
People's Museum is not about the occupation, the wall, the settlements or the checkpoints, but they are reflected both directly and indirectly in the conditions of everyday life in Palestine.
People's Museum is a meeting between very different worlds – an occupied country and its people meeting a group of Danish artists who can travel in and out of Palestine. The aim is to show a varied picture of Palestinians.
"We want to tell the world about Palestinian life, cultural heritage, dreams, fun, problems etc." – a life that is difficult for many, but it persists in spite of the occupation. This is a project about interconnection between people, the commonalities and differences.
$25 (paperback)
People's Museum Palestine : book details – external link
People's Museum Birzeit information from Rimal Publications
4 Jan 2012
Palestinian Museum Architecture Contest
Architecture Contest
Contest won by Heneghan Peng
Location: campus of Birzeit University, near Ramallah on the West Bank
Design – entry by Heneghan Peng: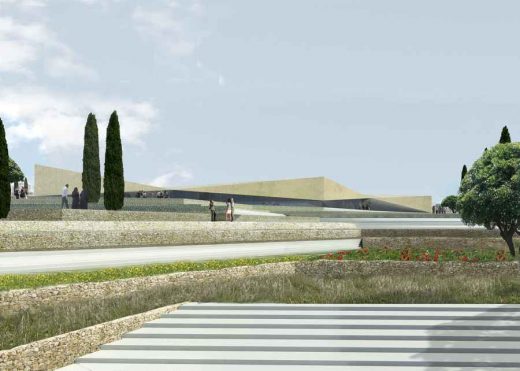 image from organiser
Design – entry by Edward Cullinan Architects: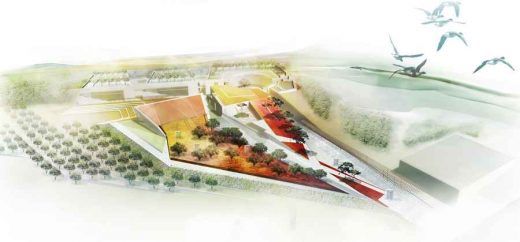 image from organiser
Design – entry by Henning Larsen: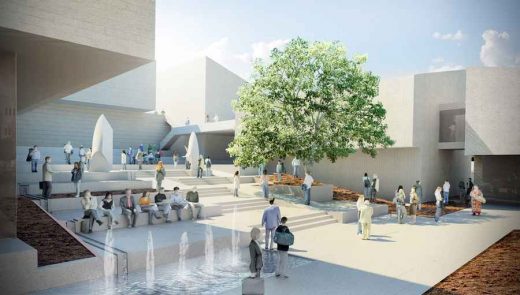 image from organiser
Design – entry by Moriyama and Teshima: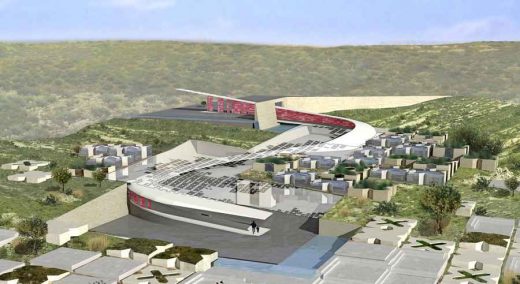 image from organiser
Design – entry by Consolidated Consultants: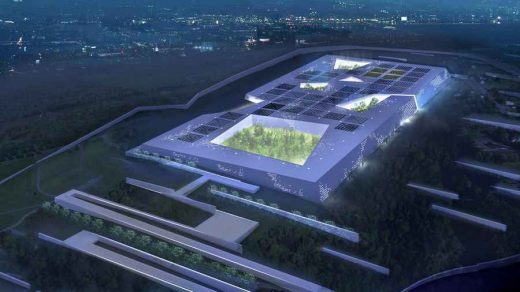 image from organiser
More information online shortly
Palestinian Museum Shortlist
Consolidated Consultants (Jordan)
Heneghan.Peng (Ireland)
Henning Larsen (Denmark)
Edward Cullinan Architects (England)
Moriyama and Teshima (Canada)
Client: Palestinian Museum taskforce for the Welfare Association
Brief – Proposal:
– thematic museum
– a showcase for different aspects of Palestinian history and culture
– a hub serving a number of branches and associated centres
The first phase – with an estimated budget of US$8m – will cover 2,500 m² and is expected to be completed by 2014. The second phase of approximately 5,000 m² will be developed following the opening of phase one.
More than 40 architects practices entered the international design contest for the Palestinian Museum.
The Palestinian Museum – Winning Team Credits
Architect: Heneghan Peng
Landscape Designer: Heneghan Peng
Horticulturalist: Lara Zureikat
Structural Engineer: Arup
Services Engineer: Arup
Local Palestinian Partner: Petra Mimar
Previously:
22 Dec 2011
Palestinian Museum Competition
The Welfare Association announces the appointment of Heneghan Peng Architects to masterplan and design the Palestinian Museum in Birzeit in the Occupied Palestinian Territories.
Following an extensive selection process The Welfare Association has announced that it has selected Architects to masterplan and design the Palestinian Museum which will be located in Birzeit in Occupied Palestine. The appointment is announced of Dublin based Heneghan Peng Architects, designers of the Grand Egyptian Museum, who will be responsible for Masterplanning a phased development of the Palestinian Museum on a very important site within the overall campus of Birzeit University, near to Ramallah.
The selection process commenced in June 2011 with over 40 architects submitting expressions of interest in the project. 5 Architects were shortlisted and invited to prepare initial conceptual and technical submissions. Presentations were made on 2 and 3 December in London by the 5 Architects; Consolidated Consultants from Amman Jordan, Edward Cullinan Architects from London, Henning Larsen from Copenhagen, Heneghan Peng from Dublin and Moriyama & Teshima from Toronto.
The Palestinian Museum will be designed to be constructed in 2 phases with the first phase of 2,500 m2 to be completed by 2014. The construction budget for the first Phase will be approximately US$8 million. The second phase will be in the order of 5,000 m2 and will be developed following the opening of Phase 1.
The Palestinian Museum will a unique cultural project and is being developed to become the primary and most authoritative source of knowledge and new thinking about Palestinian history, culture and contemporary life. Such a space does not currently exist. The Museum is conceived as a thematic rather than simply a narrative museum, in which many different aspects of Palestinian history and culture will be explored in innovative and revealing ways, creating debate and discussion about both past and contemporary themes.
The Palestinian Museum project has been in gestation for over a decade and has gone through a number of different stages of debate, thinking and rethinking. After a great deal of internal discussion and external consultation, the Welfare Association is now totally confident that the overall strategy and concept direction allow for the Palestinian Museum to be built.
Because of the nature of the Palestinian reality, where a majority of Palestinians are today living outside historic Palestine (i.e. Israel and the Occupied Territories); and because of the barriers and checkpoints erected by Israel which prevent the freedom of movement of Palestinians living under occupation (and prevent most Palestinians in the Diaspora from even entering any part of their country), the Museum is conceived as a hub which, in addition to catering to the population in the West Bank, will also serve a network of branches and associated centres, sharing with them information, research, web-based material and touring exhibitions, as well as human resources and expertise.
As any other museum in the world, the Palestinian Museum will hope to attract the largest possible number of visitors. Realistically, however, given the restrictions that exist for Palestinians, it can only hope to physically serve West Bank Palestinians in the near future and of course international visitors (Palestinians or non-Palestinians with Israeli citizenship are legally forbidden by Israel from entering Area A in the Occupied Territories, where this museum will be built).
It will have an extensive outreach programme and will also benefit from its proximity to Birzeit University, north of Ramallah, which generously gave the project 40,000 sq metres of land on a very long lease.
Palestinian Museum – Background
Welfare Association
The Welfare Association is a leading Palestinian non-governmental development organization, dedicated to making a distinguished contribution toward furthering the progress of the Palestinians, preserving their heritage and identity, supporting their living culture and building civil society. It aims to achieve these goals by methodically identifying Palestinian needs and priorities and establishing sound mechanisms to maximize benefits from the available funding resources."
Welfare Association is a private, non-profit association established in 1983 to support Palestinian society in sustainable development. WA beneficiaries are the more than 4 million Palestinians who are served by Palestinian non-governmental organizations, community institutions and charitable organizations in the West Bank, Gaza Strip, Galilee, Jaffa, Akka, Nazareth and Naqab, as well as in refugee camps in Lebanon.
WA works by strengthening local organizations, and assisting them in improving their services to the community and in promoting Palestinian culture, heritage and identity.
http://welfare-association.org/en
Heneghan Peng Architects
Heneghan Peng Architects is a design partnership practising architecture, landscape and urban design. The practice was founded by Shih-Fu Peng and Róisín Heneghan in New York in 1999 and in 2001 was relocated to Dublin, Ireland.
HPA take a multi-disciplinary approach to design and have collaborated with many leading designers and engineers on a range of projects which include larger scale urban masterplans, bridges, landscapes and buildings.
Current projects include the Grand Egyptian Museum, at the Pyramids, the Giant's Causeway Visitors' Centre, Central Park Bridges at the 2012 London Olympic Park, a Library and School of Architecture at the University of Greenwich in Greenwich, London and a Mittelrheinbruecke in the Rhine Valley.
www.hparc.com/about/
The Palestinian Museum Selection Process
The Architectural selection process was organised by Projacs of Kuwait and Cultural Innovations from London. Projacs are providing Project Management services for the Palestinian Museum.
Cultural Innovations are Museological and Strategic Advisers and have worked for 2 years with the Welfare Association to develop the Strategic Plan and Design Briefs which are the basis for the Palestinian Museum's development.
www.projacs.com / www.culturalinnovations.com
Location: Ramallah, Palestine, the Middle East, western Asia
Buildings in Palestine
Palestine Architecture Designs – chronological list
Revitalisation of Birzeit Historic Centre, Birzeit
Design: Riwaq



image Courtesy architecture office
Birzeit Historic Centre
This five-year project, part of a rehabilitation master plan initiated by Riwaq, has transformed the decaying town of Birzeit, created employment through conservation and revived vanishing traditional crafts in the process.
Buildings in countries adjacent to Palestine
Buildings in countries close to Palestine
Recent Israeli Buildings
Haifa University Student Center Building, north Israel
Haifa University Student Center
Umm el-Fahem Museum for Contemporary Art
Comments / photos for the Palestinian Museum Architecture Competition won by Heneghan Peng architects, Ireland, page welcome.