Technical University Graz, Biokatalyse, Austria Office Images, Architect
The Biokatalyse at Technical University Graz
Austrian Building design by Giselbrecht + Partner Architects
post updated 4 May 2021
Biocatalysis Lab Building Dynamic Facade
Date built: 2004
Architect: Giselbrecht + Partner ZT GmbH
Photos © Paul Ott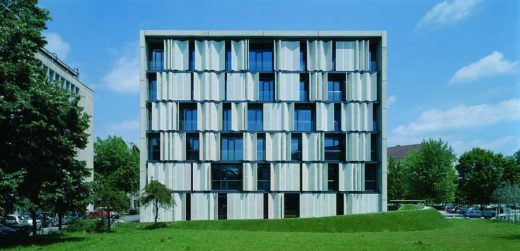 Technical University Graz – Biokatalyse
The basic urban development idea of this project was to carry out an architectonic reorganization of the surrounding buildings and area with the new building.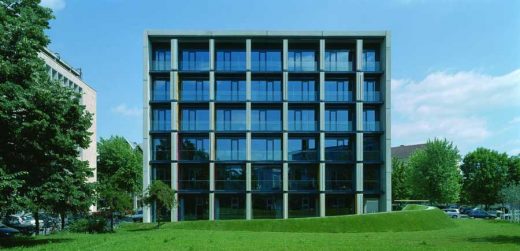 The Biokatalyse is the urban centre of the technical university campus, and with its clear architectural shape, takes the function of a reorganizing intervention.
This architectonic and urban design concept is supported and enhanced by the landscaping of the site.
The openness of the entrance areas, in combination with the ground floor, highlights the functional and architectural co-operation with the existing chemistry and biochemistry buildings.
The southern facade is entirely glazed, screened by folding, external sunshading elements, while bands of fenestration give structure to the northern facade.
The colour and structure of these folding elements, constructed of perforated aluminium, as a dynamic facade element symbolize the continual repositioning of current scientific research.
The changeabililty and the colourfullness of these elements give the facade a playful nature which is constantly redefined.
The colour on the outside is continued on the inside with the service boxes, which contain sanitation and auxiliary spaces, and give each research platform an identity with its own individual colour.
Arch. DI Ernst Giselbrecht
(Translation: Mag. Pia Namwar)
Technical University Graz Biocatalysis Lab – Building Information
2004
Architect: Giselbrecht + Partner ZT GmbH
BIOCATALYSIS AT TECHNICAL UNIV. GRAZ
Location: Petersgasse, 8010 Graz
Client: Bundes Immobilien Gesellschaft (BIG)
Architect: DI Ernst Giselbrecht
Brockmanngasse 48
A-8010 Graz
Tel: 0316 / 817050
Fax: 0316 / 817050-9
Project team: Ing. Johannes Eisenberger, DI Gerald Bruckbauer, DI Bernd Federspiel (Competition)
Technical consultants: Structural: Rinderer & Partner ZT KEG, 8010 Graz
Mechanical services: Planungsgruppe Grünbichler, 8605 Kapfenberg
Electrical: Planungsgruppe Grünbichler, 8605 Kapfenberg
Construction physics: Rosenfelder & Höfler Consulting, 8010 Graz
Landscaping: Büro ko a la, 8010 Graz
Contractors: Main contractor: Strabag, 8042 Graz
Facade / Metalwork: Stoppacher, 8160 Weiz
Metalwork: Heidenbauer, 8600 Bruck/Mur
Precast concrete works: Vollmann, 8403 Lebring
Carpenter: Unterwaditzer, 9771 Berg
Competition: March 2002 (1st Prize)
Design & documentation:
Spring 2002 – Autumn 2003
Start of construction: January 2003
Completion: March 2004
Technical data: Net area: 3.270 m²
Total floor area: 4.420 m²
Cubage: 16.250 m³
Project description: 6-story building for research, laboratories and offices, for biochemical, biocatalytic, microbiological, molecular-biological and gentechnical research/studies;
Structural work: reinforced concrete frame structure with basement in massive construction; pile foundation;
Facades: aluminium-glass facade respectively prefabricated concrete elements; on the south-facing side the glazed facade is shaded and protected from view by folding elements made of perforated aluminium;
Technology: primary heating and cooling via concrete core activation, secondary heating and cooling via ventilation system
Costs: Building costs: 4,05 Mio. Euro net.
Construction costs: 6,20 Mio. Euro net.
Publications: · Architektur Aktuell Nr. 297, Dec. 2004
· Intelligente Architektur, Ausgabe 48-49, Oct.-Dec. 2004
· AW Architektur+Wettbewerbe 201, March 2005
· 04/05/ jahrbuch.architektur.HDA.graz, 2005, ISBN 3-901174-58-3
· Premio Biennale Internazionale Di Architettura Barbara Cappochin – Edizione 2005, Federico Motta Editore, 2005
· Oris – Magazine for architecture and culture, Vol. VII,
Heft Nr. 39, July 2006
· 1000x European Architecture, Verlagshaus Braun, Berlin, 2006, ISBN 978-3-938780-10-X
· best architects 07, zinnobergruen gmbh, 2006, ISBN 978-3-9811174-0-0
· Of Arch / Magazine for architecture and design, Heft Nr. 95, March/April 2007
· L'Industria Italiana del Cemento, Heft Nr. 836/2007
· Science Spaces, daab-Verlag Köln, 2007, ISBN 978-3-86654-031-6
· Modulo, Heft Nr. 339/2008
· Details, No. 09, May 2008
Prizes, Awards: · Austrian Aluminium Architecture Award 2004
· best architects 07
· 3rd Prize International Award "Colour: a material for architecture" (Faenza Editrice) 2007
· 2nd Prize Award "Mehr Farbe wagen" (Stern/Schwäbisch Hall) 2007
Biocatalysis Lab building images / information from Giselbrecht + Partner ZT GmbH
Address: Graz University of Technology, Inffeldgasse 16a, 8010 Graz, Austria
Phone: +43 316 8734484
Location: Technical University Graz, AAustria, central Europe
Architecture in Austria
Contemporary Architecture in Austria
Austrian Architecture



photo © Duccio Malagamba
University Innsbruck Faculty Building
University Building Developments
Comments / photos for this Biokatalyse Technical University Graz page welcome
Website: Graz University of Technology