Beth Hughes Architect, Architecture Studio News, Building Images, Office Designs
Beth Hughes Architecture
Islington Architecture Practice – Architectural Studio in North London
post updated 27 Apr 2021
Beth Hughes News
16 Apr 2013
Nordic Built Challenge Architecture Competition – entry by FORA + Beth Hughes
NORDIC BUILT CHALLENGE FINALISTS
PROPOSAL FORA + Beth Hughes
FORA and Beth Hughes, with Raul Moura and Tudor Vasiliu, were selected as one of four finalists for the second phase of the Danish site in the Nordic Built Challenge – an open multidisciplinary design competition for the refurbishment of five buildings one in each Nordic country. The competition received a total of 171 proposals, 76 of which for the Danish site. The 5 national winners will be announced in September 2013.
The proposal by FORA + Beth Hughes addresses the Ellebo Housing Estate in Ballerup, Denmark. The estate was built in 1963, and features four buildings totalling 20.000m2, enclosing playgrounds, playing fields and green recreational areas. The brief calls for the renovation of the existing buildings and outdoor areas, and for 5.000m2 of additional housing.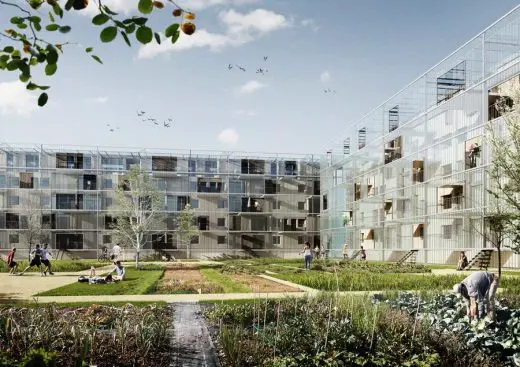 image : Tudor Vasiliu
Nordic Built Challenge Competition – entry
ELLEBO HOUSING_TEAM
The project is the joint venture between FORA and Beth Hughes, with Raul Moura and Tudor Vasiliu. The design team has frequently worked together on a variety of projects of all scales and in a broad range of contexts.
FORA is an architectural collective founded in Athens in 2009 by João Fagulha, Raquel Oliveira and João Ruivo. The office is currently based in Lisbon, collaborating on a regular basis with other architects, urban planners, designers and engineers on the production of architectural and urban projects. The work continuously explores the relation between public and private realm, and the role of architecture as the ultimate social tool.
Their work has been awarded in several international competitions, including first prizes for"Upto35″ international competition for the design of a student residence in downtown Athens and "Inovation and Quality in School Environments" for the design of a 13.000m2 High School in Mem Martins, and second prize in "Europan 10" for Lisbon and "Plateia Teatrou", both urban scale proposals.
The office took part in several exhibitions, including the 2012 Venice Biennale.
João Moura Fagulha, born in Lisbon 1980, graduated in architecture in 2006 from Instituto Superior Técnico, after studying one year in the Faculty of Architecture & Urbanism of Rio de Janeiro Federal University. Since 2007 established activity in Lisbon, collaborating with other professionals in various projects and competitions.
Raquel Maria Oliveira, born in Porto 1981, graduated in Architecture from the Faculdade de Arquitectura da Universidade do Porto in 2006, having studied one year in the Technical University of Delft. She started her professional experience in Netherlands, at West8, in Rotterdam, and worked after at DP6 Architectuur studio, in Delft. In Madrid she worked at Ezquiaga Arquitectura.
João Prates Ruivo, born in Lisbon 1980, graduated in architecture in 2004 from Instituto Superior Tecnico, where he was a student of Prof. Manuel Vicente. After studying one year in the Technical University of Eindhoven, he worked in Rotterdam between 2005-2008, were he collaborated with Theo Deutinger (TD*) and at the Office for Metropolitan Architecture, from where he moved to Athens to start his own practice.
www.for-a.eu/
Beth Hughes is founder and director of her own practice and has worked on projects of all scales, public and private, around the world. Educated in Australia, she graduated with first class honours from the University of Technology Sydney where she later taught.
Whilst in Australia she worked for a number of Sydney design practices (Lacoste + Stevenson, Gordon & Valich) and was lead architect for a variety of projects including the City of Sydney Public Library. In 2004 Beth joined the Office for Metropolitan Architecture, (OMA — Rem Koolhaas) in Rotterdam, where as an Associate she was responsible for a number of projects in London, Latvia and the Middle East.
In 2009, after over twelve years of professional experience, Beth started her own work, joining as a partner at Point Supreme Architects in Athens, Greece. In 2011 Beth established an independent practice and is now based in Paris. Beth also currently teaches a studio at the Bartlett University College of London in the Masters in Urban Design program.
Beth has been awarded in several international competitions including first prize for Europan 10 Trondheim Norway, Honourable mention for 'Plateia Theatrou' and 'Athens x 4' in 2010.
Raul Vilaça e Moura, is an expert in complex international project coordination in the areas of energy and sustainability. He gained extensive international experience in London as an environmental consultant in sustainable projects. After 12 years in London he returned to Portugal where he the values associated with integrated project design and synergies between the various design disciplines, namely between architects, engineers and environmental consultants.
Graduated in Architecture at FAUTL in 1995, he worked for the Lisbon Municipality Office of Strategic Planning and collaborated with Architect Jorge Luis Bruno Soares as a city planner from 1996 and 1997. Raul completed a Masters in 'Energy & Environment' at the Architectural Association in London in 1998 he continues to carry out research activity until 2005 and maintains a position as invited lecturer.
He currently practices as an environmental consultant and is invited to WSP Environmental (2002-06) coordinating environmental consultancy and infrastructure teams for large projects such as the expansion of Stansted Airport in London. In 2006 he was invited to lead the environmental team at BDSP Partnership until 2009 after which he opened the BDSP (PT) offices in Lisbon. In 2011 he co-founded TU+A with Eng. Raul Vilaça e Moura specialising in rail transport. In 2012 he became a shareholder in 'Alcantara City Thinking' offering specialist services in Urbanism, Architecture and Environmental in Portugal and abroad.
Speaker at conferences and seminars, he is also training advisor for the Portuguese Architects' Professional Association in Sustainable Architecture Principles.
http://www.alcantaract.com/site/
Tudor Vasiliu is founder and owner of Pixel Enlargement, a company specializing in marketing visuals for architecture and real estate projects, and of Resize Studio, a small architecture practice. After studying at the Accademia di Architettura in Mendrisio, and at the Technische Universiteit in Eindhoven, he graduated in 2004 from the Ion Mincu University of Architecture and Urbanism in Bucharest. Before establishing his own practices in 2006, he gained design experience working for Westfourth Architecture PC and ReAct NOW Studio in Bucharest.
http://www.pixelenlargement.com/
Design: FORA + Beth Hughes
Environmental Design: Raul Moura
Visualisation: Tudor Vasiliu
More projects by Beth Hughes Architect online soon
Location: Islington, North London, England, UK / Paris, France, western Europe
Islington Practice Information
Beth Hughes established an independent practice in 2011 and is based in Islington, London, UK; previously in Paris, France.
Beth Hughes currently teaches a studio at the Bartlett University College of London in the Masters in Urban Design program.
Website: http://www.beth-hughes.com/
English Houses Designs
English Residential Architecture
Island Rest, Isle of Wight
Design: Strom Architects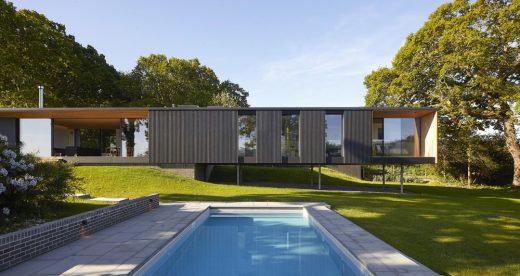 photos by Nick Hufton, Al Crow
Island Rest Isle of Wight Residence
Bartlett London School of Architecture
Comments / photos for the Beth Hughes Architecture page welcome